Minor upgrade to the outhouse heater at the guest cottage today, had this hard plumbed with copper tubing from the "T" on the left in the pic but it was a pain to get the flared fitting aligned when re-attaching it so I replaced it with a
flexible hose
instead.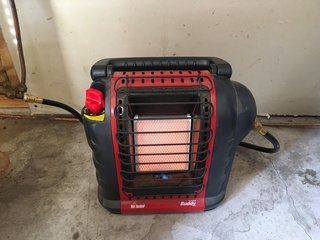 Really need a second Buddy heater, both for redundancy and so I don't have to remove and reattach this one whenever I need it somewhere else (like the ice fishing shanty) but this was a stop gap measure.
But another problem I should have addressed when doing this upgrade was to add some kind of bleeder/button valve to be able to purge the air from the propane line more quickly. We shut the propane off at the tank when we aren't using the cottage and it can take awhile to bleed/purge the air from the tubing when first turning it back on later, like 5 minutes of holding down the pilot button on the heater until the air is purged and the pilot will lite. And have to repeat this process inside the cottage as well for two wall-mounted propane heaters we have there. May not sound bad, but standing in one place pushing a button for up to five minutes (x3) isn't any fun at all especially when company just arrived.
Thinking about something like this
Brass Button Valve
to address the problem, but in 3/8" and male flare fitting if possible - but not finding anything. Basically, a push button valve placed near the appliances that releases more gas so it purges the air from the line more quickly, and closes automatically when the button is released. I considered adding "T" connectors and a standard ball valve near the heaters that I could just open for a few seconds to bleed the air out, releasing the air/propane into the room briefly as this button one does, but a push button one would be much safer I think since it closes when the button is released. We get kids visiting on occasion, and a ball/knob valve that dumps propane into a confined area if opened obviously isn't safe, especially since we also use propane gas mantle lighting (eg, an open flame) in both the outhouse and the cottage.
Been doing some searching and not finding much. Any thoughts / ideas / products on how to purge air from propane lines quickly, and still be reasonably child (or clueless adult) safe?