Golite Poncho review.
Technical information:
http://www.golite.com/product/productde ... AC0207&s=1
"This roomy, ultra-lite poncho can be converted to an emergency shelter using built-in, tie down loops. So lite and small you can take it anywhere, it is ideal for emergency kits and for ultra-lite backpackers dedicated to shaving every last ounce from their packs. A favorite of Team GoLite fast-packers Andy Skurka and Demetri Coupounas, the Poncho/Tarp utilizes SilLite™ fabric for ultra-lite, waterproof durability, and features additional coverage in the back for protecting a backpack (snaps allow for folding up excess fabric when not in use)."
10 oz. | 280 g | $50.00
Fit: n/a | Available Sizes: 8 ft 8 in x 4 ft 10 in / 2.64 m x 1.47 m
The Golite poncho is a Sil nylon poncho. Packs down small and is very UL. I currently use this gear item in my 72-hour BOB and E&E. The factory stuff sack is made of mesh but is too small for fast field packing so often I use a larger stuff sack. The below photo has two Golite ponchos. One in factory stuff sack and the other inside a larger field sack. A canteen was used for scale.
The Poncho has multiple tie-offs for pitching as a tarp. I prefer tie-offs to grommets.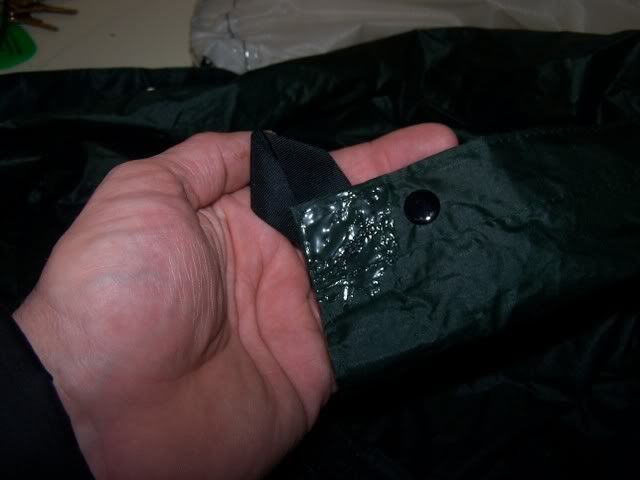 The poncho has Velcro and snaps for modification into various configurations. The user can snap it up or allow gaps for better ventilation.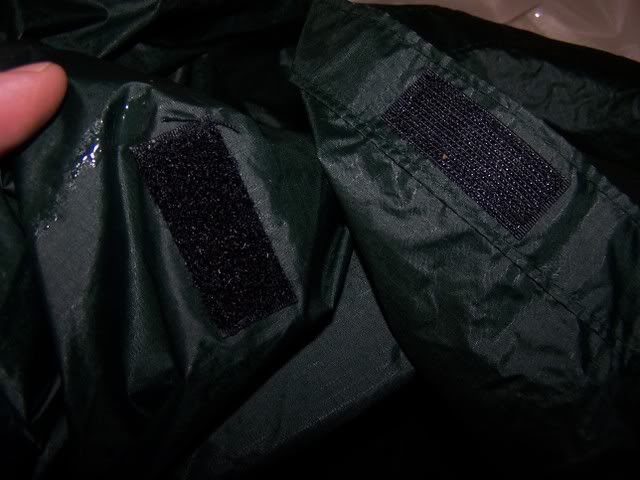 The Golite poncho has a standard hood with draw string. Nothing special but it does keep the rain off.
One interesting aspect of this Poncho is the adjustable back length that can allow for a makeshift pack cover.
The Poncho covers about 75% of the user. The upper sections of the arms can be exposed or protected. Just depends if you need to use your hands.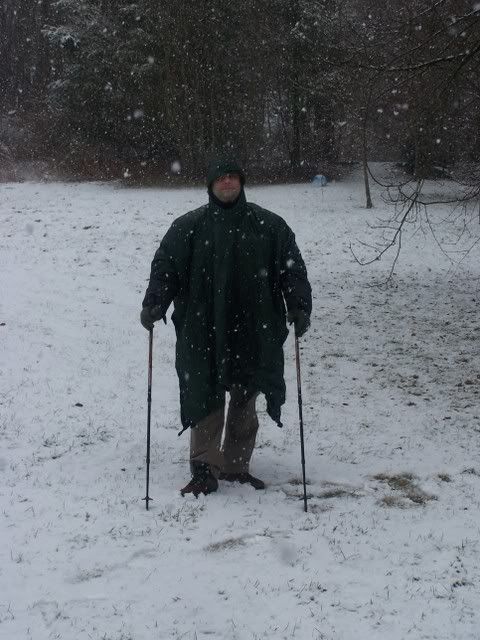 Testing:
I have used this Poncho/tarp for both shelter and raingear. I view cold rain/snow mix as one of the more dangerous conditions that commonly confront people in the backcountry but is often underestimated. So I decided to wait for rain/snow mix with a temperature of 32-34 to do this review. Covered about 8 miles during the test.
So what are the results? To no real surprise the bottoms of my paints and fronts of my sleeves got wet.
My upper body and head remained dry. The open sides allowed for greater ventilation so condensations was not a big issue. The wet paints bottoms are always a bit of a downer but hardly live threatening. The poncho is both wind and water proof so it makes for a good windbreak.
Multi use functions:
This poncho like most has multi use applications. To be honest ponchos are the Jack of all trades but the master of none.
1. Rain gear and pack cover. Is this or any poncho the best possible raingear available? No. But ponchos are functional and with proper use can keep someone reasonably dry.
2. Gear storage area. A poncho offers extra storage area for gear outside of a shelter. It can be pitched as a storage tarp or simply draped over gear items.
3. Ground cloth. This is something I tend not to do. These Ponchos cost between 40-50 dollars. However in a pinch it could be used for a ground cloth once rocks and sticks have been removed.
4. Water basin. This is one application that I have used in the past. The poncho is great for collecting rainwater or even dew for drinking or cleaning. To the best of my knowledge rainwater can be drank without filtering or boiling. So far this method has not resulted in any sickness. For best results set up the poncho so the water has a pocket to collect into. Even with drizzle a fair amount of water can be acquired in a reasonable amount of time.
5. Shelter. The Golite poncho has multiple tie-offs for setting up as a tarp. Does the Golite poncho make for an ideal shelter? No but it is workable with proper pitching.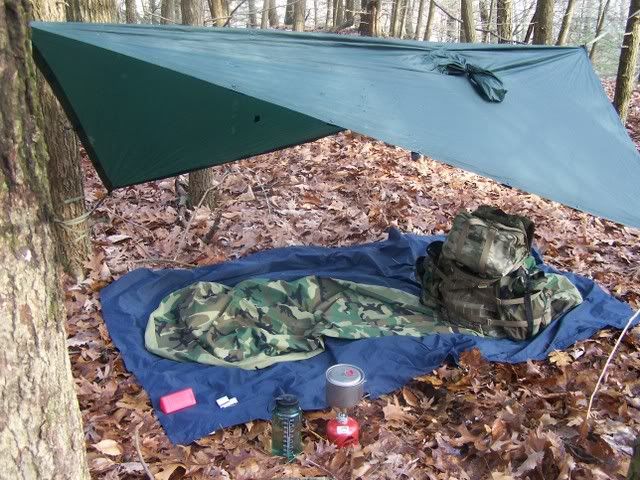 There are other uses beyond those described in this review. It is the multi use of this or any poncho that makes it a valuable addition to any BOB.
Pros:
This poncho is very easy to pack. The silicon coating will last far longer than the urethane that is used in the USGI type ponchos. In theory it does not need to be seam sealed as the threads are designed to resist leaking just like with other Golite shelters. However I used Silnet just to be on the safe side. The construction is good but not fully up to the standards of some of the higher end offerings. The Golite is on the lower end of the price range for this type of poncho. It provides fairly good protection from the elements and like all ponchos is multi functional.
Cons:
Like most UL gear there is a trade off in durability. It sure feels well made and the material is strong but I would not want to run though a thorn patch with it. This does not mean the poncho can't hold up though a storm. The length is just fine for a marginal tarp camp but I wish it was wider than 4 feet 10 inches. The hood works fine even with a hat but I wish the neck and hood was just a little bit bigger for blockheads like me. It is the bottom of the price range for Sil ponchos however is still expensive.
Other options:
There are other makers of Silnylon type ponchos. Here are some links.
The Equinox/Campmor Poncho.
http://www.campingsurvival.com/equlposh.html
http://campmor.stores.yahoo.net/20255.html
The ID poncho.
http://www.integraldesigns.com/product_ ... cfm?id=728
The MLD poncho.
http://www.mountainlaureldesigns.com/sh ... 7a41355439
Conclusion:
The Golite poncho like all gear items has both pros and cons. If you are looking to reduce your pack load with a nice multi function gear item than the Golite or other silnylon poncho/tarps are worth consideration.