The MSR Pocket Rocket is an Isobutane/Propane blend canister stove. The canisters are sold in 4 or 8oz sizes. The actual weight for the 8 oz canister full is 12.6 oz. The stove and container is 4 oz. Here is the technical information from the MSR web site:
http://www.msrcorp.com/stoves/pocket_rocket.asp
"When it comes to canister-mounted stoves, MSR proves less is more. The PocketRocket is a favorite of BACKPACKER Magazine Tester Andy Dappen, who said, "This midget flamethrower is one of the lightest backpacking stoves available, and the best cartridge stove I've used."
 Ultralight, Pocket-Sized
Weights just 3 oz. (86 g). Palm-size dimensions, 4x4x2 inches.
 Simple, Lightening-Fast Operation
No need for priming, pressurizing or maintenance.
 Blazing Heat Output
Boils a liter of water in under 3.5 minutes.
 Simmer or Boil
Glove-friendly controls allow precise flame adjustment and stability.
 Windclip™ Windshield
Micro-burner, tri-sectional clip protects flame in light wind gusts.
 Burns MSR IsoPro™ Premium Fuel
Clean burning, ultimate performance from start to finish of canister life.
Weight: 3 oz. (86 g)"
The stove comes with a protective plastic case that even includes a drainage hole. For scale here is a photo of the stove and canister next to a 32 oz canteen.
The Pocket rockets uses an integral 3 point pot support that folds for easy storage.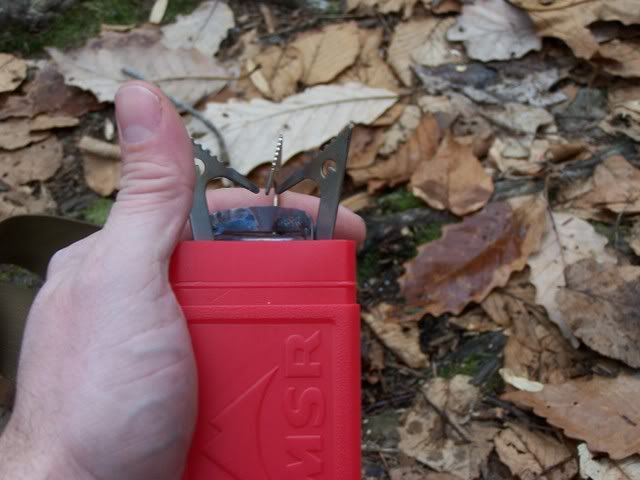 The pot supports fold out in a reverse tri pod system. Any 3 point support system tends to be more stable on un level ground than a 4 point support. I have found the Pocket Rocket very stable when using backpacker sized cookware. But it is very possible to dump any cook pot if the user accidentally bumps into it with sufficient force.
To set up the Pocket Rocket the user simply checks that the fuel adjustment valve is off than screws the stove to the top of the canister. The adjustment valve folds out and is easy to work. No priming or pumping is required. The stove does not come with a self ignition system so it is necessary to turn the gas on and use a match or lighter. I tend to light the stove with my Fire steel. Just toss some sparks into the burner.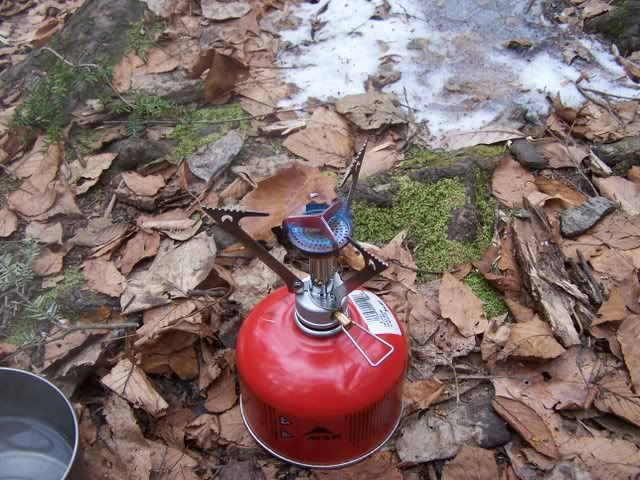 The company web site has a listed boil time of 3.5 minutes per what I am to assume is one liter. The total liters boiled per 8oz canister is listed as 16. This would imply a greater efficiency than my MSR Whisperlite International. It has a listed boil time of 3.75 minutes per liter with a total of 14.3 liters of water boiled using 11 oz of White gas. I have never verified any of these boil times or total quantities boiled per canister of IsoPro fuel however it does seem that the Pocket Rocket is a fast boiler from my unscientific observations.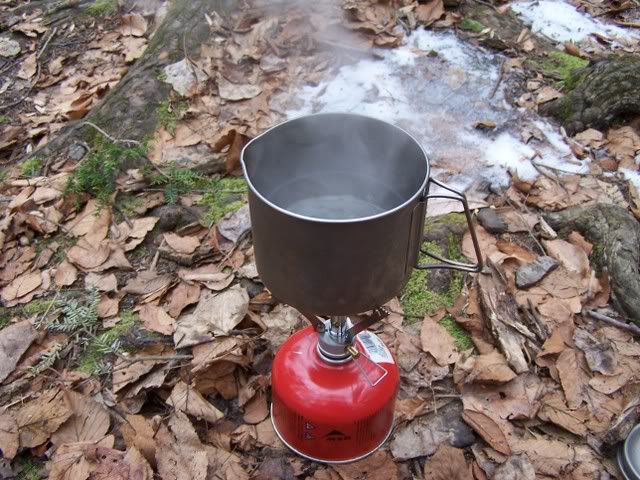 One thing I have always liked about the Pocket Rocket is the small pack down especially when combined with the MSR Titian Titanium kettle.
http://www.msrcorp.com/cookware/titan_kettle.asp
For pack storage the fuel canister fits into the kettle. Just place the canister inside.
After that put the lid back on and fold the pot support and adjustment valve than slide the stove into its container. The total package is very small and fairly lightweight.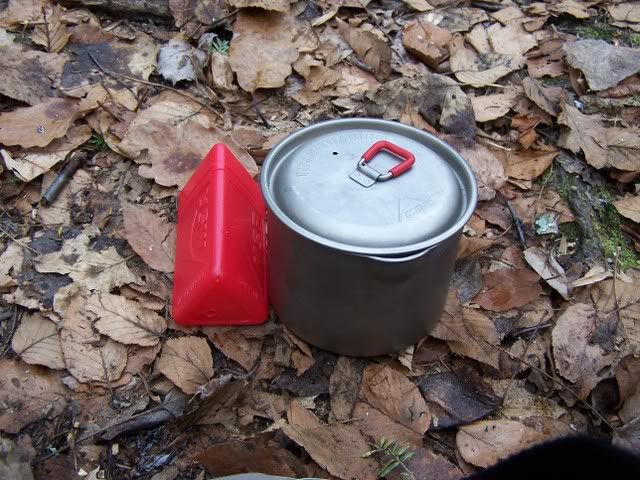 Pros:
1. Few moving parts so the stove is very reliable.
2. Stove and fuel is light weight.
3. Fast boil times.
4. Packs down small
5. The stove in not overly expensive.
6. Fairly stable pot support.
7. No priming or pumping.
8. Safe to operate.
9. Does not smell or char pots.
Cons:
1. The fuel is more expensive than white gas or standard Propane.
2. The Pocket Rocket can use other IsoPro type canisters like those made from Primus but unlike a multi fuel liquid gas stove, wood burning stove or to some extent an alcohol stove once the fuel runs out it is game over. The chances of finding more IsoPro canisters on the fly seem unlikely in an emergency situation.
3. You can't use a wind screen. It does have a "Windclip Windshield" but this is not to be confused with a windscreen. Do to the fact that the fuel canister is a working part of the stove support system it would become dangerously hot if surrounded by a windscreen. If used in high winds someone must block the prevailing winds. I often just use my body, tarp or a tree.
4. Canister performance is reduced by extreme cold. I tend to warm it up inside the sleeping bag or under my jacket in temperatures below the 20's.
5. They don't call it a rocket for nothing. It sounds just like one.
Conclusion:
The pocket Rocket is in my view a reliable lightweight easy to pack stove. It does have its limitations but overall I like it.