Woods Walker's modular BOB.
The intended purpose of this BOB will be for 72-hour survival in a moderate disaster. This scenario could involve the roads being closed and a local or regional power failure for that period. My BOL is often about 30-40 miles away in a mostly rural area. Because I have no intentions of depending on FEMA or sleeping in a "convention center" the BOB must have gear allowing for at least 2 nights and 3 days of foot travel. I also have no intention of breaking into a house for shelter even if it appears to be abandoned. Being mistaken for a looter or as a threat by some poor guy looking to defend his family is not part of my plains.
My primary concerns are moderate disasters such as severe weather or terrorist attack. This in my view is a great deal more probable than a civilization ending event such as an asteroid strike or a Yellowstone type mega volcanic eruption. So for this BOB my number one issue is exposure to the elements. I must be self sustaining for that period but not at the expense of mobility. Unnecessary gear will increase the weight of my pack and reduce the amount of ground that can be covered in a day and increase the chance of injury.
This is where the modular aspect of the BOB comes into play. Being a 72-hour BOB I do not expect the bug out to last 72-days. So components will be added or removed based on seasonal considerations. I can expect temperature ranges from 100 to -10 degrees. The BOB's weight and size will change correspondingly with the seasons. There are also extreme seasonal considerations. For example deep winter cold or heavy bug season will be given special consideration. As a rule I try to keep the pack's profile as thin as possible. So gear strapped to the outside of the pack is kept to an absolute minimum. I don't like too many pockets connected to the pals webbing as these tend to increase the weight.
Clothing
The modular concept has a few assumptions. I will be dressed in seasonal appropriate clothing. Keep in mind that this does not mean the clothing on my back will be appropriate for a 72-hour bug out. It is just a reality of the modern age that often people run around in marginal dress. I am no exception to this so the Modular BOB must be able to supplement my clothing but not at the cost of excessive weight and bulk.
Shelter.
Exposure can be a killer in any season. It is a death of a thousand cuts. In spring and fall warm days and cold nights can push a person over the edge if unprotected. In summer bugs and heat can conspire to wear a person down. During winter the cold can be a killer. So the shelters must provide seasonal protection at the least amount of weight. I will be posting photos of each seasonal shelter setup in field conditions. This will be far more informative than just posting a photo of a shelter inside a stuff sack or set up in the back yard.
Other gear.
Items like stoves, pads and sleeping bags will be seasonally adjusted for maximum effectiveness at the minimum weight and pack size. What works great for summer may offer less than desirable results during the winter. Winter gear may be overkill or less than suitable for summer.
Non modular components.
Certain components will remain unchanged regardless of season. These are stored inside removable lock and load pockets that attach to the inside of the pack but are accessible via zippers. A standard complement of BOB essentials will remain unchanged no matter what the configuration of the BOB.
To start this thread I will post photographs of my 72-hour BOB in full winter regalia. The components consisting of the following.
1. Kifaru Pointman
2. Large Pod
3. Malice Claymore pouch
4. Winter insulated bottle carrier for 32oz Nalgene bottles
The total weight of the pack including food, water and ammo when setup for maximum winter protection is about 38 lbs. The weights will decrease with lesser configurations.
The total package set up for winter.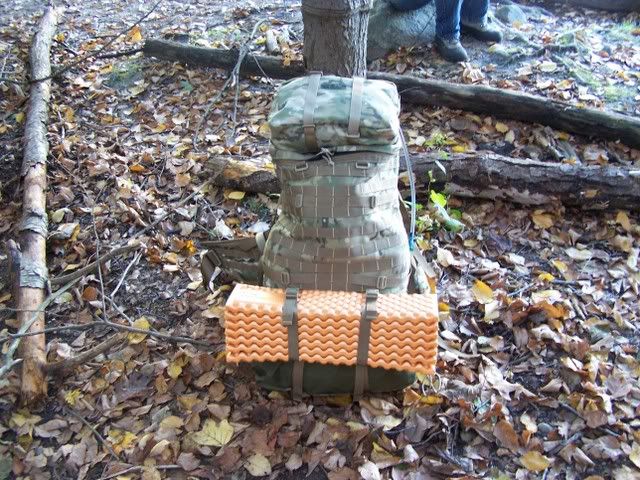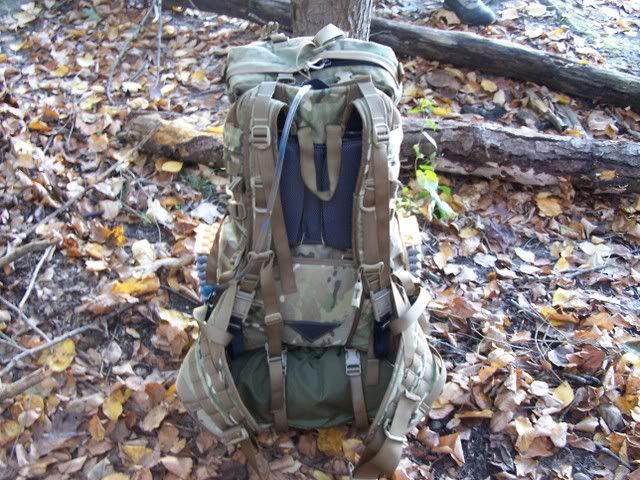 Hiking poles allow for greater degree of speed and safety during winter and will be carried.
The large pod can snap off in seconds. This POD is loaded with a compressed USGI MSS black bag and UL bivy. However it is large enough to pack my supplementary winter clothing including the bag. It will be removed for seasonal considerations or for easy carrying of the BOB. But can be re attached in seconds.
Here is what the Pointman looks like in its most minimalist configuration.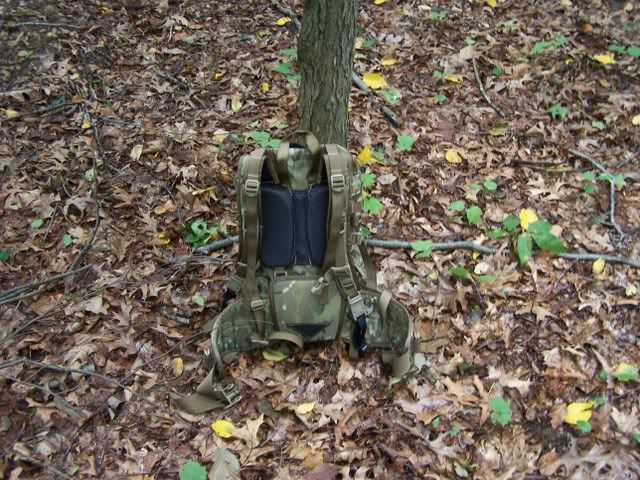 Over the next few weeks I will be posting photos and lists of the gear. Please review the items when posted and feedback would be appreciated. It will take a few weeks to photograph the seasonal components in the field. With luck later this week I will post photos of the lock and load removable internal component of my BOB. Than I will post the 72-hour FAK and other gear items. Please only review each component and its contents as there is a good possibility that the missing gear items will be posted at a later date.
EDIT for Lock and load component.
Lock and Load component:
I tend to use my gear for other outdoor activities. The danger in this is that often things get moved around. In order that I have my BOB basics available I have attached a Lock and load pocket to the inside bottom of the BOB.
It attaches via 4 points on the bottom of the pack.
Here is a view of one attachment point. Just slide the buckle inside and it flips up to lock the pocket in place.
The Lock and Load pocket was made to fit the attachment points of the Pointman. I can access my BOB gear though the bottom zipper without removing the contents of the pack.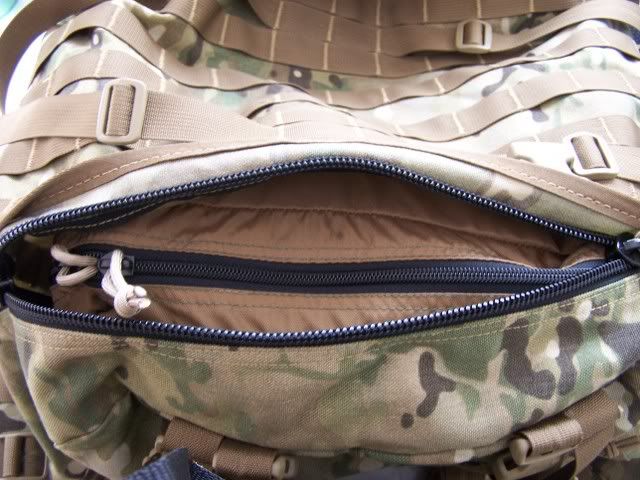 All my smaller BOB essentials have to fit inside this pocket in order to control the weight of the pack. I have other gear items that will change for seasonal considerations however the Lock and Load will always be with my 72-hour BOB. The pocket is show next to a 32 oz Nalgene wide mouth canteen for scale.
The following are the contents of the removable internal pocket. All items that can be damaged by water are stored inside zip lock bags. I removed most of the gear from the zip locks for easier viewing.
1. Princeton Tech Aurora LED head light.
2. Nite Ize LED wand powered by an Inova Microlight.
3. 4 CR2016 lithium batteries for the Inova Microlight. Backups
4. 8 AAA batteries for radio and LED head light. Backups
5. Small neck rope type radio.
6. 2x50 foot sections of 550 paracord.
7. 50 Portable Aqua tabs.
8. 50 Portable Aqua neutralizing tabs to remove iodine taste and color.
9. Repair kit. Silnet with brush, scrap sil nylon, sewing kit.
10. Plastic spoon, knife and fork all in one combo.
11. Deep woods Off! Deet bug spray. 1 oz.
12. Suunto M-2 compass.
13. Six EMS V stakes.
14. Polarized sun glasses.
15. Double sized Heat sheet space blanket.
16. Standard Mylar space blanket.
17. Aquamira Frontier water filter straw. Filters about 20 gallons.
18. Fire starting kit. 3 Bic lighters. 25 cotton balls with Vaseline, Blast Match, 2 packs of MRE matches and a magnifying lens.
19. Red bandanna.
20. Lexan signaling mirror.
21. Small writing pad and pencil.
22. Hygiene kit. 1 pack of moist wipes, 2 camper roles of TP, 4 packets of MRE TP, 50 yards of dental floss, 1.5 oz shampoo, camper type tooth brush and .85 oz travel size tooth paste.
23. USGI knife sharpener.
These are not all the gear items in my 72-hour BOB. I have other things like a whistle etc in other parts of the BOB and will be posted with photos ASAP.
EDIT for stoves.
For most of the year the standard stove inside the BOB will be the MSR Pocket Rocket. This stove is very reliable. It is very fast to boil water. Many of my food items that will be posted on a later update require boiled water. True the weight of the stove and time required to boil the water makes up for the reduced weight of my dried food. However eating cold food tends to lower my moral. Nothing can compare with a nice warm cup of coffee, tea or powdered cider. True the Iso/pro canister can't be replaced during a bug out but this pack is not an INCH bag. The canister will provide enough fuel for the food items packed. After that I would use a scout fire.
The Pocket Rocket.
Deep winter stove.
During a few times of the year temps can drop to sub zero. Add in wind chill and maybe a Nor Easter storm and things can turn ugly. If the roads are closed and the power has been out for a few days there would likely be few warm places to dry out my socks and take off the jacket to relax during the night for a weary survivalist hiking to his BOL. The wood stove provides central heat and range top cooking. The stove weights about 3 lbs and packs down to the size of a lap top. It takes about 10 minutes to set up. The stove burns a 5 gallon bucket worth of wood for about 4-6 hours when using the damper. The setup time and weight is a large investment in overall resources but it only takes a few hours of above room temperatures to recover from a cold hard day. I would rather sleep in a heated shelter than in some cold car or risk breaking into a house. Anyways betting without power most homes would be very cold. During an ice storm we lost power for a 5 days. Soon the house was colder than the outside after it chilled for a few days.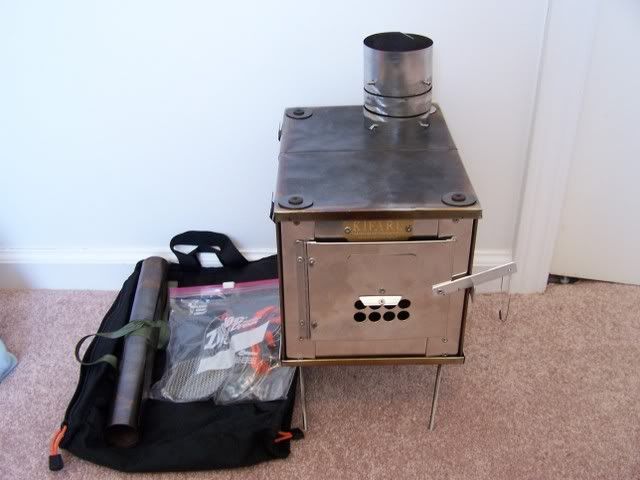 72-hour BOB tools.
1. Leatherman Super tool 200.
2. Browning Folding saw.
3. Ka-bar. Full sized old school parkerized fixed blade knife.
4. Fiskars hatchet.
The Super tool is heavier than smaller multi tools but for me the extra weight and bulk is made up in ease of use. The Browning saw is not my favorite folding saw. I prefer my Corona. However the Browning (true maker unknown) is ½ the weight. I don't expect to be sawing much wood during a 72 hour bug out even if using the wood stove as for the most part the fuel can be broken down with hands and feet. Still a folding saw has value in the rural area that I may have to hike though. The Fiskars hatchet is light and cheap. Not super comfortable to use but darn near indestructible. The main use will be for pounding tent stakes into frozen ground. Also a few whacks on real hard wood sticks allow them to be more easily broken by hands/feet. The hatchet will only be carried in the coldest of winter when the winter components are added.
More gear items:
There has been some concern over the color of the Z-light pad. As promised I will post how that pad will be covered during transport if I feel the needed for less visibility. The pad can be placed in a sleeping bag compression sack as show below than strapped to the outside.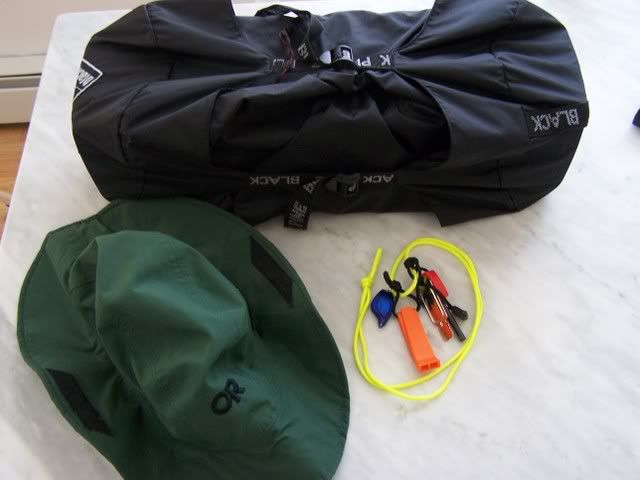 1. Sleeping bag compressions sack holding the Z-lite pad.
2. OR Seattle Sombrero.
http://www.outdoorresearch.com/home/sty ... hats/82130
The OR Gortex wide brim hat will be used for all seasons. Provides head protection from the sun, rain and snow reducing overall exposure. A wide brim hat works great to keep horse and deer flies from biting. They tend to become disoriented and bounce off the brim rather than land on the head and arms. True horse and deer flies can't kill me but it is just one more thing that I don't really want to deal with. Every little insult adds up if beaten down.
The survival neck chain: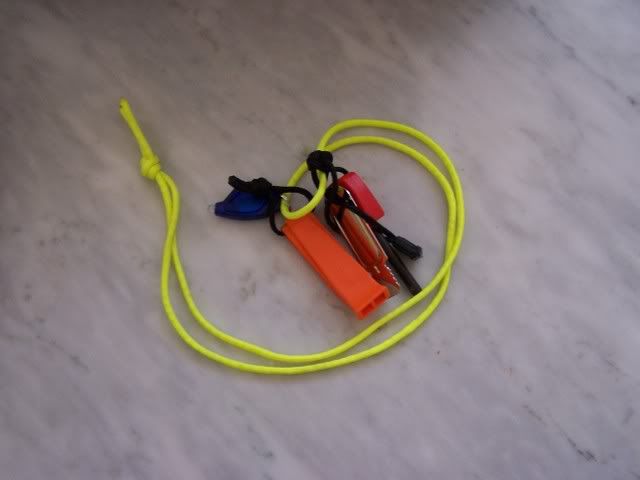 The survival neck chain gets used everytime I go into the back country and is stored inside the BOB when not being used. I went with crazy color paracord incase it gets dropped.
1. Light My Fire scout firesteel.
2. Signaling Whistle.
3. Prinstontec Pulsar key chain light.
http://www.princetontec.com/products/in ... pe=3&use=0
http://lightmyfireusa.com/firesteel.html
I have yet to find a tinny compass that is worth using. So until I find a worthy compass I will just keep a larger one separate. Often carry it around my neck anyways so it is unlikely I would get separated from it.
Clothing system.
One of the assumptions of this BOB is that I will have seasonally appropriate clothing on my back. But this does not mean that these clothes will be appropriate for a 72-hour bug out that could involve a 30-40 miles hike to my BOL. So it is necessary that I have clothing items to enhance what is being worn but not at the expense of excessive weight and pack size. All clothing items inside my BOB must fit into these two stuff sacks.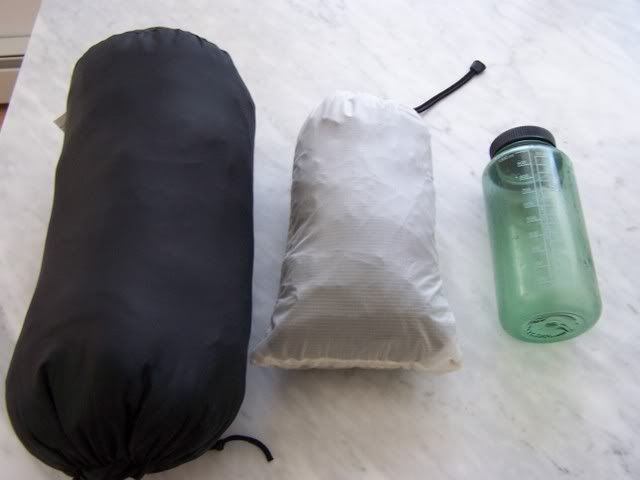 Here are the contents of the two sacks.
1. Lava wool heavy weight hiking socks.
2. Light weight 100% nylon socks
3. Cotton boxers
4. 85% cotton 15% Polyester thermal top.
5. Wool gloves
6. Columbia fleece jacket
7. Medium weight 92% Polyester 8% spandex base layer top and bottom set.
8. Large fleece scarf.
9. Fleece sleeping hat.
For summer I would dump the thermal top, scarf, gloves and maybe the base layer. For the rest of the year the base layer is the most important clothing item. It is treated with anti microbial stuff to keep odors down. The layer is designed to wick moisture away. Keeping moisture off the skin is the most important aspect of any clothing system. Ordinarily I tend to avoid cotton however for summer it is comfortable. Also the cotton/polyester blend has worked very well for me in moderate weather. But cotton items are restricted to the boxers and blended thermals tops.
The white stiff sack has a Golite poncho. Makes for a nice backup shelter as it has tie offs.
Hydration system.
1. Nalgene winter insulated 32 oz carrier.
2. 2 Nalgene 32 oz canteens.
3. 32 oz Nalgene collapsible widemouth canteen
4. 48 oz Nalgene collapsible wide mouth canteen
5. 70 oz Platy reservoir
6. 70 oz Platy hydration system.
7. Insulated platy hydration system carrier.
8. Molle Canteen pocket.
For summer, spring and fall I will be packing the 70 oz Platy reservoir, 70 oz Platy hydration system with insulating sleeve, one 32 oz wide mouth canteen. I may attach the Molle canteen pocket to the pack or just take the Nalgene insulated canteen carrier as it has a very secure Velcro strap system for attaching to multiple positions on the pack. I tend to prefer this to the Molle type canteen pocket as it is easily removable. I can carry both 32 oz hard canteens but never really needed to in the past if using the Platy bags however may if temperature and humidity calls for more hydration. The only reason for keeping the Platy insulating sleeve is often water temps in lakes etc are lower than the air during summer months so the water will remain cooler longer if insulated. This also works for the Nalgene winter carrier. Adds a few ounces to the pack but cooler water is a real moral buster for warmer weather and generally tastes better.
For winter I will remove the Platy bags. A hard decision for sure as they pack down smaller and have proven 100% reliable in the past. But any narrow mouth canteen is more susceptible to freezing shut. So the Nalgene wide mouth collapsible canteens will be swapped into the pack. Hydration tubes tend to freeze solid so that is another reason why my trusted platy hydration system needs to be removed. The 48 oz wide mouth canteen will fit inside the Platy insulating sleeve so that part will be kept. Add some warm water to the mix and it should remain ice free longer. The standard 32 oz canteen would be stored inside the Nalgene winter carrier for similar reasons but may add the Molle pocket/extra 32 oz canteen to make up for the smaller Nalgene water bags. The 32 oz collapsible canteen would than be tossed into the pack. My Platy bags have never leaked so hoping the same is true for my new Nalgenes. Tested the 96 oz bag and it worked fine but ultimately it takes a long time before I trust any new gear item 100%. Also everything inside my pack that can be effect by water is protected.
Hydration is very important. You can live for a long time without food but can die a miserable death of dehydration in a day if conditions are right. Some people have a false belief that hydration is not as important in the winter. Nothing could be farther from the truth. Without proper hydration your body will not be able to regulate its temperature properly. This will make a person more susceptible to exposure risks. You will freeze your ass off during the night. It has happened to me so my advice is to drink all you can even if you don't feel thirsty. For summer there is a belief that water rationing is better than drinking all the water if supplies are limited. This has always been a difficult topic for me. True if you drink only when thirsty you run the risk of slipping into dehydration. Sometimes a dehydrated person can become almost indifferent to their condition and not drink enough. But on the other hand I have been thankful in the past for keeping a canteen full for the last few miles of a hike. That water really felt good. So what is best? I will leave that to the medical personnel on this MB who have far greater knowledge on this topic. For me it takes a minimum of 64 oz of water for a 7-mile hike though hard terrain and about the same if walking along the road as often I am more exposed to the sun than on the trail.
Water purification system: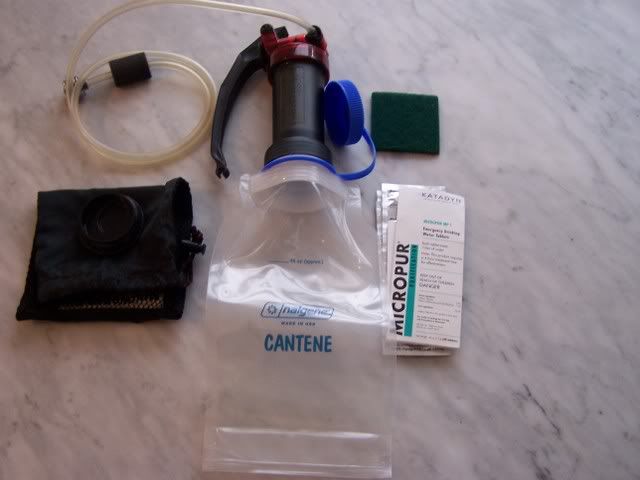 The Lock and Load component has P.A tabs with neutralizers and a Frontier straw. Both can provide enough water for a 72-hour Bug out. However they both have their limitations. The main water filtration system for this BOB will be the MSR Mini works EX and 30 Katadyn-Micropur tabs.
http://www.msrcorp.com/filters/miniworks_ex.asp
http://www.backcountry.com/store/EXT004 ... blets.html
The Miniworks can pump water directly into any wide mouth Nalgene type bottle. This would be used as the primary filter for summer, spring and fall. During these times of the year water tends to contain more tannins, floating fish eyes and frog crap. So the Miniworks makes the water more palatable. True I could live just fine using the tabs alone or the straw which to a lesser degree helps remove some of the nasty taste. But the 1 lb (filter plus stuff sack) is a small price to pay for more palatable water.
During winter the MSR would be removed. As I stated not every gear item works best for all seasons. The winter components will greatly increase the weight of the BOB. I really don't want to carry an extra 16 oz if I don't have too. Also pump filters just don't work well for me in winter. The darn thing freezes solid. First the intake straw fails than the whole thing turns into a block of ice.
Worse yet the water going into the canteen tends to be only marginally above freezing. It does not take long before the canteen is a block of ice. Something that is an inconvenience during winter camping but guessing can turn real ugly in a 72-hour harsh winter bug out.
For winter the P.A tabs and neutralizers will remain. Same for the Katadyn-Micropur tabs. Going to keep the filter straw too. Water can be contaminated during winter. Many bacteria are immune to cold and can still make you sick. Guessing the rest of the nasties are still hanging around looking for an opportunity to continue their life cycle at my expense. But the flavor of winter water and melted snow is often more palatable than stinky summer water so that advantage of the MSR is not really needed. What I do now is melt snow and ice to a boil. Same goes for any liquid water that can be found. The hot water is strained though the bandanna for large floaters on its way into my canteen. I use the insulated covers to keep it ice free. If in a hurry I just warm the water and add tabs or just add tabs to the cold water if it will be used within an hour or so.
Cookware:
1. Light my Fire spoon-fork-knife combo. .4 of an ounce
2. MSR Titan Ti kettle. 4.5 oz
3. Snow peak Ti bowl. 2 oz
4. Snow peak Ti Cup 1.2 oz
5. GSI Anodized aluminum Kettle 5.8 oz
http://www.light-my-fire.se/engines/page___386.aspx
http://www.msrcorp.com/cookware/titan_kettle.asp
http://www.snowpeak.com/back/cookware/titanium.html
http://www.gsioutdoors.com/detail.aspx? ... tle%26&c=4
&
The 6x3.8 inch Scour pad will be used to clean the cookware. The MSR kettle is a fine boiler and the Iso/pro fuel canister fits perfectly inside. The Snow Peak Ti bowl has proven well worth the 2 ounces. The Ti cup is easy to pack and has preformed beyond my expectations for such a small and lightweight gear item. The GDI kettle is a new addition to my gear collection and was purchased for this BOB.
My intent is to use the Pocket Rocket for cooking during the warmer seasons. If for some reason the intended 72-hour BOB is needed for a longer period than my fall back plain is to use a scout fire for cooking and boiling. Using a pot with a lid sure helps as lots of junk seems to find its way into uncovered pots near a fire. Using a scout fire can take a longer time to boil water than a stove. From my experience there was a great deal of difficulty suspending the pot over the scout fire. In the end often I would have to place the pot near the fire. In theory the GSI kettle with its top handle should be easier to suspend over a small scout fire using a few rocks and maybe a green stick. But I have not tried this yet.
What I do know from testing the GSI anodized aluminum kettle is the boil times are faster than my MSR kettle with both the Pocket Rocket and the Kifaru small stove. One of the downsides of a wood burning stove is slower boil times. This kettle offered an improvement. But the MSR Ti kettle with the wider lid is far easier to cook food with when using the Pocket Rocket so I am not willing to replace this for the warmer seasons. But for winter I will dump the MSR Ti kettle and use the GSI as it has worked better on my wood stove for boiling. My Kifaru small stove can fit two cook pots so there is no real need for the extra 4.5 oz and pack size of the MSR considering the increase in winter gear. I have used the Snow peak Ti bowl a bunch of times as a cooker and it worked well on the wood stove. The lack of a handle is not a real problem when using wool gloves as I can move the pot around and take it off for cooling. Wool gloves are much more burn resistant that synthetics. The small Ti cup will remain inside the BOB year round.
Shelter systems:
Mid April though late September configuration: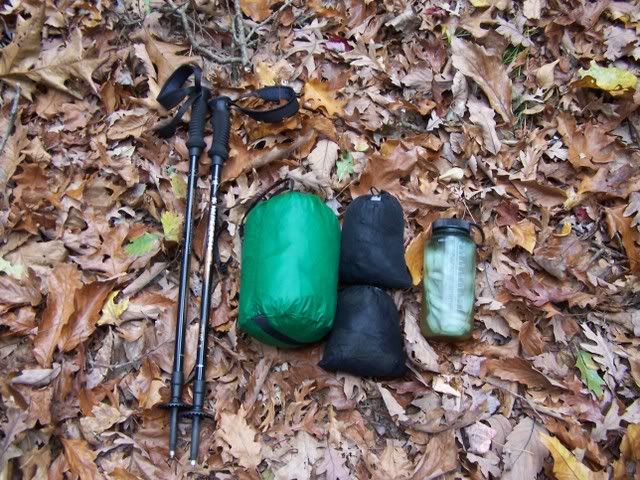 1. Equinox 8x10 sil nylon tarp with sil stuff sack. 1 lb 1.6 oz
2. Mantis Bug net with mesh stuff sack. 4 oz
3. Custom made Ul DWR top/ sil nylon bottom bivy with mess stuff sack. 10.2 oz
http://www.backpackinglight.com/cgi-bin ... 00166.html
http://www.backcountrygear.com/catalog/ ... cfm/EQ3050
http://www.mountainlaureldesigns.com/sh ... 4a68eb876f
I have replaced the six Ti Shepard hook pegs with EMS V stakes. They are kept in the Lock and Load component as back ups if the Dura pegs get lost. I will do a little essay on pegs later as they are adjusted seasonally.
My intention is the drive to the BOL if possible. A bug out is not a camping trip. But if the roads are impassable than I will have a few days hike. During a 72-hour bug out I view every second away from my ultimate destination as increased risk. A lighter pack for me means more ground that can be covered in a day. I have used the tarp/bivy combo for periods much longer than 72-hours and it has worked fairly well.
The 8x10 tarp can be setup in a multitude of ways for a variety of weather conditions. The tarp can be set up free standing or using trees etc for tie-offs. I could use sticks for poles but I find my hiking poles work best. Hiking poles are stored next to the BOB even when packed in my vehicle.
Here is a standard A-frame with all my Bug-out gear that would be carried during the warmer months. This shelter takes about 5 minutes to set-up. However a tarp shelter can take up to 20 minutes based on how complex someone wants to make it. I can add more stakes. Extend tie-offs. Create an awing using the Golite poncho to close off one side. Too many tarp set-ups for me to go into at this time. But the standard A-frame if pitched right has proven very weather resistant. The 8x10 tarp offers greater protection from wind blown rain than just my poncho/tarp. But the poncho/tarp can be used as a back up shelter if forced to abandon my primary shelter
Sorry if these pictures appear dark as it was late. Not a long test. Just a 5-mile overnighter.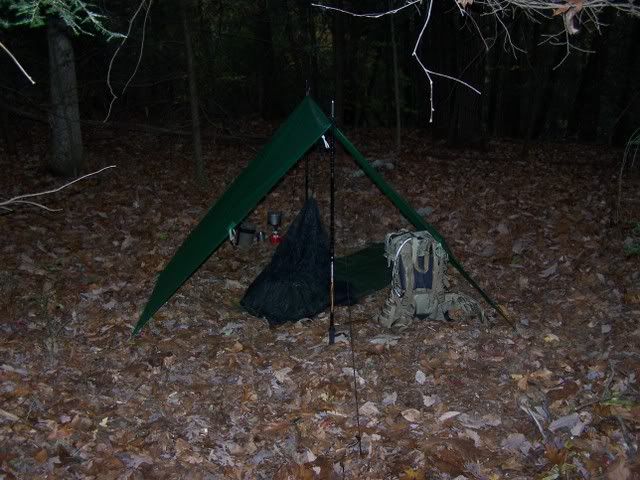 I carry the bivy to offer protection from wind blown rain. Also acts as a barrier against mud, insects and other creepy crawlies. The Mantis bug net keeps the blood suckers off my head and arms. The only real change to this system would be my OR double bug bivy during heavy bug season as it is large enough to spread out in for total refuge from insects like mosquitoes, ground creepy crawlies and the dreaded black flies. The bath tub floor also protects from mud. I would swap out the mantis for the OR during these times of the year. Maybe a month or two.
November though early April configuration:
Winter shelter system for the 72-hour BOB will be the Kifaru Paratipi and small stove. Total weight for the Paratipi is 3 lb 12 oz. I have tested this shelter system using the 72-BOB in its winter configuration. Everything worked together very well in the field.
It takes about 15 minutes to set up the Paratipi and small stove. Another 25 to collect enough wood for a night. But once setup the shelter offers near invulnerability to the harshest winter weather. Also allows for a low visibility fire.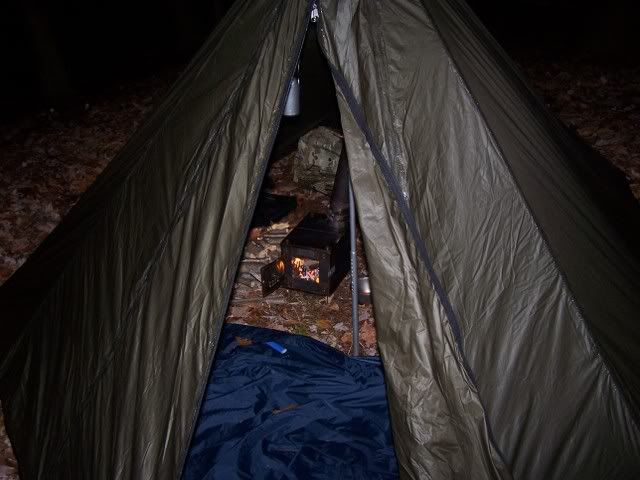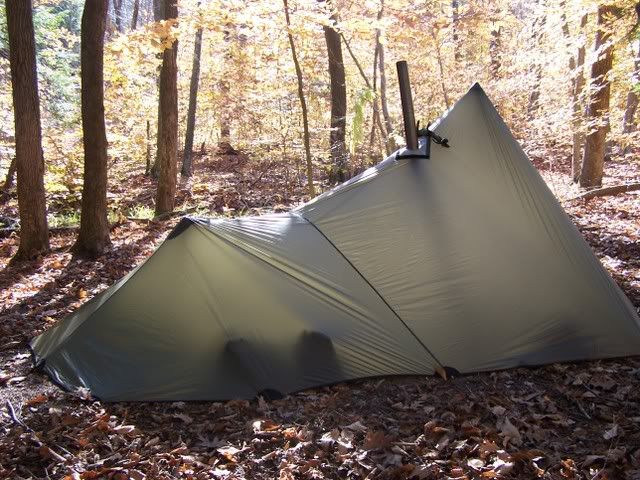 Gear will be placed on one side the sleeping bag on the other. The cooking and hangout area is in the front. But in extreme cold I turn the stove facing the sleeping bag so I can heat the shelter before getting out of my sleeping bag. This has enabled me to get a pre dawn start on the day. Important to use as much of the limited day as possible in winter.
To provide illumination and extra warmth once the stove dies down, I have included a UCO candle lantern with three 9-hour candles (one for each night).
http://www.candlelantern.com/
The stove is capable of heating the shelter 120 degrees above the outside temp and provide for unlimited cooking and water boiling. The total weight for the Kifaru Small stove is 3lb 4 oz.
http://www.kifaru.net/stovspex.htm
My BOB shelters are not free standing so I use tent stakes for tie-off supports. These change seasonally. Ti nail pegs are used for winter. I carry 18 of them. The V-stakes replaced my Ti Shepard hooks in the Lock and Load component. For the warmer seasons I carry 6 durapegs. The bent tent stake is an aluminum stake of the kind available in Wal-Mart. They are worthless. Even the Ti nail pegs can bend but at least Ti can be bent back into shape. Aluminum has a memory and the more you try and fix the stakes the worse they get. Tubular aluminum works and V or X type aluminum stakes are acceptable too. Both would be screwed if bent but are very resistant to deformation.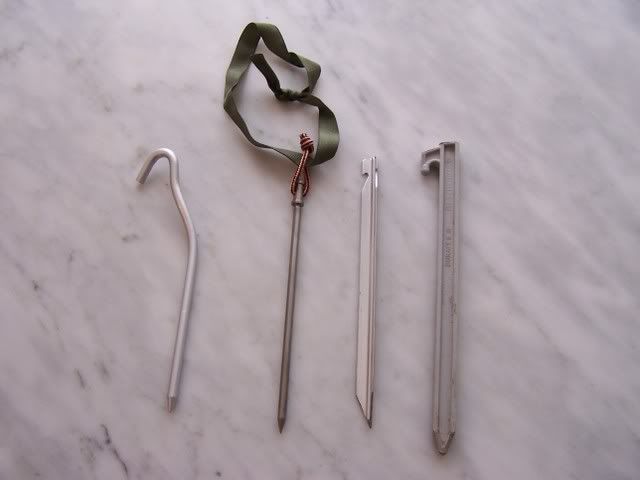 http://www.durapeg.com/
http://vargooutdoors.safeshopper.com/181/1425.htm?952
http://www.ems.com/index.jsp?emssrcid=adwords_ems
Sleeping bags:
Spring, summer and fall bag.
I use an inexpensive Coleman Exponent Canyon 32 for the warmer seasons. Cheap but works very well for me. Price range is 50-70 dollars. I was surprised at the value. But would wear my base layer for the lower temperature rating.
http://www.lg-outdoors.com/proddetail.asp?prod=40756
Canyon Series sleeping bags were designed for users who can understand the performance of an unusually lightweight bag. Don't be fooled by the small size. These ultralight sleeping bags deliver the temperature promise. A combination of full cover construction and DuPont® Thermolite® Micro fill provide the best warmth to weight ratio for the price. The trapezoidal foot section is angled to allow for the foot's natural sleeping position. The Canyon Series is a must for on-the-go, lightweight gear.
- Keeps you comfortable down to 32º
- 32" x 86"
- 16 oz. DuPont® Thermolite® Micro fill
- Polyester ripstop cover and nylon liner
- Left side zipper
- Pack weight 2 lbs. 11 oz.
- Pack size 7" x 11"
Winter bag:
For winter the Canyon 32 does not provide enough insulation. So I change it out with the MSS Black bag. Can't really recommend this for those looking to cut every oz but is workable
http://www.trailspace.com/gear/u.s.-arm ... iew/12223/
First Aid Kit.
Here is my FAK for the modular BOB. My intention is for enough medical supplies to self treat injuries and minor illness during a 72-hour bug out with some extras just incase getting to the BOL takes longer. I don't really have any medical training other than a basic first aid and CPR course taken 10 years ago. At this time I am looking for an easy to understand medical guide for non medical types like me. Even with my limited knowledge I would try to help an injured person during a bug out within reason.
One thing I learned from my few superficial injuries hiking is medical supplies must be placed for fast easy access. One can't be digging though a pack looking for bandages bleeding all over the place. So I keep all the medical supplies in the top Claymore pouch. Weight and bulk being my primary concern with a 72-BOB all medical supplies must be light weight and fit within this 650 ci pouch.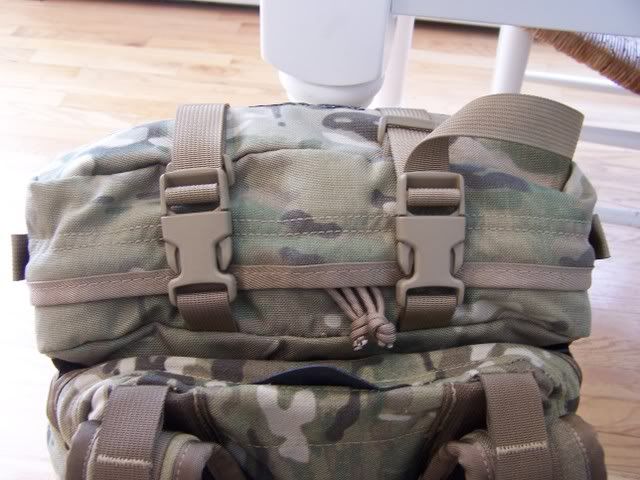 I can access my FAK supplies via zipper.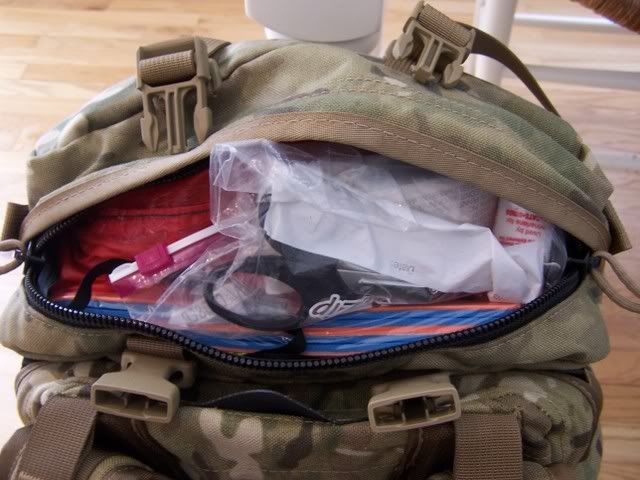 The components are in 3 main parts.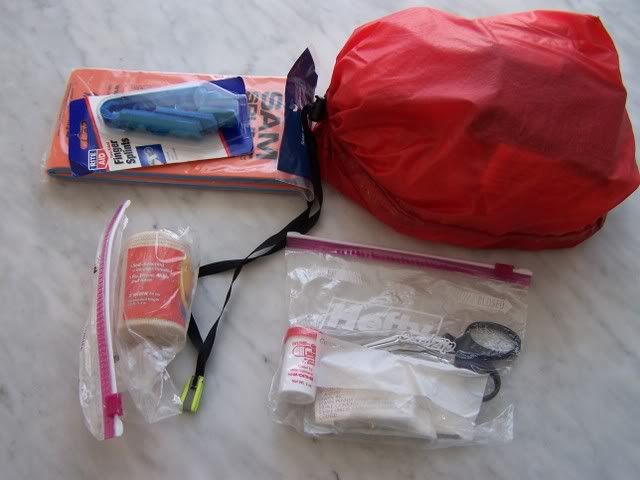 1. Fast access bleeding kit.
2. Splint items
3. Water resistant Red sil nylon stuff sack.
The main reason for this system is I just don't have the room to put a large medical bag inside the claymore. Also don't wish the carry the extra weight of the medical bag itself. If the overall BOB is too big and heavy there is a lesser chance I will actually have it on hand when needed.
Fast access bleeding kit:
This is kept in the front. Total weight with zip lock bag and added tape 3.2oz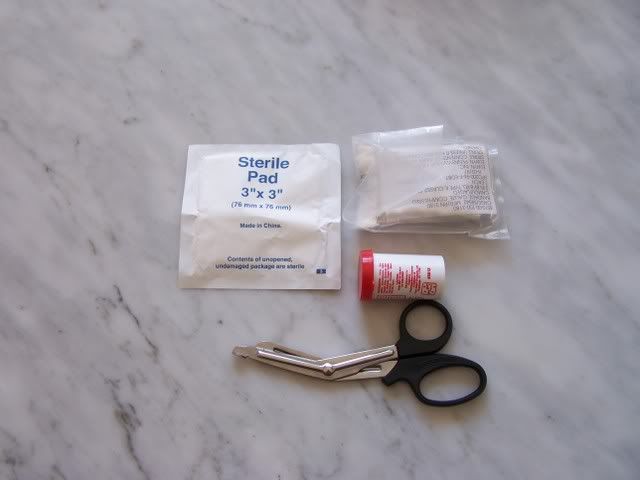 1. Medical scissors.
2. Antiseptic Quick Blood stopper ½ oz
3. Compressed gauze 2in x 6 YD
4. Gauze pad 3x3 inch
5. Added a small roll of medline medical tape.
Splint items:
Total weight 8.2 oz.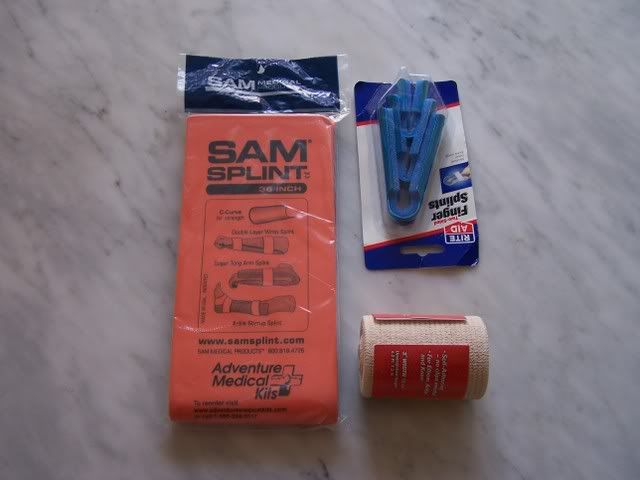 1. 36 inch Sam splint.
2. 3 sizes of finger splints
3. 3 inch roll athletic tape.
Red stuff sack:
All Items inside are kept in zip lock bags based on classification. Total weight 1 lb 13 oz.
1. 5 rolls of gauze.
2. Roll of waterproof medical adhesive tape.
3. Tweezers
4. 5 sewing needles sized large to small
5. Added 4 safety pins
6. Compressed muslin bandage camouflaged 37x37x52 inches.
7. 2 inch roll of athletic tape.
8. 12 Q-tips
9. 3 strips of Moleskin 4 5/8 x 3 3/8.
10. Surgical dressing 5x9 inch.
11. 4x4 inch dressing sponge package containing 2 gauze sponges.
12. Abdominal pad 5x9 inch.
13. 6 3x3 inch Gauze dressing pads
14. Eye pad.
15. 2x2 inch gauze dressing pad.
16. Latex gloves. Update added an additional pair.
17. 20 Alcohol cleansing pads.
18. 4 Benzalkonium Chloride Antiseptic towelette.
19. 12 Cough drops
20. Field dressing camouflaged 4 by 6 ¼ x 7 ¼ inches.
21. 38 Band-Aids sized from very large to small. Preference on large.
22. 9 suture type adhesive bandage.
23. 5 Dural wound closure strips 1/8 x 3 inch
24. Mersilene Polyester fiber suture 30 inch.
Medicine:
Weight is included with contents of red stuff sack.
1. 20 Aspirin
2. 20 Advil.
3. 12 Tabs Rolaids.
4. 12 tabs 25mg Sennosides
5. 9 tabs Simethicone 125mg
6. 6 tabs Diphenhydramine HCI 25mg
7. 12 tabs Loperamide Hydrochloride 2mg
8. 10 tabs Oxycodone (Prescribed by MD)
9. 1 oz Petroleum Jelly
10. 1oz Triple antibiotic ointment
11. 0.3 fl oz Liquid Bandage
12. 1 oz Hydrocortisone cream.
13. Medicated Chapstick
I believe that is a complete list of the FAK. I am no medical expert so this FAK should be taken with a grain of salt. I have some QuikClot on order. Any suggestions are welcome. But keep in mind that the 650 ci Claymore pouch is the only room available and it is nearly full. Other BOB items like duct tape and muti tool could be used for medical purposes and have been previously posted.
Food:
This is my total food for 72 hours. For me lack of food is ranked far below exposure and dehydration. A person can go for a long time without eating. But the extra energy provided would help me cover more ground faster. Less time adrift getting to the BOL. Warm food and drinks boosts my moral and seemingly core temperature in winter, not that I have any scientific proof. I am willing to expend the energy and time cooking before sleeping and first thing in the AM. I do have some food items that don't require cooking just incase time or circumstances intervenes.
1. 3 Mountain House Pro packs. Total calories 1500.
2. 3 Lipton Beans and Rice packages. Total calories 2475.
3. 3 packets of olive oil. Total calories inclusive to bean and rice.
4. 3 packets of instant oatmeal. Total calories 380.
5. 3 granola type bars. Total calories 450.
6. 1 package of dry milk. Total calories 160.
7. 3 packets of spiced cider. Total calories 240.
8. 4 cups of coffee, 1 cup of tea with sugar and creamers. Total calories 160
9. 1 MRE packet. Total calories 150.
10. 1 Mainstay. Total calories 2400.
11. MRE spoon just incase my Spork goes MIA.
12. 1 package of beef jerky. Total calories 280.
Total combined weight 4 lbs 10 oz. But on the positive side it will get lighter during a 72-hour bug out.
Extra Items.
These items will be adjusted seasonally.
1. UCO Candle lantern.
2. 3 UCO 9-hour candles.
3. Laminated map.
4. Weather broadcast receiver.
5. Surefire G2 with extra set of batteries.
6. Fishing gear.
7. 1.5 oz 50+SPF Coppertone sunscreen.
8. Cell phone.
9. Energizer cell phone recharger with 2 AA lithium batteries.
The UCO candle lantern and 3 candles are for winter. Laminated map will remain year round and is very important. The weather radio is used during longer outdoor activities but will be stored in the BOB. It would have to be one hell of a disaster for the weatherband to be down. The Surefire is for spotlighting people or stray dogs until I can determine their intent. Fishing gear is broken down into 3 green Wooly bugger flies. Two #10's and one #8. One weighted bobber. Six # 10 snelled hooks. 30 yard 6.4 lb fishing line. If not for the fact that fishing line makes for good small cordage I would have not added any fishing stuff to the 72-hour BOB. I have no intention of stopping for a relaxing afternoon of fishing. This is a bug-out not a vacation. But the extra weight of the hooks, flies and bobber is irrelevant. I would consider tossing in a drop line to work for me overnight or maybe a few minutes spent at dusk after my bug-out camp was set up if near a body of water. Still fishing is very low on my list of priorities. The green Wooly bugger fly is deadly. Fish will take one just like a worm. No fly rod required. My cell phone is on me 24/7 and is my only phone line. The recharger is taken during outings to areas that don't have power. It is stored in the BOB when not being used. I don't know if the cell phone system would be overloaded or even operational during a disaster. I would keep the phone on standby with the hopes of contacting family. So the re charger is a must. The sunscreen is kept in the BOB all year.
http://www.energizer.com/energitogo/index_flash.html
http://candlelantern.com/
http://www.surefire.com/maxexp/main/co_ ... /sesent/00
http://www.nws.noaa.gov/nwr/nwrrcvr.htm#residential
Firearms:
Whatever gun I happen to have at the time. Sounds a bit silly but I live in the real world. What are the chances of me sitting home and the emergency broadcast system reports a major disaster just before the power goes out? I spend more time on the road and working rather than sitting by the boob tube. I have had vehicles broken into before. I will not store a rifle with 1000 rounds of ammunition inside my truck. I have a social and moral responsibility to try and keep my firearms out of criminals hands. So there is a good chance the only firearm will be my EDC gun. I have a fairly large collection of firearms.
http://zombiehunters.org/forum/viewtopi ... &start=216
The AR-15 Shorty is stored next to the INCH bag and will not be available during a 72-hour bug-out. But in a moderate disaster how would any active law enforcement personal react to some guy walking down the road with an AR-15 or AK-47?
The gun I carry the most is my SPS101.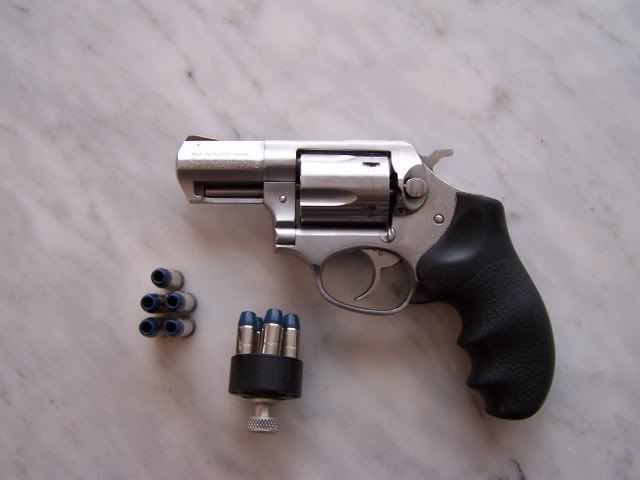 Is this my most tactical weapon at my disposal? No but it is the one I like to carry. Sometimes I carry the Glock 19. Make no mistake. If I see mushroom clouds in the distance or hear zombies clawing at the back door I will be taking a rifle and lots of ammo. AR or AK I really don't care. But in a localized moderate disaster there is a greater chance my EDC gun would be the only firearm available. I do keep an extra 50 round box of both 9mm and .357 in the house and truck.
That is the complete gear list for the 72-hour modular BOB. Any suggestions for improvement are welcome.
Refinements:
As I test my 72-hour BOB in the field there will be refinements. I have added 3 woodland Gregory SPEAR Pockets. With all my winter gear I was being forced to put some of my items in the POD. This made it difficult to access some gear on the fly.
The SPEAR pockets are of higher quality than SDS pockets. These have the same massive zippers as Kifaru. The pockets have an interesting water proof heavy duty fabric backing.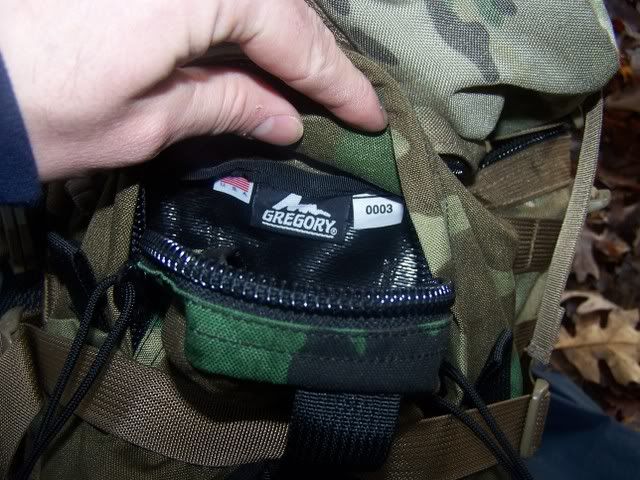 Like issued SDS pockets they don't need Malice clips. They also have grommets. However I prefer Kifaru pockets but all my MC Kifaru pockets are currently attached to my EMR. I picked woodland because I have tons of woodland pockets so didn't want to spend money on new CB or MC pockets at this time. The Pointman has side compression straps. These combined with the pals webbing keeps the pockets from flopping. I use these straps to compress the pockets as consumables like food is removed. I was worried that the pockets would increase the pack's profile and limit my maneuverability. But after testing the pack off trail it was not a big problem.
My canteen's insulated cover didn't fit inside my SDS pocket. But does fit this one. Keeping my water from freezing is a big concern during winter. The Velcro strap on the insulated cover did work but I was feeling a bit worried when bushwhacking. So I wanted to secure it better.
I replaced the free hotel sewing kit with a better one. Mostly for the extra safety pins and buttons. Removed the Snow peak Ti bowl as it tended not to be used and was needed for my E&E.
Update:
I added some rain pants. The poncho lacked protection for my lower legs so these helped. Also found my knees and butt getting wet when setting up camp. I may change them out for something more breathable. I have Gortex USGI paints however these are lighter. Looking at some UL hiking rain paints for a future upgrade. Changed out the fleece sleeping hat a Wigwam beanie. It is warmer and the USGI fleece hat has been moved over to the E&E.