Golite Hex 3 review.
Technical Information: Hex 3
Ultra-lite, expedition-ready, and simple to pitch, our best-selling Hex 3 is a model of backcountry versatility! This 4 season teepee-style shelter sheds wind and weather brilliantly and can be used by itself, with the Hex 3 Floor, or with the Hex 3 Nest inner bug tent. You can pitch it with the micro-adjustable Easton® aluminum pole included, on snow, over a paddle or ski pole, or hang it from a branch via its top loop. Dual roof vents provide excellent air flow, and reflective stake out loops keep you from tripping in the middle of the night.
Shelter Specs
• Type: 4-season, 3-person
• Height: 66 inches
• Area: 65 sq. ft | 6.1 sq. m
• Main Body Weight : 28 oz | 790 g
• Pole Weight: 14oz | 400g
• Stake Weight: 5oz | 140g
Technical Information: Hex 3 inner tent
The perfect companion to the Hex 3 shelter, the Hex 3 Nest can be pitched beneath the Hex 3 canopy or used alone on rainless nights to provide complete bug protection without losing space and comfort. Featuring a 6000 mm waterproof bathtub floor and rugged no-see-um mesh, the Nest is still amazingly lite-weight. Like the Hex 3 shelter, the Nest can be pitched using a single center pole (sold separately or with the Hex 3 canopy), over a paddle or extended trekking pole, or by hanging it from a tree branch from above.
Shelter Specs
• Type: 3 person
• Height: 66 inches
• Area: 59 sq. ft | 5.7 sq. m
• Main Body Weight : n/a
• Pole Weight: n/a
• Stake Weight: n/a
http://www.golite.com/product/productde ... SH6106&s=1
The Golite Hex 3 with inner tent is a complete 4-season shelter system that uses the proven tipi shape for great wind and weather resistance at a reduced weight compared to other shelters of similar size. The shelter has a silicon impregnated canopy. The advantages of silicon over urethane are numerous. Silicon is much stronger and weather resistant than urethane. This strength allows for a lighter nylon outer wall that is 100% water proof. Silicon can be expected to last for many years longer than a urethane coating. All Golite shelters use a special thread that does not allow water to pass. So the shelter does not require seam waterproofing by the owner.
The shelter packs down very small. Here is a photo of both components. The Hex and inner tent. A standard wide mouth canteen is used for scale.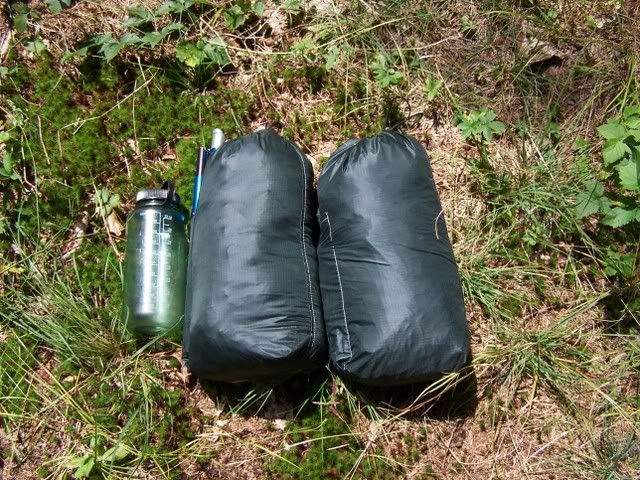 If setting up as a complete shelter first the user must erect the inner tent. It has a fully water proof floor and offers 100% bug protection. All that needs to be done is stake down the base and push the adjustable pole up. There is protection on both floor and the cone so the pole will not harm the tent.
After that place the Hex 3 canopy over the inner tent and stake down the tie-offs. The canopy has protected vents that allows for ventilation in all types of weather even if the large door is closed.
For scale I included a very large Rottweiler. The shelter comes in both sun and sage. The sage is more like forest green and blends in very well with most woodland settings.
Here is a photo of the inside. The pole is a high quality Easton Aluminum adjustable unit that breaks down small. The inner bug net acts as a liner to prevent condensation from dripping down.
The tie-offs are light reflective. It is very easy to find the shelter in the dark using a head lamp. Helps a person avoid tripping over the side tie-offs. Some may not like this feature if looking to keep a low profile after dark. I think this could be rectified with some paint, ink or duct tape. My advice is to leave them alone as they are a nice added feature.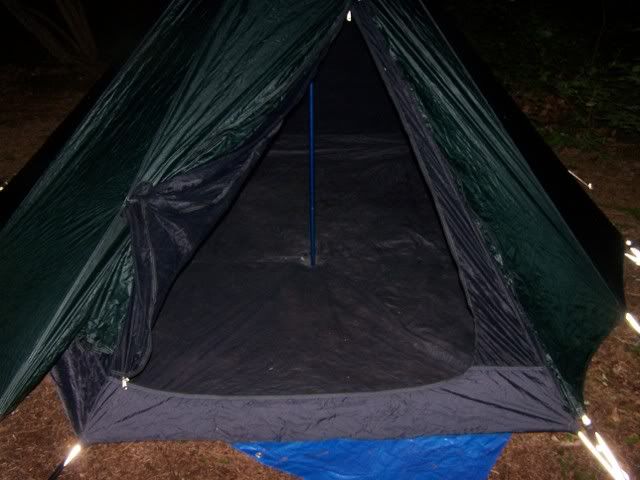 Pros:
The shelter is just massive for the pack weight. The materials used for the canopy and inner tent are very high quality. The zippers are YKK and the pole is Easton. The pegs are very very good. The Golite Aluminum pegs are light weight and extremely bend resistant. They hold great too. I would recommend these to anyone looking to upgrade their tent stakes.
http://www.golite.com/product/productde ... SH6204&s=1
The shelter does not need to be set up with a pole as there is a tie-off on the top. This is not recommended for winter camping. The canopy can be set up as a floorless tipi type shelter without the inner tent. The high peak allows a greater degree of comfort than some smaller shelters. The shape is very wind and weather resistant. It is one of the lightest 4-season shelters on the market. The single pole system is very easy to setup.
Cons:
The shelter is not free standing. This means it must be staked to the ground for support. The center pole takes up some internal room. The shelter is by no means cheap. If looking to purchase the system I would shop around as often there are sales.