Gear review: USMC 2-man tent.
Technical Specifications
:
Floor Area: 38 sq. ft. minimum
Minimum Weight: 8.5 lbs. (tent, fly and poles)
Height: 45" minimum at apex
Transport Pack Size: 0.5 cu. ft. (tent, fly, poles and repair kit)
Total Vestibule Area: Rain fly provides 20 sq. ft. of additional covered storage
Rain Fly: Free-standing, reversible Camouflage Green and Desert Tan, flame resistant
 Operable conditions 0F to 120F
 Ventilation for use in desert/arid environments, minimizes internal build up of condensation
 Withstands steady 40 mph winds and gusts to 55 mph
 Provides protection from flying and crawling insects
 Has sufficient head room for changing clothes
 Rain fly covers all openings in the shelter
 Rain fly prevents the escape of light and provides protection against visual and infrared
 Rain fly when installed provides 20 sq. ft. of additional covered storage and is adaptable for use independent of the shelter
 Rain fly has high wind guy out points for staking down the tent
• Able to withstand 40 mph steady winds and 55 mph wind gusts
• Working temperature 0F to 120F
• Protection from driving rain, sand and blowing snow
• Rain fly and frame set up without the inner tent
• 12 pc. Stakes
• Instruction sheet sewn into lid of tent bag to prevent loss
FLOOR -
70D Ripstop nylon weighing 2.2 - 3.0 oz. per square yard, withstands minimum water pressure of 145 psi
RAIN FLY -
70D Ripstop nylon weighing 3.5 oz. per square yard. Coating is pigmented polyurethane with blockout finish to prevent light from showing through fly material. Must withstand water pressure of 60 psi
BREATHABLE INNER TENT -
70D Ripstop nylon weighing 1.9 oz. per square yard
NETTING -
40D nylon no-see-um
 .355 in. diameter nylon poles with locking pole tips
 Shock cord quality 16448 cold weather rubber (.155 in. dia.)
 Frame attached to tent with post and grommets
 1 pc. Main transport bag
 1 pc. Frame bag
The USMC 2-man tent is the modernization of the old shelter half system that has been around forever. Seen some USMC 2-man tents with camo rain flys. However I like the solid reversible OD Green/ Coyote Brownish rain fly.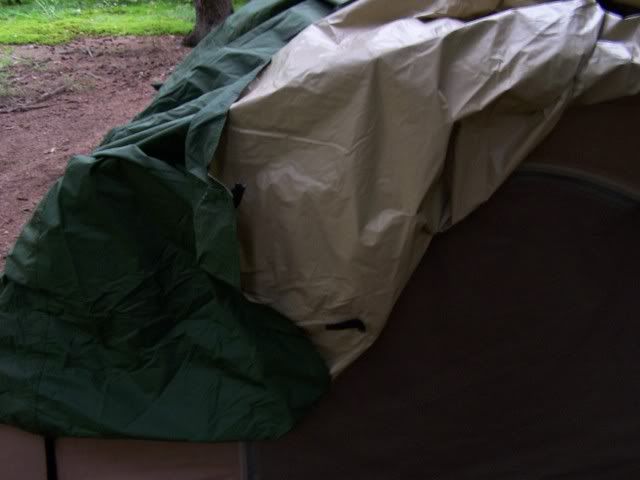 These shelters are made by Diamond Brand or Eureka. Mine is a Eureka. Betting there are few if any changes with the current models regardless of maker. My tent was purchased new on Ebay for about 150 dollars.
http://www.diamondbrand.com/dbm/about_us.html
http://military.eurekatents.com/tents/combat.html
The shelter packs down like an angry Black Bear. A wide mouth canteen is used for scale.
As I said this shelter is a beast to pack. Clearly intended for 2-person packing as the rain fly comes in its own stuff sack and can be set up as a floorless dome shelter. On the positive side the poles are high quality Easton Aluminum. The shelter comes with a generous supply of equally high quality Easton tubular Aluminum tent pegs, extra paracord and a comprehensive repair kit. The shelter weights in at nearly 9 lbs. Not ultra light by any standards but build to take a real pounding.
The shelter is easy to set up. The 5 Easton Aluminum poles slide though in a cross with the 5th being used to flare out the front.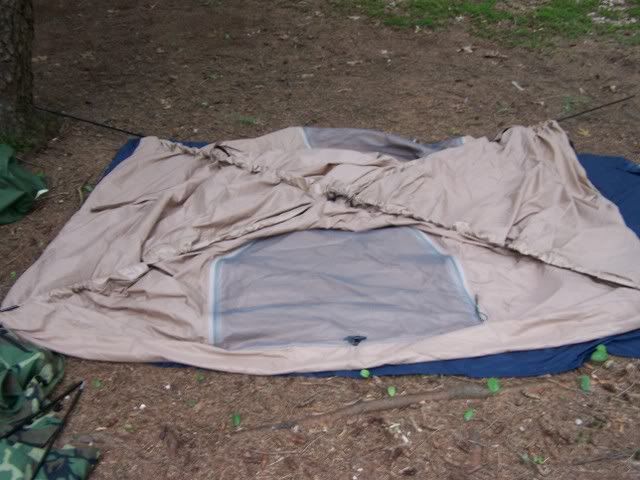 Here is a photo of the inner tent fully setup. The doors have duel zippers to allow the high quality bug net to remain closed for ventilation. To adjust this just zip down the inner door flap to the desired position.
The rain fly is built very strong. It attaches to the inner tent with Velcro and plastic buckles on the inner tent tie-offs.
Here is a photo of the shelter's front.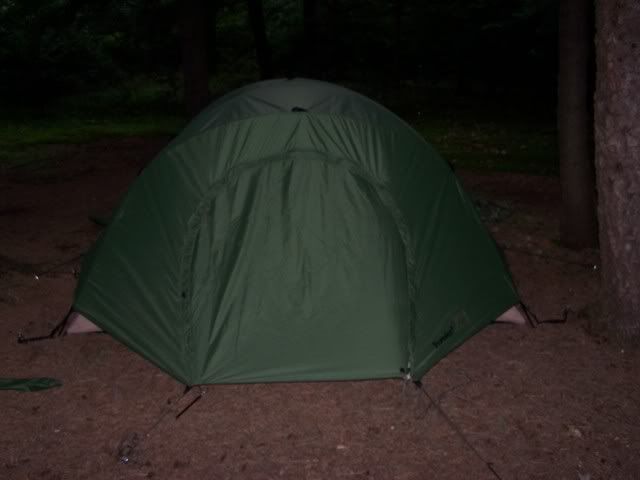 The shelter's back.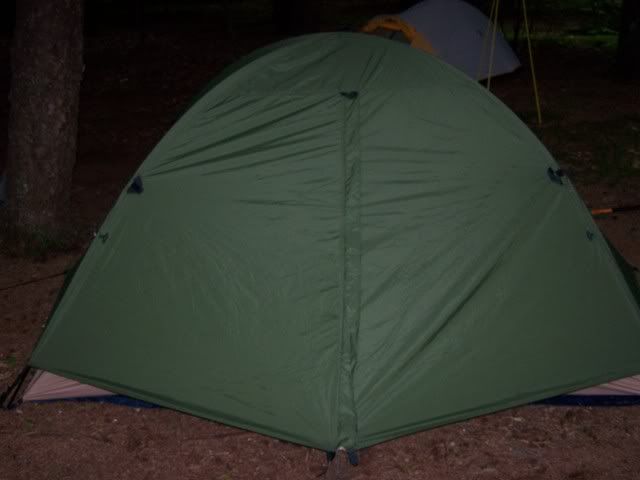 Both front and back have a small annex type area that allows for gear storage. Not the biggest I have seen but sufficient for boots and other gear that you might not want to bring into the tent. A person can keep the bug net zipped with inner doors open during a rain storm as the rain fly extends past the doors.
The inside of the shelter is fairly roomy for a small dome tent. There is a mesh storage area for valuable gear that may require easy access.
Eureka has included a mesh top shelf for more gear storage. This feature is common on many tents and I have found them to be very useful to store LED headlamps, handguns and wallets. Any valuable items that you don't want to get lost or require fast access is perfect for this storage area.
Pros:
The shelter is very well built. In fact you can shine a flashlight inside the thing and only the gaps between the inner tent and the rain fly would show the light. It has heavy duty zippers. They look like number 10 but could be wrong. The poles and pegs are very high quality. The shelter has never leaked a drop in any weather. The inner wall is breathable so the condensation is trapped outside against the inside of the rain fly. This is a classic feature of most double walled shelters. The tent seemed almost impervious the wind and held up great to heavy snow loads. The tent traps some extra heat during cold weather. I ran some winter camping test and according to my digital theromater the shelter was generally 5-10 degrees higher than the outside temperature. I did read that somehow the shelter offers a bit of protection against infrared detection but then again I have never tried to detect my tent using infrared anything.
Cons:
It is very heavy. It packs down like a beast. Thinking unless you are bugging out with a partner this shelter is a no go for a single person do to the pack size and weight. However if the shelter is placed in a car or other vehicles it may be more practical for solo camping or bug out shelter.