One item I always pack in my BOB or camping gear is a Tomahawk or Hatchet. They are very versatile and is one of the few alternative weapons/tools with the exception of the knife and baton that can be REASONABLY carried in some situations. These can perform many of the same roles filled by other tools/weapons. True I will not be carving miniatures of fertility goddess etc but I have used these tools to cut rope, clean fish and game etc just like a knife. Some hatchets make darn fine hammers to drive tent stakes or shelter poles in frozen/hard ground, crush bones to get at the marrow etc. They can perform the light duty of an Axe. Chop and split wood for fuel or to build a shelter. As a weapon for melee a tomahawk or hatchet combines many of the best attributes of all the others. It has some of the reach and power of the Axe but the user is not committed to a 100% offensive stance. It has some of the cutting advantages of a knife but combined with the power of a hammer. So when the ammo is gone and the walking scarecrows and zombies are still coming these weapons/tools will not let you down. Here is a review of some Tomahawks and Hatchets that I have used over the years. I am by no means an expert on anything so all I am offering in my experience. One thing everyone should consider is safety. I have had sticks fly back and strike my safety glasses during chopping. I have cut my fingers and had some near misses do to laziness and stupidity. Be very careful. These things can take a finger like nothing so don't let your mind wander.
1. The Fiskars Hatchet.
http://www.fiskars.com/US/Garden/Retail ... ntId=85474
These hatchets come in two handle lengths 8inch and 14inch. They can be purchased at hardware stores etc for about 20 bucks. These are the same as the more expensive Gerber models. My advice is to avoid any Tomahawk or Hatchet with less than a 10inch handle. These hatchets have very strong handles and will not break no matter how much abuse the user subjects them too. I have beaten the hell out of mine and with the exception of cosmetic scratches etc the thing is perfect. The Hatchet is about 1.5 lbs and comes with a plastic sheath/carry handle. The head is connected with an insert-molded design so it will not fall off anytime soon if ever. My overall impression is the Fiskars hatchet is good. Not the best but good enough for the money. The edge holds up well and the 7/8 lb head offers enough power to perform most jobs. The only real downside is my hand gets blisters after about an hour. Putting on gloves seems to take care of this issue. I am thinking about wrapping the handle in some 550 to see if that helps.
Here is a photo of my Fiskars.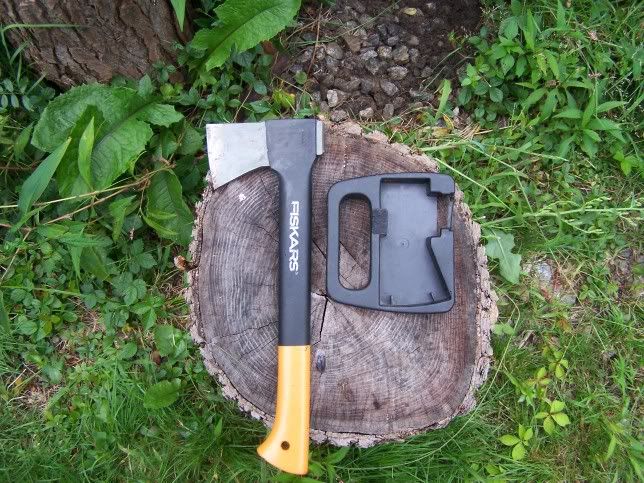 2. The Wetterlings Hatchet.
http://www.wetterlings.com/
This is a good Hatchet for less than 30 bucks. The total weight of the hatchet with leather sheath is 1 lb 9 oz. The sheath has a good belt loop. The head is hand forged with a weight of 1.25 lbs and has a very useful hammer reverse end. The extra weight in the head offers greater impact, all the better for splitting wood and driving poles, cleaning game and fighting off zombies etc. The 13inch Hickory handle was very easy to work with. Something about it just looks cool. The Wetterlings is a real workhorse and maybe weapon of last resort.
A photo of the Wetterlings hatchet with sheath.
Here is a photo of the Wetterlings Hatchet in the field. The shelter is a Kifaru paratipi with homemade stove.
3. The Cold Steel Nose Hawk
http://www.coldsteel.com/90n.html
This is from the Cold Steel web site:
"Capturing the Viking spirit, the Norse Hawk's 4" blade features a highly curved cutting edge and terminates in two sharp points. These points increase the chance of a stick when the Norse Hawk is thrown"
Specifications
Overall Length: 19"
Hawk Length: 5 1/2"
Weight: 22.6oz. (approx.)
Primary Edge: 4"
American Hickory Handle
Sounds great doesn't it? Well the reality is a bit different. I can't fault the durability of the head. It has held up much better than I expected. But the design does not lend it self to real world use. It can chop wood but falls short compared to the Fiskars and Wetterlings. The handle is hard to keep a good grip and the head slips. Even if secured from downward slippage with leather it tends to push it's way up more and more. I guess it could be dangerous as a weapon however the handle slips in my hands. The only real positive being that when the handle breaks I could just make a new one if in the field or during a PAW etc. However I look at this hawk more of a novelty item.
A view of the Nose Hawk "Capturing the Viking spirit". Whatever the f@ck that is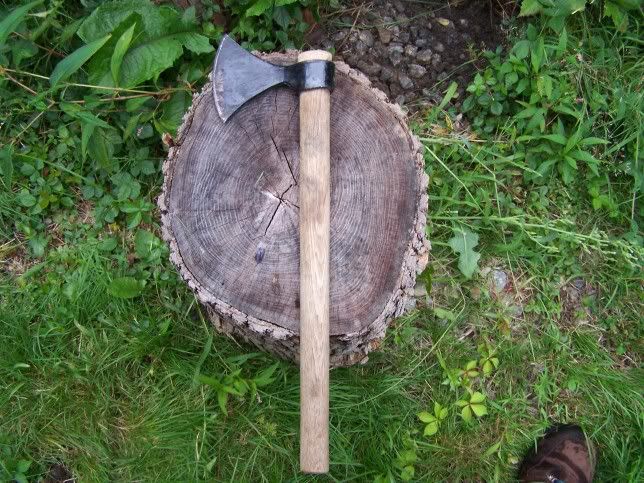 4. The LaGana Tactical.
http://www.americantomahawk.com/products/vtac.htm
Modeled after Peter LaGana's Viet Nam tactical Fighting hawk. This hawk retains all the brain smashing goodness of the old hawk with some modern updates.
When the Ammo runs low and the zombies are moving in for your brains or packs of starving walking scarecrows are asking for your last MRE and will not take no for an answer you could do a lot worse for a last ditch melee weapon. Here are the listed Specifications for this fighting hawk.
The NEW LaGana Viet Nam Tactical Tomahawk ("VTAC")
...the evolution of the "Vietnam Tactical Tomahawk"
Steel: Drop-Forged 1060, Rc 52-54
Handle: ST super-tough modified nylon
Ergonomics: Oval design indexing finger grooves
Overall Weight: 1 lb./453.59 grams practical
Overall Length: 14" /355.6mm practical
Sheath: Jumpable nylon LBE/LBV, MOLLE, Sling, Belt
NSN: 4210-01-518-7244
CAGE: 3G5W0
SKU "VTAC" LaGana Vietnam Tactical Tomahawk
My hawk's weight with sheath is 1 lb 9 oz. It has 5 cutting edges. It came tactically sharp. This means that it won't shave hair but will keep an edge. The cutting edge is made to keep its sting after a great deal of use. I have seen advertisements showing some fool shaving with an axe or knife. This looks great but in reality you don't want a field knife or hatchet shaving sharp. You will just roll the edge after the first hard use. The handle is synthetic. It grips well but I am thinking maybe some 550 wrapped around the handle could make it better. A good chopper but not up to the standards of the Wetterlings however much better than the Nose hawk as the LaGana is a real tool not a novelty item. The sheath opens from the top and attaches to PALS webbing on any military pack. It has two D- rings.
My LaGana.
One of the downsides to this hawk is no hammer rather a spike. Cool looking but a hammer would be more practical for me.
There are some military photos of the American Tomahawk Lagana Tactical
Well there you have it. I like tomahawks and Hatchets. They are just all around good. Small enough to be carried in a larger BOB. They can do some of just about everything. Plus I think they look cool. Never underestimate the coolness factor.