Here are some pics of hobo type wood burning stoves. Starting with a ZIP stove, trailstove and my homemade hobo. I have some fan photos. The copper fan is for the trailstove. I made it out of copper because it is easy to work with and conducts heat. This allows the fan to blow HOT air for a blast furnace effect. I used a CPU fan. Think about your computer. My CPU fan has run for some 5 years now. My homemade hobo has a fan holder/blower but I have yet to put in the fan (I gave away my last one and just built this stove). The stove comes apart so I can adjust the body size. The trailstove benefits more with a fan due to its smaller firebox. Both the homemade hobo and the trailstove DO NOT need a fan to run. The zip stove MUST have a fan. The trailstove and all my homemade ones are made out of stainless steel. The ZIP stove's firebox is made out of galvanized steel. They must have used standard pipe for the firebox as the galvanized just burns off. I used about a big hand full of sticks in all the burn pics. The flame and heat output is impressive. All stove pics are using fans with the exception of the homemade hobo stove and a parting cooking trailstove shot.
Why a HOBO stove and not a small campfire? I have a few good reasons.
1. First in the North East most parks and trails do not allow open fires. They are only allowed in campsites. Not a bug out issue however.
2. Greater BTU output for less wood.
3. I find with a cotton ball or pine tar it is much easier to start wet wood. The flames from the starter material tend to hit the wood in the perfect spot. Under the wood. The reflected heat dries out the wood in the firebox fast. I have never failed starting wet wood.
4. Easier to use under a tarp. The fire is contained in a small area. If you are handy one can even make a spark arrestor. I have done this.
5. When the fire burns down to coals restating is easier because of the updraft and reflective heat. But that is subjective.
6. A 5-gallon bucket of wood lasts me all night.
7. Fast set up. I don't need to look for rocks to support a grill. Rocks are easy to find in the summer but often frozen to the ground in winter.
8. Does not scar the land like a ground fire. A 5-inch ring of fine ash remains. With the zip stove all the ash remains in the firebox. The company states ash should be packed out. But that is just silly.
I am not saying that a HOBO stove can replace a raging, "white man's fire" Or every other camp stove. I am not saying small campfires are not good to cook on or boil water. But you get a lot of heat for very little wood with a HOBO wood burning stove
ZipStove.
http://www.zzstove.com/sierra.html
The trailstove. For best results make a X pot support to raise to pot 1/2 or so above the top. I sorry no pics of that but if people are interested I could take some and post it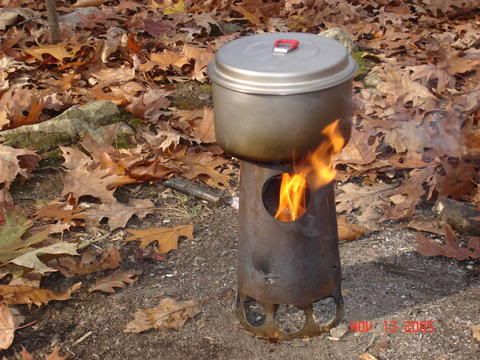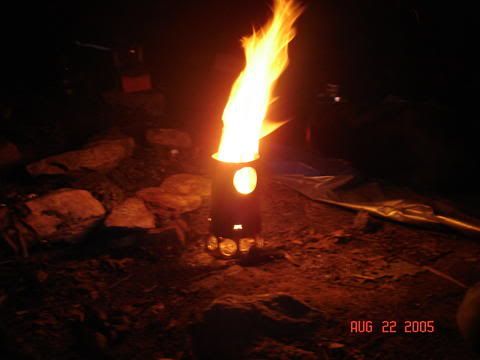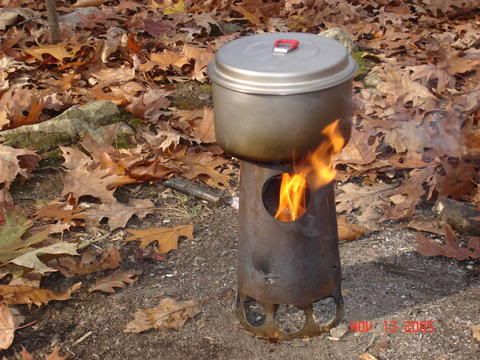 http://www.trailstove.com/
My homemade MEGA HOBO. I can change the stove size by changing out the body.
Short mild steel body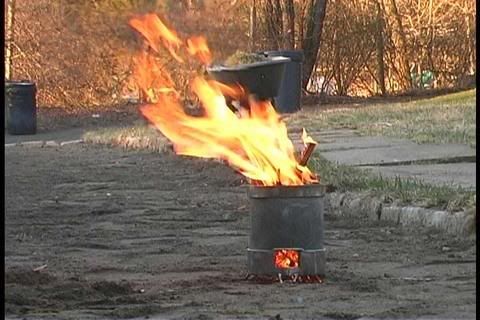 Stainless long body.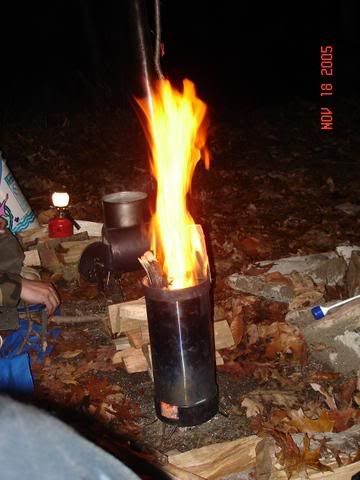 You will need not pack fuel. You don't need to build a fire ring and look for tricky pot supports (rocks etc). The hobo stove is a self-supporting foolproof system that anyone with a Bug out Ruck should consider. They are light weight to boot.