Hi folks - I've been lurking for...an embarrassingly long time. I thought the folks around here might like this. Of note, the full photoset can be found on
Flickr
.
A friend recently handed this off to me during his move - it came with his house, and appears to have been originally purchased by the first owners. This is a Karry Kit survival kit packed by Perma Pack, a company in Salt Lake City. Interestingly, at least one Internet based preparedness store appears to carry
modern Perma Pak kits
.
The kit is approximately 50 years old if the dates in the booklet are to be trusted, and all of the cans are still intact. The water cans still have water sloshing in them!
Contents are listed on the side: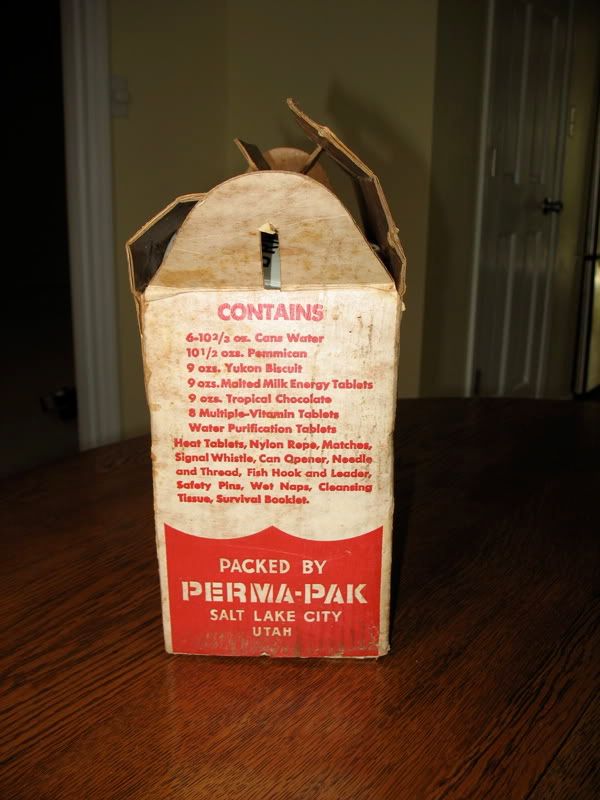 They are:
6 cans of water
10 and 1/3 oz of pemmican
9 oz Yukon biscuits
9 oz malted milk energy tablets
9 oz tropical chocolate
8 multivitamin tablets
water purification tablets
heat tablets
nylon rope
matches
a signal whistle
can opener
needle and thread
fish hook and leader
safety pins
wet naps
cleaning tissue
survival boolket
Everything but the rope is also in a can, with an attached P-38 style can opener. The rope is cheap nylon - a step up from shoe laces, and a step below clothesline.
Removed from the package, this doesn't feel like a 6 day supply even for one person, although it is pretty compact. Imagine living for 6 days on 60 ounces of water and the contents of three cans.
Each can is labeled as a two day supply of food. It might be at that, as I'm not sure I could eat pemmican, Yukon biscuits, and and
tropical chocolate
every day for almost a week. Also note that they used
invert syrup
as an ingredient - inverted syruup is typically more stable than sucrose and makes sense in this sort of survival food.
And the survival items are in a separate can.
Once you opened your cans, you were expected to survive following the directions in the included booklet, "Staying Alive!". Presumably, the Bee Gees stole the idea and improved significantly on it.
There's a whole half a page on fallout survival, greatly increasing your chances if the Soviets nuked you and you had to eat survival malted milkballs. As noted, "Fallout is dangerous!".
All in all, this kit is a treat - an interesting reflection on the issues of the time, and a reminder that we're not the first people to worry about preparedness.