Below is my first attempt at a bug-out bag; I've got it pretty close to complete save for whatever folks discover missing in this post and item upgrades. I tried to be frugal when putting this pack together, so I've cut corners in a few areas with the intent of improving the inventory on a gradual basis. I'm also listing the prices of what I can, with the thought that it may be helpful for people starting out on putting their first B.O.B. together. If you know where you can get a similar item but better quality or cheaper, please feel free to list it! I'm listing the prices for any items which I already owned as N/A.
For the most part I tried to stick to the 3-day concept of a bug-out bag, but I have less than that in some areas, and more than that in others. For instance, nearly every disaster agency in the country says you need at least one gallon of water per person per day. For three days, that's 25 pounds of water - no way I'm trying to carry that. On the other hand, a fishing kit wouldn't be necessary in a 3-day pack, but I'd like to have it in any survival kit, especially since fishing is such a viable food source in my area.
Rather than going pouch-by-pouch,I'm organizing the inventory as: water, food, shelter, clothes, first aid, personal hygiene, tool kit.
THE BAG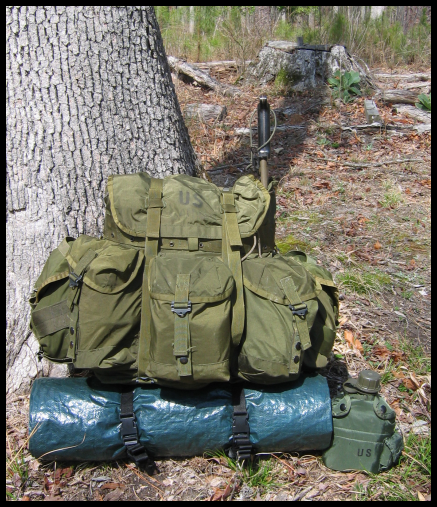 ($35.00 shipped)
Medium A.L.I.C.E. pack with frame.
True to the learning curve, this was my first purchase and first mistake - I bought it on Ebay for $18 (used but excellent condition) and paid $17 for shipping. I could have gotten this for $25 at a gunshow, along with many other items in the inventory. I
strongly
recommend gunshows for anyone starting a bag; there are lots of good deals and you're supporting the independent dealer. Shipping and handling costs jack the total price of items way up.
($4.00 each)
LC-2 buttpack
I added one of these to each side for the first aid kit and tool kit. They don't sit very tight to the pack, though, with just the ALICE clips - probably because it wasn't designed to attach there.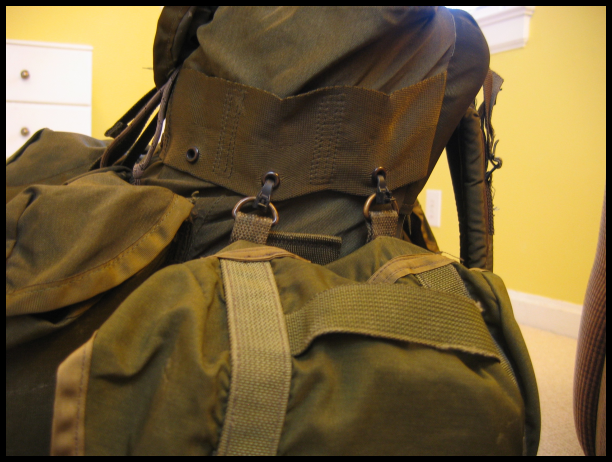 So I've run zip ties through the D rings (which I think are where the suspenders would normally attach) and that keeps the packs from flopping around and getting sloppy. The problem with this solution is that now I can't easily detach the FAK or toolkit from the ALICE. I'd welcome any suggestions - I may just see if I can attach a MOLLE M249 SAW gunner's pouch there and get rid of the buttpacks.
WATER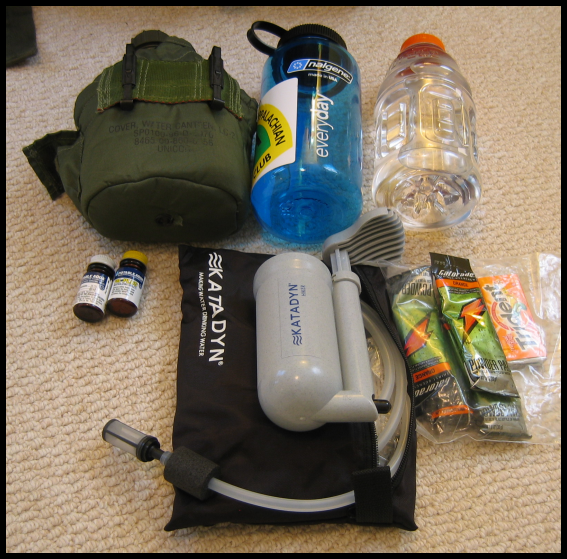 ($20.00)
USGI canteen, cup, and cover - should have bought used; paid too much for these. Is the little pouch on the side for holding water treatment pills? Because mine fit perfectly in there.
($9.00)
Nalgene bottle
(N/A)
Gatorade bottle
($5.88)
Potable Aqua iodine pills - treats 25L water.
($60.00)
Katadyn Hiker water filter - filters approximately 750L water. Got this with a $75 gift certificate to BassPro from my ex-girlfriend's father.
($0.31 each)
Powdered Gatorade - for amending the taste of filtered or treated water and replacing a few carbs and electrolytes.
I'm carrying 3 liters of water, which weighs 6.6 pounds if my math is right. I'm very tempted to cut that down to just one liter since water sources are so plentiful in my area - you can't walk a mile in any direction without coming across half a dozen freshwater streams, ponds or reservoirs. Between availability and the fact that I'm carrying 3 methods of treating water, I'm thinking I might be able to do without that extra weight. Thoughts?
I've got the Gatorade bottle in there just as a tip to folks on a budget; those bottles are made from much stronger plastic than the regular Aquafina or Deer Park bottles. The plastic is thicker and the corrugated design helps with their toughness. Plus, they're free - save the cash now, pick up some other items for your B.O.B. and upgrade to Nalgenes later.
I'd like to see how a
MSR Hydromedary
bag fits in one of the ALICE pouches, but for now the canteen will do for drinking without having to put my pack down.
FOOD
Not pictured is the scrubbing pad for cleaning the canteen cup.
($10.00 shipped)
Datrex emergency ration bars
($1.00)
Knorr Red Beans and Rice - for morale after eating 3 days worth of coconut-flavored wheat bars.
($1.00 each)
Cliff Bars
(N/A)
Camp stove - windscreen and stove made from recycled materials. The Nalgene bottle nests in that windscreen just right. Bonus points if you recognize the fuel bottle that's holding the denatured alcohol. It hasn't leaked! This Pepsi can stove and the other items are a work in process. Right now, I can boil 500mL of water in 12 minutes with 45mL of fuel. My goal is to get it down to boiling the same amount of water with 30mL of fuel and in 6 minutes, but I'm still trying different stove sizes and burner-hole placement.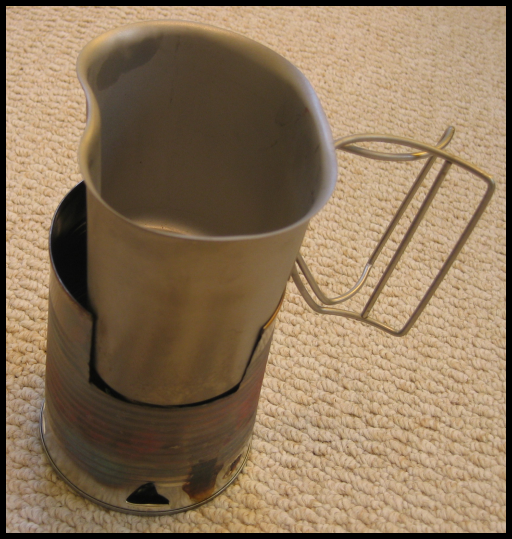 VS.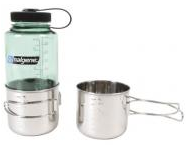 I think part of the problem is that space between the cup and the windscreen in the left side of the above photo; too much heat escaping there. I might need to scrap the canteen cup idea and get an Olicamp cup, which will nest with the Nalgene bottle and should fit perfectly in that windscreen. Not sure if all 3 will nest together. Some of you may have noticed ideas borrowed from
J. Falk
- the windscreen can do double duty as a wood-fueled stove.
SHELTER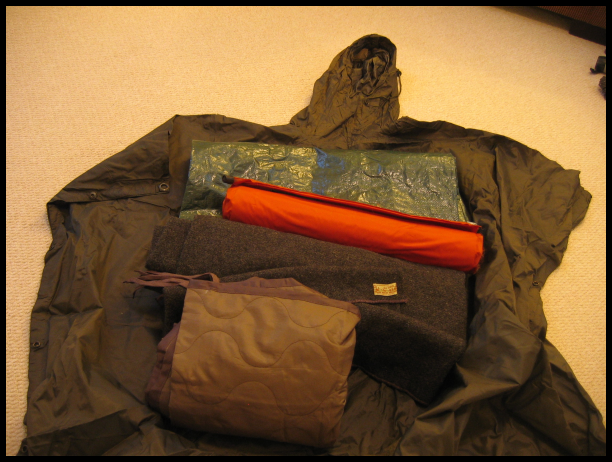 ($26.00)
USGI-style poncho and liner. This is not genuine military issue - I know I'm going to take some criticism for buying the made-in-China stuff, but I couldn't find the USGI ponchos for any less than $40.00 new, and that doesn't even include the liner. I'm not willing to trust the used ponchos on Ebay. I've tested this poncho in the rain and it does a fine job of keeping me and my pack dry, as long as I'm not carrying the machete as it is seen stowed in the first picture. I'm confident this poncho and liner will do for a 3 days-ish bag, so they will just have to suffice unless I can find a deal on some genuine USGI stuff locally.
(N/A)
Thermarest self-inflating camp mattress. I'm considering removing this item due to its bulk and relying on gathering natural materials (dry grass, forest litter) for bedding. The other problem I have with the Thermarest is that they're not supposed to be stored in the compressed state because it will damage the self-inflating foam. So, if I can't keep it compressed, I might just set it aside and reserve it for recreational camping.
(N/A)
Wool blanket
($9.00)
Poly ground tarp - this is actually a footprint I made for my tent, which I later dropped from the pack due to its size. So the footprint is now my ground tarp. It's a 7' hexagon, though, so it's too big. I need to either cut a man-sized ground tarp from another cheap poly tarp, or invest in some good ground cover that is designed for that purpose. More balancing of cost vs. benefit for a 3-day bag.
On my to-buy list is a
Eureka Backcountry 1 Tent
, which I think will fit nicely with this pack.
CLOTHES
($32.00)
Polypro thermal top, bottoms, and balaclava. These will be removed once the weather warms up a little more. They take up an awful lot of space at the moment.
($19.00)
Dickies pants, one pair - 65% polyester, they're durable, low profile, and dry quickly if they get wet. Dickies makes cargo pants, so those are on the to-buy list. I wish they made a coyote brown or olive drab color, but I think I'll go with the charcoal color since it's a little more muted than navy (pictured at the end of the post). I'm avoiding BDUs because the ALICE already has enough of a military look without adding to it. I'm trying not to look like I'm playing soldier - might be another good reason to get rid of the canteen.
($3.76)
Spare hat and bandannas - no dust mask in the pack, so the bandannas will have to do.
($41.91)
Two Reebok short sleeve t-shirts, one long sleeve shirt. These are all athletic poly/nylon blends meant for wicking sweat.
($14.00)
Two pairs Nike poly boxer-briefs.
($15.00)
Four pairs polyester socks, one pair heavy wool socks. The wool will also be removed when the weather warms up.
($6.30)
Hooded fleece. Not pictured because I was wearing it, heh. Got a great deal on this at the K-mart clearance rack.
(N/A)
Some leather gloves are in there somewhere.
I'd like to eventually get some stuff sacks for the clothes instead of ziploc bags.
FIRST AID KIT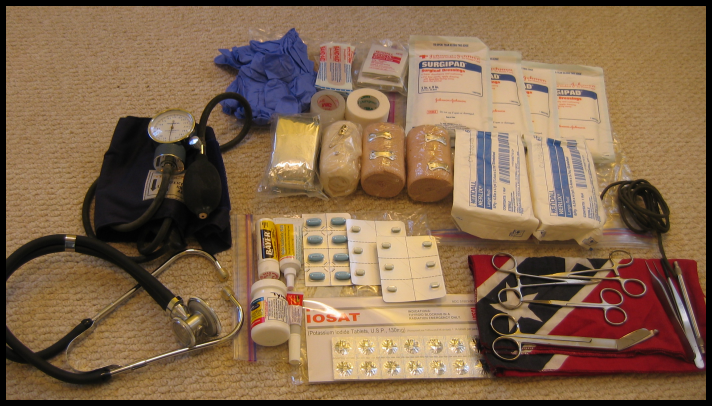 I'm a firefighter/paramedic, so it was reeeaaallly tough to not get all squirelly here. I decided to go with a stripped down cuts and bruises kit. Some things that are missing and worth noting: SAM splint - I can improvise some splints but this would be nice to have; I'm thinking about trying to find some space for one. CPR mask - family and friends I can do mouth-to-mouth on. Otherwise they're just not getting ventilated. Tourniquet - will improvise with a bandanna, cravat, belt, whatever. This is what I have - most of the prices are not available because I already owned the items:
(N/A)
Blood pressure cuff
(N/A)
Stethoscope
(N/A)
Nitrile gloves
(N/A)
Band-Aids
(N/A)
Alcohol preps
(N/A)
3M Durapore tape
(N/A)
3M Transpore tape
(N/A)
Four abdominal pads
(N/A)
Space blanket
(N/A)
Cravat
(N/A)
Two ACE bandages
(N/A)
Two Kerlix
($2.50)
Triple antibiotic cream
($1.00)
Crazy glue
($3.24)
Meds: Aspirin, Ibuprofen, Tylenol, Imodium, Benadryl
($14.00 shipped)
One-month supply of Iosat since I live in the plume zones of both a nuclear power plant and a shipyard that services nuclear-powered vessels, and I love my thyroid gland.
(N/A)
Medical tools - these are kept wrapped in the bandanna so the pointy bits will be less likely to stab me if I fall on them. Two hemostats, one pair of bandage scissors, one pair of surgical scissors, two pairs of tweezers, one eye magnet. I think I'll reduce these to one of each tool.
PERSONAL HYGIENE
($0.50)
Hand sanitizer
(N/A)
Toilet paper
($2.88)
Camp soap
($2.19)
Bug spray
($1.47)
Sun screen
(N/A)
Lip balm
($2.44)
Toothpaste and toothbrush
(N/A)
Dental floss - will double as thread for sewing kit.
TOOL KIT
Most of the smaller items are stored in the black zippered bag to keep them in one spot. The larger items are in the main compartment of the ALICE. Some of these items, like a ferro-striker, the compass, the multi-tool, etc will be moved to my belt and pockets when given an opportunity during the bug out.
(N/A)
Ontario Knife Co.
machete. I can't say enough good things about this machete - it's more than 20 years old and still in great shape. The saw isn't good for much, but it looks cool. These people have me as a customer for life. They go for about $25-$30.
(N/A)
Ka-bar Next Generation knife. This is a decent knife, but it's really too big for me to consider practical. It looks like you could kill an elephant with the thing. I need to sell it and get a more utilitarian knife. It was a gift - I think they sell for anywhere between $60-$110.
($2.50)
Two lighters. I swear I'll zip tie the fuel plungers as soon as I find some zip ties that are the right size.
(N/A)
Doan magnesium fire starter
($4.97)
Mil-Spec steel fire starter
(N/A)
Waterproof matches - I've heard some bad reviews of these but mine work just fine on the matchbox striker.
(N/A)
Film canister with six Vaseline-soaked cotton balls
($0.88)
Pad of index cards
(N/A)
Fifty dollars in small bills
(N/A)
Writing tools; carpenter's pencil, Sharpie, regular pencil and ballpoint pen
($2.88)
Spork
($20.00)
Silva compass - this model has the sighting mirror, which is sufficient to double as a camp mirror.
($4.00)
Whistle/compass/thermometer/magnifying glass combo
(N/A)
Mil-surplus compass - this is my old compass; think I'll remove this from the pack as redundant.
($3.88)
Synthetic camp towel
($15.00)
ID
(N/A)
Zip ties
(N/A)
Ancient Gerber multi-tool
($20.00)
Pre-paid phone card; six hours
(N/A)
2G thumb drive - right now this item has copies of my personal info, medical history, drug allergies, emergency contacts, important phone numbers, copies of personal/family photos and pictures of my house and its interior. I need to get scanned copies of the following documents: home, auto and medical insurance, mortgage, birth certificate, latest W2, auto titles and registration, record of mortgage, car and utility bill payments. I also need to make a TrueCrypt file for these items - thanks whoever linked that source on ZS.
(N/A)
Fishing kit in a tobacco tin. Also contains a needle for sewing.
(N/A)
25' of duct tape on a business card
(N/A)
Two cord locks - free at a textiles convention
(N/A)
Extra razor blades for my EDC knife
($2.00)
Utility carabiners
(N/A)
Three feet of heavy-duty aluminum foil
(N/A)
Fifty feet of paracord, plus another 20' of "scraps" so I'm not tempted to cut my 50' section for small jobs.
($8.00)
Hand crank radio with weather channel - I need to see if I can find a smaller version of one of these.
($4.00)
Steel tent stakes
($6.95)
Local map
($5.00)
Hat lamp - a bit of a compromise but I figure it'll work since I always have a hat with me. It gives off as much light as most headlamps and is plenty bright enough for working around the camp or walking a trail at night. I think a proper headlamp would be more secure, though, especially if it's windy.
($7.00)
Throwdown LED flashlight - 40 hours on 3 AAA batteries. I have the batteries for both lights covered with electrical tape so they don't burn down if they're accidentally switched on in the pack. I need to change the alkaline AAAs out to lithium.
($8.00)
ANSI-approved and UV proof sunglasses/safety goggles.
(N/A)
Contractors garbage bag.
Fourty-four pounds with three liters of water.
I can access the machete from this position, but I can't put it back unless I doff the pack. The LC-2 buttpacks are about one inch away from interfering with my arm swing when I walk, but they're okay in the current configuration.
I did a 5-mile/2-hour walk after these pictures. I can't really call it a "hike" because the land was totally flat and I was on a well-maintained trail. I didn't have to make any adjustments on where things were inside the pack. I noticed that the shoulder drag for which the ALICE is famous is directly proportional to how tight the waist strap is - considering how much weight I had, I thought the strain on my shoulders was acceptable. I'll probably invest in a MOLLE kidney pad if I find one at a gunshow or mil-surplus shop. I'm familiar with the Tactical Tailor improvements, but I wouldn't use them on a $35 pack.
Another thing revealed during the test hike - I need decent hiking boots. My work boots are just fine for unencumbered day hikes and overnight camping trips, but add 44 pounds to 5 miles and they don't cut the mustard. I'm a cheapskate, though, so I'm not willing to pay more than $70 for hiking boots. After that, I'll just invest in Band-Aids. I'd love to hear some suggestions on affordable hiking boots.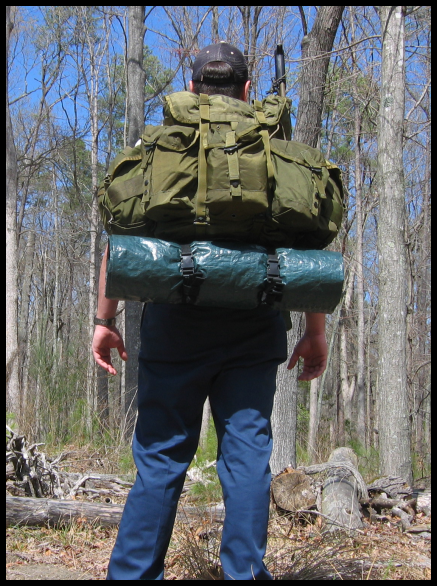 Another view of the tarp/wool blanket/thermarest pad roll. I could slim that down substantially by getting rid of the Thermarest pad and getting a proper ground tarp - future considerations.
Total investment:
$464.37
- largely influenced by what I did and didn't already own before starting this project.
So that's version 1.0 - I'm looking forward to hearing critiques and suggestions!