I purchased this in late winter/early spring, from sportsmansguide.com, for somewhere around $100 after the NNY08WCT made me think a more sturdy tent would be in order. Since I'll be lucky to do one winter camping trip per year and am by nature somewhat contrarian, I decided to go with a sturdy yet relatively inexpensive dome tent over the purpose-built but pricier 4 seasons.
Anyways years ago I learned the hard way that to take a brand-new tent out to the woods without test-pitching it first is utter folly (although I managed to roll with the punches that time). I planned to use this tent for the NNY08SCT but my fascination with my uber-cheap
Ozark Trail 9x8 Geo Dome
tent combined with the desire to pack compactly canceled this idea. With no pressing matters to attend to today, and a beautiful if slightly warm day to contend with, I decide to give the tent a whirl in the back yard and record the event in pictures for my ZS brothers and sisters.
Anyways, on to the pics!
Here she is all laid out. Not a perfect spot but then "in the wild" sometimes you don't get a perfect spot either. Plus the rock garden makes a nice photo backdrop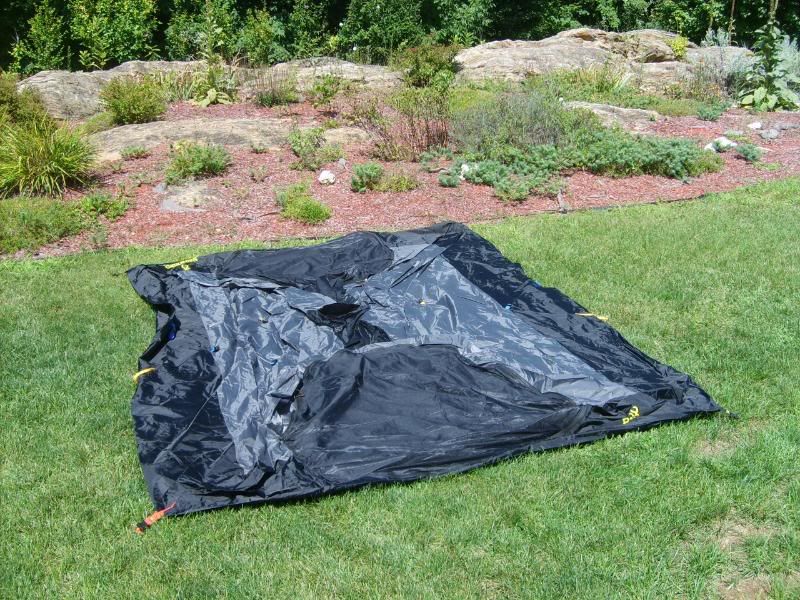 Some beefy fiberglass poles. I will consider an upgrade to custom aluminum poles which one can order and fabricate themselves. Have to decide if the juice is worth the squeeze.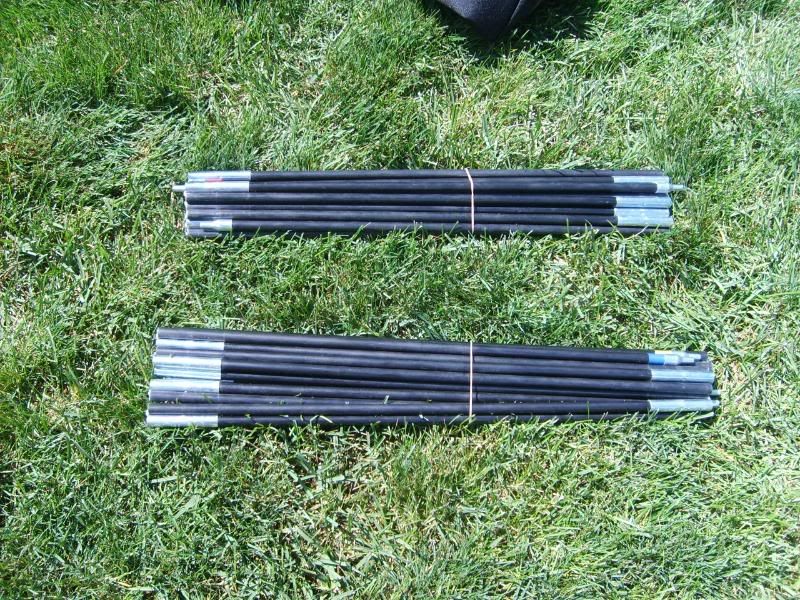 The pole-to-corner attachment. My Ozark Trail and Northwest Territories tents both have open-end poles which connect to the corners with a sort of "pin" that jams into the pole. Those open ends tend to jam up with dirt, sand, snow, ice, whatever is around. This strikes me as more betterer. Notice the color-coding.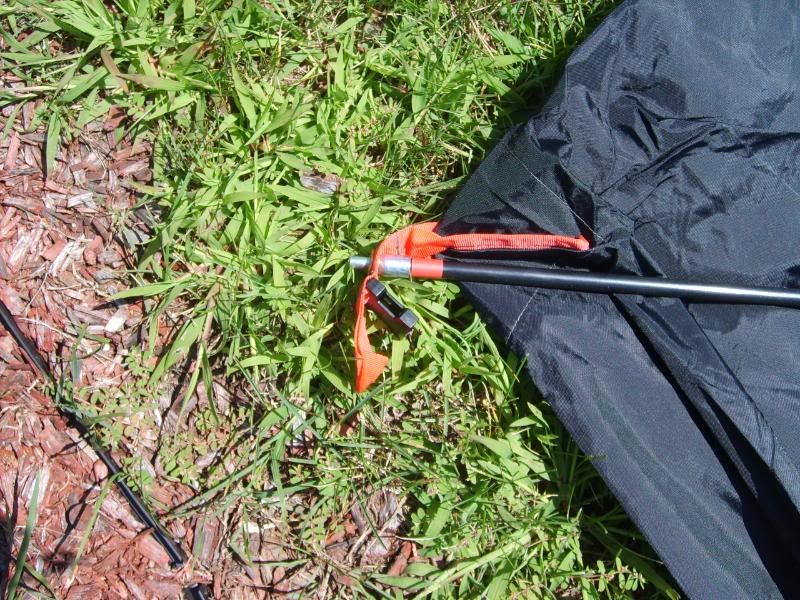 Plugging along. Main poles now in the sleeves but not yet clipped. Instructions say to use two or more people to pitch the tent. If I can't manage it myself, I don't want the tent.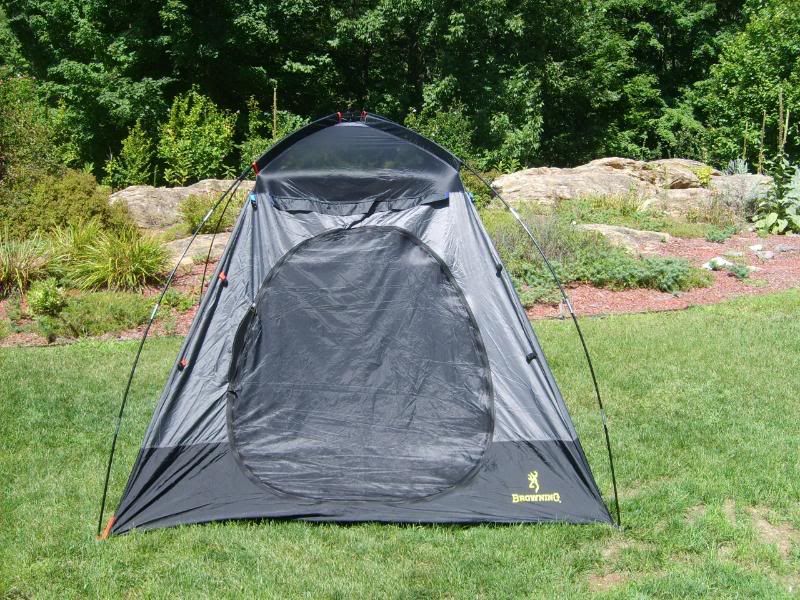 Main and secondary poles now in and clipped. I generally like the color coding (see the yellow, red, and blue loops?) although I could do with more subdued colors.
The back of this tent is identical to the front.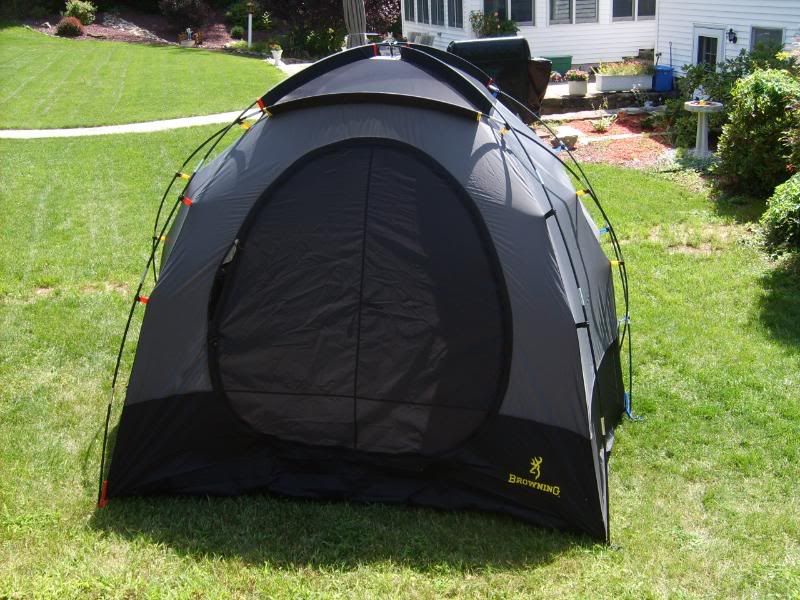 Rainfly on but not staked. This is a bit of a handful due to the height of this tent, but honestly it wasn't that tough.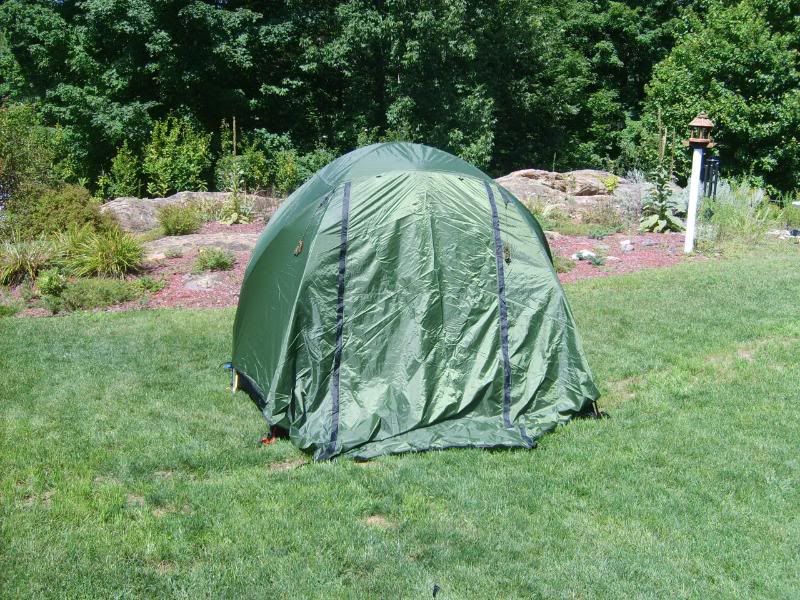 Rainfly now staked-side view.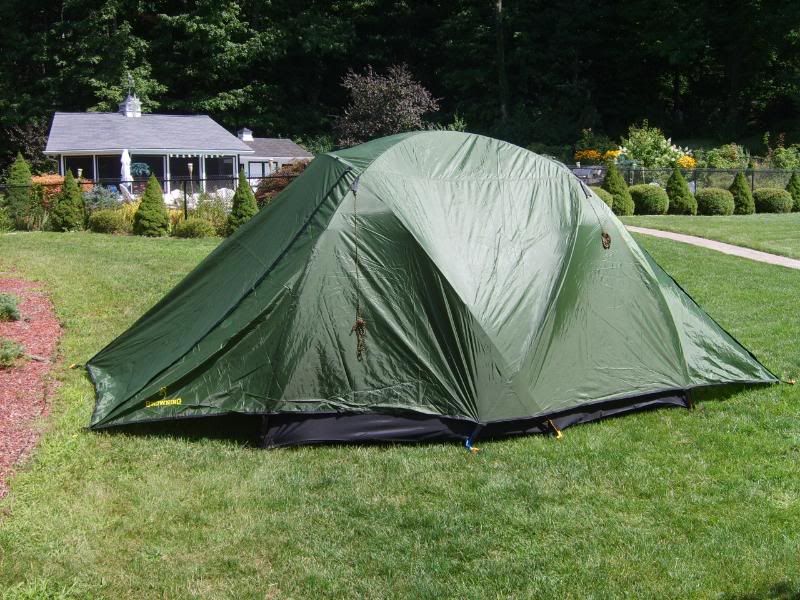 Doors and vestibules open. After the Ozark Trail (which nominally isn't all that much smaller at 9x8), I may need GPS to navigate the inside of this tent!)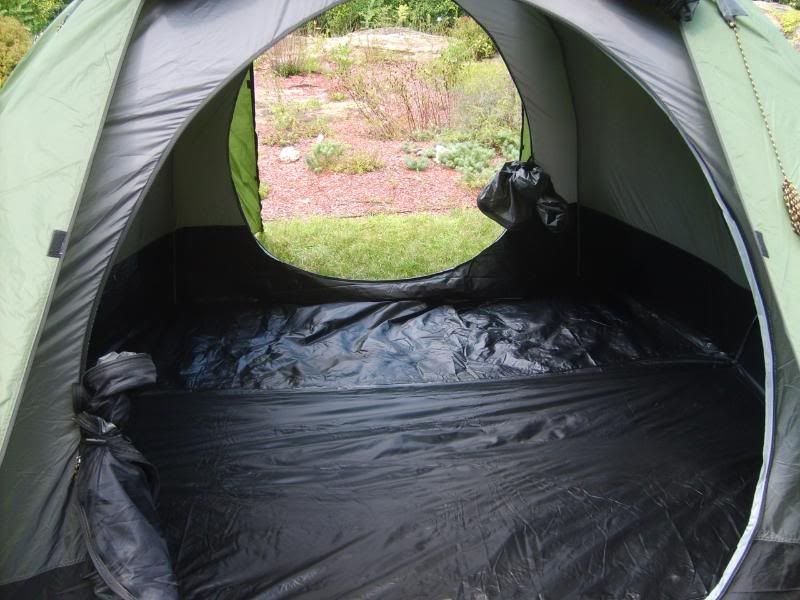 Tent has two gear pockets at opposite corners for your flashlight, Ipod, or what have you. This was the better picture.
Vestibules open but screens closed.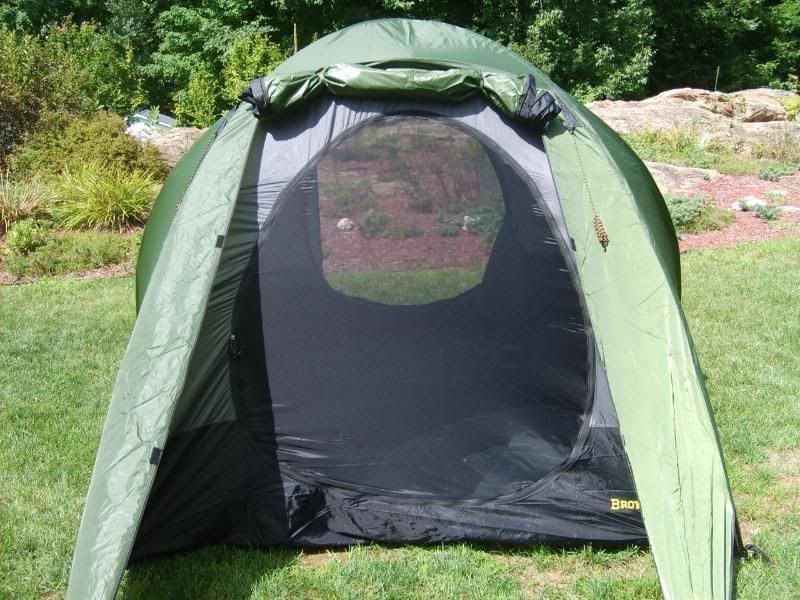 Fetching carry bag is included.
And one last glamour shot.
The tent also came with a stack of 9-inch nails for stakes, plus a vestibule mat that uses cheap wire-type stakes. I only used a minimum number of stakes and didn't bother with the guy lines, but would use them if I expected stormy weather.
This mofo is BEYOND HEAVY, fine for car camping but it won't see any backpacking or canoe camping with most owners. If you have to ask how much it weighs, it's too heavy. It has quite the footprint when set up and will require some planning ahead in terms of site selection. It seems just huge compared to the Ozark Trail and a little big even compared to my Northwest Territories tent which I seem to remember being 10x8. Time will tell, but I think it will serve me well as my big-daddy tent for car camping or, if ever necessary, a long-term shelter should SHTF. SG is out-of-stock but you can still find them around online for less than $150.