Cooking wild caught fish.
Cooking fish that I catch is far more rewarding than heating up some fish sticks. My target species are trout, pan fish and bass. But any edible fish will do.
Rainbow trout.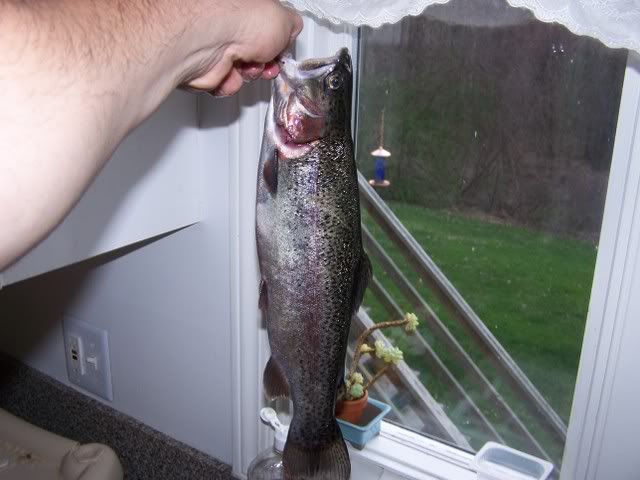 Small mouth bass.
Sunfish.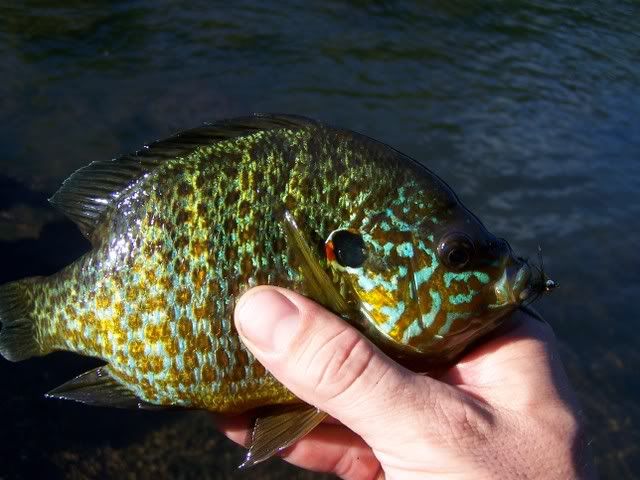 Cleaning the fish.
My preferred method is simply cut off the head and remove the guts. These can be removed by cutting a slit along the bottom from just behind the gills to the fish version of a butt. It is about two thirds down. Some species require scaling. This can be done by simple running a blade against the grain of the scales. One thing about wild caught fish is you never know what will be found once cut open. I tend to leave the skin and fins on. Both are edible in fact with the exception of the guts and gills nearly everything on the fish is good to eat. I don't know if the gills are bad but everyone seems to toss them. After removing the unwanted parts wash your fish with cold water.
In the field.
I have several methods for cooking fish in the field. Sometimes I use a stove other times an open fire will work just fine. It all depends on the situation and resources available.
Over the coals.
The first step is the shave down some thin black birch branches. I go with birch as I think it adds flavor. The sticks should be pointed on one end to allow for pushing though along the fish. This should be done much like sewing to avoid dumping the meal on the coals. However meat can be cooked directly on coals. Nothing is cleaner than a coal. Avoid using any softwood such as pines or any poisonous plaints in the process. Goes without saying but it is easy to toss things into a campfire without thinking.
You can either fillet or remove the head and guts depending on size and personal preference. Burn some maple down to the coals and hang the fish about 6-12 inches above depending on size of the coal base. Someone could add seasonings and olive oil. Oil is far more packable than butter. Even without seasonings the maple coals and birch sticks adds a distinctive flavor.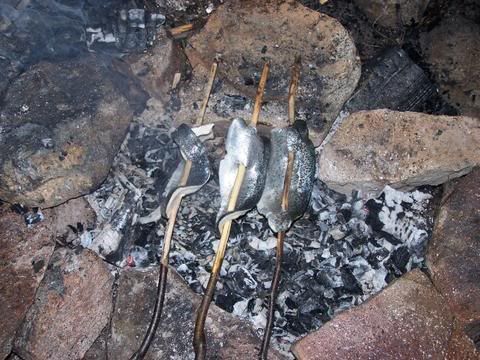 Remove the fish from the sticks once done. I like them crispier even though overcooking can to be a negative with fish. In this case I cooked rainbows but browns are nice too. Pan fish like perch and sunfish are some of the best eats around but offer some challenges for cleaning. Don't attempt to fillet them. This would probably result in depression.

Off with their heads and gut them. I toss the heads and guts far away from camp. You don't want uninvited dinner guests showing up at 3 am.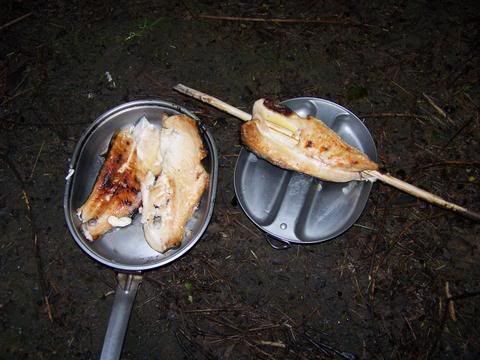 Using a camp stove.
Cleaning the fish is similar to the above mentioned methods with one exception. The fish must be cut down to fit in backpacker type cookware. This trout was gutted and beheaded but needed to be cut in two. Good day for me. A very bad day for this brown. Same rules apply for tossing the unwanted parts.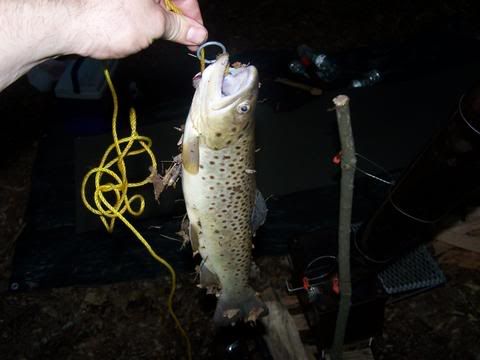 I find scaling unnecessary for brown trout but did it anyways to remove the slime and dirt. These are the woods after all. If you are in a well stocked base camp or car camping situation butter or oil maybe available. I packed in some potatoes for a side dish. Just toss in the butter or olive oil and add the onions. Mix in some salt and pepper. Cook with medium heat. If the pan is too hot the onions will get over caramelized and the outside of the fish burned long before the inside is cooked.
If you don't have seasonings or a side dish nature can provide them. Often I cook up some fiddleheads for a side dish. Here is a photo of a fiddlehead taken stream side. Also wild scallions work in place of the onions but in nature everything is seasonal so don't expect foraging to be like a trip to the super market.
When it comes to eating wild plants if you have even the slightest question as to the edibility of the species my advice is don't eat it. The results of screwing up can be very dire. As for cooking fiddleheads simply get a rolling boil and toss them in a cook pot for 5 minutes then drain the water. This can be repeated to remove more tannins but don't overdo it. Than just fry the fiddleheads in olive oil if available for maybe 3 minutes.
Cooking wild caught fish at home.
Over the years I have tried everything but the following method is preferred. First go out and catch the fish. In this case I got a rainbow and tiger trout. The tiger trout is an abomination of nature created by the hatchery.

Near as I can tell it is a brookie/brown hybrid.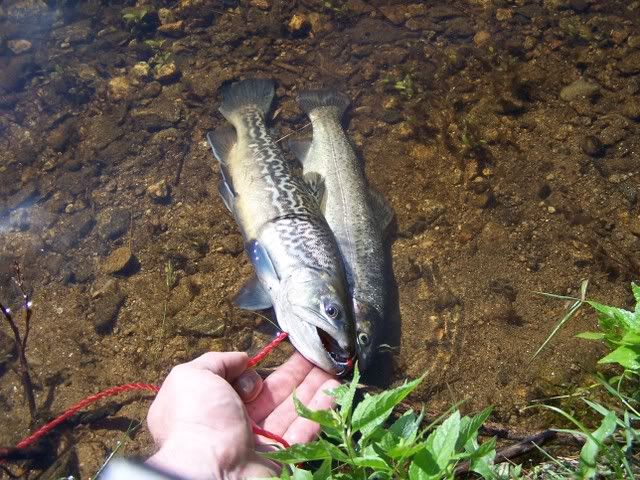 To clean them I use the gut and beheading method previously explained. I stuff the fish with fresh garlic and butter. Some bacon could be used in place of butter. I further season with salt and pepper. Place the fish wrapped in aluminum foil and bake. Normally I cook the fish at 375-400 for under ½ hour but this is no cook book so have at it. No hard rules here beyond the fact that often overcooked fish is dry. I do open the foil up for the last 4-5 minutes of cooking. Notice the nice pink flesh on the rainbow.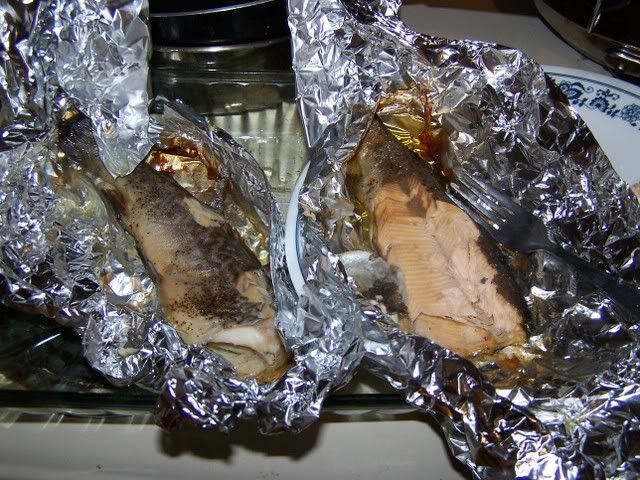 This is how I cook wild caught fish. I suggest people go out and catch a few. Experiment with different cooking methods to see what works best for you.