Hello,
I've been inspired by the B.O.A.T. (Bug Out Altoid Tin) thread. While many examples were shown with somewhat larger containers, I chose to stick with the original B.O.A.T. concept, which used an actual Altoids tin. I have made this part of my EDC (every day carry). I slip it into my pants/shorts pocket every day along with my keys, wallet, etc.
I have seen some people suggest a similar kit for first aid, but I know it's impossible to put a real first aid kit together in anything near this size. On the other hand, all kinds of useful survival things can fit into the tin. Of course, I still have my full-sized bug out bag in my PAW closet.
Feel free to express your thoughts on this B.O.A.T. My only request is that you please don't suggest I add anything. There is simply not one scrap of room left in the entire tin. On the other hand, feel free to make a case on why I should swap something out or remove it in exchange for something else!
Here it is:
A standard Altoid tin. I was out of room for paracord, so I wrapped ten feet of it outside the tin. The paracord is secured with rubber bands, which also keep the lid tight.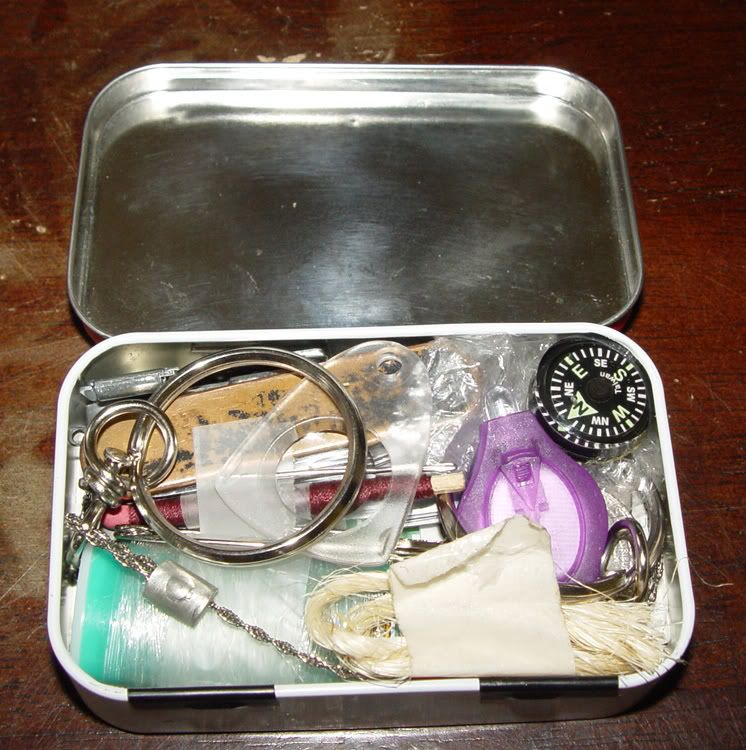 The tin is completely full with items that might be valuable to a person stuck in the woods. The tin closes just fine.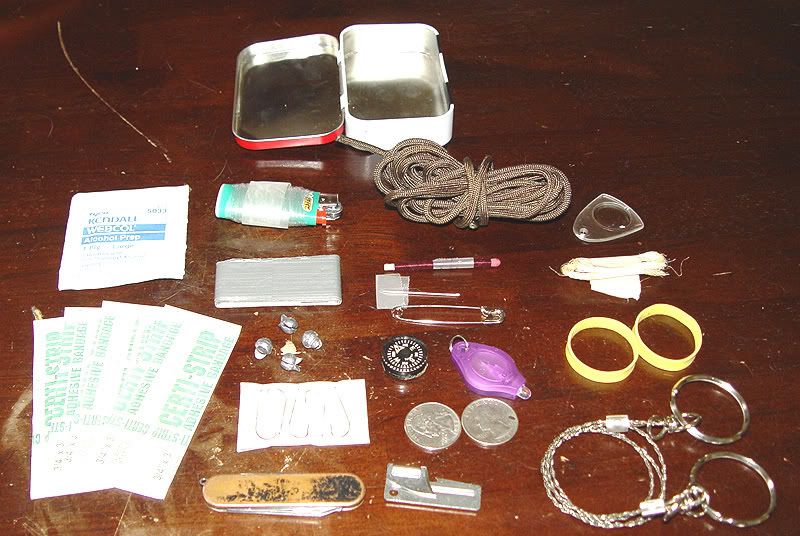 Here is a list of everything in the B.O.A.T.:
Alcohol Prep
4 Bandaids
Mini-Bic
Fishing line
- This is wrapped around the lighter. There's quite a bit of it there, though I haven't measured the amount. Suffice it to say that even a few more feet of line would keep me from closing the tin, due to the thickness it adds to the lighter.
Duct Tape
- I found there wasn't enough room for an entire credit card's worth of duct tape. Therefore, I cut the credit card in in half. There's a fair number of feet of tape.
4 Lead sinkers
5 Fish hooks
- They are sitting on a tiny piece of paper and covered in tape to keep them secure and my fingers safe.
Tiny pocket knife
- I scoured an entire flea market to find the smallest multi-knife I could. This one is slightly thinner than a mini swiss army knife and has a screwdriver head, a knife blade, and scissors.
10' paracord
- Normally wrapped around tin.
Thread
- Again, I don't know how many feet I wrapped around that match, but it's definately enough to do a few repairs.
Sewing needle
Safety pin
Compass
- I bought a $4 compass multi-unit from the Wal Mart camping section. Upon getting home, I ripped the thing to pieces to get the compass out.
Mini LED light
- This is being replaced in a day or two with a Photon 1 light of the same shape. You can see the Photon 1s from two miles away.
2 Quarters
- Because you never know when you might need to make a phone call or anything else that involves vending.
P-38 can opener
- You can buy these on Ebay for $1 each, and that includes shipping.
Magnifying glass
- Useful for starting fires. Also a component from the demolished compass multi-unit.
4" twine
- You'd be amazed how much tinder you can get just by unravelling a few inches of twine.
2 Rubber Bands
- Used to hold the paracord on and keep the tin closed. Rubber bands are very useful for a variety of things.
Wire saw
- Also an Ebay purchase, for $4.99 plus shipping. This thing will cut through wood, metal, bone, or whatever.
That's all, folks! I would appreciate any comments, criticisms, or suggestions!
-Erik