Howdy, folks. Today, I thought I'd show you my new bug out bag (BOB). I had another post about a year back with my first BOB, which was actually quite awful. This bug out bag is different enough that I've decided to make an entirely new thread on it.
I don't have a ton of money to spend on a BOB, so if you are in the same position, take a good look at the post. A lot of the stuff in this BOB I already had on hand or I purchased at the local Wal Mart. Almost nothing in the BOB is state of the art, expensive, extra light, or extra small. The setup is not especially pretty, but it is solid, comfortable, and it works. Not including the gun or the Tilley hat, you should be able to throw the entire BOB together for about $200, less than the cost of some of the packs alone displayed on this forum. The whole thing, including full nalgene bottle and loaded pistol, weighs 44.6 pounds.
My BOB is focused on keeping me alive for three days. It's not designed to do much beyond that, so please keep that in mind when making suggestions. Suggestions are welcomed.
Here it is. I decided to replace my original $11 Wal Mart backpack with a $15 BlackHawk! 3-Day Assault pack. Normally, these run around $100, but I found one at an army surplus store near Fort Polk that was used. It had actually been in either Afghanistan or Iraq. It was slightly soiled, but not damaged or worn in any way. Doc Simon, who was there at the time, informed me that BlackHawk! makes outstanding, extremely tough gear, so I bought it. I haggled the shop owner down from $20 because I'm a cheap bastard. The main pack is 2240 cubic inches. Having spent a little time with the bag, I can definately state that it is made of tough material and the stitching is *very* strong.
You can buy them new here.
http://www.blackhawk.com/product1.asp?P=603D00&C=C1008
Here's the back of the pack. It has highly padded waist straps, as well as chest straps. The main straps are nice, wide, and comfortable. All over the pack are places where you can strap and carabiner stuff. It's quite comfortable to wear.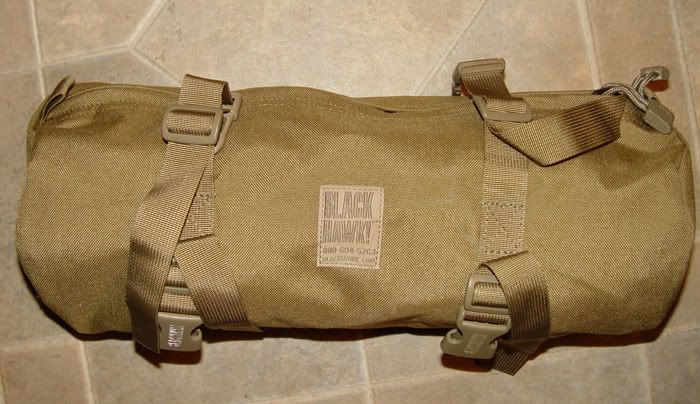 For $23 apiece, I decided to buy a pair of accessory bags, which are actually fairly large. I measure them to hold about 450 cubic inches apiece. That expands the BOB to 3140 cubic inches. The bags attach directly to clips on the main pack. They don't match the main pack exactly becuase the pack faded a little in the Middle Eastern sun. Oh well.
Here's a link to the accessory bags.
http://www.blackhawk.com/product1.asp?P=603DAP
Time to open the bag. I will denote which items I already owned and which were free, so as not to spend additional money.
Here's what's in the left accessory bag from left to right:
1 - Cheapshit pair of binoculars with case and soft cloth
2 - 1/2 liters of water
1 - Compass
1 - Tiny jar of honey. Honey doesn't go bad and can provide a power boost. And this one was free, so why the hell not?
1 - Knife sharpener (already owned)
1 - Vacuum-sealed pair of old jeans (already owned)
1 - Pair of old glasses, in case (already owned)
4 - Heat packs. I got them four for a dollar at a discount store. They stay warm for 10 hours.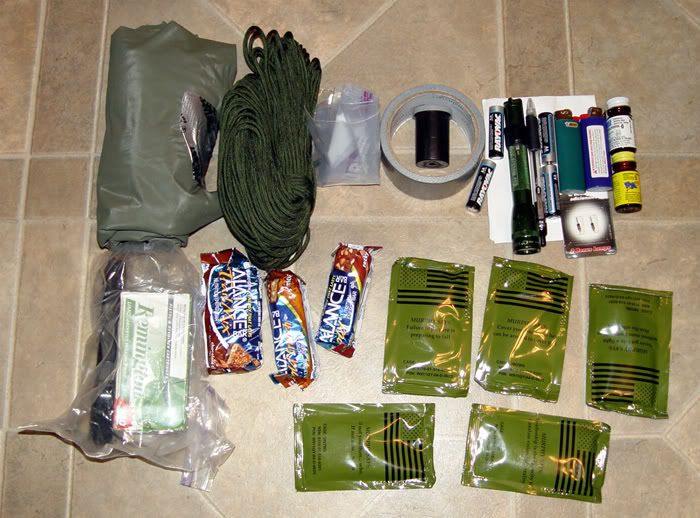 Contents of the right accessory bag:
1 - Decent-quality poncho (already owned)
1 - Bag containing 100 rounds of 9mm hollowpoint, a full 15-round P89 mag, and a speed loader (already owned)
1 - 100 foot length of real 550 paracord
3 - Energy bars
1 - Small roll of duct tape (already owned)
1 - Film cannister (for dry storage, inside roll of duct tape (already owned)
3 - Zip Loc bags (for dry storage, inside roll of duct tape) (already owned)
5 - Gel fuel (for starting fire, because I suck at that)
A ziplock containing:
4 - AA batteries (already owned)
1 - Mini Mag (already owned)
3 - Sheets of Paper (already owned)
1 - Pen (already owned)
2 - Lighters (already owned)
2 - Spare Mini Mag bulbs
1 - Iodine water purification pill bottle
1 - Bottle of that stuff to make water not taste like iodine
1 - Petzl headlamp (not shown - I use it a lot at home)
Secondary and mini pocket in main pack:
1 - Fresnel lens
1 - Cheapo multitool from Wal Mart
1 - Deck of cards (already owned)
1 - Pair of work gloves
3 - Area maps. These were free. I printed them off of websites and laminated them at school. Included is a map of my town and surrounding countryside, a map of an adjoining town, and a map of the huge resevoir lake that is a 30 minute hike from my house.
2 - Rolls of toilet paper (already owned)
1 - Box containing three more gel fuel packs
4 - More body/hand heaters in a pouch
1 - Mini fire log (again, I can't start fires very well)
3 - Extra zip locks for dry storage (already owned)
1 - 5x7 camo tarp
Main pack compartment:
1 - Sweater (already owned)
2 - MREs
1 - Pair of underwear (vacuum sealed) (already owned)
1 - Pair wool socks (vacuum sealed) (already owned)
1 - Mess kit
1 - First aid kit (the camo bag)
1 - 2.5 liter camelback resevoir
Here are the contents of the first aid kit. I wish it could be bigger, but I just don't have room for more bulk:
1 - One-handed tourniquet
1 - Pouch o' QuikClot
1 - Pressure warp roll
1 - Kerlix roll
10 - Alcohol wipes
1 - Pair surgical scissors
1 - Pair forceps
1 - Tube of antibiotic cream
1 - Pair latex-free gloves
Tons - Bandaids
2 - Moleskin squares
1 - Roll of 2" medical tape
1 - Needle
2 - Iodine wipes
1 - Gauze pad
10 - Excedrine pills (painkiller PLUS caffeine!)
1 - Israeli bandage
1 - Trek 1 pouch for all the small stuff
2 - Clear bandages
1 - SAM splint
Here is what's attached to the outside of my bag:
1 - Tent. Picked it up at a flea market for $18. It's barely used and big enough for one person (two, if they're very friendly)
1 - Tilley Hat
1 - Sleeping bag. I probably picked it up from Wal Mart or somewhere years ago.
1 - 1L Nalgene bottle
1 - P89 pistol. This is technically on my nightstand. I'd grab it along with my choice of concealed or open carry holsters (pictured), depending on the situation.
1 - Sea to Summit 35 quart dry sack. I use it to store my tent and sleeping bag. At $19, it's one of the most expensive things in my BOB.
1 - Wal Mart machete with aftermarket sheath.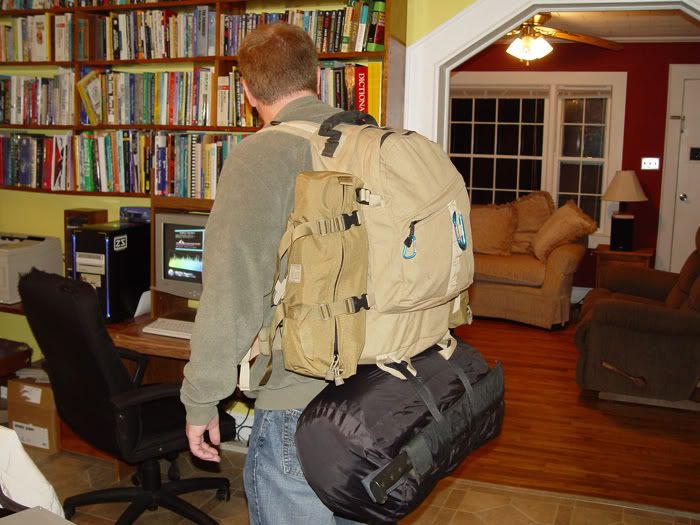 Here it is on my back.
Feel free to make comments or offer suggestions. My only request on suggestions for additional gear is that it be inexpensive.
-Erik