Howdy, all.
I have finally put together a new and better IFAK, which I'll be keeping in in my car. The IFAK will be stored in my trunk. I do have two trauma FAKs which are much larger and more comprehensive, but those are stored in my PAW closet and unlikely to be used in the near future (free free to ask me about those, though). Since I'm usually in the general vicinity of my car, this is the FAK that is most likely to be used to save the life of myself or others.
Please feel free to offer your input.
Here's the bag.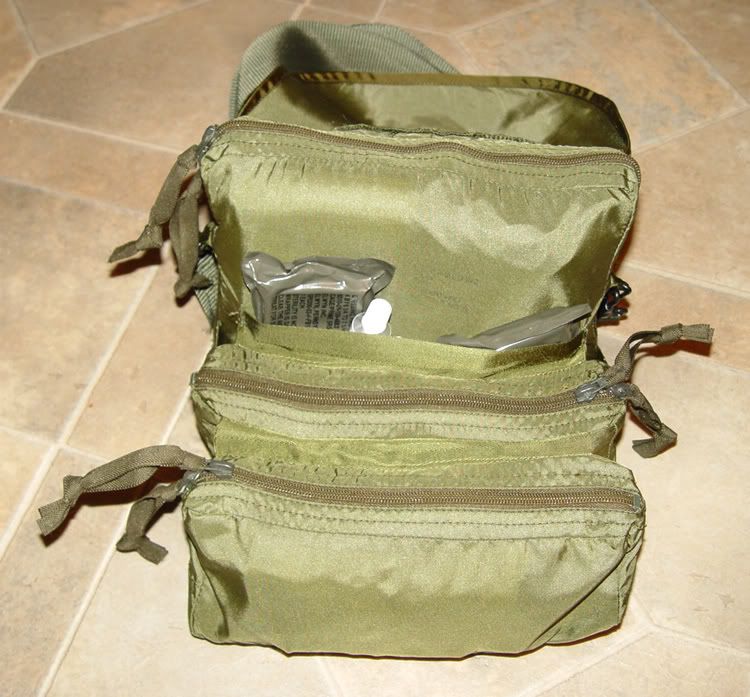 As you can see, the bag is a sort of trifold design. This allows quick and easy access to everything. Also, the bag holds more than you'd think. It's storing a lot of bulky trauma supplies.
Here's the entire contents. A few changes were made since the photos. They'll be listed shortly.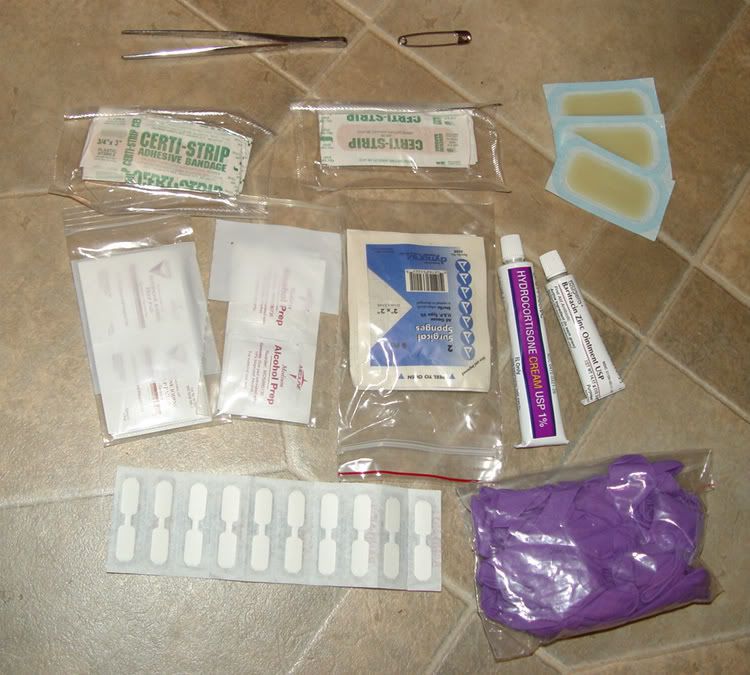 Let's start with the stuff for minor injuries. From bottom to top:
10 - Butterfly closures
5 - Pairs of gloves
12 - Iodine preps
12 - Alcohol preps
12 - 2 Pack 2X2 inch surgical sponges (a fancy name for gauze squares)
1 oz. Hydrocortizone cream
0.5 oz. Bacitracin antibiotic ointment
10 - Bandaids in 2 waterproof packages
1 - Forceps
1 - Safety pin
3 - Bandages (Upper right - Frankly, I don't know what they're called. You apply them directly over a flesh wound. They stick for a solid two weeks, even through water, and act like a second skin for that time. They're outstanding).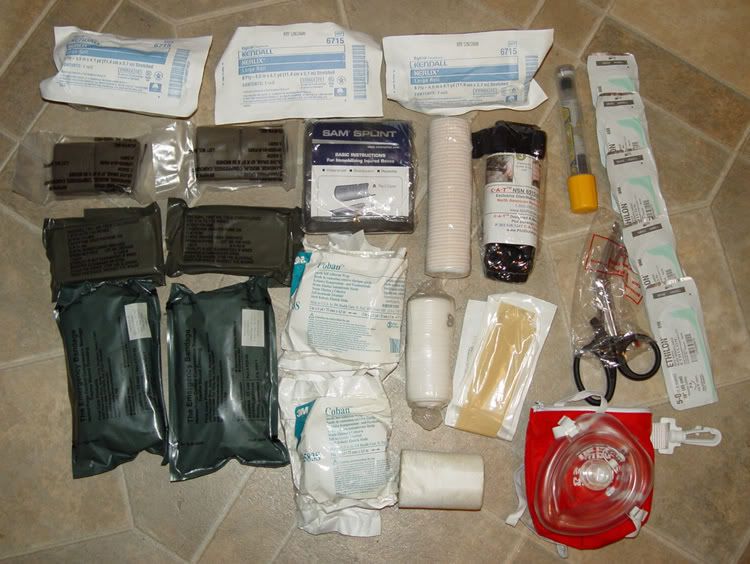 Here's the more serious trauma stuff. I spent more space on that, since injuries that require major trauma bandages and dressings are more likely to kill me than injuries that require Bandaids.
3 - Kerlix (4.5 in x 4.1 yd)
2 - Muslin bandages (cravats)
2 - 4x6.25 camouflaged field dressings
2 - Israeli dressings (full sized, not the smaller ones)
1 - SAM splint. (I tried really, really hard to cram two of these in there, but alas)
2 - Coban rolls (self-sticking wrap. Very bulky, but the stuff rocks)
1 - Stretch wrap (I can honestly say that a SAM splint plus this stuff=win. I tossed the smaller one just today to make room for one more roll of Duratape.)
2 - Duratape medical tape (I replaced the smaller stretch wrap with a second tape)
1 - One handed tourniquet
1 - Penrose drain (can double as a second tourniquet)
1 - Epipen (stuck in PAW closet, no longer in kit)
1 - Pair scissors
5 - 18" Sutures
1 - Rescue CPR mask kit
I really wanted to put a whole roll of duct tape in here just to be badass, but there really isn't room. One of my bigger FAKs has one.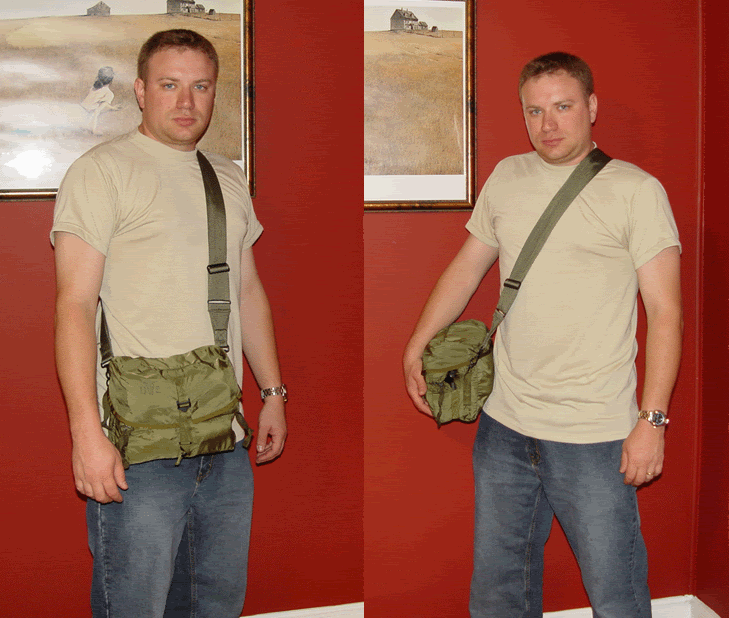 Here's a couple of pictures that show the size of the bag compared to a human.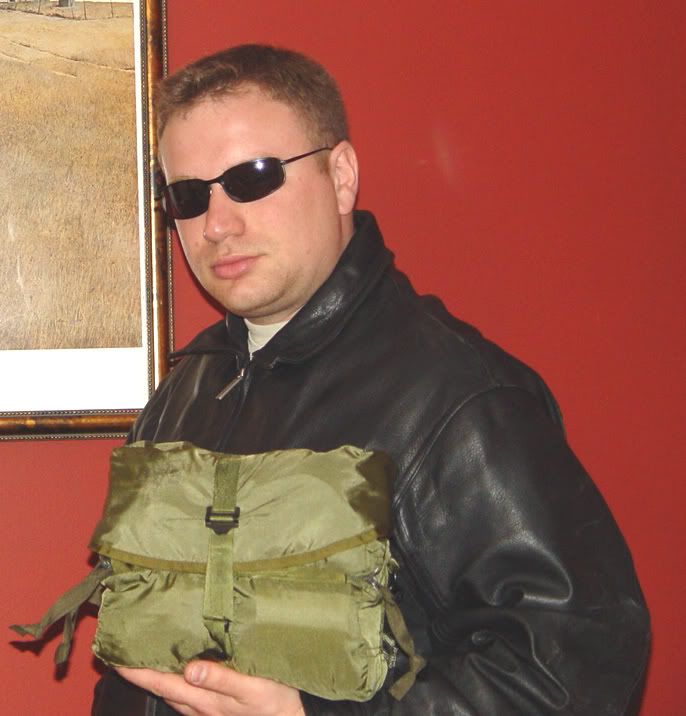 People complain I don't look like my avatar. So here's me looking like my avatar, except that I have one more chin.
Please tell me what you think. About the first aid kit, not the chins.