Earlier this summer I purchased a CMMG Bravo .22 LR adapter for my AR. I also purchased the CMMG anti-jam charging handle and a Black Dog Machine X-Form magazine.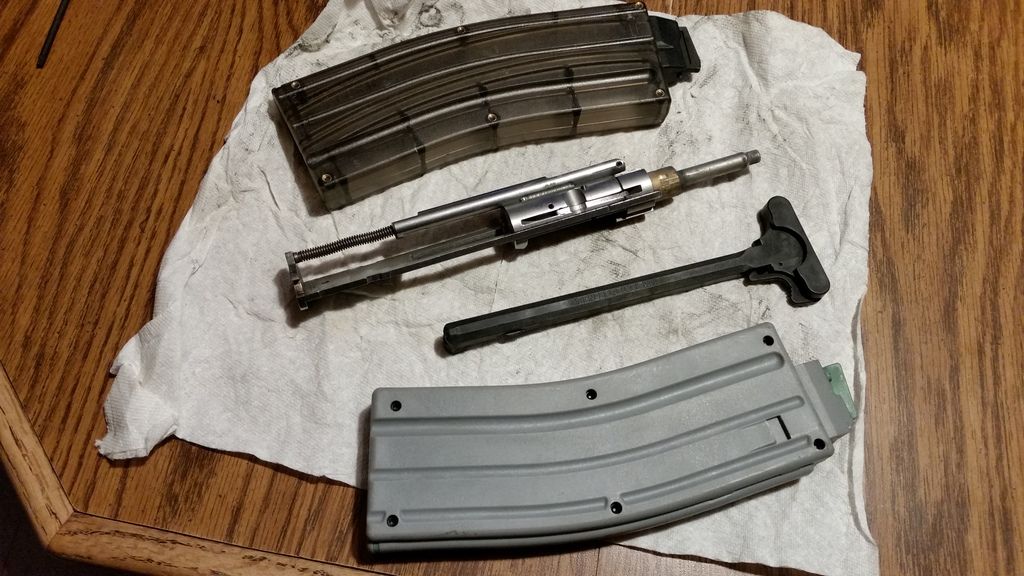 The conversion kit is a drop in replacement for the normal AR-15 BCG (5.56/.223 only). Attached to the new bolt is a chamber adapter for .22 LR. It kind of reminds me of the
Pedersen Device
.
Installing the conversion kit is as easy as taking out the BCG and charging handle and dropping the new BCG and charging handle in. (If you've never done this it is very easy, requires no tools and takes only seconds.)
I bought this adapter for the purposes of shooting .22 LR out of my Ruger AR-556 at an Appleseed marksmanship clinic. I bought the adapter for ~$230, and it came with one 25 -round magazine. I also bought the CMMG Anti-Jam charging handle for ~$15, and the X-Form magazine for ~$20 (all prices are based on my memory).
Between sighting it in and the class I've fired ~600 rounds through it. Mostly CCI Mini-Mags and CCI Standard Velocity, but also some Federal bulk pack. As my shooting got better I fired a number of 0.75" groups at 25 yards (~3 MOA). I feel confident that if I do my part the rifle+adapter is capable of that. Maybe with a better shooter it would be capable of greater accuracy.
I didn't notice any significant difference in accuracy between CCI Standard Velocity and CCI Mini-Mags, although there was a POI shift of about two inches, which surprised me a bit at such close range. I wish they still made Aguila SSS, as that seems like it would be perfect to run in .22 LR AR conversions.
Out of the 600 rounds I experienced 2-3 malfunctions, but I am positive that two of them were my fault and I'm not 100% sure the third even happened. The first time I went prone at Appleseed I fired one shot and there was a failure to eject. I pulled back on the charging handle, let go and there was a failure to feed. I dropped the mag and noticed the cartridge that didn't go in had a significant bend/dent in it. There was an empty case on the ground that also had a dent. It turned out I was resting the magazine on the concrete, and had pushed the magazine out of proper alignment.

So, I stopped using the magazine as an improvised monopod and that problem stopped happening.
(Note: In between the two days of Appleseed I gave it a very basic scrubbing and oiling, so it wasn't 600 rounds without cleaning.)
The third malfunction was one of the times when we were loading our first magazine with two rounds and our second magazine with eight. I fired one shot, and then the rifle was empty. I was confused, but as we were on the clock I just switched to the second magazine. After we were done firing I looked down and saw an unfired .22 cartridge on the ground. One of my targets was missing a hole. It's possible it was all coincidence, but I think that somehow an unfired cartridge was ejected. (Possibly I racked the charging handle after firing the first shot. My brain doesn't work so good sometimes.)
Overall I would say the conversion kit performed very reliably. I was using the CMMG charging handle designed to work with this kit and keep cases from getting jammed between the bolt and the charging handle. This charging handle does not come in the base kit, but comes in some of the more complete kits and can be purchased separately. I never bothered to try shooting without the CMMG charging handle, so I can't say if it has made a difference or not. Looking at them, the difference seems to be that the standard charging handle has an open channel running the full length along the bottom, while the CMMG only has a short channel near chamber-end and the rest is solid.
Both magazines worked well. They were also both surprisingly easy to load, considering they hold 25 rounds. They are single-stack magazines. The CMMG mag is opaque light gray, and significantly heavier. I'm guessing they weighted it to feel more like a loaded AR magazine. The Black Dog Machine X-Force magazine is a semi-transparent black and much lighter. Neither magazine dropped free in my AR, which surprised me a little especially as the CMMG magazine was weighted. I prefer the X-Force as it is lighter and the transparency is a nice touch.
Here are the weights of the various components according to my scale:
CMMG conversion bolt: 9.7 oz*
CMMG charging handle: 1.0 oz
CMMG magazine: 7.35 oz
X-Force magazine: 4.35 oz
*Contains an indeterminate weight of carbon fouling.

Since the Appleseed shoot I haven't used except for to kill a fox that had been eating my livestock.