Bug out Shelters
.
So you have bugged out. Now what? You had to bail on the homestead; maybe it was on fire, under water ala New Orleans style or overrun by zombies and walking scarecrows. Don't know but the decision not to go to the "convention center" is a good one. So now you're in the middle of the sticks and everything you own is on your back. Will the weather be in the 70s and sunny? Maybe but then again maybe not. You can't cancel your trip because of bad weather as we aren't talking about Jellystone Park here. It doesn't matter the season, they all have their own challenges and opportunities. Mother Nature doesn't care who will survive or go belly up. If unprepared and panicked it doesn't take a degree from Harvard to work out the potential consequences. Here are a few shelter options and tips that might be of help.
Tarp.
Pros:
The tarp is a bit misunderstood in the world of shelters. Often people associate its lack of a floor, sides (depending on pitch) and integral support structure with that of a marginal shelter at best. However this isn't the case with many AOs. This sounds counterintuitive for sure but hear me out. I can pitch a tarp in multiple configurations to work with nearly any footprint available. A tarp will not trap water inside which can be the case with many tents using waterproof bathtub floors. Any water carried in on your body or clothing remains, condensation can also be trapped. A tarp will dry out much fast when the weather lifts. I can setup a fire near my tarp to trap heat and dry gear. Tarps are the most packable shelter system going. An ID siltarp 5X8 Siltarp 1 is under 10 oz seam sealed and packs down to the size of a soda can.
Cons:
Often greater attention must be given to drainage and wind direction than with a tent not that these factors should be ignored using any shelter. Bugs and windblown rain/snow can be a problem. Proper pitching methods and additions such as a bug net or fire can help mitigate these issues. Sleeping out with just a tarp in my view requires a greater degree of skill.
Photos:
8x10 siltarp setup as flying A-frame setup. I used a wood stove scooted under the tarp but a camp fire will also work in the cold. Just be careful not to burn your tarp or gear. When it comes to tarps bigger is often better.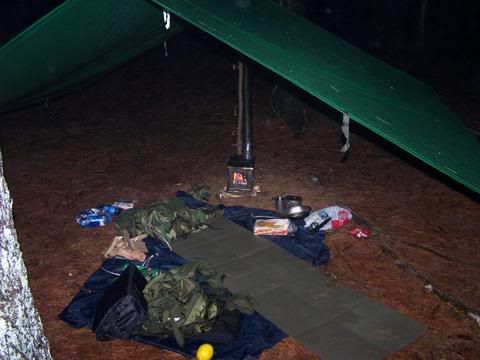 Some tarps are shaped for easy setup.
A poncho works as a fast tarp shelter too.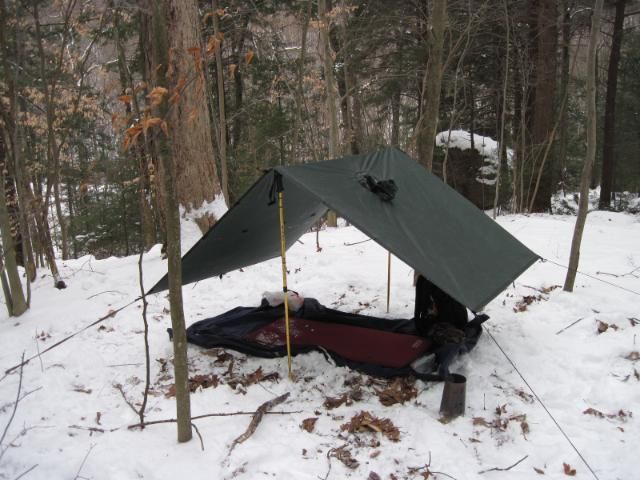 Bivy tarp combo.
Pros:
Fast set up and can be lower profile than some other shelter types. Bivy/tarps combo packs down small and depending on bivy can be faster to exit. You can reduce weight/bulk by exchanging a urethane tarp/poncho for silnylon. For the most part when it comes to tarps bigger is often better but even a poncho adds greatly to the livability of the system.
Cons:
A Bivy tent is more claustrophobic, offers less visibility and often employs poles which can increase its bulk. On the flip side your head is protected from windblown rain/snow. A standard bivy sack is easier to get into, often more UL and you can see in all directions. But mosquitoes suck (pun intended) and you're more exposed to snow/rain. It is possible to use most bivy tents without the poles however. A bivy can range from 5 oz to over 3 lbs, toss in a tarp and the system could be over the weight of many UL backpacker tents.
Photos:
Gortex Bivy tent setup under a tarp, in this case a Golite Poncho.
MSS Gortex bivy with poncho tarp setup for a fast shelter.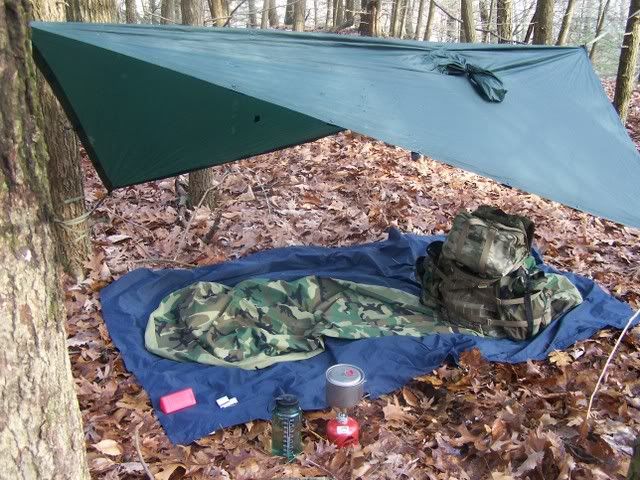 Hammock.
Pros.
A good Hammock like my HH Explore DLX with Super shelter system offers protection from the elements with comfort. In some AOs it can be easier to find two properly spaced trees than a flat dry footprint. They setup very fast and as stated there is more flexibility with issues such as drainage, rocks, mud etc. For me this is the most comfortable 3-season shelter going. If your rainfly is larger a hammock system can be much like a tarp shelter but with a 2nd story. Hammock shelters can be more UL than some other options.
Cons:
The Hammock is higher profile than the bivy but blends in well with CB. Hammocks seem to work best in 3 seasons though can be made to work in winter. The problem with winter hammock camping is one of diminishing returns. Often the weight of fully winterizing a hammock brings me into the realm of other shelter types which simply function better in extreme cold. If your hammock doesn't have a bug net there could be issues. There is a learning curve and despite those who find it the most comfortable shelter going others simply don't. Not every shelter works for everybody.
Photos:
Hennessy Hammocks.
Tent.
Pros:
Most tents have a clearly defined footprint and setup procedure. They offer a greater degree of protection from increment weather than a tarp for most users. There are many options ranging from UL 3-season to heavier 4-season systems. Some are free standing and others need supports be it poles or tie-offs. Some are double walled, others single. So nearly anyone can find something that works for best for their needs. Most can setup a tent the first time out with reasonable results. Many people feel more psychologically comfortable inside a tent and moral can't be underrated. They're great during bug season.
Cons:
Most tents are locked into the shape/footprint dictated by the design. This reduces the flexibility, basically if the environment doesn't work with your tent often a person needs to move on. If the tent has a waterproof floor and the weather remains wet for an extended period it's possible to trap water inside and without the sun to dry things out you're kinda up the creek without a paddle. Many tents offer little visibility to the outside world.
Photos:
Eureka Timberline.
Eureka USMC 2-man shelter.
Golite Hex.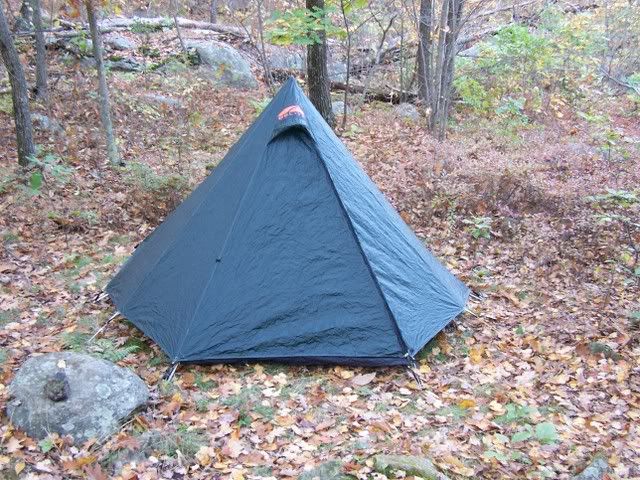 Tents to avoid
:
Cheaper tents that use tarp material for the floor, inadequate rainfly and non waterproof sides are a disaster waiting to happen. The poles are often fiberglass which is inferior to aluminum. Granted these shelters will offer marginal protection from the wind, block the sun and keep bugs away but if it rains expect to be flooded. Wet and cold is a bad start to any day. On a side note covering the shelter with a larger tarp can make them usable.
Heated shelters.
Pros:
During winter below the tree line these are hard to beat. The primary advantage is the use of wood to heat the shelter, boil water, dry clothing/gear and cook in nearly any weather within reason. Anyone who has been cold and wet knows just how nice it feels to go into a warm house. Basically these are packable warm homes in which a person can even take a warm sponge bath in -20F temps. Often a campstove is redundant as the tent stove does double duty plus never runs out of fuel. It just doesn't get any better during winter. They will also work in warmer weather without the stove.
Cons:
Even the most packable UL system is heavier than other shelter types. There is a greater degree of skill required to operate the stove and pitch the tent. Most have no floors and it's very possible for bugs to slip inside. Many aren't free standing which can be an issue on thin soil. It takes more time to setup the stove, cut wood and pitch the tent than pitching other shelter types.
Photos
Kifaru 4-man. This is around 10lbs with stove.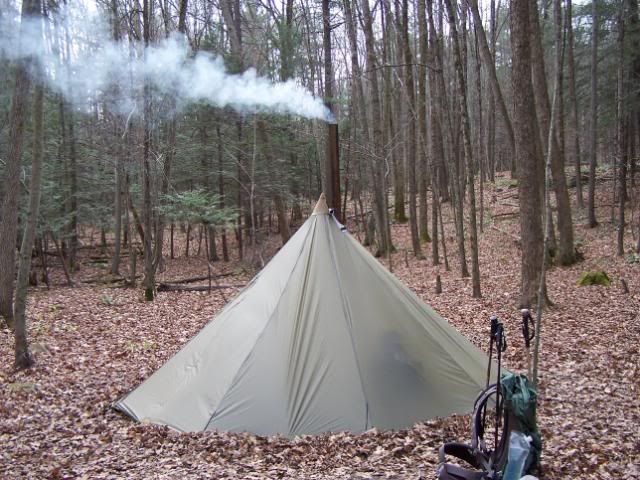 Kifaru Paratipi. Guessing around 6lbs with stove.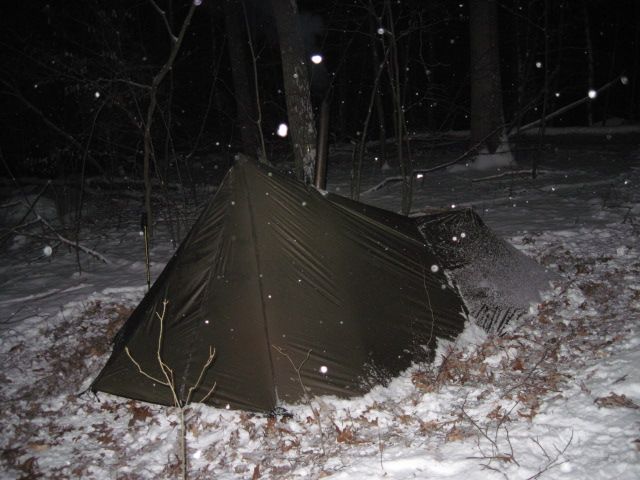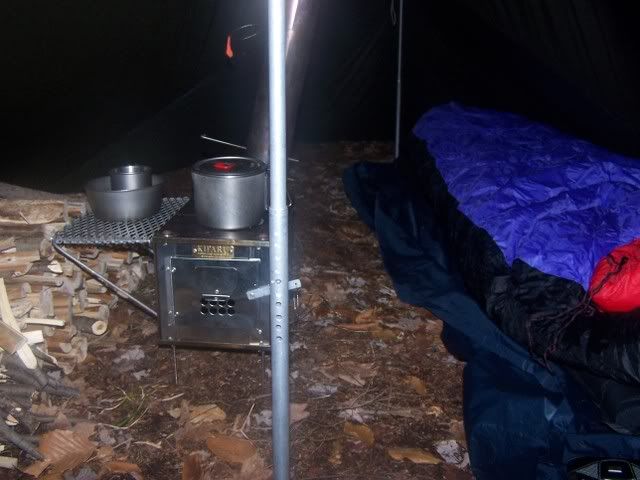 Conclusion:
Granted a well stocked home surrounded by people you trust is the best shelter going but having other options available isn't a bad idea. Exposure is a death of a thousand cuts.