Scurvy, Ninja Elbow, Roxxor, and jak met up in the Mt Hood forest for the ZS:011 Summergeddon 2012, we decided on the Salmon River/Huckleberry wilderness as both ninja and I did seperate trips in the last contest, this time we'd go as a group. Here's how it went:
I had done some scouting earlier in the year and found a couple of nice sites, we met up at the trail head late AM friday and found we had the woods to oursleves. A short hike down a hill through the woods, over some trees, under a tree, and across a log we found our spot.
morning sun through the cedars:
Roxxor opted for the 'bug-free' approach, ninja did some tarp experamentation:
He ended up with this set up: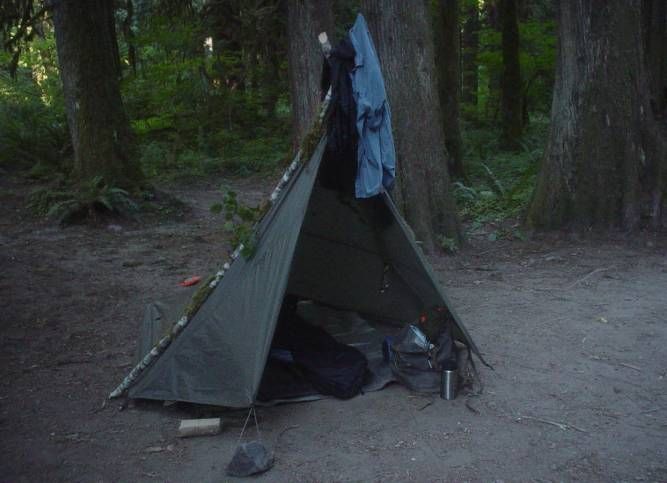 jak went off the ground: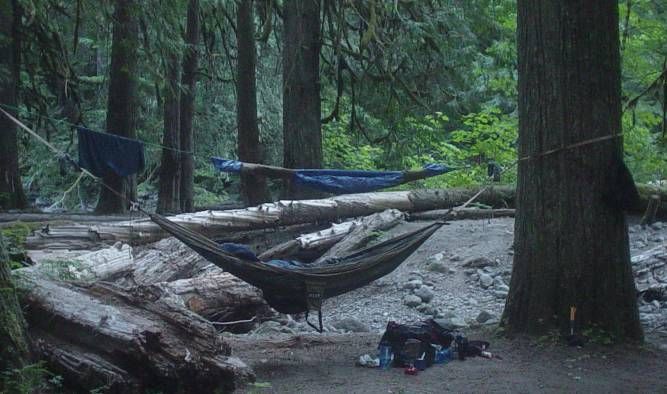 I decided to keep it simple: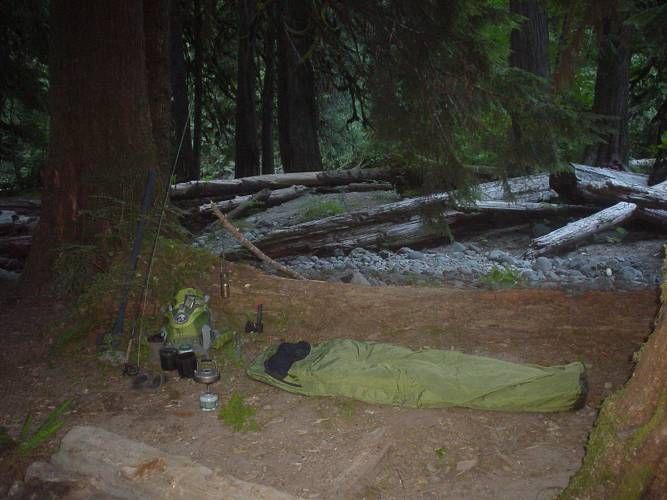 threw together a bucksaw, I need to work on my design, (I definately need to go bigger on the sticks for the frame, spend more time notching/secureing the center stick) but it got the job done: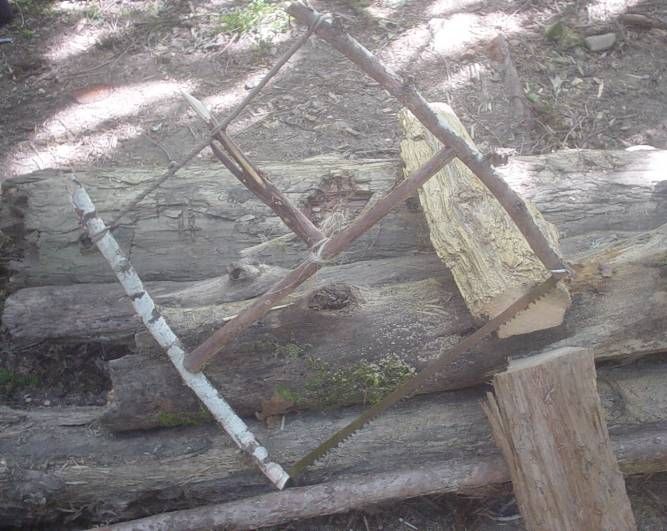 here it is in action via jak, notice it tweaks a bit, but it chewed through the log in no time: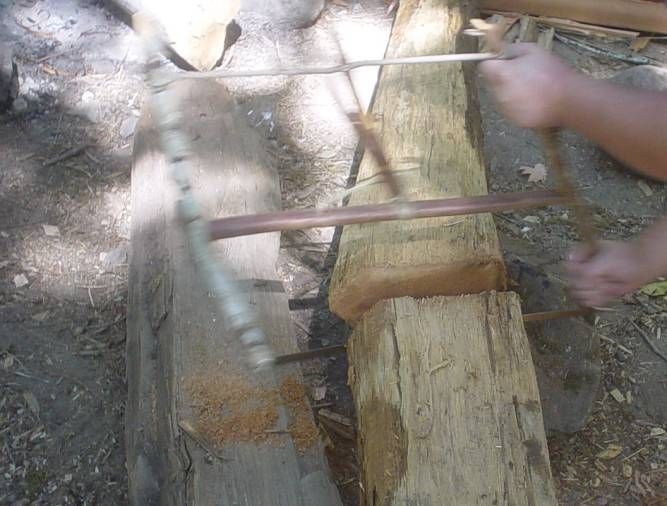 no need for too much sawing, we just fed the wood in as it burned, unburned log made a nice place to set the coffee mug:
Ninja-Elbow and Roxxor enjoying the fire and heating some water: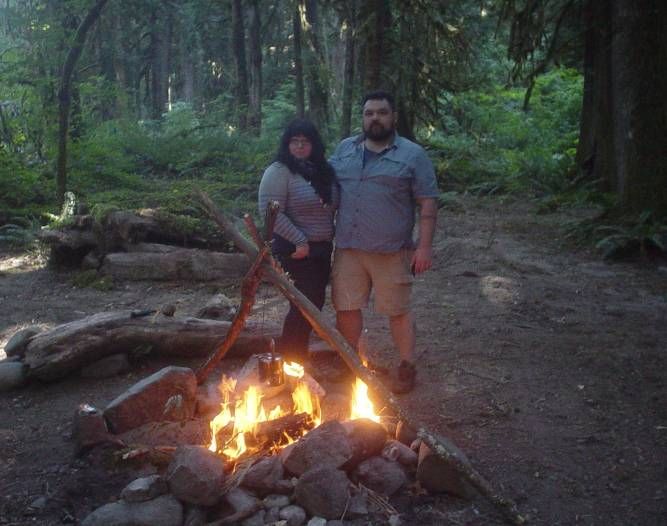 Harrassed a critter, not very cooperative when trying to get a photo: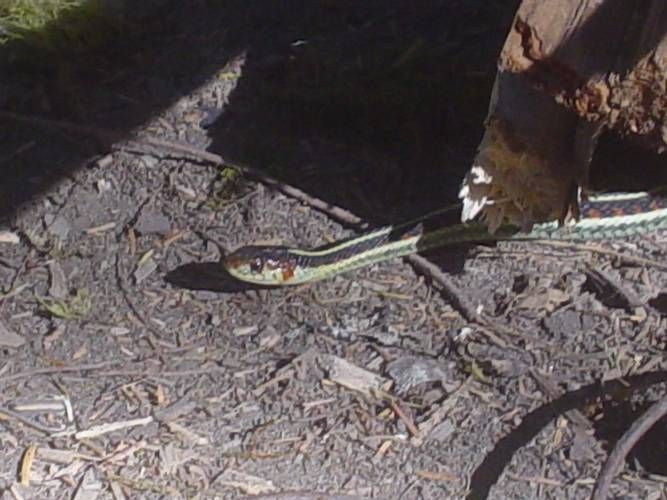 a shot of the river: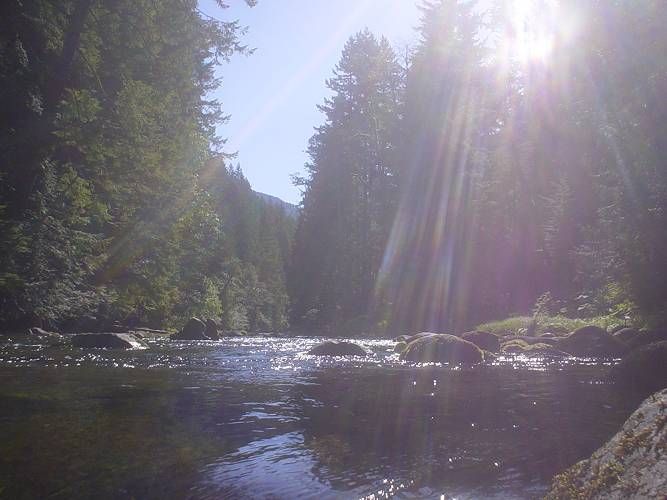 and Ninja's food cooler: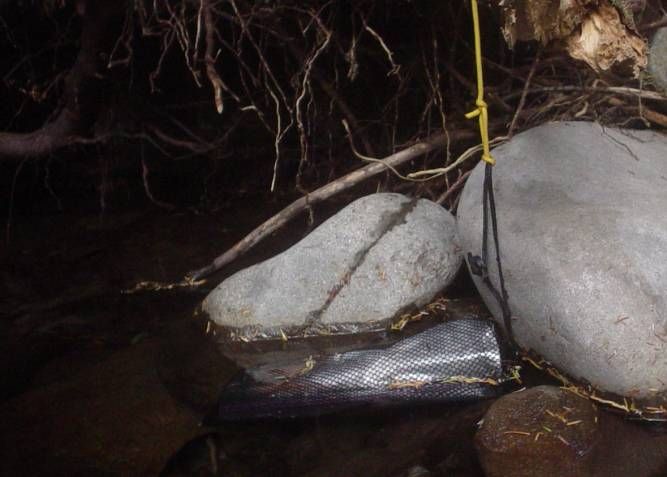 did some fly fishing, lots of little guys, this is a nice fish for the area: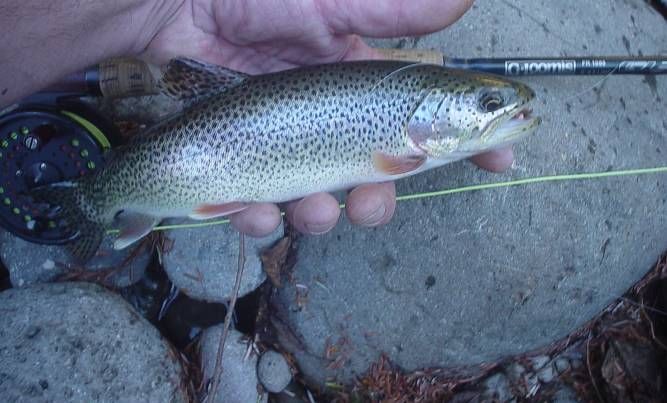 cut-bow (rainbow/cut throat hybrid) I believe... :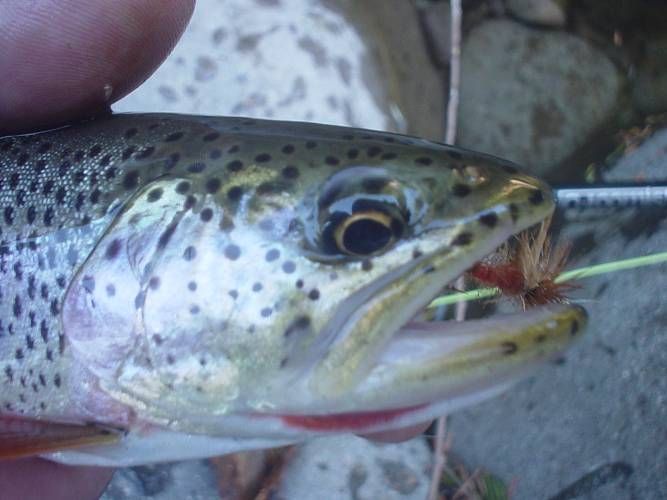 as I was out fishing I found a set of tracks that I thought might be black bear (common in the area), after a little research I think what we have here is a really big dog.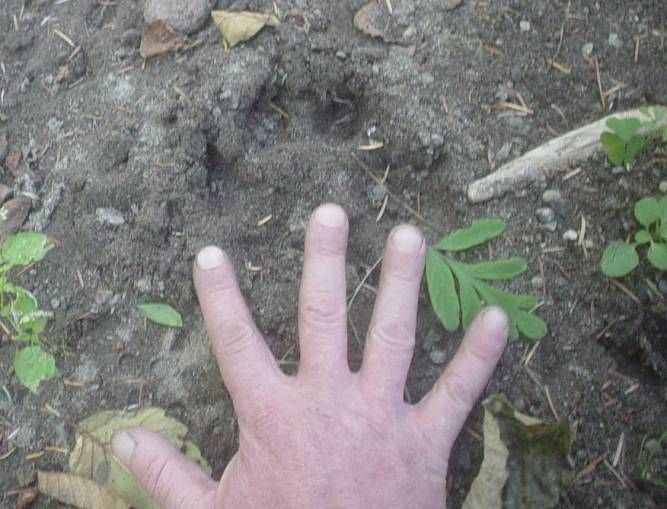 the menu was "meat on a stick" sirloin, pork and marinated beef: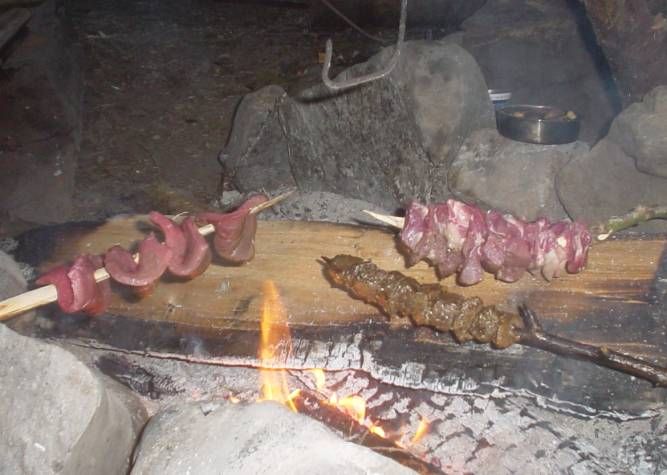 breakfast was also on a stick, bacon: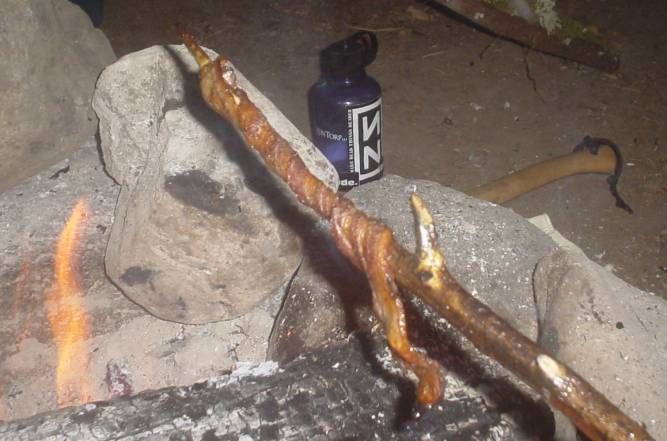 the night before I thought I'd leave a piece of bacon on a string in the river to see if any crawdads were about, the next morning my bait had worked, not a crawdad though: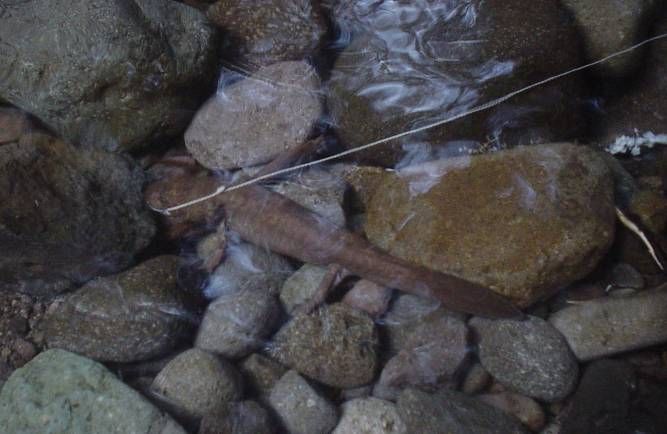 big ass mud-puppy: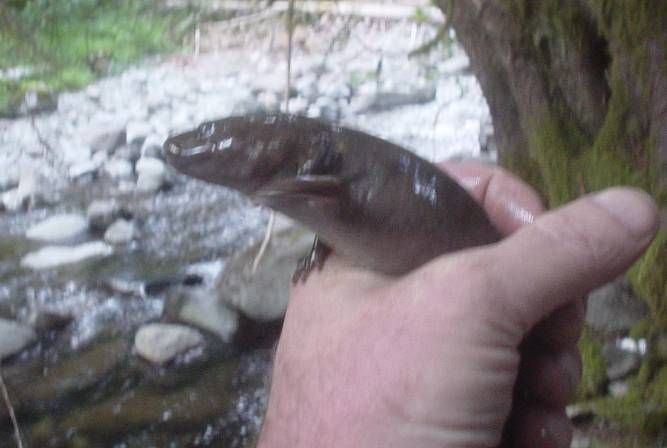 saturday afternoon I decided to have
A FAT-WOOD THROWDOWN:
on the left, representing the northwest, my oregon pitch wood.
on the right, representing the southeast, xxxDarkside'sxxx florida fat wood: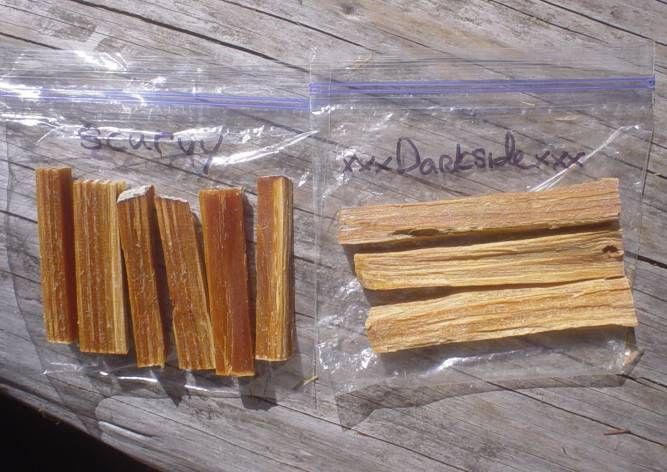 each was shaved up: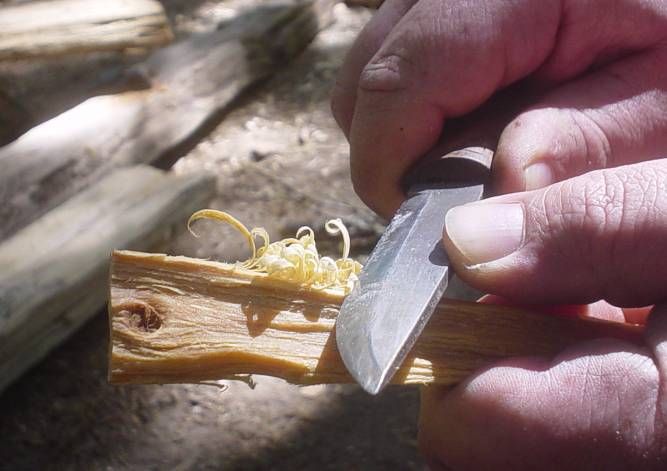 and hit with sparks only:
the florida shavings: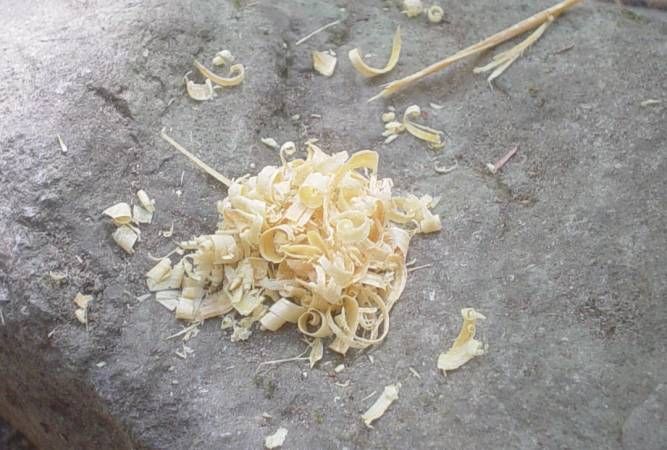 lit up on the third spark, burned nicely:
the oregon shavings: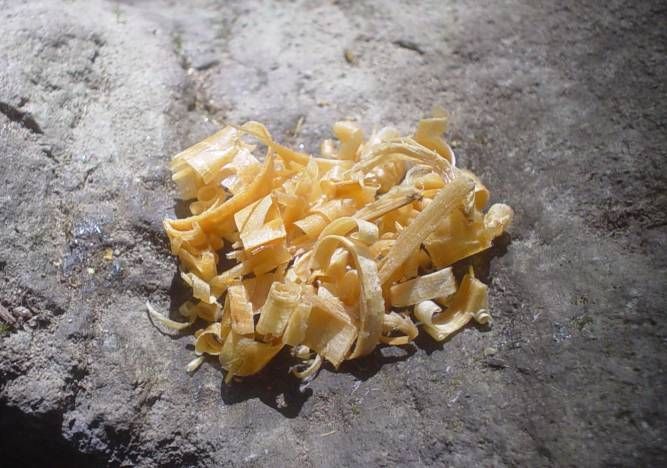 much more difficult to light,(maybe 10-12 strikes) but burned almost out of control.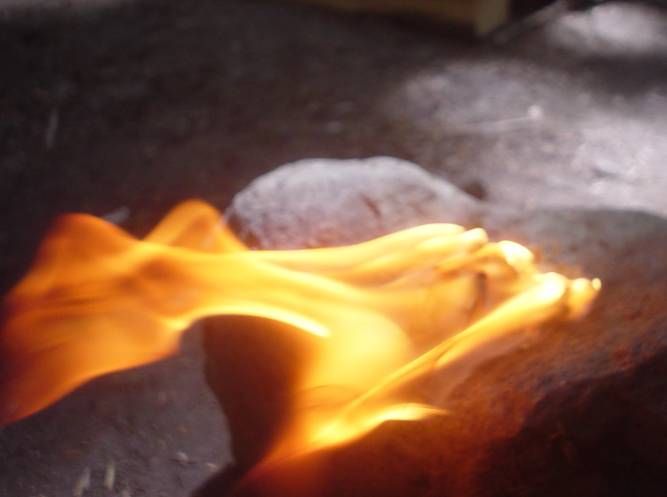 florida wins the ease of ignition, oregon wins the best burn.
topping off a pile of oregon shaveings with a bit of florida worked better yet,
They worked best together, so there's no need for a east vs west feud or anything..
more of the trip, (I get a little bushcraft crazy):
miniture oil lamp (nut shell filled with olive oil, jute twine wick, twig tripod), around 5 minute burn time even with slight breeze: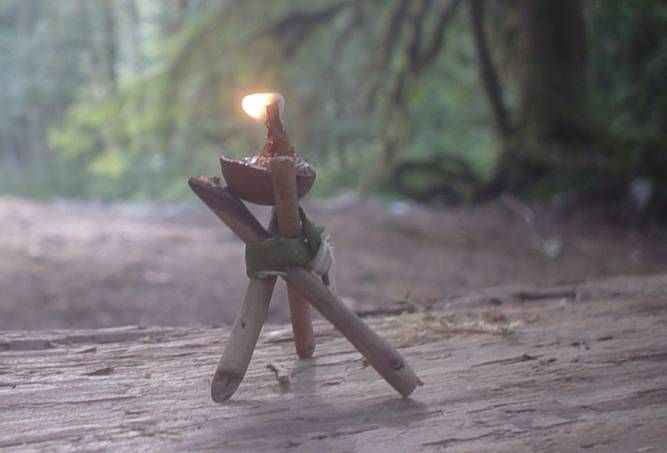 Ninja-Elbow brought along a mora spoon knife, I've never used one before and tried it out. Took me a little time (and a cut hand) to get used to it, but I carved out a rather ugly ladle. not pretty but it'll serve soup: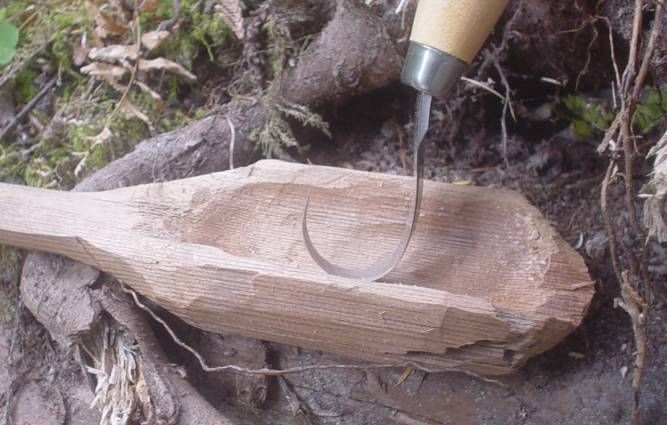 what now? big pile of kindleing sticks?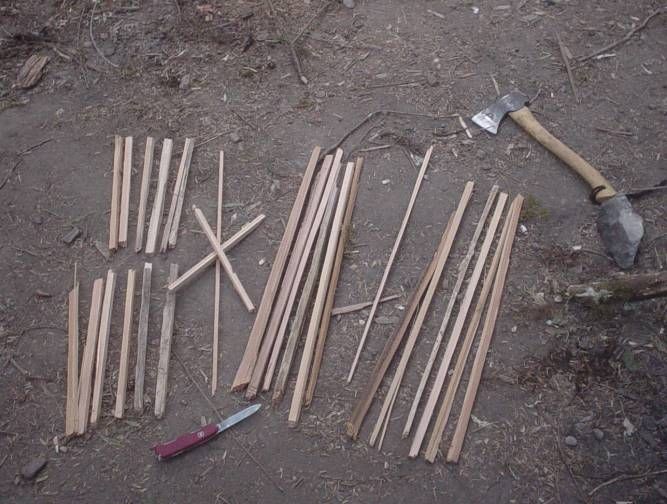 nope, I tied together a squirrel trap with some paracord guts.
option 1 : the string/figure four, baited with powerbar: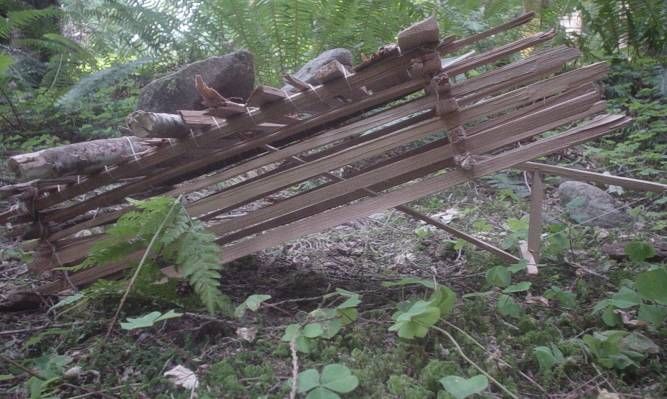 option 2 : down and dirty pull the string:
only saw one squirrel and didn't leave the trap out all that long, no squirrels were traumatized this time around.
some shiney new fungus I saw on the way out: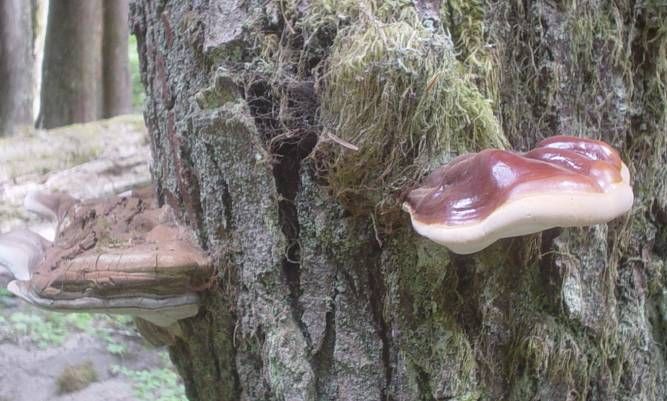 that winds it up for the photos, thanks to Ninja, Roxxor, and jak, it's always nice to have good company while out in the woods. Hope to do it again soon.
thanks for looking,