(I looked around a bit here but didn't see any other posts yet on this axe even though the news is a bit old having been put up on the Wetterlings site May 28th and Les's site in early June)
Normally I don't get too excited about celebrity designed gear. Usually it ends up pretty cheesy and over priced.
I am though a bit excited by this Les Stroud and Wetterlings team up to make an axe.
They are saying it will be available for purchase from November 2012.
You can find the full info on either Les's site and/or Wetterlings site.
Les Stroud official site
http://lesstroud.ca/news/announcing-the-bushman-axe-by-survivorman-les-stroud
Wetterlings site
http://www.wetterlings.se/the/index.php
Some pictures to wet your Wetterlings appetite!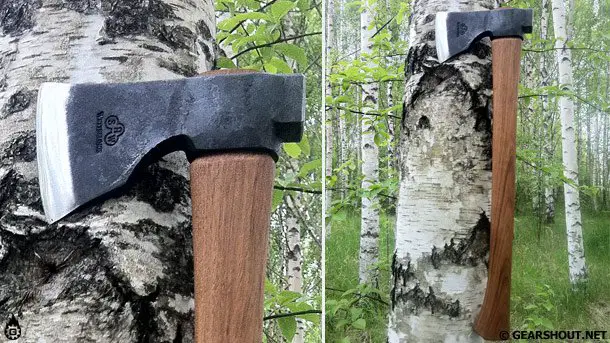 Not sure the specs I haven't seen them listed anywhere, but this picture of Les and Julia Kalthoff the CEO of Wetterlings does give a bit of reference.
It doesn't look like it is that large, really looks like a great pack axe. It is like a cross between a carpenters axe and a forest axe. A great combo for bushcrafting tasks.
2012 Wetterlings Les Stroud Axe, Equip 2 Endure
Shot Show 2012, SA Wetterlings CEO Julia Kalthoff Interview, Equip 2 Endure
Interestingly thing about this interview though is they show an axe at the beginning much like this Bushman axe but with a longer handle saying they released it last year, but I have not seen it for sale anywhere. I had actually been looking for that axe since then, which is why seeing the Les Stroud Bushman axe got me excited as it is the same head design but smaller and straight handled. I had been wondering if maybe Julia messed up in that interview saying that that axe was released last year, and was actually showing the prototype of the Bushman Les Stroud axe. In the segment about the Les Stroud Bushman axe she was holding that axe and while you don't get a good look at it you can see the distinctive hammer poll at one point. However I just found on bladeforums
http://www.bladeforums.com/forums/showthread.php/959302-Any-word-on-Wetterlings-Spring-2012-24-quot-axe
that they did release that 24" axe with the same head type, though for some reason it is not on the Wetterlings site.
It is called the Universal Woodsmans Axe at
http://www.garrettwade.com/universal-woodmansaxe/p/26D12.08/
and Forester's Fine Axe in the UK apparently
http://store.harryepstein.com/cp/WetterlingsSwedishAxes/SAW176.html
Universal Woodsmans Axe/Forester's Fine Axe
I am not sure why Wetterlings does not have this axe listed on their site. Now though I have to figure out if I would prefer the straight handled Bushman, or the standard axe handle of the Universal Woodsmans Axe/Forester's Fine Axe. It also seems the handle for the Bushman is a bit shorter, which might make me go for the longer 24" handled Universal Woodsmans Axe/Forester's Fine Axe. Also of course there is the wait till November for the the Bushman to take into account.
Either way I am excited about this axe style, it is one that really speaks to me. I like the ability to choke up high to do delicate tasks a solid good functional hammer poll but still a good blade for chopping and splitting.