Hello All,
Up for review/criticism/suggestions is my M9 Trauma Kit. I keep this kit in whatever vehicle I'm in, with the point of focus being basic trauma such as a car accident. I'm looking to provide basic lifesaving.
So with further ado, heeeere we go:
The bag itself is an M9 Medic Bag, made by Tactical & Survival Specialties, Inc. It is current issue to Navy Corpsmen in country.
The Pack itself:
Front:
Seen here is an adjustable C-Collar (I can't fit it in the bag!)
R Side:
Benchmade seat belt cutter. Also you can see how thin the bag is (approximately 5")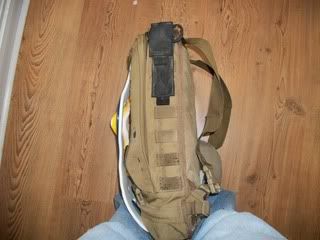 L Side:
Trauma Shears and two CAT Tourniquets.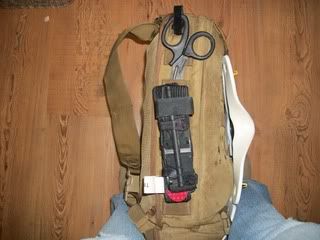 Bottom Pouch:
Its basically an 'I need it NOW' kinda set up. Pictured, L to R, is two sets of gloves, NP Airway, basic OP airway, CPR mask, hand sanitizer, BP Cuff, eye wash, First Aid Reference, stethoscope, and 'trauma roll' of gauze, pressure dressing and Kerlix.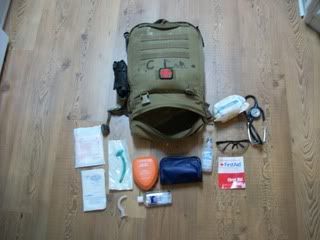 Main Compartment:
On top: two SAM splints, burn dressing, and two empty MRE bags. Not pictured is an occlusive dressing.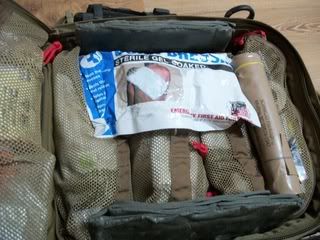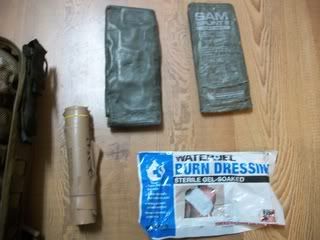 Main Compartment:
First Pouch:
L to R, Ibuprofen, Mucinex, Immodium, Benadryl, Electrolyte packs, Pepto-bismul, Neosporin, two rolls of tape, prep wipes, more Ibuprofen, Glucose tablets, and Tums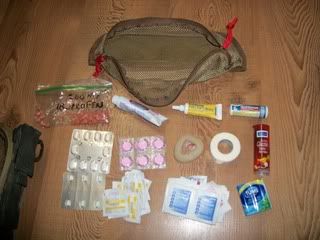 Second Pouch:
L to R, Tegaderm, two triangle bandages, butterfly strips, two 'Ace' wraps, 4x4 gauze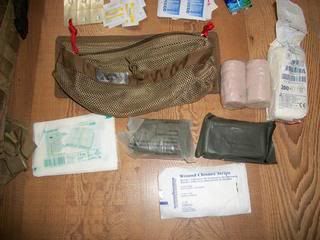 Third Pouch:
L to R, medical tape and two abdominal pads, big H&H cinch tight pressure dressing, 3x5 dressing, another large H&H cinch tight, two packs of Combat Gauze, and a small H&H pressure dressing.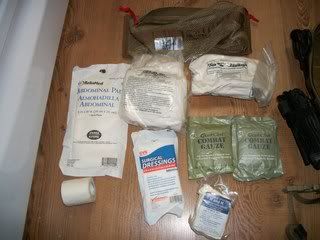 Fourth Pouch:
L to R, two cold packs, Duct Tape, Burn Gel, Crick Kit, baby wipes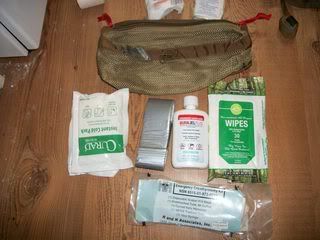 Internal Bottom Pouch:
L to R, Complete OP Airway kit, Emergency blanket, NP Airway, hand warmers, Decompression needle, Penlight, Triage tag, Sharpie, hand sanitizer, extra Nitrile gloves
The Whole Kit: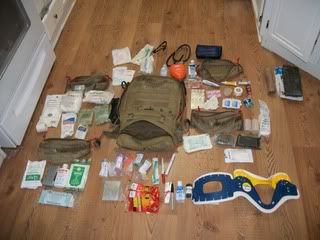 For Scale:
(Hey, we rent, ok? I know the wallpaper sucks but the landlords won't authorize me to paint it Coyote Tan with a MARPAT accent wall...psh....some people.)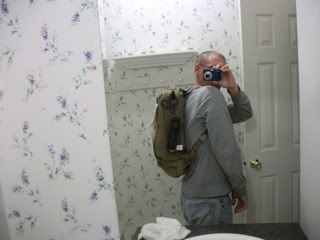 I welcome your input!