Well, between uncle-sam, and becoming a father, with newborns and teens, my "woods time" has been very limited...as much as I would love to participate in the MBO contests, well, this period in my life is just too busy...BUT...I'm finally able to get out! I'll be going on a four-day camping excursion with my family, as well as my to brothers and their family's...SO...in between practicing/polishing my "bushcraft" skills, I will also be "testing" my off the grid power/comm set-up.
So, here's what I have so far...this is my "small gear:, and I still have more to set-up/pack, but it's mostly larger items.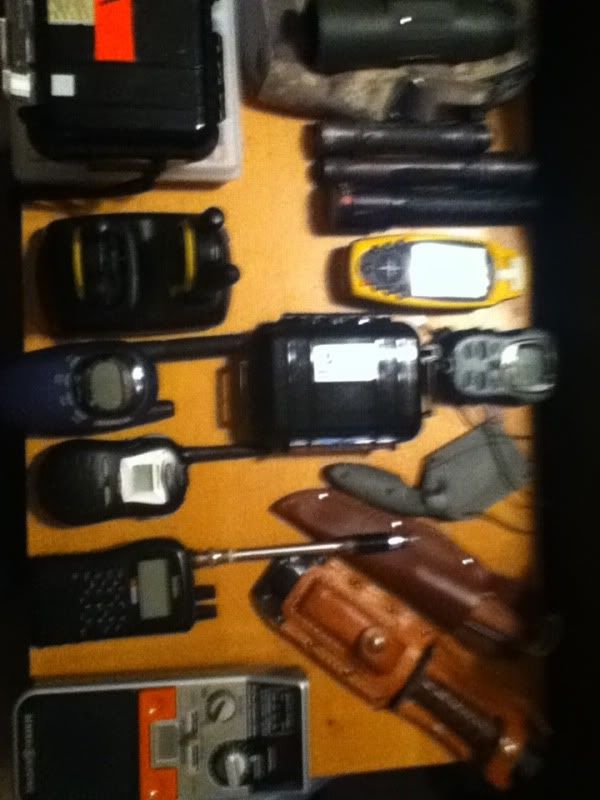 First Pic:
-GE 3-5900A 4-watt CB
-Undien BC72XLT Scanner
-Cobra Micro-talk FRS/GMRS two-ways (2ea.)
-Motorola Two-Ways (2ea.)
-USAF GI Survival Knife w/ Leatherman micra in the sharpening pouch
-Gerber Freeman Fixed knife
-Kabar TDI turned "Neck Knife"
-Peli 1010 Survival kit
-Magellan Sporttrack GPS
-Bushnell Digital Compass/Thermometer/Altimeter/Barometer
-Surefire G3 w/ KL3-Red led head
-Surefire E2L-AA
-Surefire A2-YG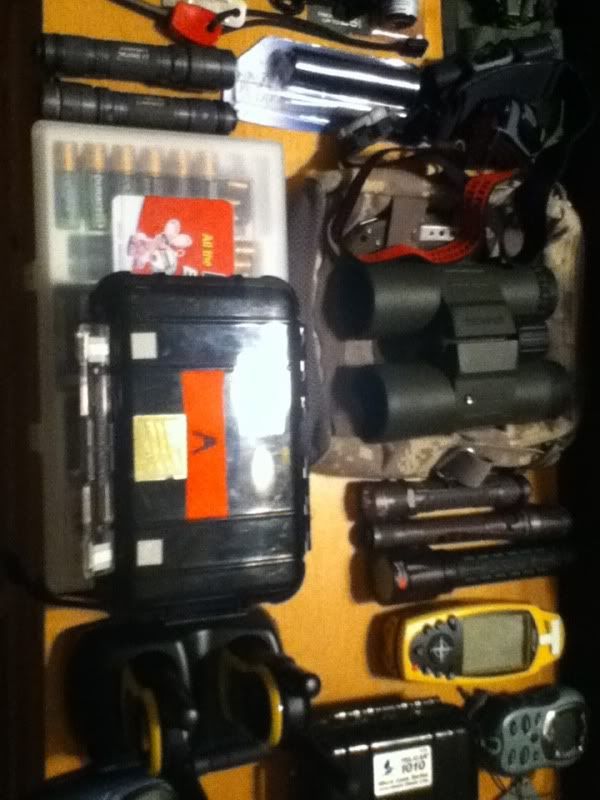 Second Pic:
-Simmons water-proof bino's
-Peli w/ 36 spare CR123's and a multimeter attached inside lid.
-Battery Case w/ 16ea. AA Eneloops,20ea. AAA Eneloops, misc other RC batteries
-Princeton Tech Byte headlamp with Lithium AAA's
-Surefire Saint Minimus Headlamp
-Surefire L1-White
-Surefire L1-Red
-Aquamira Survival Straw (Water Filter)
-Light my fire fire starter
Third Pic:
-Goal Zero Nomad7 Solar Charger
-USGI Camo Facepaint Kit
-USGI Aviation Fire Starting Kit
-CR23 Glo-Toob beacon
-Water Purification Tablets
-USGI Lensatic Compass
-Remington RC 6-Volt Lantern battery (1 shown, 2 avail.)
-Gerber USGI Multi-tool
-Fold-a-cup
-Surefire B65's batteries (charger not shown)(12 cells total)
-4ea. Surefire RC lights (various light engines)
-Power inverter for use with nomad-7 and my Jump-Start battery pack
-Adventure Lights VIP USGI Strobe Light (Waterproof to ~11k feet)
-2ea. 8-packs of niMh "D" Cells
4th Pic:
-Ka-Bar Machete
-USGI Entrenching Tool, w/ case
-USGI Mess Kit
-SOG Fast Hawk Tomahahwk
-Gerber Hatchet
I will get picks up of the rest of my INCH set-up. I still have a few more things, but keep in mind, this is mostly my "tools/gear", and doesn't cover heating/food/clothing, per-se.
I know I have a lot of lights, and wouldn't normally pack this much in a BO situation...but, it is a camping trip...and I want to really test out my "extended power outage/off the grid" power set-up.
I'm thinking of ditching the GPS/Bushnell gear, and just going straight compass. Any suggestions? Am I missing something critical?