Whaaat?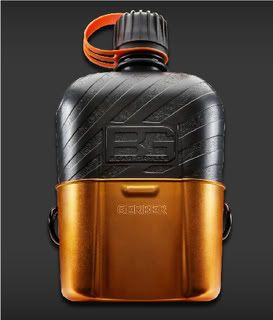 http://www.gerbergear.com/Survival/Gear ... _31-001062
I swear if I run into anyone sporting this stuff in the woods it's going to be hard to avoid laughing at them.
For reference this latest offering is a plastic canteen and aluminum cup combo that comes with a nylon case, and is priced at $37 retail. (perhaps street price will be less?)
Canteenshop.com has a basic gi kit with a plastic canteen and
a military issue
STAINLESS STEEL cup for $36.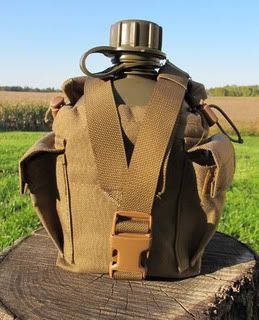 This is the same old theme for the prepackaged gear and survival kits. It's not a specific phenomena to Bear Grylls/gerber products... though I've seen some pretty shameless gear pimping videos on his part. Prepackaged kits are aimed at making money pure and simple. The old saying 'you get what you pay for' doesn't quite hold because unless I'm mistaken the USGI kit is a more capable higher quality bit of gear.
I watched a video compilation showing clips from MVW of him using the knife and swooning over its general awesomness. I really found myself wondering if really, in his heart of hearts he believed it was the 'ultimate' knife. It seems to me that the marketing guys had just as much to do with these things as Bear does. Probably more. Setting a $50 street price point is pretty limiting for a knife. It seems to me the prices might well have been set
first
and then the products designed to fit.
Hey I'd love it if some of these guys (or anyone really) would look at basic gear like a canteen system and try to IMPROVE it, rather than knock it off and create something of lesser quality with a big fan-boy stamp on it. I mean lots of folks here got all excited over those stainless canteens created by some dumb a*s fashion designers. Those idiots
weren't even trying
to impress us and yet their product made lots of us think. While it might be an uphill battle for a common man to create and market a high end 'better mouse trap' (that actually was better) It seems to me that these "Big names' in televised pseudo-survival would be in a much better position to make something like the following happen:
What if someone made a stainless canteen with a wide mouth removable top that matched USGI specs for the matching stainless cup and then a stainless lid similar to the heavy cover? What if they then added a stainless cup support that could be used either with heat tabs or a small twig fire? It'd be super sweet.
But it would cost

way

more than $37 for the kit.
It would possibly be worthy of the term 'Ultimate canteen system'
Even if the product made us drool, many of us would look at the sticker and pass. It's really easy to pass on something you can't afford especially if you're getting by with something that does the same job. Therefore if anything like this happens and you like it better get it sooner rather than later. (stroud helle knife for example) I seriously doubt it will be an overwhelming commercial success and therefore possibly not available for long.
The conflict here is simple. The end user should be the one making compromises on gear based on real world factors such as personal and environmental needs, skill level, weight concerns, bulk concerns... and not the manufacturer.
And before anyone jumps on me I know that price is a factor in product development, but i don't think it should be the overriding factor. Take that 'Ultimate survival knife' (personally i don't care for stainless blades or serrations but that aside...) The blade is clearly based on the LMF II, one of gerber's more popular models. The fact that it's popular is based on it's no nonsense stout functional design. The LMF II is by no means a rich boy-toy exclusive tool. They designed a knife and priced it. Last I checked the LMF II was about $20 more.
Why couldn't they just mold some orange BG letters onto the standard LMF II and give it a fancy firesteel/sharpener sheath? (call it the BG edition LMF II)
I don't know... but i suspect it was either a cost consideration or some
artsy fartsy design consideration.

THAT is what i'm talking about. Those compromises are out of line in my book.
The question is If you had $50 and you could buy either a LMF II or a BG 'Ultimate' why would you pick one over the other? At face value there is the stone and the firesteel. Does it really make sense to weaken the core tool to add a couple of sundry items? Not in my book.
The manufacturer should be worried on making whatever they make to the best quality possible. Doing/making something well is an end unto itself. I like to buy gear from manufacturers that believe that too.
So to sum up; I really hope this didn't come off as an anti BG rant... Really my point is that these companies don't always have our best interests at heart. (Captain obvious here)