This is how I'm rolling right now. I explained some these choices in the WMBO chat thread, so this will mainly be an itemized list (which we all love) replete with pics (so we know it happened). Some items, mostly clothing, might be subject to change depending on weather forcasts for my BOL. This BOB is designed to be driven to an location, donned, and then humped without mercy into the Blue Ridge foothills where I'll relax and bird watch for 3 days. This does not take into account SHTF or urban situations (both of which have "modules" that can be easily added). Also not pictured is food--I keep a few MRE's in my Subaru battle wagon and plan on grabbing a few before stepping off (once a Marine, always a Marine I guess).
The bag itself is an Osprey Atmos 65.
The main compartment carries my clothes and shelter (not pictured is Kifaru parahooch, busy conducting rain test)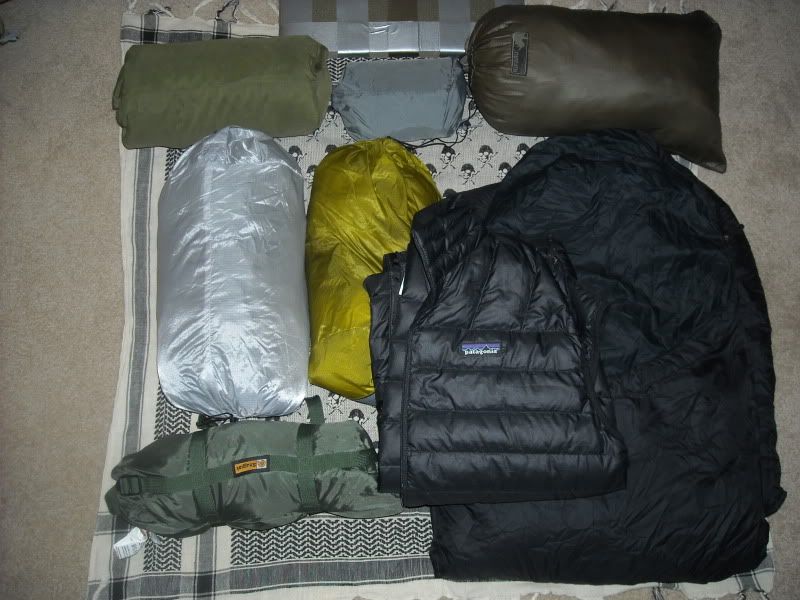 Top (barely)
ISO mat Woods Walker inspired kneeling mat
2nd row
Thermarest sleeping pad. REI rain pants. Kifaru Woobie
2 stuff sacks--one has base layers, other has warming layers (see next pic)
Down vest
Snugpak Merlin
Snugpak bivy shelter (bottom left)
Stuff sack contents:
Top row (L-R)
Patagonia capilene 2 bottoms and top. Cabela's softshell pullover (just got, love it, look forward to full-on review)
2nd row (L-R)
USMC FROG base-layer top. Kohl's clearance rack merino sweater. Rag wool gloves. TAD merino beanie
3rd row (L-R)
Pile 'O wool socks. UA undies. Patagonia Down vest. REI lightweight rain-pants (JIC)
Stuff (looks like a lot):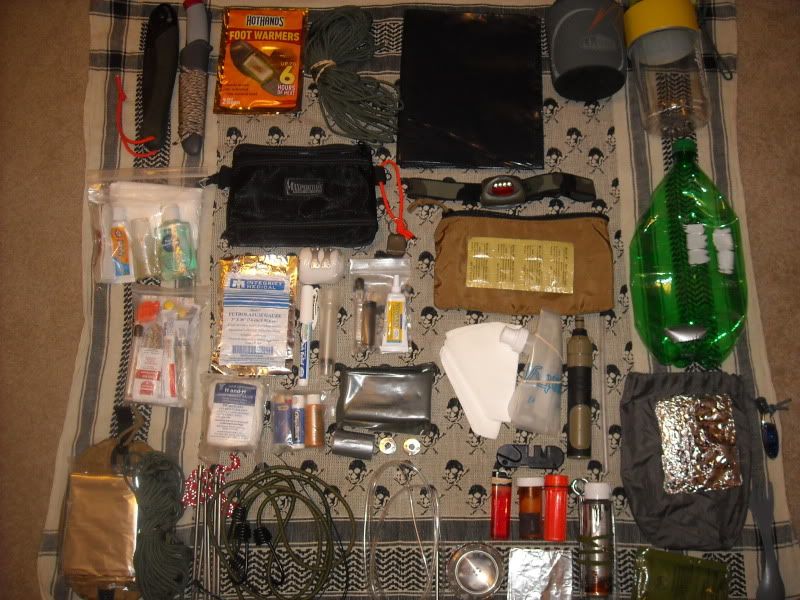 I'll describe from the top down, each row from L-R:
Bahco Laplander saw. Mora Knife. Handwarmers. Hank 'O 550. Contractor bag. GSI minimalist. Nalgene bottle w/ duct tape.
Hygiene bag (toothbrush, paste, Dr. Bonners, hand sanitizer, TP). Maxped pouch for FAK (contents below). Petzl headlamp. 2L bottle for source water collection.
Below headlamp is a Kifaru pouch with water gathering/puification: Micropur tabs, coffee filters, platy bag, and Frontier Pro
Bottom row (L-R)
Space blanket. more 550. Ti stakes. bungees. Fire blower (aquarium tubing w/ radio ant.). Tecate alcohol stove. knife sharpener. Lighter. Vasoline cotton balls. Matches. Foil. DIY stove wrapped around flask of denatured alcohol. Random packet of drink/coffee stuff wrapped in foil. Fire get. LMF spork.
Here's everything packed:
L-R: Cordage bag. FAK. Water stuff. Fire and alcohol stove stuff
Gizmos:
PVS-7bs. Eton crank radio (I haven't taken this out yet and I need to know what to expect for reception, esp. the weather band)
On my body: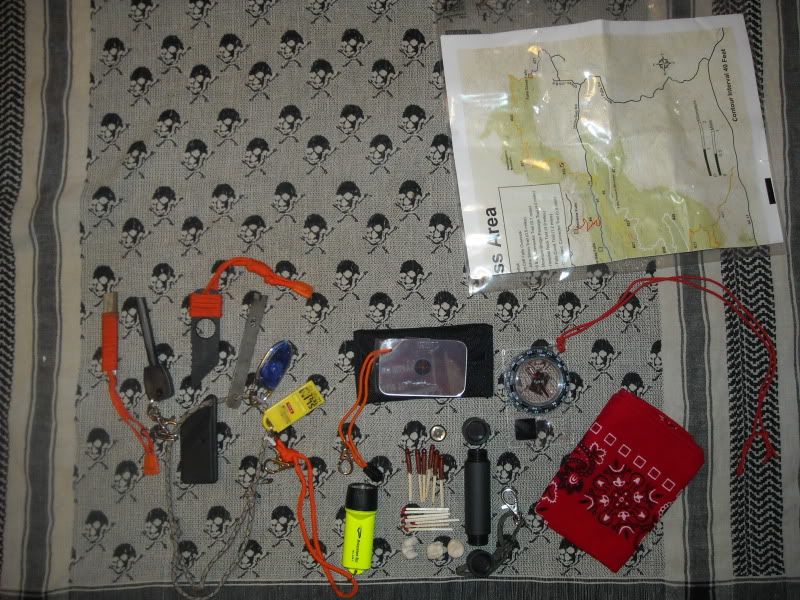 Lanyard w/ Corona pruner sharpener (fire steel striker). Large Swiss steel. TOPS ALRT knife. widgy bar. El-cheapo LED light. Whistle.
Signal mirror
Princton Tech flashlight
TAD survival capsule: SAS button compass. Lifeboat and kitchen matches. Tinderqwik.
Silva compass
Hanky
AO map
Tactical fanny pouch: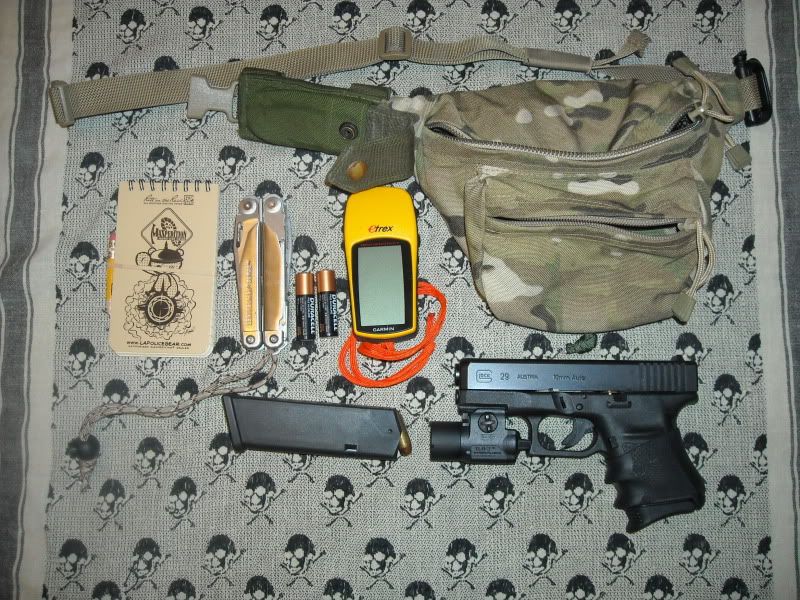 RIR notebook w/ pencil
Leatherman Surge
Garmin Etrex
Glock 29 w/ spare 15 rd mag
And finally; the clothes I have ready to go:
Blackhawk Warrior Wear softshell pants (swapable w/ TAD predator hardshell pant depending on weather)
TAD merino base layer top and bottoms
REI merino sock liners and rag wool socks
riggers belt
TAD shemagh
rag wool sweater
Pendleton wool shirt
Bring it, old man winter!