I have decided that I need to have a custom knife sheath made up to hold four items for me.
1)Cold Steel SRK-My original plan was for a larger knife, but the more I thought about it, the more I realized that I dont need a bigger knife. This is actually the largest knife I own. It's the knife that I used as a field knife in the Army, and has opened more MRE's then I can count.
http://www.coldsteel.com/srk.html
2)Leatherman Wave- By far the handiest of all multitools I have used, I would pick this one over any, perhaps the maybe the Leatherman Micra, which has the best scissors ever, and I seem to use the scissors more then anything else.
http://www.leatherman.com/product/Wave
3)Fire Steel - Know it, love it, carry one, or maybe even two.
4)Spyderco Pocket Stone- Small, lo profile, light weight. What more can you ask for? They make several models, and I prefer the single medium stone. The dual stone is simply one medium and one fine stone glued together.
http://www.spyderco.com/catalog/details.php?product=86
I am looking to have a custom sheath made to hold these items together in a clean, well built sheath. I would prefer it be made out of Kydex, in seperate pieces and not rolled. I wasnt to have grommetts on both sides, that way I can lash it if needed. I believe I would prefer the quick lock attachment method, but i also want a way to attach it to MOLLE. I would like it to ride at least as low as the factory Cold Steel SRK sheath, to clear the hip belt of my pack, or to be mounted on my Sigboy Scout Belt.
Here are the four items I would like on the sheath. If it is too much, I would ditch the stone first.
The layout I am looking for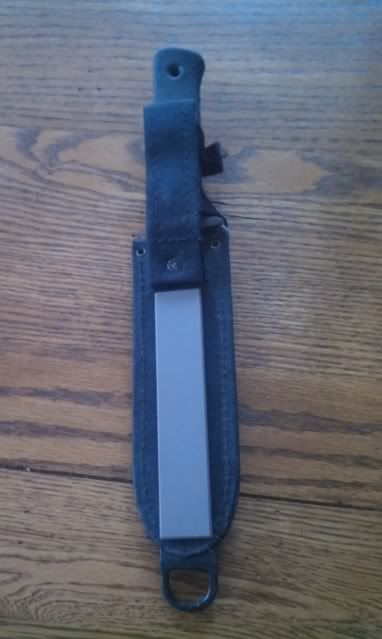 I think the stone tucked up in the back is the best place to put it.
Any ideas on who I could get to build such a monstrosity?
Any ideas on how to improve upon my ideas?