Goal:
Highlight non-conventional methods or dispel ideas that in practice are not necessary or do not work. Please add any you know.
1st Example:
Boiling Water to Purify It
Conventional wisdom:
Water is only purified from pathogens by boiling it for 5-10 minutes (
http://www.climbing-high.com/how-to-purify-water.html
;" onclick="window.open(this.href);return false;
http://www.areyouprepared.com/v/vspfile ... debook.pdf
" onclick="window.open(this.href);return false;).
Non-conventional wisdom:
An interesting and simple experiment described at
http://www.survivaltopics.com/survival/ ... revisited/
" onclick="window.open(this.href);return false; reveals that it is not necessary to boil water for several minutes before it is safe from biological pathogens. The article notes that at
near-sea level altitudes
a rolling boil is more than enough heat to eliminate pathogens, since pasteurization
starts
at around 149 degrees and all pathogens are eliminated at 200 degrees. The time the water spends above 149 degrees on the way to boiling and after it starts to cool down ensures it is safe. Also, the higher the temperature of the water, the faster it is purified.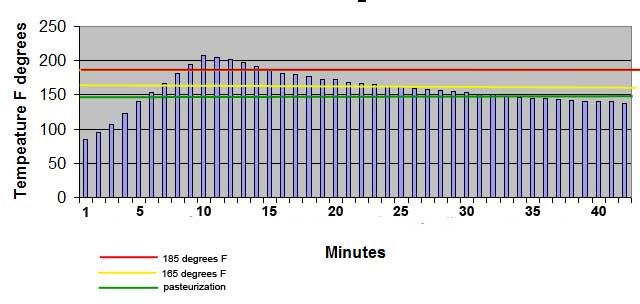 This graph highlights the water reached boiling around 9-10 minutes, at which point the heat was turned off (pot not necessarily removed from heat source).
So what?
Given the potential fuel savings in not having to boil water for 5-10 minutes, it would seem carrying a small thermometer to ensure the temperature of the water reaches 185-200 degrees would more than make up for its marginal weight added to a bug out bag. Alternatively, it is possible to save the thermometer and simply bring the water to a rolling boil, then let it cool.
Disclaimer:
As always, heating water is a useful way to eliminate pathogens, but does not eliminate chemical contaminants.