Here is something from the Penna. Fish Commission. This came in handy quite a few times when I worked for the railroad.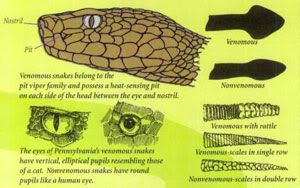 This chart shows distinguishing features common to all pit vipers, not just the species native to PA.
As far as copperheads having a smell, I've uncovered a den that had no distinguishing odor, and an interesting tidbit: black rat snakes eat copperheads and timber rattlers. If you think there may be some poisonous snakes in an area you dont want them to be in, introduce a few black rat snakes to thin out the population. As long as there isnt a great deal of other food, the black snakes will eventually move on after their food supply is gone.