I've been refraining from posting in this thread until I had more to add on topic, which I now do. Thanks for the report, Doc, that's awesome. And Matt, yes, you're quite right: professionals talk about software AND hardware, absolutely. ZS has plenty of hardware threads so I thought we could use something to encourage more talk about software, but you're right: both are important.
This is a range report for time spent at the range practicing techniques taught at MilCopp, as reported above.
I went last Sunday, October 3rd. Steph came with me. Range was Jasper Pulaski, a free DNR range in Indiana. 2 hour drive from Chicago. There was no instructor or course, this was just practice time, but I am reporting it here as it pertains to practicing skills learned in training.
I wanted to practice some skills I'd learned at MilCopp. Due to Indiana law, I was not allowed to bring/shoot my pistol, so this practice was with my carbine only. I plan on working on my pistol skills, practicing some of what Trebor taught me as well as MilCopp, this coming Sunday at Buffalo Range, with ZS:20.
I first did 1-5 drills, expending four 30-round magazines downloaded to 28 rounds, for a total of 112 rounds expended. I fired from the standing position until I ran out of ammunition, then changed levels (knelt if standing, stood if kneeling) while reloading. This drill was conducted strong side only. I learned the 1-5 drill using three targets; you engage target 1 with 1 shot, 2 with 2 shots, 3 with 3 shots, then back to 2 with 4 shots, and finally back to 1 with 5 shots. I only had two targets set up so I engaged 1 with 1 shot, 2 with 2 shots, 1 with 3 shots, and so on. Each time I ran out of ammunition, I changed levels, reloaded, and resumed the drill. I did this until all four mags were expended, at which point I waited for the range to go cold, and checked my target.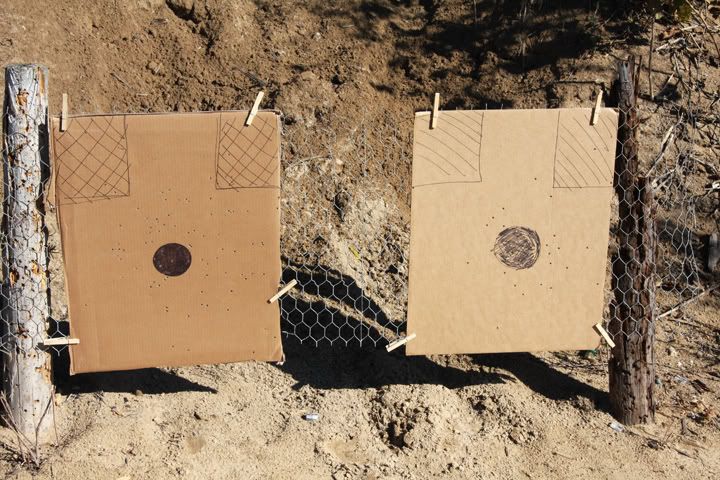 Not great. This was at 50 yards; even standing I should be able to do better than this! So, lesson learned (and confirmed by later drills) I really need to work on basic marksmanship.
The next drill I did was a 2-2 drill. I did this drill prone. I shot one target left-handed, with a piece of cardboard ammunition box folded over my right eye, and one right-handed. This was to work on my weird vision problem where I can't close just my right eye, and if I shoot both eyes open, it dominates. Again, I was all over the cardboard (although, due to a scarcity of hits near the edges, I don't think many rounds went off the cardboard). My left-handed target didn't look any worse than my right-handed one, though. So, I can shoot left-handed if I wear an eyepatch, so that's something I can work on.
Overall, I was basically just left with the impression that more than anything, I need to work on marksmanship fundamentals, before I do anything fancier. This weekend I'm going to Buffalo Range with ZS:20, and I'm going to bring Steph's .22 and a shitload of ammo. I'm just going to work on the basics, starting with slow fire from the bench. Once I'm happy with what I can do from the bench with the .22, I'll try to repeat it with the AR. Then I'll try more practical stances.