******
The Latest Update is on Page 2!
Quick link:
http://zombiehunters.org/forum/viewtopic.php?p=2105851#p2105851
******
Original kit below...
...
...
Here's the outside: Shears, TQ, and Boo-Boo Pouch.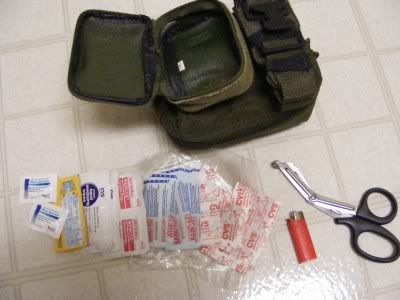 Here's the insides of the Boo-Boo Pouch.
This is the inside of the pouch packed up.
Here's everything from the inside laid out. There is:
Gloves
Various Gauze & 3x3 Pad
Water Proof Tape
Alcohol Wipes
Basic Field Dressings
Izzy Bandage
CPR Face Shield
Emergency Blanket
It's a revamp and revive of an older setup of this pouch I had:
viewtopic.php?p=818197#p818197
Enjoy!