Troglodyte Maintenance for the AR-15/M-16
by David Merrill and Rick Hartfield
I will preface this with this: I assume that you are not a certified Colt armorer or educated gunsmith. If you are, this really isn't for you as you have plenty of gauges and tools and background to quickly identify problems as they crop up. This is a guideline for the average user who utilizes an AR-15 as a fighting gun. While the term, 'troglodyte' may be somewhat offensive to some, I don't care because I think it's funny.
Whenever possible, we want to ensure that our go-to, 'working' rifles are ready to go. A good maintenance schedule allows one to prevent problems that may crop up at the most inopportune times.
Much like your car has a maintenance schedule, so should your main fighting arm. Often, when the word, 'maintenance' is uttered, it conjures images of simple cleaning. While cleaning is indeed a part of maintenance (and nowhere near as important as has been suggested—more on than later) it is certainly not the only or the most important aspect of maintenance.
This subject is highly subjective based on a myriad of factors that include:
-Quality of platform and included parts
-Length of barrel
-Length of gas system
-Frequency/Intensity of use
Also, just like with your automobile, it is advisable to keep a logbook of maintenance. However, unlike with your vehicle, instead of oil changes and tire rotations etc, this logbook contains the number of rounds put through your platform and how they were put through (slow fire, moderate, full auto, suppressed etc etc). This serves two purposes: Allows one to inspect and replace parts prior to breakage and, in the event a part fails or breaks, allows one to note the round count and conditions when the breakage occurred.
Militaries around the world (both Western and Eastern) usually go by a, 'run it until it breaks' mentality. Some special units may have more vigorous inspection procedures but it is not the norm. That said, unlike members of the military, an individual owner is not likely to have a support staff to identify and solve problems (or to lend fire support in the event it's needed).
Basic Maintenance
Basic maintenance refers to three facets: Cleaning, inspection, and lubrication.
Cleaning
The AR-15 does not have to be cleaned every five shots, as many people on the internet will tell you. Part of the reason why this myth is propagated are the white-glove inspections done in the military. If anything, cleaning at a rate of one-time per week or extensively after every short range session can be most unbeneficial to the life of the platform. Cleaning is actually rather unimportant as far as keeping it chug-a-lugging (lubrication is the main issue but more on that in a minute).
However, a good cleaning allows for an easier inspection of wearing parts. While one
can
keep an AR-15 running for thousands and thousands of rounds through simple lubrication, it is not advisable because not all parts can be properly examined through a thick coat of carbon fouling.
Even if the rifle is kept well lubricated, it should be cleaned thoroughly at least every one-thousand rounds. Cleaning prior to five hundred rounds, unless the arm is going to be stowed for a long period of time or corrosive ammunition is used (a virtual non-issue with 5.56 rifles), then cleaning is not usually beneficial. It took me a long time to break the habit of an extensive cleaning after every use (I used to refer to it as, 'communion') but being intellectually honest about over-cleaning helped break that long held bad habit.
Cleaning involves deterging the chamber and bore, stripping the BCG and cleansing its parts completely, and a simple wipe-down of the trigger mechanism. The action spring and buffer only require a cursory wipe-down. The persistent carbon fouling on the tail of the bolt is not an impediment to function although cleaning it does not negatively affect function in any way. The rim of the extractor should be free of debris. The gas tube of the weapon does
not
have to be cleaned out with extra-long pipe cleaners (ever!) and the rifle does not have to be disassembled far beyond it's normal break-down.
Inspection
After cleaning, an inspection of parts should take place prior to lubrication.
Measure the Action Spring. A rifle length Action Spring should measure between 11 3/4 and 13 1/2 inches and a Carbine length action spring should measure between 10 1/16 and 11 1/4 inches. If the action spring is shorter, replace it immediately. Examine the bolt face and locking lugs for any unusual wear, or cracks. As the round count increases, or with a "lower tier" (non magnetic particle inspected bolt, constructed from a lesser grade steel than milspec), this bolt inspection becomes more critical. Bolt locking lugs typically shear in use, but inspection for visible cracks may catch it early. The disconnector should be closely looked at (complete disassembly of the FCG (Fire Control Group) is not necessary for this) for any unusual galling or wear.
Closely inspect the Bolt Carrier Key for any signs of damage, impact, and to ensure it's still round. Inspect the gas tube where it extends into the upper receiver for deformity and straightness. (It can commonly become bent during extreme malfunction or by dropping the bolt carrier assembly onto a hard surface) Upon inserting the BCG back into the upper receiver, make sure there's absolutely no interference between the carrier key and gas tube and that it slides smoothly into place.
Although, 'stoning' of triggers is advocated by many in the shooting community to allow for a smoother trigger pull, I recommend against this. The FCG parts, assuming mil-spec, are hard phosphated to reduce wear. Willingly taking off this coating (with a dremel tool or otherwise) allows for the FCG parts to wear out much faster than they would normally because they are only surface-hardened and it's very easy to stone through it. If one is in a DMR role, select a trigger which is suitable from the outset instead of trying to, 'tune' a mil-spec trigger into something it was never intended to be.
Other inspections/tests take place after lubrication and will be covered shortly.
Lubrication
Take a close look at the BCG. Wearing parts show their hand in the reduction via friction of the phosphate coating they contain. The general rule is, "if it's white, lubricate it"
Apply grease/lubricant to the red areas shown and also a tad on the underside of the BCG where the hammer drags (yes, I turn staking of the gas key into absolute bloody murder, haha).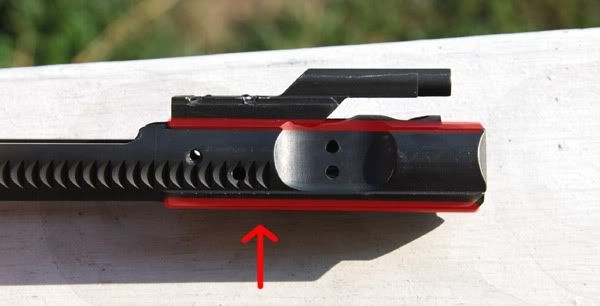 Apply lubricant to the areas of wear evidenced on the bolt (as shown). A drop or two of lubricant on the gas rings is beneficial.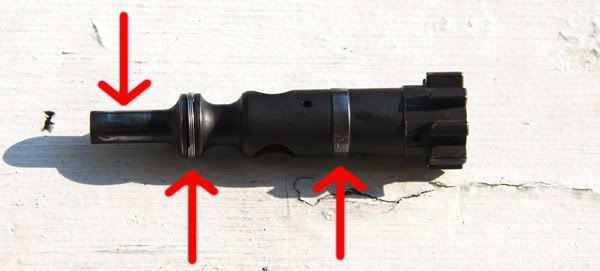 The firing pin channel should never be lubricated.
I like to apply grease to the areas of obvious wear (as shown above) and a thin coat of lubricant over everything. Placing a couple of drops into the two holes on the right side of the BCG will effectively lubricate the gas rings of the bolt (something easy to do during training without further disassembly).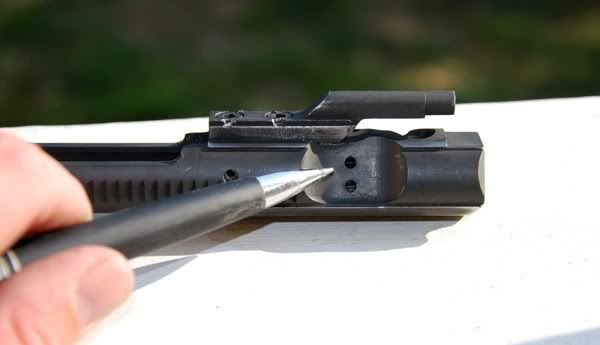 A bit of lubricant/grease on the top of the charging handle where it wears on the upper receiver is also a good idea as is a bit on the top of the hammer.
For a long time, the military advocated (and unfortunately in some units still does (institutional inertia is strong)) using less lubricant in the desert. The idea was that more lubricant attracts sand and/or other environmental fouling. This is one of those ideas that holds its roots in theory than actual practice. A wet, dirty weapon will always run better and longer than a dry, dirty weapon.
There is a lot of debate out there about lubricant. For general use, I prefer TW-25B for grease and Militec-1 for oil to lubricate the AR-15. However, most of the lubricants out there will do the job (though I do no recommend using anal ease on a rifle, ask me how I know!) Not all lubricants are equals and I advocate doing research on what's right for you. One could probably write for days on aspects of different lubes for rifles.
So long as the system is kept lubricated, it will run for a long, long time. That said, some uses will eat lubricant far faster than others. Suppressors eat lubricant (especially when used with a full auto or SBR) far faster than with normal use. As such, lubricant needs to be applied more often with rifles that utilize sound suppressors. Proper application of lubricant for a non-suppressed, non-full auto rifle should be done every 300 to 500 rounds to ensure reliability.
Unless one is running a new gee-whiz coating on their BCG (such as FailZero, which has held up to testing quite well with no lubrication at all), lubrication should be made at the prescribed intervals to avoid weapons failures.
After lubrication, one should check the gas rings located on the bolt. No, the lining up of the gas rings does not cause the rifle to malfunction nor does it cause a singularity to open up in your living room. There are a couple methods to inspect if the gas rings are within specifications but this is the method I like:
-Lubricate and assemble the BCG
-Pull the bolt forward as far as it can go
-Place the BCG face down onto the bolt face on a hard surface, standing it upright
If the bolt retracts into the BCG under its own weight, then the gas rings should be replaced. Other valid methods exist but this is the most presumptuous and malfunction-reducing method that I know of. Some items exist, such as McFarland one piece gas rings, which will improve the longevity of the gas rings, and I fully support their use.
Functions Check
After every assembly, a functions check should be done on every rifle (this is technically a part of inspection). A functions check exists to ensure that the selector lever and rifle are properly functioning.
*This check should only be done on an unloaded rifle!!*
I know it sounds silly to stress this point but, after all, no one is ever accidentally shot with a loaded rifle!
-Assemble the rifle completely
-Pull the charging handle to the rear and release
-Place the selector lever on, 'SAFE'
-Pull the trigger, the hammer should not release
-Place the selector lever on, 'SEMI'
-Pull the trigger to the rear. The hammer should release.
-Keep your finger held back on the trigger, pull the charging handle to the rear and release. The hammer should not fall. You should feel the sear reset.
-Place the selector lever on, 'SAFE'
This completes the functions check for semi-auto AR-15's. There are more steps for automatic/burst rifles which are here:
AUTO
-Perform functions check as listed above
-Place the selector lever on, 'AUTO'
-Pull the trigger to the rear. The hammer should release
-Pull the charging handle to the rear and release. The hammer should not fall
-Release the trigger and pull again, the hammer should not fall
BURST
-Perform functions check as listed above
-Place the selector lever on, 'BURST'
-Pull the trigger to the rear. The hammer should release
-Pull the charging handle to the rear three full times then release.
-Release the trigger and pull it rearward again. The hammer should fall.
If your rifle does not pass the functions check, ensure the FCG is properly assembled. If it indeed is, seek the counsel of a certified armorer.
Parts Replacement
Wearing parts on a fighting arm should be replaced before the end of their service life. However, the actual service life of each part depends largely on manufacture and the manner which it is used. The longer the gas system is, generally the longer the parts will last. Shorter gas systems and shorter barrels expose parts to far faster wear than longer gas systems and longer barrels. This breakdown is generous as to be the most universal.
As with anything manmade, sometimes parts will not fulfill their intended lifespan but fail very quickly. I once had an action spring from a reputable manufacturer fail at under 800 rounds (this part should have lasted far far longer) but due to circumstance, happened to fail much sooner. (As a side note, Gas Port diameters can and do vary greatly between barrel manufacturers. Many "hobby grade" manufacturer's carbines are severely over-gassed, and matching the correct (heavier) recoil buffer weight for the individual carbines gas port size will greatly extend the life of the action spring.) Just like when one replaces the serpentine belt on their vehicle, old parts should be retained as replacements then substituted if need be (properly marked, of course. I like to use zip-lock bags with the round count marked on the outside).
Being that this guide isn't for armorers or people with an extensive armory support (or even men to lend fire-support), it is very conservative as far as replacement. That said, the cost of replacement parts is so minimal relative to ammunition count (even with Wolf ammo!) it makes no sense to follow the old, 'run it till it breaks' mentality. Easily, parts replacement is literally 5% of ammunition cost at this level.
Every 10 thousand rounds, replace*:
[ ] Disconnector
[ ] Extractor
[ ] Extractor spring and insert
[ ] FCG springs
[ ] Firing Pin
Every 15 thousand rounds, replace:
[ ] Bolt
[ ] Action Spring
Every 20 thousand rounds** replace:
[ ] Barrel
[ ] Gas tube
As you can see, 10,000 rounds is the, 'magic' number for replacing most of the parts. If one has the economic capability and mechanical ability, I recommend replacing most all parts at that number. Obviously, if the rifle is run FA and suppressed 24/7, parts breakage will be much sooner. If that's the case, cut everything in half and move forward. Having quality parts from the get go (like HPT bolts and chrome barrels etc) will improve the longevity of your platform.
Nothing runs forever, especially when run hard. Use this as a
general
guideline for your maintenance schedule and divine accordingly for the rest. I wish I could give everyone a list for their carbines but given all of the variables that take place it would literally be impossible.
Spare parts
It's always advisable to have some spare parts available. Instead of carrying a spare extractor and spring (which are easily lost in the field), carry a complete bolt assembly (which is both easier to replace and harder to lose). A spare firing pin never hurt anyone either.
*This is designed as a guideline for
working
(SHTF) rifles. We always recommend having a training rifle setup as closely as possible to your main fighting arm. If you have a training rifle, we recommend running the mentality of, 'fix it when it breaks' (but still make note in your logbooks) since the purpose is solely training. IE: Don't replace the barrel on your training gun unless accuracy diminishes and don't replace your extractor until it fails.
**Wolf ammunition is currently selling for around $200/ thousand. It's very, very important to put things in perspective. By the time you've reached the 10,000 round mark, $2,000 has been spent on ammunition. In comparison, $50 in small parts as PM is financially insignificant.