When I first saw this piece I fell in love with the look right away. It was the first time in a while where I had a very strong desire have a blade right then and there. So, uncharacteristically of me, I put one on order hoping for the best...this was what arrived at my doorstep a few days ago...

Condor "Golok" Machete
Blade Material: 1075 Carbon Steel, 54RC
Overall Length: 20.00 inch
Blade Length: 14.00 inch
Blade Thickness: 0.25 inch w/ distal taper to point
Edge Profile: Convex Grind
Handle Material: Walnut, Brass Pinned w/ Brass Lanyard Hole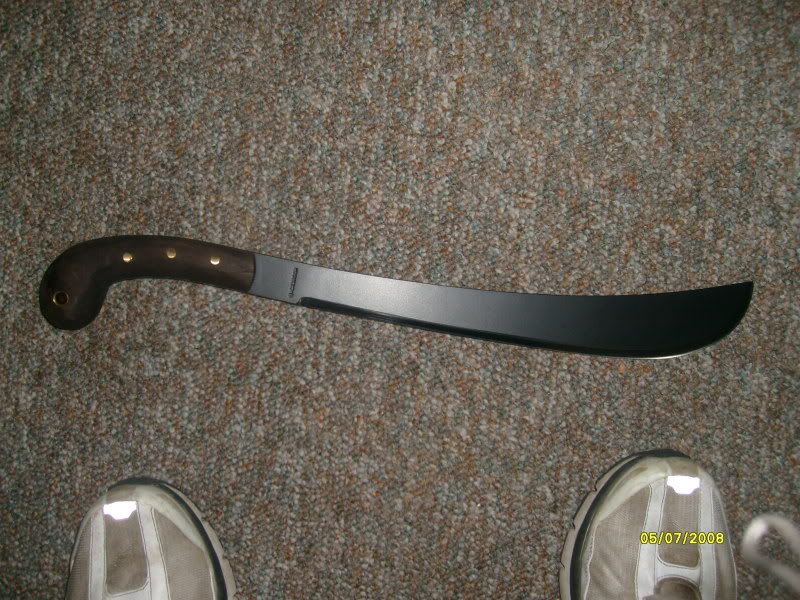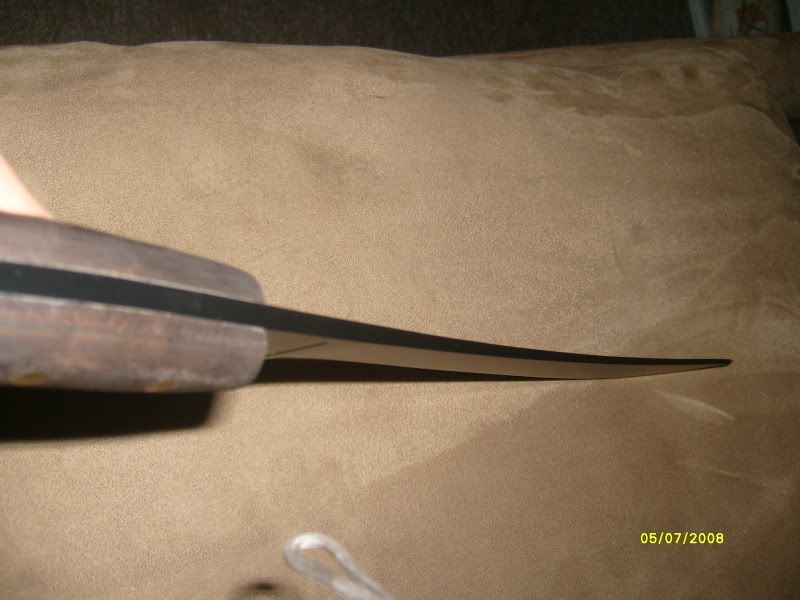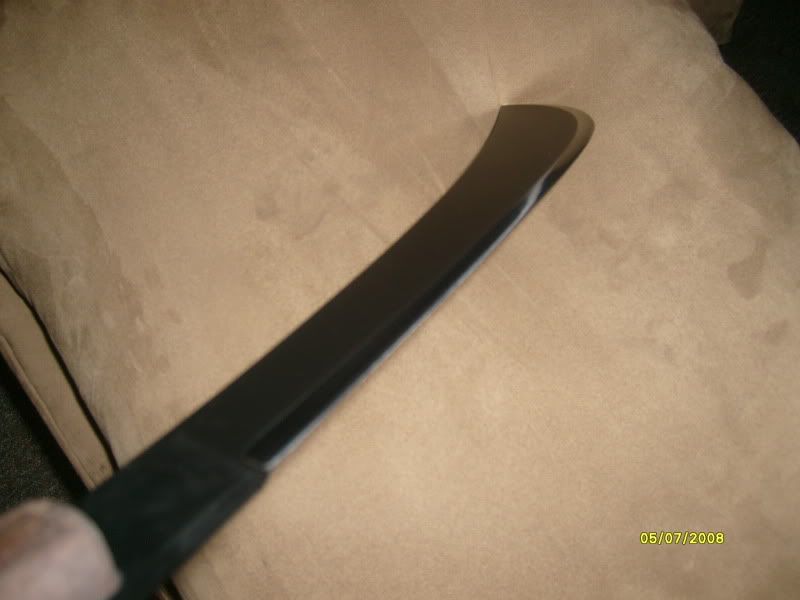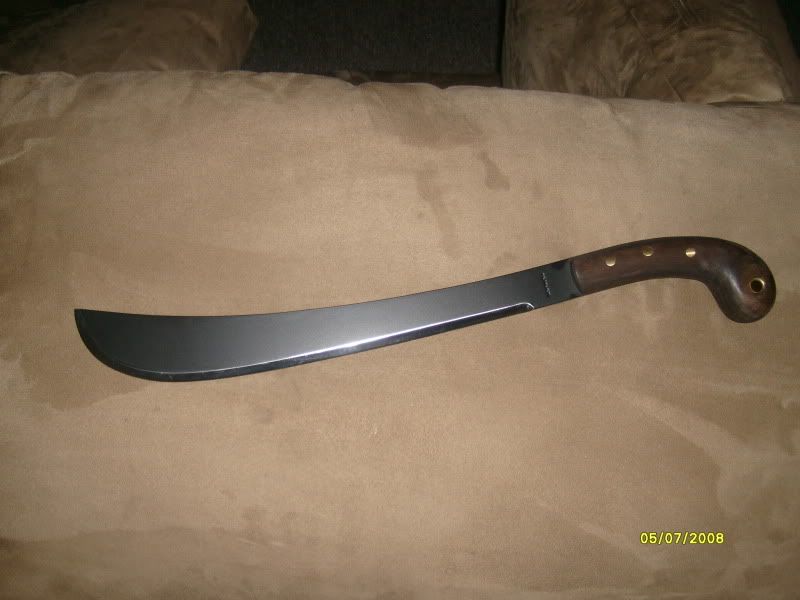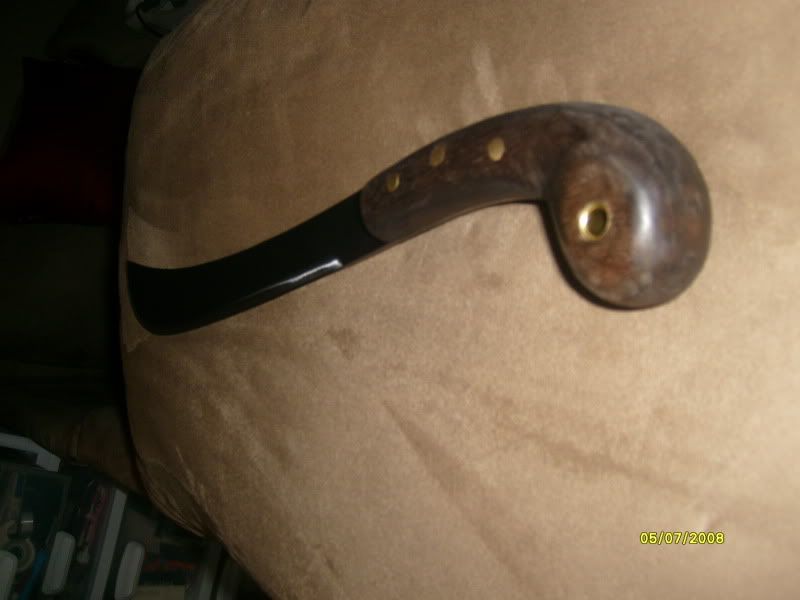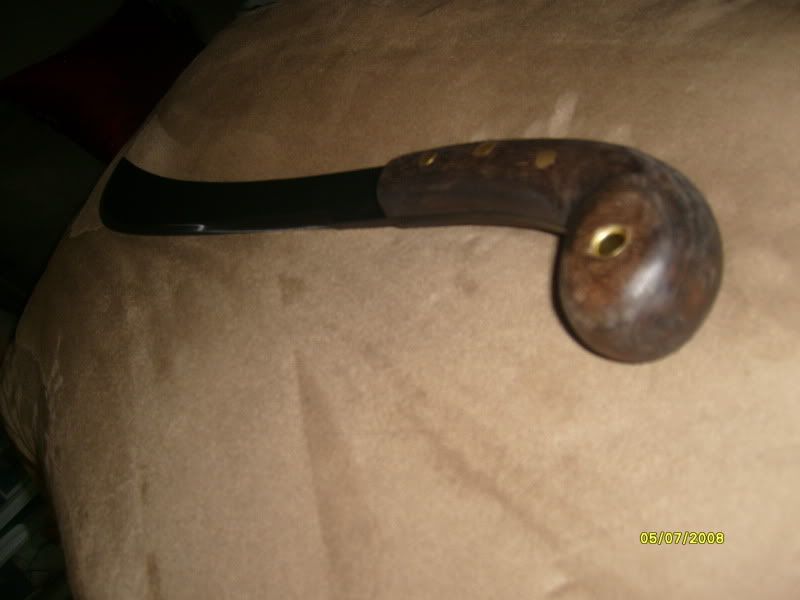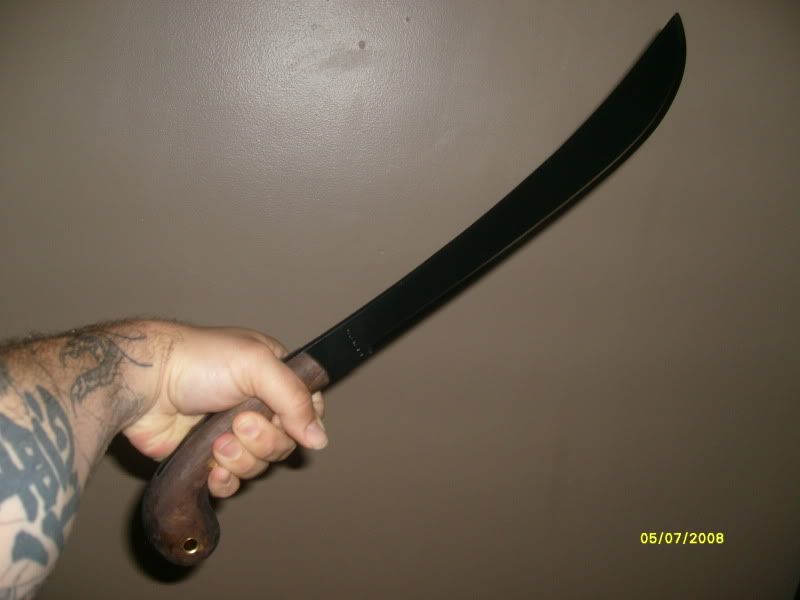 Without yet field testing, I can say that Condor did not disappoint me in their construction of this blade. The ergos are absolutely wonderful for a machete. Evey aspect of its design seems well thought out, minimalistic yet intrinsically useful. All function and no flash.
Very nice, I like!
The balance is about two inches above the start of the convex grind. However, the angle and design of the handle in relation to the tip of the machete pushes the vast majority of the feel to the front of the blade when the Golok is held relaxed in the hand. This, in my opinion, is just about perfect for function of the machete's primary duty.
The handle feels so nice I do not even want to put it down, and I also suspect that the knob on the end could help lessen hand fatigue during prolonged use.
The length seems near perfect for functional cutting yet not too long to be clumsy or unwieldy in tight brush or close quarters either while in use, or while sheathed during transit.
Everything about the feel of this machete screams quality while holding it. The grind is even, well honed, and complete. Sharp would be a understatement. The walnut handle is dense and mounted perfectly solid against the tang. The powder coat is smooth, tight, and adequately thick.
The only complaint I have whatsoever is that it must of been dropped lightly on the tip at the factory (looks like it hit concrete) because of the little scuff on the tip (nothing that can't be sharpened out in about a minute on the stone, however)
Overall, I am very happy with this purchase, and I feel that it was well worth the 30 bucks I dished out. No regrets so far. Actually, I am grinning ear to ear just looking at her right now.

Be sure to keep your eye out for my updated field test where I give this beauty some battle scars and proceed to put her through an intense trial of her fortitude and real worth! Is she all show and no go? We will find out soon enough.

Stay tuned!