Sabercut Saw
http://www.ultimatesurvival.com/camping ... CutSaw.php
" onclick="window.open(this.href);return false;
I've been looking to get one of these for some time now. When I took it out of the package I was excited with how solid it felt, and the nice pouch it came with. Unfortunately it was raining out at the time, so I couldn't run out and test it. However today was just right to give it a backyard test.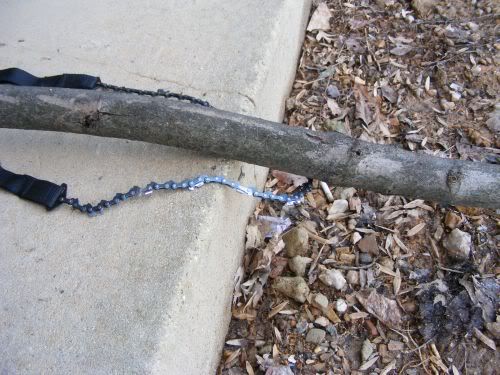 I selected a random down branch that was about a 1.5" in diameter.
I didn't make a lot of head way at first, but I flipped the blade over to the other side and started to really shine through.
Here's the branch cut, but I finished it off with a light kick to split the middle.
I think I expected a little bit too much out of this saw at first. I thought it would zip through wood like a hot knife through butter, but that just isn't the case. You're going to get a little work-out pull back and forth. It didn't help that I had to stop every few seconds because the branch slipped from my boot. I will say this though, it's a ba-jillion times better than your "picture frame wire" survival saws. It will stay in my Personal Survival Kit, but for any large/long outtings I think a full size axe would be better.
Edit: To update links.
Also, Update: At first attempt in the text above I was using the wrong side! Whoops! I've since used it on a recent backpacking trip to take down a 6 inch diameter "widow maker" dead tree with it. And the Sabercut looks as new as I got it.