Nalgene Oasis review.
By popular demand here is a short review of the Nalgene Oasis canteen. It is a new spin on the USGI canteen. Info from the Nalgene website.
http://www.nalgene-outdoor.com/store/de ... px?ID=1264
Remember the old metal canteen? Well it's been re-imagined for the new century. Sometimes you challenge yourself; other times you're challenged by the elements. In either case, you need the new Nalgene Oasis. Large enough to pack a serious hydrating punch while staying portable. It's made from durable Eastman Tritan with a Leakproof threaded cap. As tough as it is stylish, it's the coolest canteen in camp.
• Thirty-two ounces of Hydration in an easy to hold configuration
• 38mm Narrow Mouth closure, just like our Narrow Mouth bottles
• Guaranteed Leakproof.
• Dishwasher safe, but make sure the closure does not touch the heating elemement
• Made from Eastman Tritan, an extremely impact-resistant material that does not retain tastes, odors or stains
• Bottle is 8 ½" high by 4 9/10" x 3 1/10"
• Lightweight at 130g
• BPA Free
A photo comparing the Oasis to a standard 32 oz wide mouth and USGI canteens.
The size is nearly identical to the USGI. It is shorter and wider than the standard Nalgene. I find this shape hangs out less when attached to a pack and a bit easier handling. Naturally that is subjective but the canteen's shell is textured too so this could also be a factor in the non slip feel. But the million dollar question often asked is how well does the Oasis work with USGI cups and holders? To answer this I have included a few commonly used USIG canteen cup and holders for testing.
1. Alice insulated holder.
2. Molle canteen/utility pocket.
3. Old school USGI stainless canteen cup.
The USGI canteen cup is a perfect fit.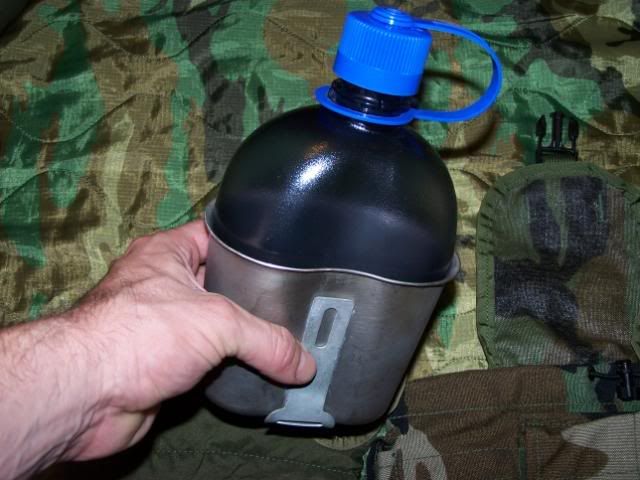 The USGI canteen cup and Oasis inside the insulated Alice holder.
Again a perfect fit.
Now the same combo stuffed into the Molle canteen/utility pocket.
Looks like another good fit. Why am I not surprised?
The mouth is the standard Nalgene narrow opening. This is a bit of a downer as I prefer wider mouthed canteens but needed to maintain comparability with the USGI gear and logical from a production standpoint.
Pros:
1. Combatable with USGI canteen accessories.
2. Unlike the USGI canteens it will not stink up your liquids.
3. Very durable.
4. Does not leak.
5. Easy to hold.
6. Packs well.
7. Same high capacity as the standard Naglene wide mouth and USGI canteens.
8. Around 8 bucks.
Cons:
1. Narrow mouth.
2. Will not work with wide mouth Nalgene accessories or applications like attachment to some MSR water filters etc.
To be honest there is not much to dislike so that is about it for the cons.
Conclusions:
It is good canteen for those who want to replace the USGI canteen with something that will not leak or transfer odors/tastes to their liquids and still maintain compatibility with all the holders and cups. Heck it is a good canteen for most anyone. As stated there is not much to dislike.