Bushcrafty camping.
Sometimes I like to head out with a bit less gear and enjoy the outdoors. This offers me an opportunity to use those skills that I practice during my normal hiking and camping outings. Also any holiday means dirt time and had the tail end of the Labor Day weekend open after a family camping trip. I packed the following gear.
1. Eagle A-111 large pack.
2. Stainless Swedish mess kit pot.
3. Mora Robust and Brusletto Balder knives.
4. Fenix 1xAA headlamp.
5. Ridgerest closed cell pad.
6. Paracord with tie-offs.
7. Collapsible fishing pole with 1 hook and bobber.
8. One 34 oz Nalgene wide mouth canteen full of water.
9. 8 oz of bannock and one flat tin of anchovies.
10. 1 oz of bug spray.
11. Strike Force Firesteel.
12. 4 oz of oil in a 16 oz Nalgene canteen.
Some of the items were within their own bags and stuff sacks. For example I always pack the bug spray and any oil in zip lock bags in case of leaks. I always take my cell phone. This time I didn't bring my FAK. My clothing consisted of a long sleeved thin synthetic shirt, cotton boxers (I couldn't find my synthetic set), Gortex woodland pants, wool socks, boonie hat, Golite poncho and waterproof hiking boots. There is also the chance I forgot to list something packed or packed something and forgot about it. Wouldn't be the first time.
The single canteen of water was my #1 issue. It was hot and humid, one canteen wouldn't last long. Without a filter I would have to boil and this would have to be done in camp. I enjoy wild edibles and started off collecting these grapes. The grapes were juicy providing a good sugar boost.
Found this wood sorrel. This is a wild edible with a lemon flavor. I was hoping to stuff the sorrel into a brookie or if the fishing didn't work it could be eaten.
The Hickory nuts were green. This was a downer.
Picked some partridge berries under a Hemlock not too far from water. Classic around my AO. Also found some mixed in with moss very near water. Again not all that uncommon. I wouldn't exactly say these taste all that great, they often taste like nothing but edible just the same so into the pack.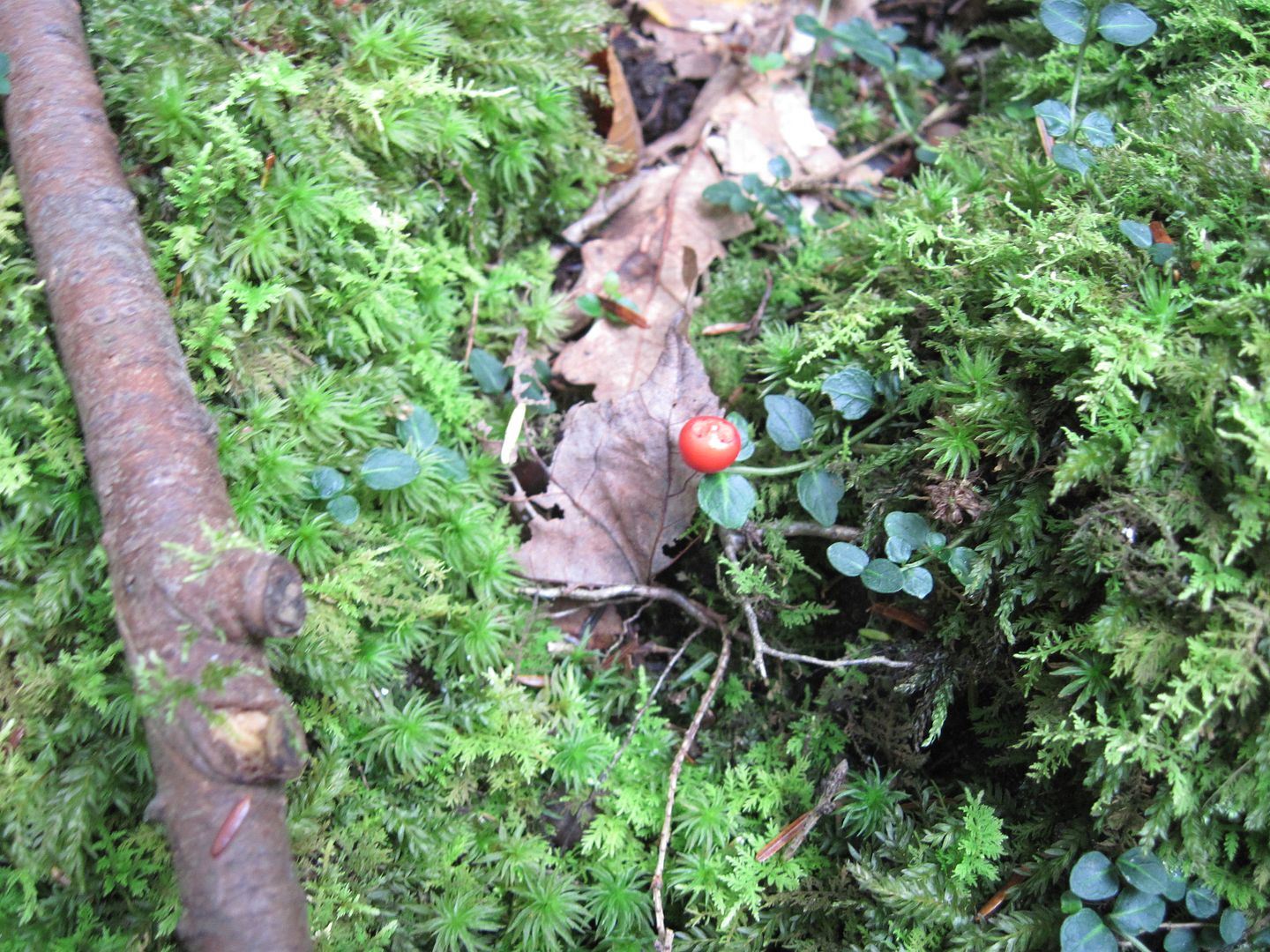 Just some cool looking flowers and shrooms. Not edible to the best of my knowledge.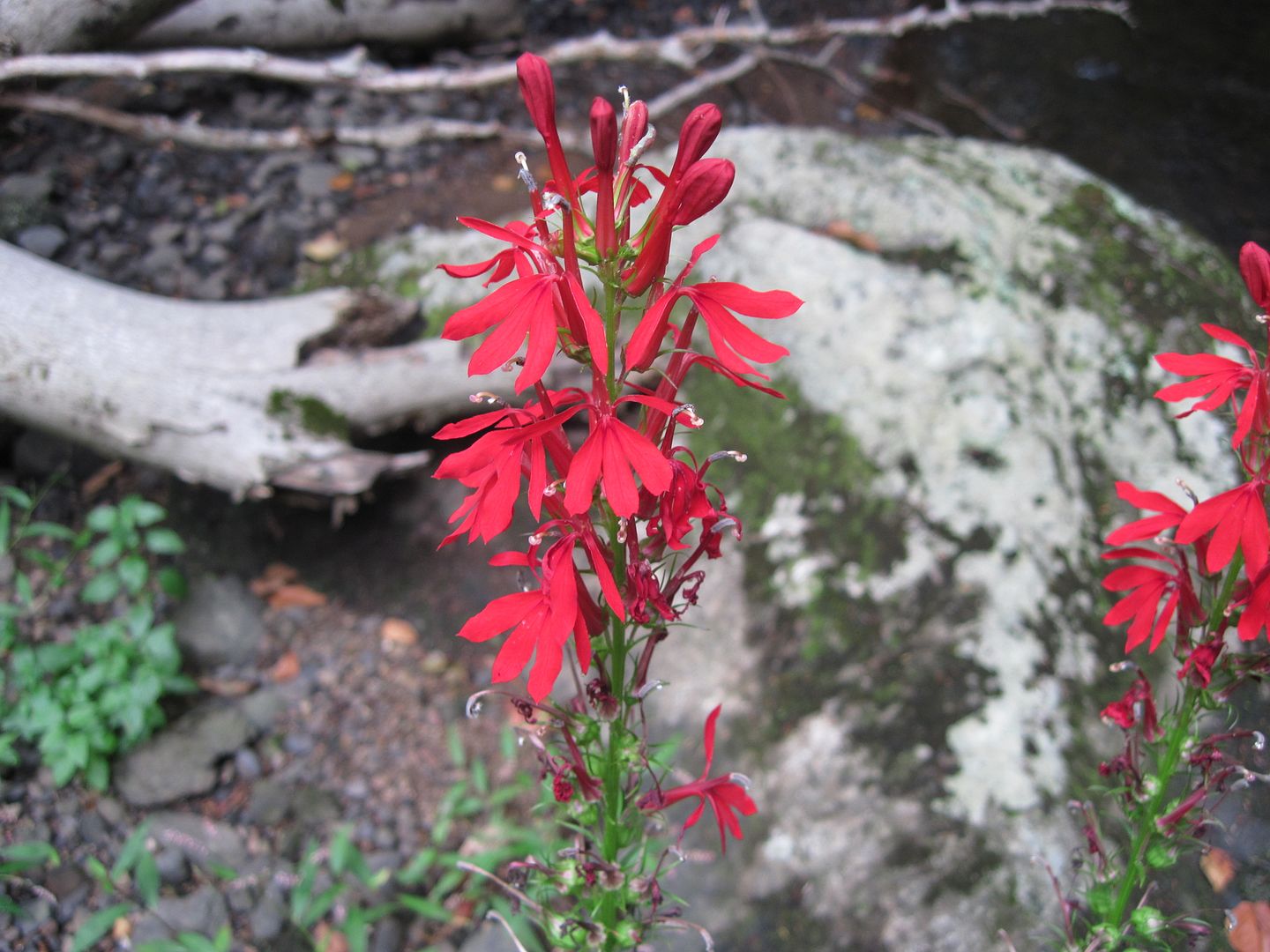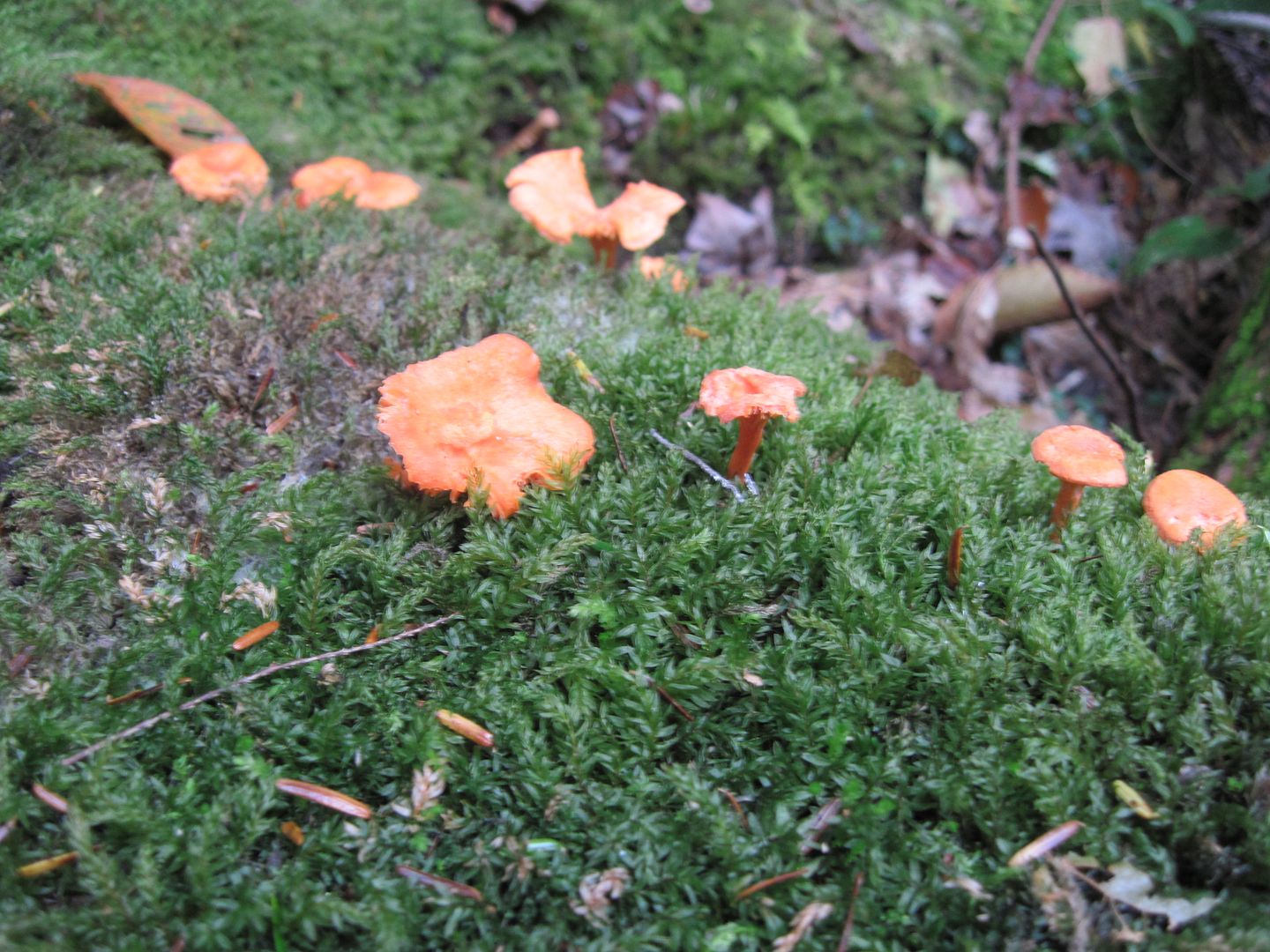 I picked up some tinder for the Strike Force firesteel. This included dry weeds, fluffy stuff and yellow birch bark. I have more detail on that in the video.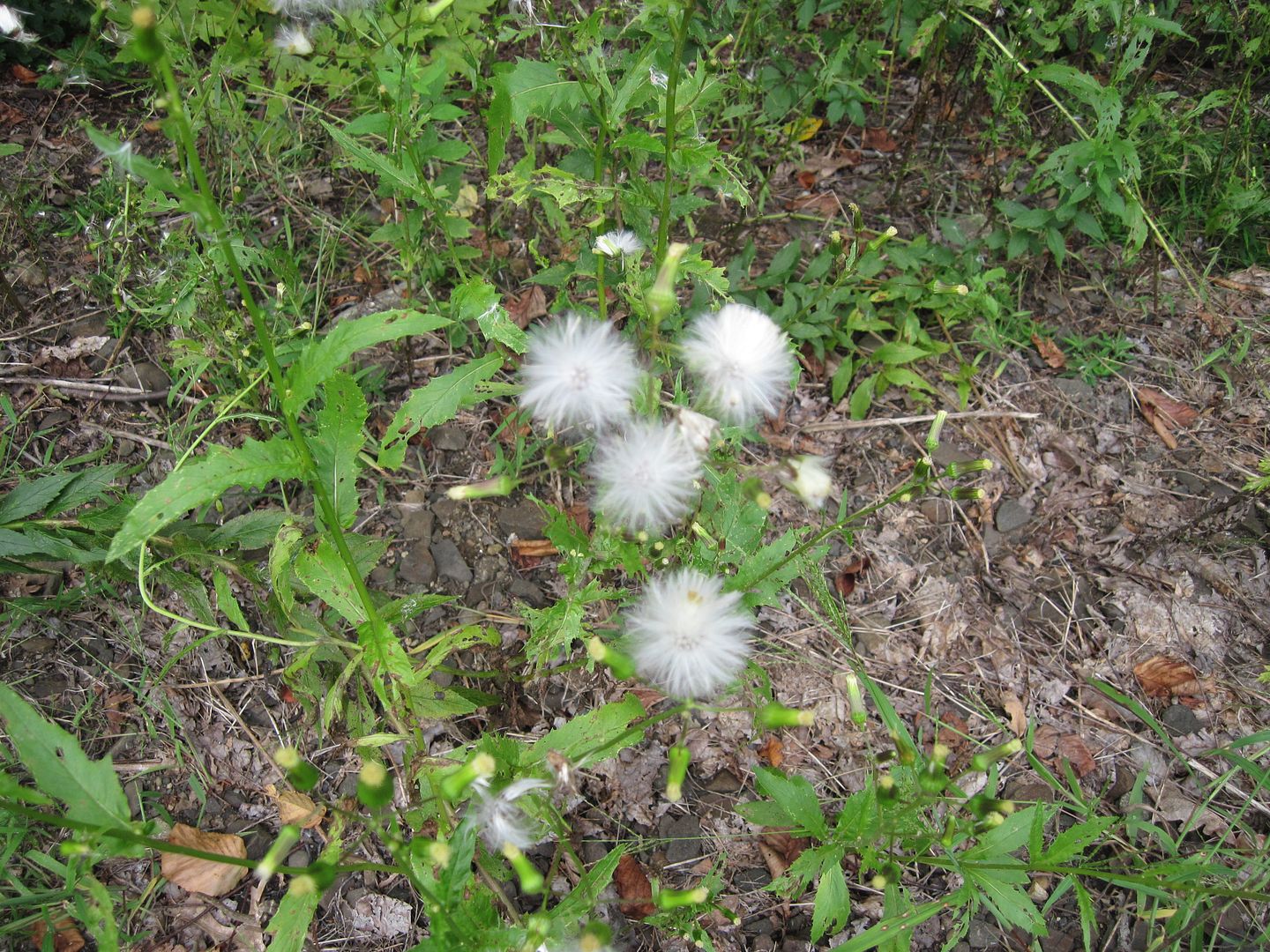 What the… Yup it's a Mylar balloon. I had dreams of using this as a bag to hold trout but in the end it became a plate and water catch.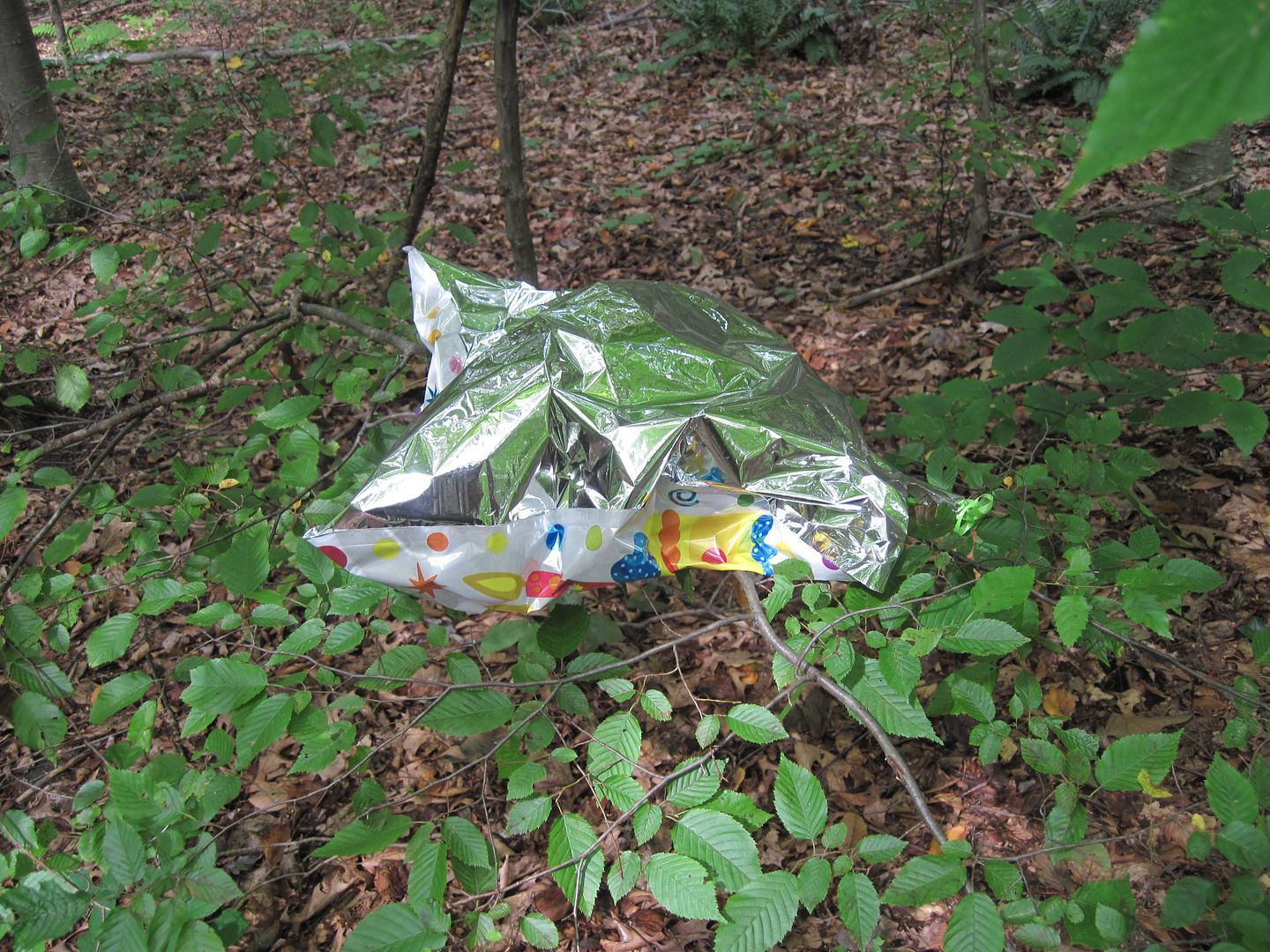 The water was low and sky steely. It made for a bad photo and worse fishing. I could see some nice trout but between the low water and hungry little sunfish and chubs/minnows/whatever there was little chance.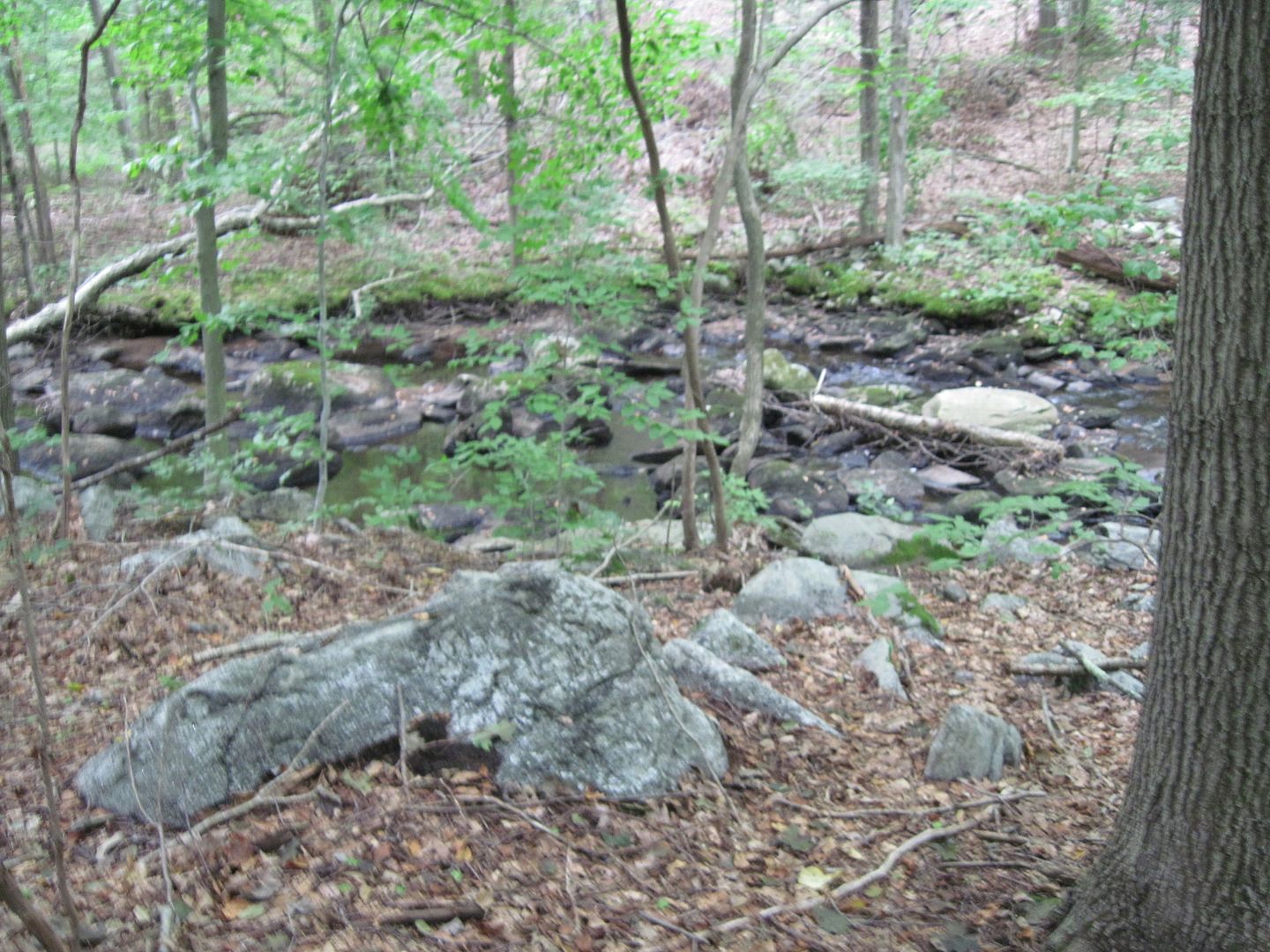 One pro to having a small kit is ease of setting up camp, but there is a down side. I was using a my raingear for a shelter. The poncho is a marginal tarp in terms of size and once setup as a shelter the raingear has been sacrificed until the camp is broken down. This means no jacket to keep the chill or mosquitoes at bay over night. I setup camp near a smaller brook. Here is a fast look around my camp.
The classic lean-to with simple pothook and fire ring. The poncho was pitched high with hood wrapped and tied to keep water from dripping through. This pitch is more for moderate rain without much wind. It has worked for me in the past but without a bivy bag the pitch is a bit of a risk. The fire ring was one step away from the edge of the tarp. I avoided problem fuels like Hemlock in favor of Oak, Black birch and Maple to reduce the risk of spark holes in the tarp.
Pack and boonie hat hung on an extra tie-off from the adjustable paracord ridgeline setup.
The view from under the tarp lean-to.
Simple pothook helping me out boiling water from a nearby brook.
One half of the goofy birthday balloon within a depression setup to collect rainwater. Why the heck not?

It didn't rain.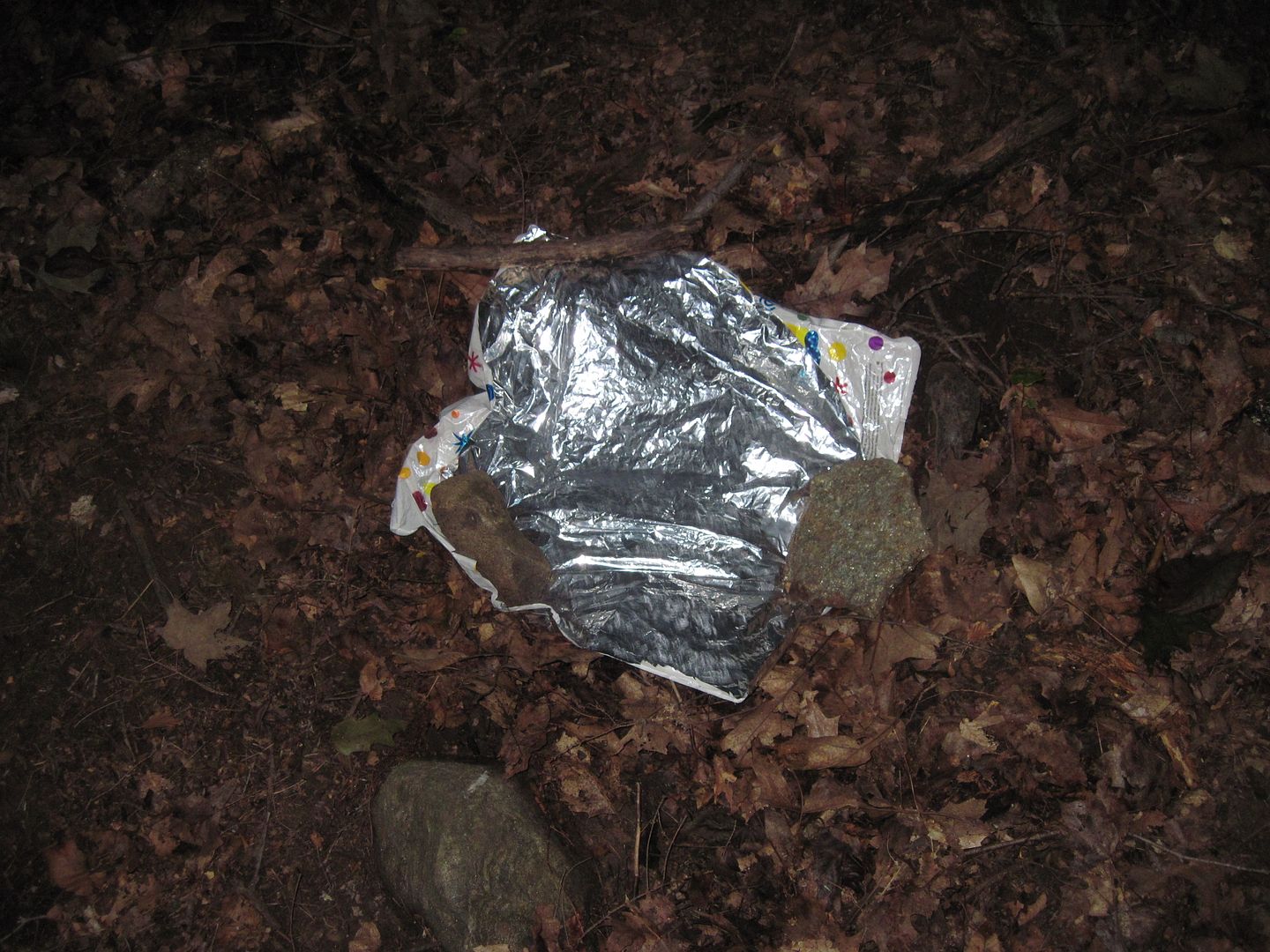 My kit and stuff collected from nature. The plate holding the wild edibles was another thing made from that balloon. After my trout/balloon bag pipe dream went bust I was determined to make that thing do something.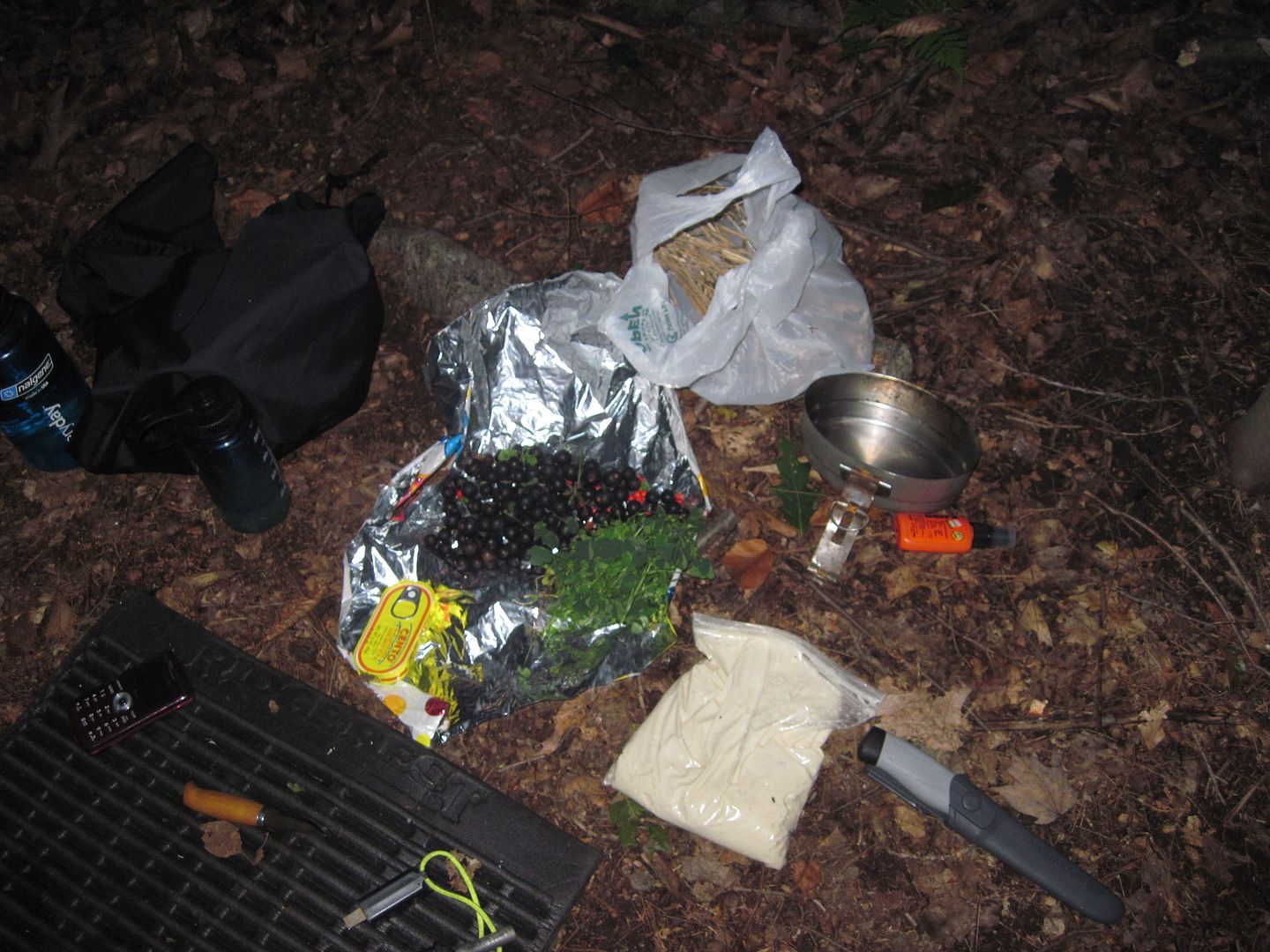 I didn't have any fancy Ti sporks etc so made a fast set of black birch chop sticks. Like the simple pothook nothing I do is fancy. I placed the tin of anchovies on top of the remaining black birch leaves in the hopes anything dropped would fall on them rather than the dirt. I am good with the chopsticks so this sloppily done afterthought wasn't put the test.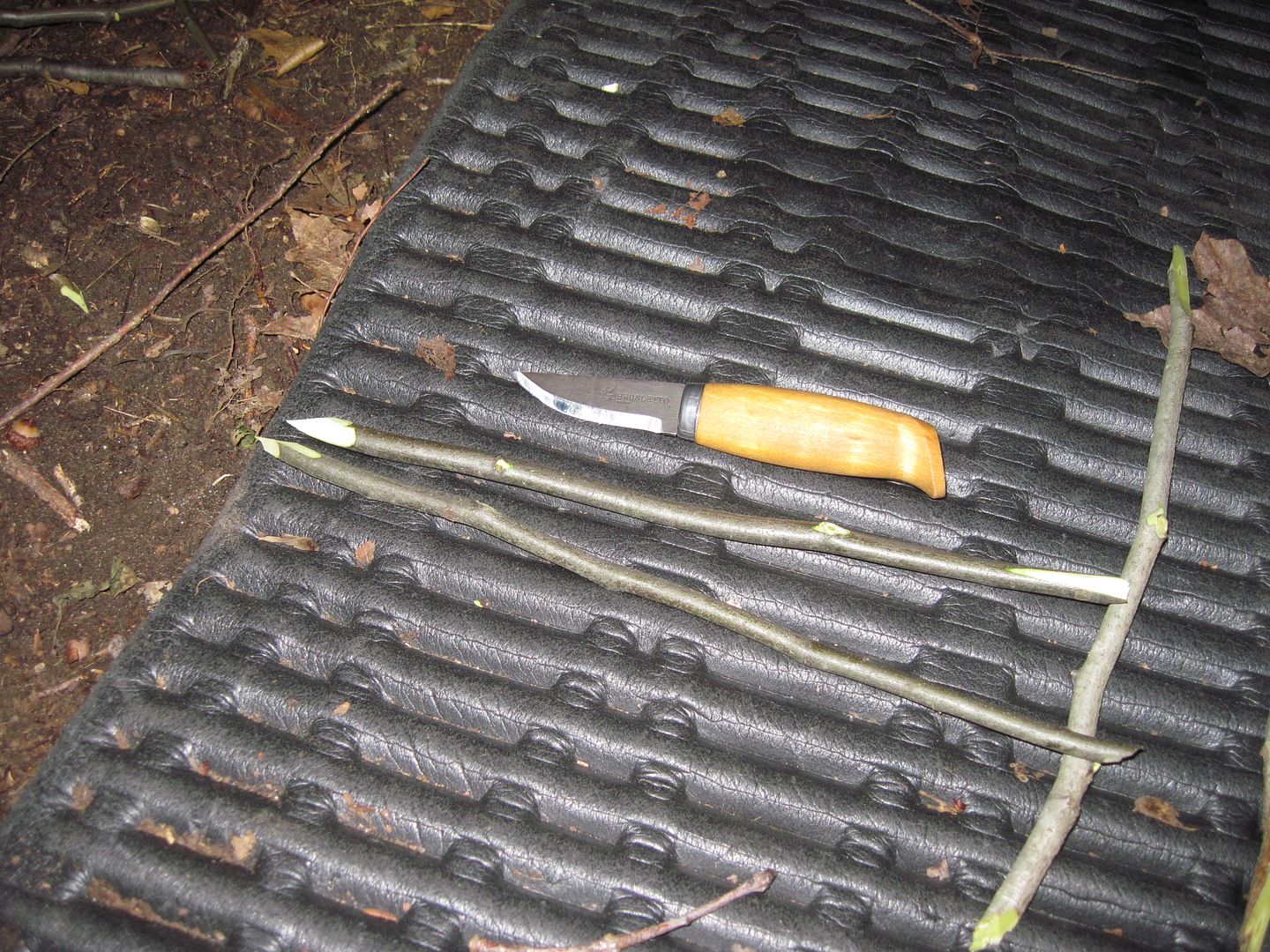 Boiling water with the bottom of the mess kit and cooking bannock with the top. Partridgeberry bannock was a first for me.
The final stages of what some might call a crazy radical bannock.


There wasn't much else to be done so just tended the fire for a few hours and went to sleep. I have been officially made soft by the comforts of the Exped Downmat and Hennessy Hammock therefore didn't get a good sleep on just a closed cell pad. That and the occasional mosquito combined with slight overnight chill took some of the fun out of the adventure. Here is a video that includes a bit of firecraft not highlighed in the writeup plus the trip.