One of my bigger concerns in the back country isn't those pesky bears who crave human flesh rather than Huckleberries nor poisonous snakes hiding under every rock just looking for the chance to strike. No it's the more mundane stuff like widow makers. Falling trees and branches can be deadly. Anything that is up will sooner or later fall; the only question is will you be in the wrong place at the wrong time? Like most dangers there are ways to mitigate the risk.
The most important step is also the easiest. Stop and take the time to look around your camping area. This is best done in the daylight as no matter what flashlight or headlamp your packing nothing can replace the sun. Ok now what to look for? This should be kind of obvious however sometimes in winter it's a bit harder to identify potential problems. Here are a few things that I take into consideration before setting up camp.
1. Dead or sick trees.
2. Overhead branches both alive and dead.
3. Damaged trees or branches.
4. Trees growing at an angle.
5. Potential direction of a fall for any tree or branch in question.
6. Is the area overly exposed to weather in a storm? Are there an unusual number of damaged trees around?
7. Has there been a recent or past event that compromises all trees in an area. A past storm or forest fire? A blight or unusual insect damage?
8. What kinda weather do I expect?
In short look both up and around. This Hemlock has seen better days.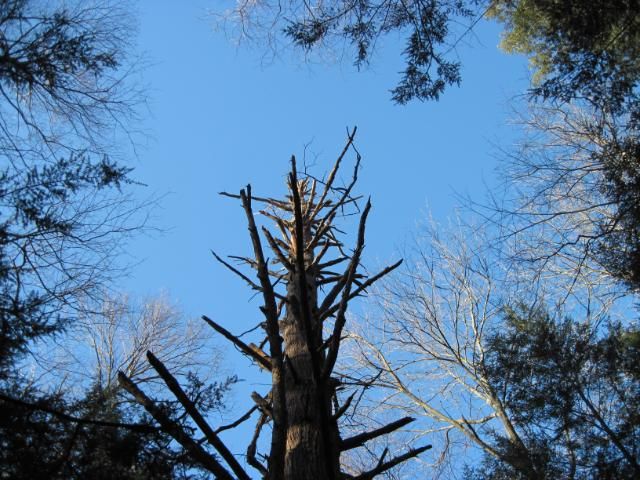 This Chestnut oak isn't looking too well.
How long will these two stay up? Could be years or the next gust of wind, you just don't know. My advice is to setup camp in another location. This Hemlock is in a bad way. It goes without saying that camping under this isn't all that smart. Trees don't always fall at their base.
Diseased and damaged trees/branches don't have to be all that large to injure or even kill. These two are in big trouble. Worse yet they are leaning off at an angle opposite to the damage.
I know what some people might think. Heck I could just jump out of the way. I have seen a few trees and branches go down from natural causes first hand. By the time I worked out what just spooked me it was all over. Unless you're the amazing Spiderman don't expect reflexes alone to offer much protection. Plus you're going no place inside a tent or sleeping bag. This is one of those ounce of prevention equals a pound of cure things.
Sometimes it's possible to guess the most likely direction a tree will fall on its own. This tree suffers from similar damage as the last two. I often camp in these woods and despite the flat, dry ground near this tree always avoided the spot which is now covered in deadfall.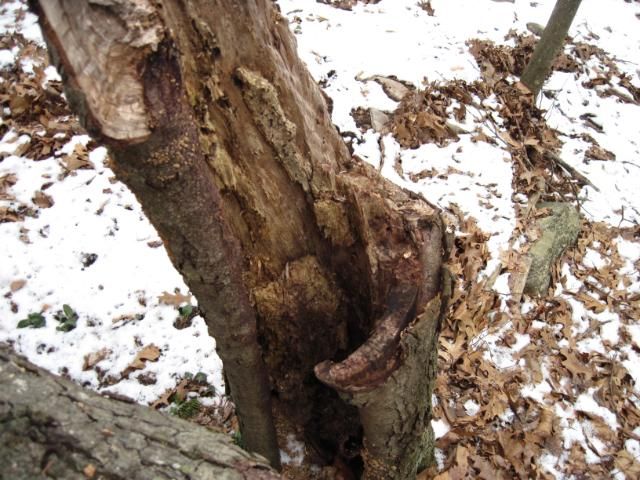 It fell in the exact direction I anticipated but wouldn't stake my life on that. On a side note it's very possible for a tree or branch to damage another as it goes down. I couldn't even begin to calculate the possible direction of whatever results. So don't just look for potential dangers only within the reach of the tree or branch in question.
Falling trees aren't my only concern. More often a branch will also pose a threat. Here is a Northern Red Oak branch that fell not too long ago. It's not uncommon for some Oaks to hold their leaves though the winter.
I have no clue why it fell. The same basic rules for checking out trees should also apply to the branches. If there is a large branch which looks dead or damaged over your proposed camping area I would move on. If possible avoid large overhanging live branches too if expecting weather.
Sometimes a tree or branch falls for inexplicable reasons. I normally feel comfortable in the softwoods during winter for many reasons. Don't know if this is based on scientific fact but just been my experience. This pine, guessing an Eastern White went down. Maybe it's time just ran out, who knows?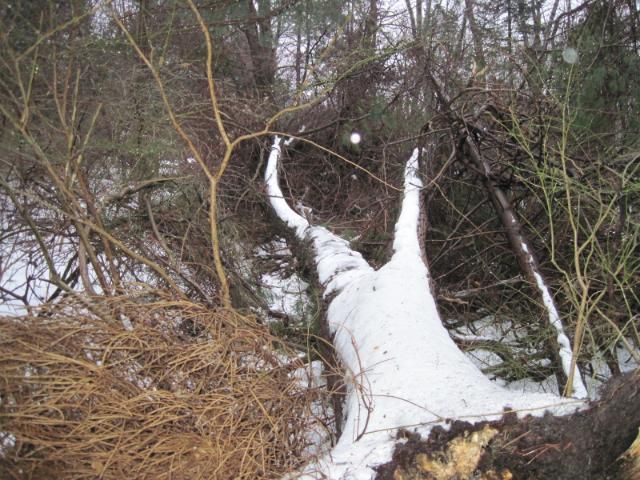 Some trees can appear better than they actually are. I have seen my share of Birch that looked ok from a short distance but were totally punky. Everything that is suspect should be checked out before setting up camp. Once your shelter is up and fire burning the urge to just stay even if a potential risk is later discovered can be strong. Who wants to walk around in the dark looking for a better spot?
Clearly factors such as high winds, snow load and the worst of all an ice storm will add additional stress on all tress both alive and dead, the same apples to their branches. If expecting ice I really want a clearing if at all possible. If that can't be found avoid larger overhead branches no matter what their condition. For strong winds I try and find a sheltered spot. The inspection process is ramped up more but never let my guard down just because it's a nice summer day.
I don't want someone taking this post the wrong way. The woods for the most part aren't going to come crashing down on your camp. Just take the time to look around and make informed decisions as to the best possible location. Few risks if any can be totally removed but some like this can be mitigated within reason.