Well I attended the December Appleseed shoot at the New Deal PD firing range, and I can tell you that anybody that thinks they can just go out and achieve rifleman, better think again. It's not easy.
For those of you who don't know much about the Apple Seed Project, check here:
Project Appleseed
The first day I got there, and it had been raining all night. This is important because the NDPD shooting range has
NO
grass,and is completely dirt. We had about 15 people there, and the mud was so thick that it you could feel a difference in weight after you scrapped ALL the mud from your boots. After arriving and being introduced to our instructors two local gentleman were in training, but both the head instructor, and the shoot boss were from out of town, and came from Roswell NM, and El Paso, TX for this. It's important to note that ALL Appleseed instructors are volunteers, and do this on their own time, and on this own dime. So for them to come from so far to put this on was pretty impressive in my book.
After meeting everyone, and going through the safety briefings we brought our rifles to the line, and fired our first set of rounds. The first course of fire was without any kind of instructions at a target. We fired 13 shots to represent the original 13 colonies, and of course the targets were red to represent the British Redcoats.
The course of fire for this target was 3 shots into all of the silhouettes and one shot into the "Murphy Square." This represents a 250yd head shot. As you can see, I didn't really do well, but I didn't do the worst. There was only one person (Greg Parrot) effective @ 400 yards, and this was his 2nd Appleseed, and Four people missed the targets completely.
This target pretty much checked most of the egos at the shoot (mine included) and opened everybody up for real instruction. For the rest of the morning we learned how to correctly use a sling to stabilize the rifle, and spent most of the morning in prone position sighting in our rifles. For this we used standard 25mm Targets
(this is not my target. I didn't get a picture of any of mine.)
At lunch the instructors explained the importance of April 19th, 1776 and told us about the Battles of Lexington and Concord.
After lunch we continued our instruction and learned to properly shoot from the sitting, and standing positions, each time getting several opportunities to shoot, and exercise the skills we'd just learned.
After getting numerous opportunities to practice these positions, we moved onto the AQT. (Army Qualifying Test)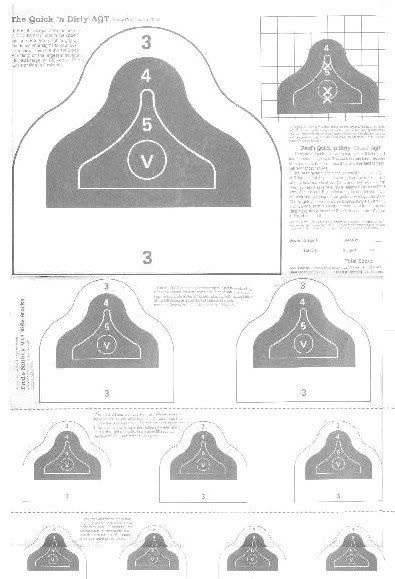 The Army Qualification Test(AQT):
Targets simulated for 100, 200, 300, and 400 yards. Courses of fire: 10 rounds fired from standing position at 100 yard target in 2 minutes; 5 rounds in each 200 yard target(total of 10 rounds) going from standing to seated with a mag swap(mags loaded 2 and 8) in 50 seconds; 3,3, and 4 rounds at the 300 yard targets(total of 10 rounds) going from standing to prone with a mag swap(mags loaded 2 and 8) in 60 seconds; 2, 2, 3, and 3 rounds fired at 400 yard targets(total of 10 rounds) in prone, no mag swap. This is where the hits really count. Score in this course of fire counts double. Five minutes are given to ensure accurate shots fired.
The objective:
aAscore of 210 or higher out of 250 possible--a Rifleman's score--"Expert" on the Army Qualification Test.
Anybody that thinks this is easy better think again. In the first day zip, zero, NADDA people achieved rifleman. My highest score was 154.
After the AQTs we shot the same redcoat target again to check our progress.
DAY TWO
Day two started off COLD, and only myself and Greg Parrot showed up from the previous day, but we had 3 new shooters. The 2nd day was condensed review of the first day, and then in was onto the AQT Grind. We continued to do AQT, after AQT. Although I didn't score a rifleman, I did score a 192, and feel that as soon as they have another event I will be able to achieve rifleman!
The final course of fire was the same Red Coat Target. This is my final red coat of the course.

It's not hard to say that over the course of two days I improved!
Overall I'd say this was one of the best set of the instruction I've had. I learned so much more than I ever knew I didn't know. The instructors were all knowledgeable and willing to answer any question no matter how stupid, or how many times you've asked it. I'd recommend this course to ANYBODY!!