I realised that I hadn't posted much over here in the ZS:10 forum for a while, so I thought I'd make a thread just to write about a few of the things I've been working on recently and some of the interesting things I've seen. None of it is particularly exciting, but it's mostly outdoors and bushcraft type stuff and it'll give me a chance to share some good links with the rest of you.
First up, here's a picture and link to a thread here on ZS about my most recent knife making project. I won't write a lot about it here, because all the info is available in the knife's own thread, but hopefully you lot will enjoy seeing how I made it.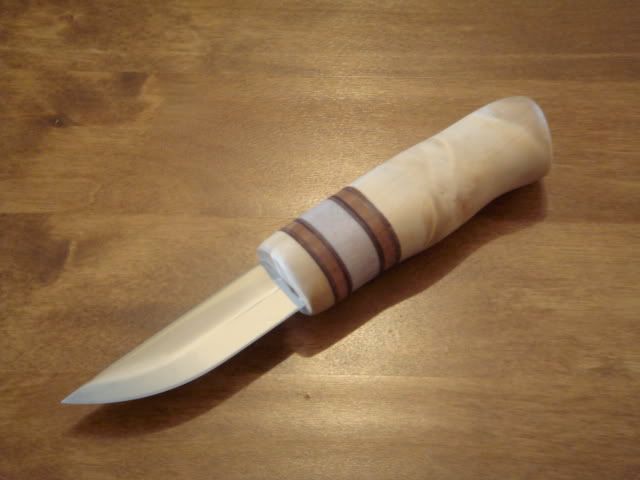 Next I've got a few other little things that I've been messing around with. Neither are anything amazing, but I thought I'd share them nonetheless.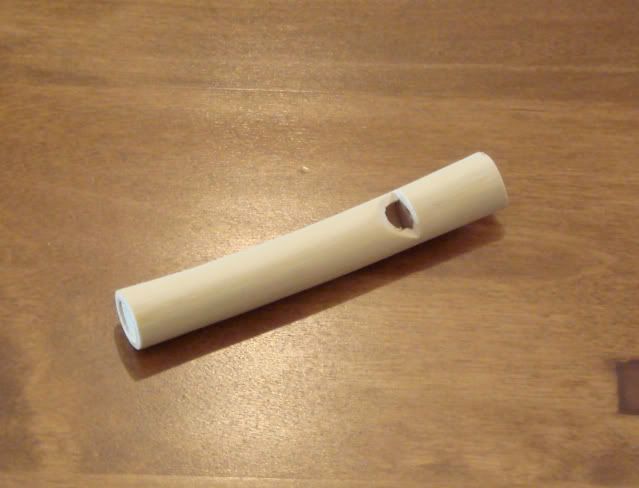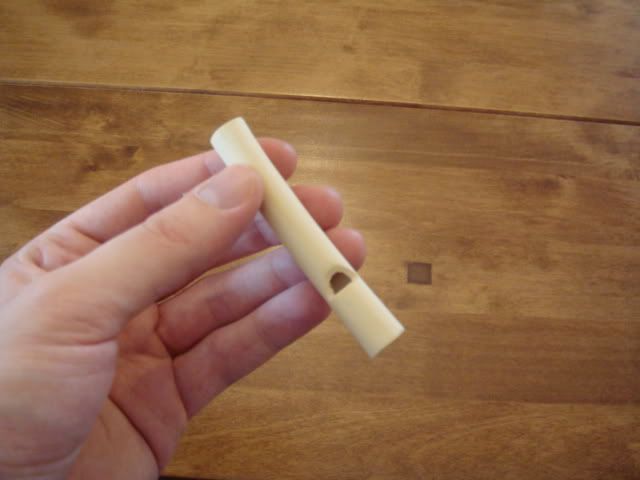 Firstly, here's a whistle that I made out of a small Elder branch. I've been clearing some overgrown boughs from the trees in my parent's garden and recognised the pithy core of the branches and thought I'd put it to use. I used
this fantastic tutorial
on how to make a decent whistle out of it and I'm glad to say that it works really, really well. I can get two different pitches out of mine, one of them is a standard whistle noise and the other is a very high pitched and loud note that competes with my metal survival whistle. It's a very simple project, but one that could be very handy if you found yourself in a spot of bother and didn't have a whistle.

Also salvaged from my stint at playing lumberjack was this piece of Sycamore, which I have been having a go at shaping and sanding into a walking stick. I know nothing about walking stick making really, but I'm pretty sure that Sycamore isn't the best wood to use. Still, it's just for fun and it's turned out quite nicely so far, even if it can't really be used for any serious purpose and just sits around looking nice.
Best of all, neither of these two projects cost me a penny, so if you have access to some wood, especially the Elder, I recommend giving it a try.
Lastly, here are some bits of wildlife that I found while cutting the trees back.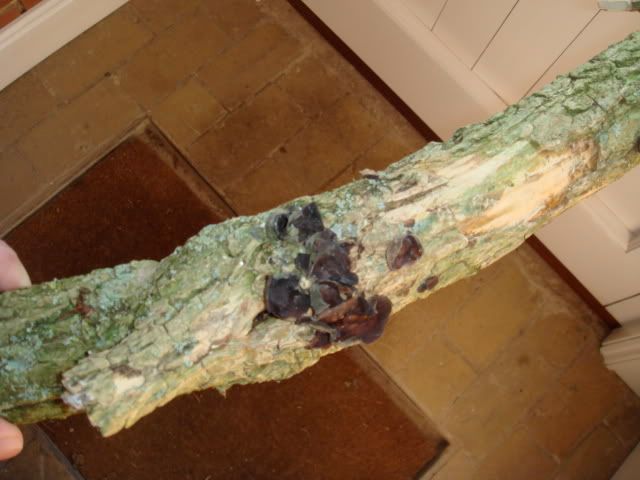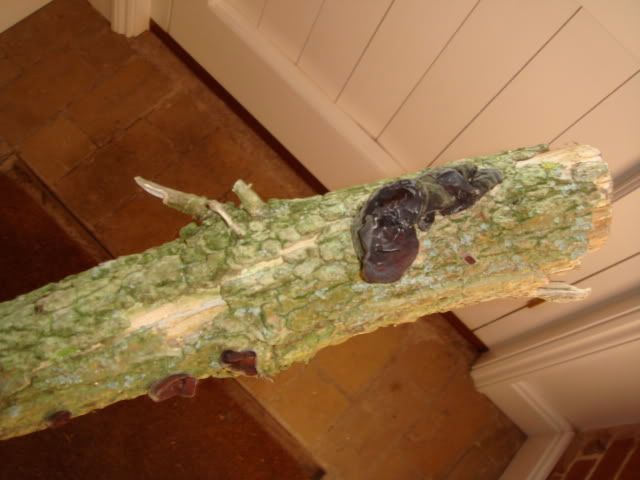 This first one ties in nicely with the Elder whistle, as I found it while gathering the materials for it. It's an edible fungus called Auricularia auricula-judae, or 'Judas's Ear Fungus' / 'Jew's Ear', which mainly grows on Elder. Not the nicest name for a fungus, nor the most edible looking one. There are several recipes out there and those of you who own the Collins GEM books 'Food For Free' or 'Mushrooms' (great little books) will no doubt be familiar with it.
By the time I found it, it was very hard indeed and past it's most easily eaten stage. Still, it's very satisfying to come across these edible fungi and recognise them. Of course, I should add that you do have to be extremely careful when identifying fungi and unless you can be 100% sure of what you are dealing with you should steer well clear. I know that you lot are well familiarised with not doing stupid things, but other people who read this might not be, so I'll say for my own benefit that I am not endorsing the gathering or consumption of any fungi at all and that if you do, you do so at your own risk.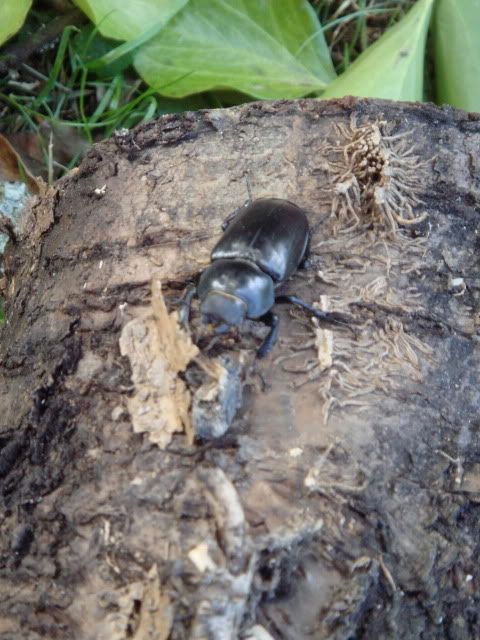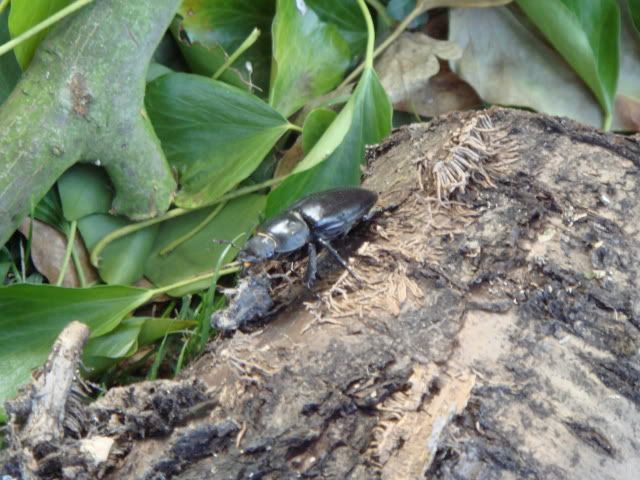 The final thing to show is this not so little guy I found crawling around. It's a Stag Beatle, which most of you probably already know. IIRC, they are endangered, so I thought I'd snap a few photos of this one before he went on his way. If you ever get the chance to see one flying, you'll discover that they are the most bizarre looking bugs once they get up in the air. Their body constantly tries to pull them down because it's so big, so they end up looking like they are about to crash from dragging their big arses beneath themselves as they go.
Anyway, that's all I've got to show right now, I hope it's been an interesting read.