For those of us (myself included) who don't have a huge amount of money to spend, here's a perfectly effective alternative to shelling out as much as $1500. on an emergency generator. My brother and I just put this together this past week. Great source of emergency electricity and it's cheap too! Good for anything from power outages to waiting for the zombie hordes to dissipate.
Gather the essential parts to the generator
A gas powered motor (Preferably a horizontal shaft. You can use anything from lawn tractors, to weedwackers, snow blowers, you name it!)
Car or Marine battery
Alternator (MUST have a built in voltage regulator. I used a GM. Also makes it much easier if it's a V or A belt style)
V or A belt
Gear pulley (If the motor doesn't have one already)
Power inverter (I used a 400 watt)
Some sort of platform (Plywood and 2x4s in my case)
screws, bolts and washers
I measured out the distance between the motor and alternator and built the platform to match. (Alternator needs to turn clockwise) Bolted the motor in place, then attached the gear pulley, belt and made marks to put the mounts in place for the alternator. Bolted the alternator in place. Then ran the charging wires to the car battery and tightened them down. Then just hooked up the 400 watt inverter to the battery and it's off and running!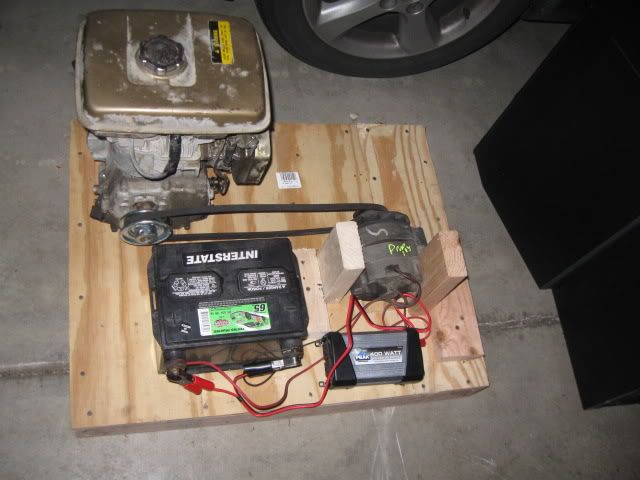 Took about 2 hours to build after I had all the parts. My expenses were as follows.
5 HP Subaru/Robin Engine - $15. (from a farm auction)
3/4 inch Gear pulley - $7. (Tractor Supply Company)
Alternator from a Chevy S10 - $15. from a local U-Pull-It
Car Battery - $10. same location
V belt - $1. same location
400 Watt Power Inverter - $30. (Pep Boys)
Platform was made from scrap lumber and I have a bunch of drywall screws and nuts and bolts from prior projects so they didn't cost me a thing.
$78. and a few hours of work and I can make my own electricity if I want to! I'll be adding to it. It's bulky, so I'm going to put some lawn mower wheels on it and a handle to pull it around by. But it works!