Merry Christmas, ZS!
Today, I finished upgrading my water storage. Why upgrade? A couple of reasons. First of all, I live in the southeast, the area that's had the ongoing drought. The drought hasn't broken yet, and you can read about it here:
http://technocrat.net/d/2007/12/21/32041
. As a result, I have chosen to add more gallons of drinking water.
My old water storage, which you can see at
http://zombiehunters.org/forum/viewtopic.php?t=20887
, was a total of 341 gallons. Most of the water was stored in four 50-gallon metal barrels. Those barrels were designed to hold liquid. In fact, they previously stored fruit juice concentrate. Unfortunately, they did start to rust a little bit, specifically around the bottom seam, where the floor and side of the drum meet. You can see a picture of the rust below. If you look closely, you'll notice the bright-colored ring at the bottom of the barrel. That's the rust.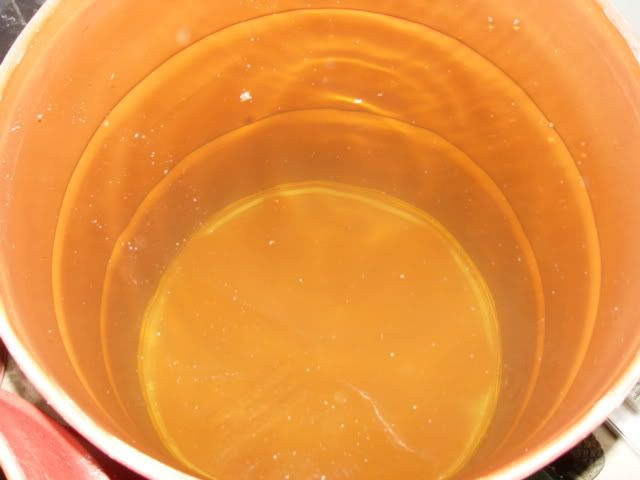 Fortunately, it is very easy for me to buy replacement barrels around here. I live in the same town as Baxter Healthcare Corp, which takes 55 gallon barrels of IV solution and packages it into IV bags for the healthcare industry. Previously, I was afraid to use these containers for water storage, as I was scared of the "chemicals." However, I've talked to a couple of experts, and they all agree it's perfectly safe to store drinking water in containers previously used for IV solution. Apparently, IV solution is designed to safely go straight into the human body, just like water.
Around here, you can buy their emptied 55 gallon plastic barrels, which are indeed food grade, for $8 apiece. You can get them all over the place. Most other towns, they run $50-80 each. These drums were used once, then sold to a salvage/tool place by Baxter. There are always at least a hundred for sale at this price at this one location, though there are other locations. They are basically in new condition, merely emptied of their original contents. I gave the store owner $64, went out to the huge stack of barrels, selected eight, and then took them home in two truckloads.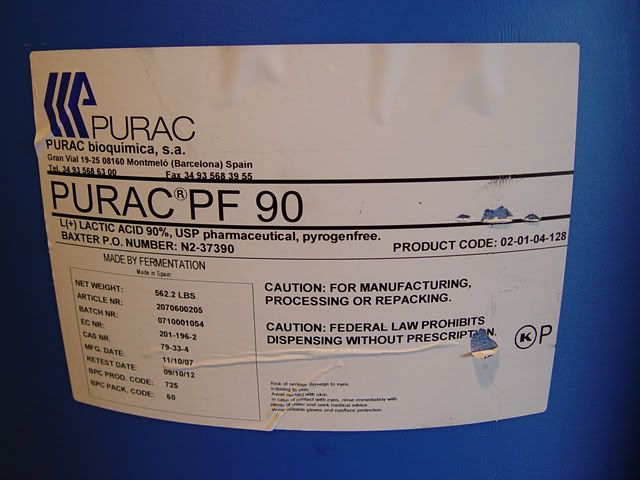 These containers held a solution of 90% lactic acid, called PURAC FC 90. The barrels were filled less than two months ago.
The barrels are sealed using a screw-in plug instead of a lid, which is fine with me. There's still a tiny bit of PURAC sloshing around in the bottom. To clean out the remaining contents, which are 100% water soluble, just tilt the drum downward, spray out with a house while water comes out the bottom plug. Turn over and repeat.
Believe me, you want to make sure your barrels are exactly where you want them before you fill them with water, because once they're full, they aren't moving anywhere. I can't move 450 pounds. Can you? Once they're full, add 1/4 cup unscented bleach, and you're good to go for a few years of storage.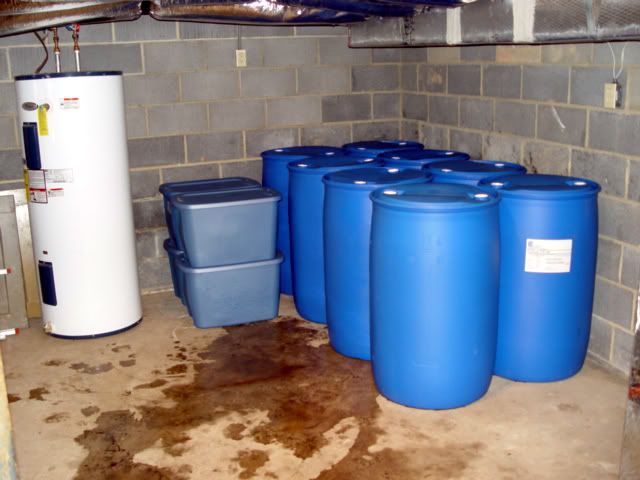 Here it all is. The four totes each hold eighteen 2-liters, or 9 gallons apiece. The water heater 80 gallons. I'll also add in the twenty gallons of stored water in my PAW closet for easy access. Finally, if you add in the eight 55 gallon drums, that's 576 gallons of stored drinking water. Woo hoo! Drought, do your worst!
-Erik