Howdy! We live in a house that was built for factory workers in 1915. There are no closets. Well, okay - a previous owner put in ONE closet in the 1950s, about the time he added two bedrooms and attic access in the attic and bricked the house. He didn't do the best job with the attic.
Anyway, I decided to knock a hole in the wall of one of the attic bedrooms and add a closet strictly for PAW food and water supplies. Right now, they occupy the floor of a second bedroom. The closet is now done, and is seven by six feet. Please note that I have never done any kind of significant construction project before. No framing, hardly any drywalling (I suck at drywall), little electrical, etc. For those of you who are into construction, I'm putting up photos so you can laugh at my incompetance. Be aware that I don't actually know how to do any of this stuff.
Please note that since the spaces are tight, I used a wide angle lens that tends to curve the image at the edges. My work is bad, but not THAT bad.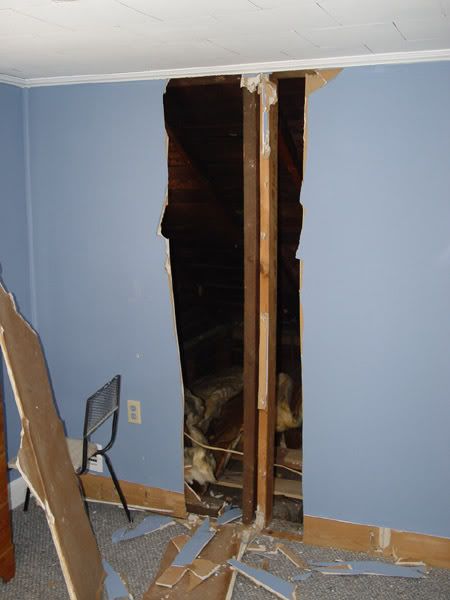 Step 1: After removing moulding, knock a hole in the wall.
Step 2: Remove wall studs and do a basic doorway frame. This is where it stops being easy. Like I said, this house was built very out of square with very, very rough timbers. Worse, the guy who added the attic bedrooms did NOT do the best job. I probably did a worse job.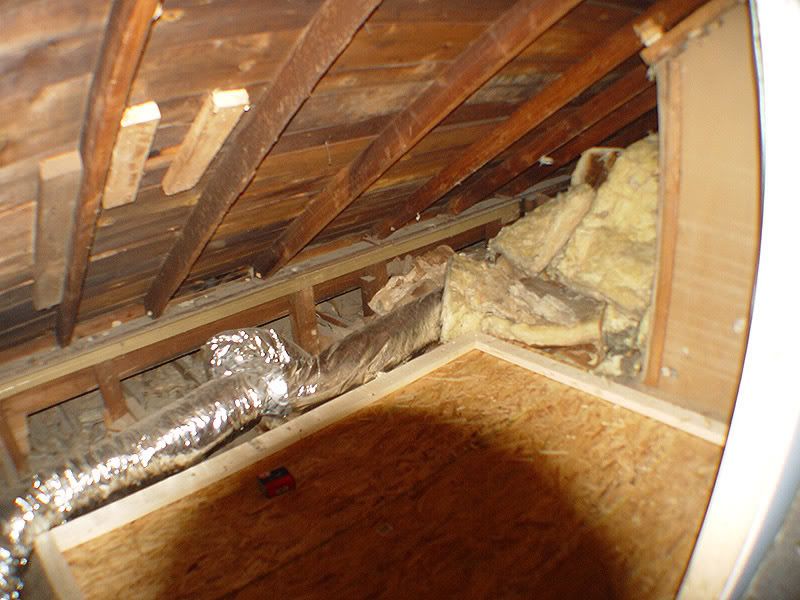 Step 3: Reroute the 80,000 different power cables just laying across the attic floor rafters, sink them underneath the surface of those rafters and pound metal plates over them. Then lay down the plywood floor and the border for the framing. During this process, one of the 1X6s the previous owner had left in the 1950's to walk on between rafters snapped as I stepped on it, causing me to fall through the cieling to our main level bedroom like some bad Chevy Chase movie. It hurt. I was able to more or less fix the ceiling.
Step 4: Spend approximately twenty hours correcting issues with the house so you can lay drywall flat, such as the fact that in 1915, the 2X4 timbers that make the cieling (and walls) were actually two by four, not 3.5X1.5 like they are today, which means a complete stud incompatibility issue with modern 2X4s. Wheee! Let's also not forget that not one of the studs or rafters are actually the same height, so none of them are flush with each other! Some rafters are horribly misshapen. That means I got to spend hours and hours cutting some rafters a little bit lower while building some rafters up! While we're at it, you can toss the "studs every sixteen inches" thing for the cieling right out the window, since the house was built for factory workers by drunk itinerants working for ten cents an hour a hundred years ago! Some rafters or studs may be 17 inches apart. Others maybe 27 inches! Yet others may be 30.25 inches apart! It's totally random! What fun!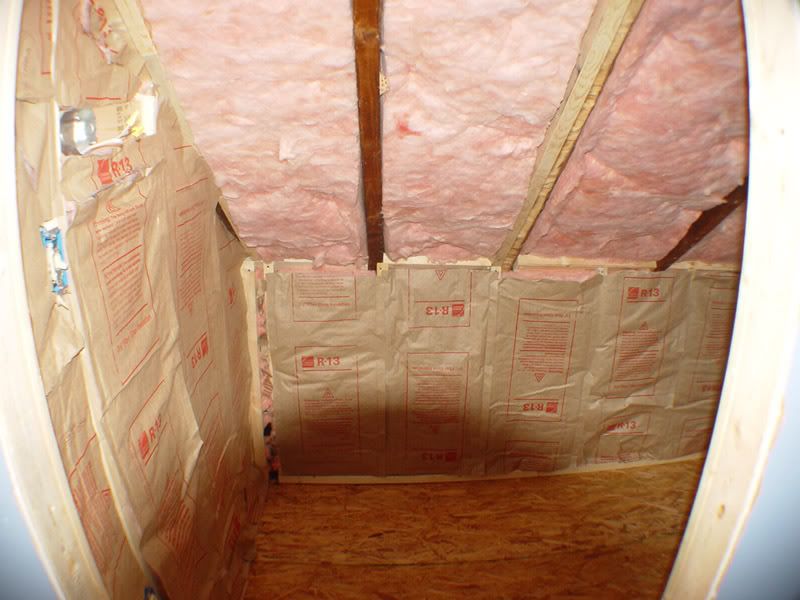 Now that things are approximating one stud every sixteen inches, like in modern building code, things get easy again. Add some insulation. Here's where I learned not to attach any electrical connections until after drywall is up.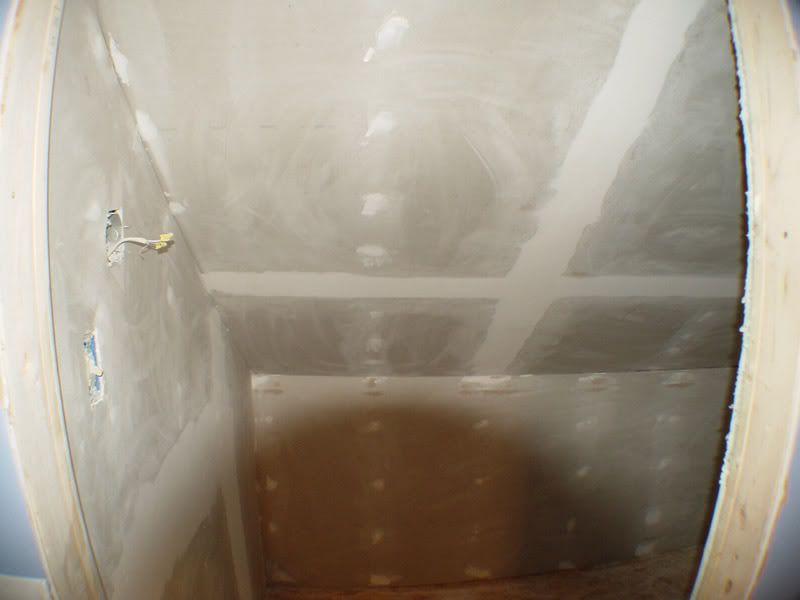 Put up drywall. If you're me, be sure to do an extra-incompetant job measuring, cutting, fitting, and finally joining the drywall with putty. Then paint and add trim.
Finish the door frame. I made this door frame exactly like all the others in the house. Add door and paint. Unfortunately, since the cielings are slightly low in these upstairs rooms, I had to cut about sixe inches off the door and frame. Thanks, wife and table saw!
Okay, now the closet is finished. Here are completed photos.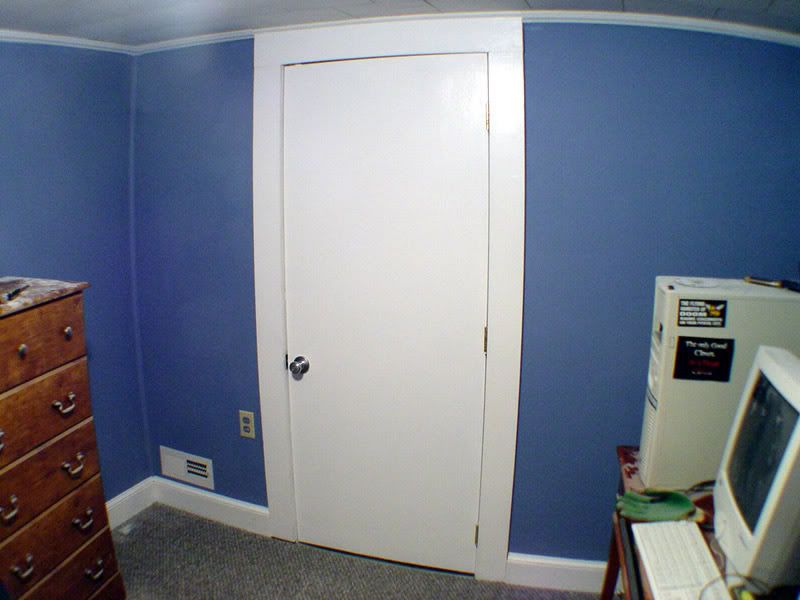 Exterior of the door. Previously, there was only a wall here. Discerning viewers may notice the door is not perfectly straight.
Door open.
Pictures of the inside of the closet and fixtures. Discerning people might notice how badly the drywall bulges at the seams. Without the flash, it looks much, much worse.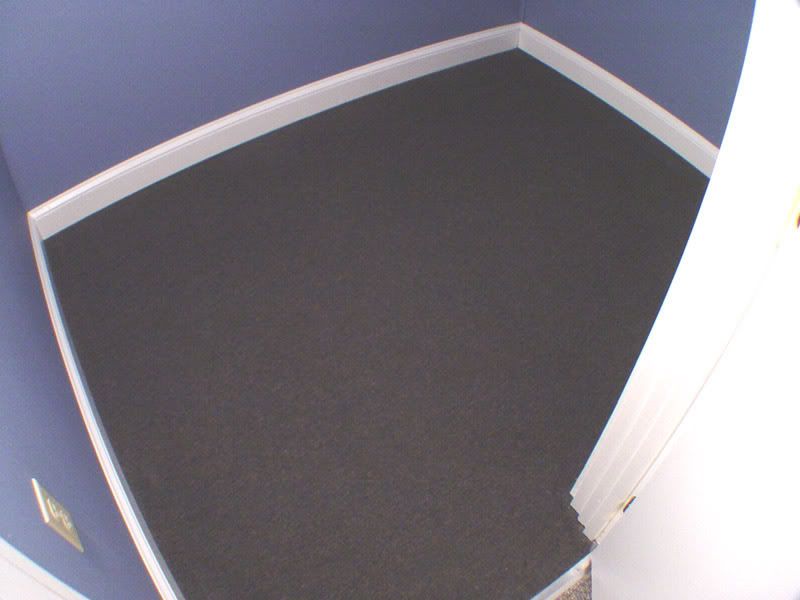 My twenty dollar carpet scrap.
The border of the closet where the two carpets merge.
In a day or two, I'm going to fill this with all of my PAW food and water (I need more!). I think I'll also store my snake in there. Once I do that, I'll post photos.
-Erik