One of the first instincts you might have when joining this board, or thinking about disaster preparedness/survival in general, is that the ultimate refuge has to be that huge Mega-Mart near your house. I mean, they have
everything
, right? Food, water, shelter, and possibly even arms quite literally line the walls in places like that.
Everyone else has had, or will come up with, the same idea. Well, maybe not everyone- but certainly so many that the chances your particular store won't be overrun is pretty damn slim.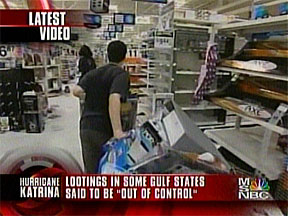 Have you ever been to the grocery store around dinner time? It's a pain in the ass, isn't it? What about before a blizzard or a major storm? It's a zoo. Remember Katrina? Great googley-moogely! Now imagine that it's the motherfucking End of the World as We Know It.
The same principle applies to setting up shop after some time has passed in the PAW. Only now, though there might be fewer people to compete with, those that are left could be crazy, sick, or just plain hostile. The materials you came looking for will be depleted by spoilage and scavenging. Squatters may defend what's left with violence. The building will more than likely already have had its security measures breached.
In short, it's not just a bad idea- it's a ridiculously common one. Don't do it.
You shouldn't rely on hitting the supply jackpot after the unthinkable happens anyway. We're not just about survival at Zombie Squad. We're about preparedness: getting and learning what we'll need
before
we need it. Hopefully you are, too, and that's why you're here. 8)
So ditch the Mega-Store "plan" and come up with something original, something that works best for you and your specific set of circumstances. Tell us about it, and read what other people are coming up with as well. Brainstorming and constructive criticism are two of the best tools available, and you can work with them right here. Here's the best part: everyone benefits by participating.
And we can't wait to hear what you come up with next.