I have looked in my 'prep' pantry many times and thought to myself,
"We could stretch that a month if we had to..."
WRONG!
I think many others may have made the same mistake on multiple occasions, maybe they have really never seen a REAL month's worth of food... I certainly hadn't and Ive been on this board and others for more than 6 years.
As with my other posts, this will get wordy. I am an author by trade and when I need something to 'jump start' me, I write up something here on ZS I think is worthwhile... it gets me punching the keys.
So, our topic is, What does a month of food really look like?
You could stack, Red Beans and Rice, Peanut Butter, MREs and Daltrex Rations ceiling high and be very efficient calorie wise. But are you really wanting to eat nothing but red beans and rice for a solid month? Have you lived off of MREs for 3 days, much less a month?
I take a realistic approach to what I store. I store what I use for the most part. When my wife or I need something for the kitchen, we raid our 'stash' and then add it to the grocery list. This way things get rotated fairly quickly. I also take a tip I learned here and spend an extra $10 a grocery trip on 'preps'. Buying just a little extra. It is amazing how things grow quickly that way.
My goal here is for a balanced diet, and to show
for real
what a months worth of food for one person really looks like all laid out.

This is one month of food for a single person.
Breads, Nuts and Meat:
1 Large Tub of Planters Mixed Nuts: 9690 Calories
6 Cans of B&M Bread in a Can: 6240 Calories (Best Prep Food EVER, no lie)
6 Cans of SPAM of various flavors: 6480 Calories (Note: The Turkey Spam is WAY lower in Calories than the other flavors, be advised)
1 Large Tub of Peanut Butter: 6300 Calories
4 cans Corned Beef Hash: 3120 Calories
5 Cans of Tuna: 500 Calories
4 Cans of Hormel Turkey: 480 Calories
4 Cans of Hormel Ham: 900 Calories
2 Bottles of Tactical? Bacon: 550 Calories
Fruits and Veggies:
2 Cans of Sweet Potatos: 1500 Calories
8 Cans of 'New' Potatos: 1400 Calories
15 Cans of fruit (Various): 2025 Calories
2 Cans of Carrots: 245 Calories
4 Cans of Beets: 425 Calories
2 Cans of 'Veg-All': 315 Calories
6 Cans of Sweet Peas: 960 Calories
12 Cans of v8 Juice: 360 Calories
Misc:
3 Cans of Baked Beans: 1540 Calories (I am not a big fan of beans, but I would put them in a soup/stew)
4 Cans of Rotel of various flavors: 250 calories (Low on Calories but good for adding to stuff)
Morale Items:
2 Large Cans of Spiced/Sugared Apple Pie Filling: 1400 Calories
3 bars of Milky Way Midnight Candy Bars: 880 Calories
Totals:
45,560 Calories
+1 Can opener (Inedible)
Notes:
You will notice that a Major bulk of the calories is: Nuts, Bread in a Can, Spam and Hash... and of course peanut butter. Without the nuts, peanut butter, or bread in a can the 'bulk' of this list would be more than double the size... if you had a nut allergy for example.
This is working off a 1500 calorie diet per day, so 45,000 calories for a month.
This diet (As with all canned goods) is REALLY high in salt/sodium. Which means MORE water preps.
If you are 'working hard' you will need many more calories than this per day. If you are sitting on your butt watching TV, you will need less.
I DO have stores of rice, beans, MREs, Daltrex etc. But that isnt what this post is about.
---
Addendum:
I am not including this addendum in the calorie intake, but you should also have seasonings and general cooking preperations: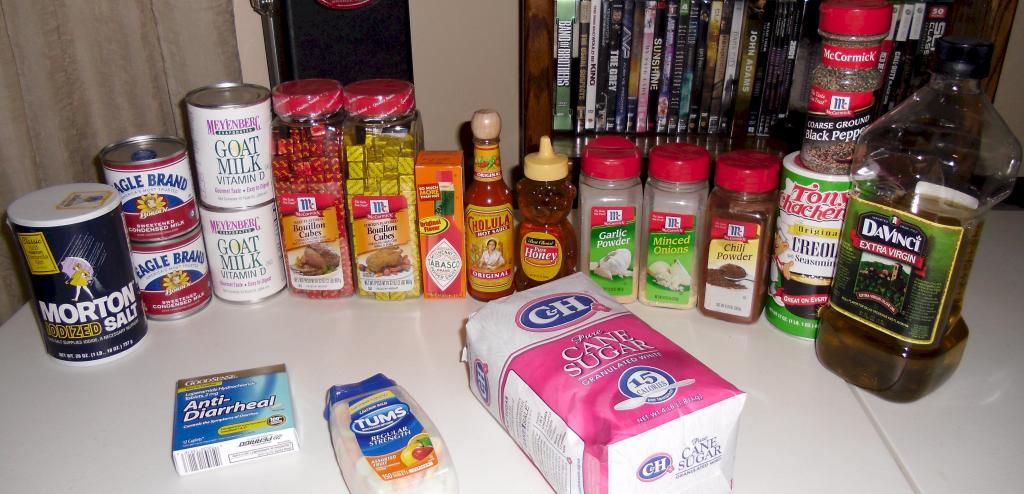 Iodized Salt (You need it, 1 container will last a lot longer than a month)
Ground Pepper (to taste)
Condensed Milk and Goat Milk. (EXCELLENT on Calories, 2 cans of condensed milk is 2600 calories, 2 cans of goat milk is 840 calories. Great way to boost calories in a stew or soup, or to pour over rice.)
Chicken/Beef Bullion. (Great for dropping in some warm water to taste, chicken soup for the soul. Also for cooking.)
Hot Sauce (Tabasco and Cholula, nom nom nom)
Real Honey (Never goes bad)
Garlic Powder (Running low, time to make a SAMs trip)
Dried Minced Onions (Running low, time to make a SAMs trip)
Chili Powder (Running low, time to make a SAMs trip)
Creole Seasoning (Great on Fish or anything really)
Olive Oil (For lots of stuff, great on fatty oil intake and cooking)
Sugar
Loperamide
(No lie, you need it)
TUMS
(See Above)
Bottle of Multi-Vitamins (Not Shown, its in my BOB)
And you CANNOT Forget: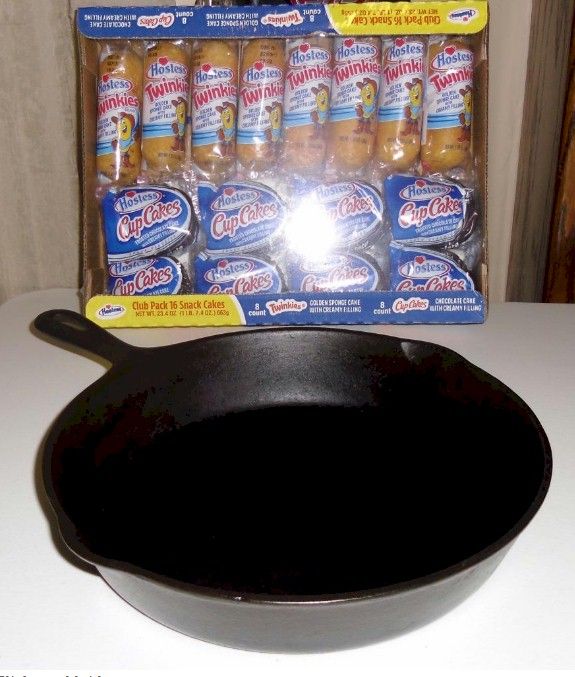 An
Iron Skillet
and the
Last Box of Twinkies and Cupcakes on the Planet.
(Will trade for Snoballs...