Back in late July 2010 I was at my local home brewing store picking up supplies when I saw they also had cheese making supplies. A short inquiry and $25 later I walk out with a starter kit. A quick run to the store to pick up 2 gallons of milk and away I go.
Basic ingredients:
2 Gallons of Milk (not pictured)
Renet Tablets
Mesophilic and Thermophilic cheese cultures
Calcium Chloride.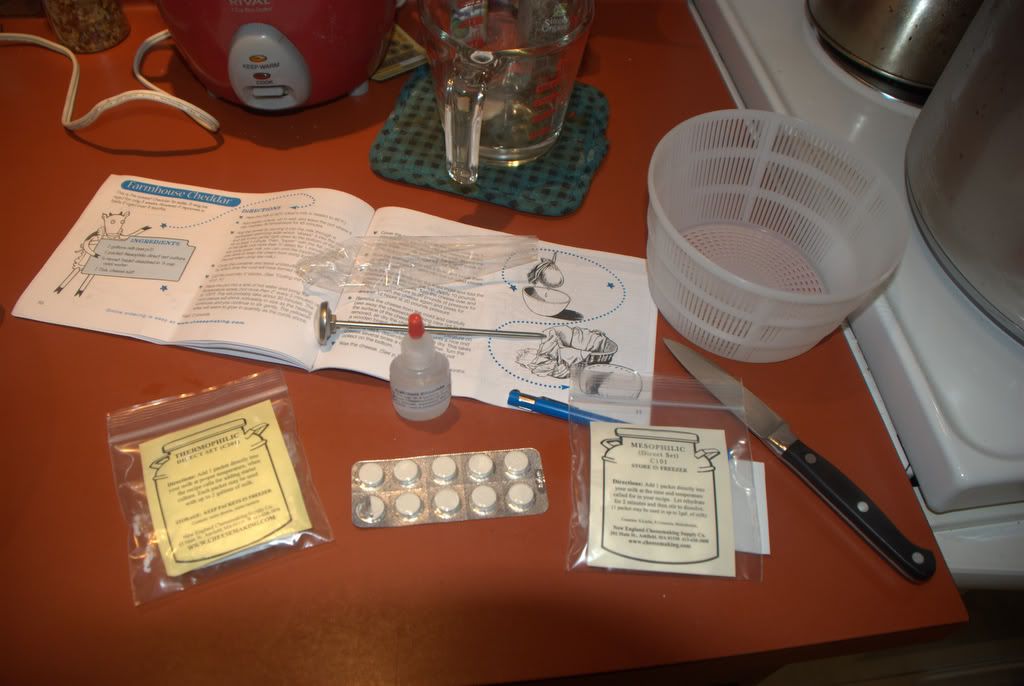 So we pour all of the milk into a cleaned out brew pot and bring up to temperature.
With the help of some dainty hands pour in the mesophilic starter and calcium chloride. The calcium chloride isn't really always needed, just as a boost really for processed milk. Being my first cheese making experiment I figure why not.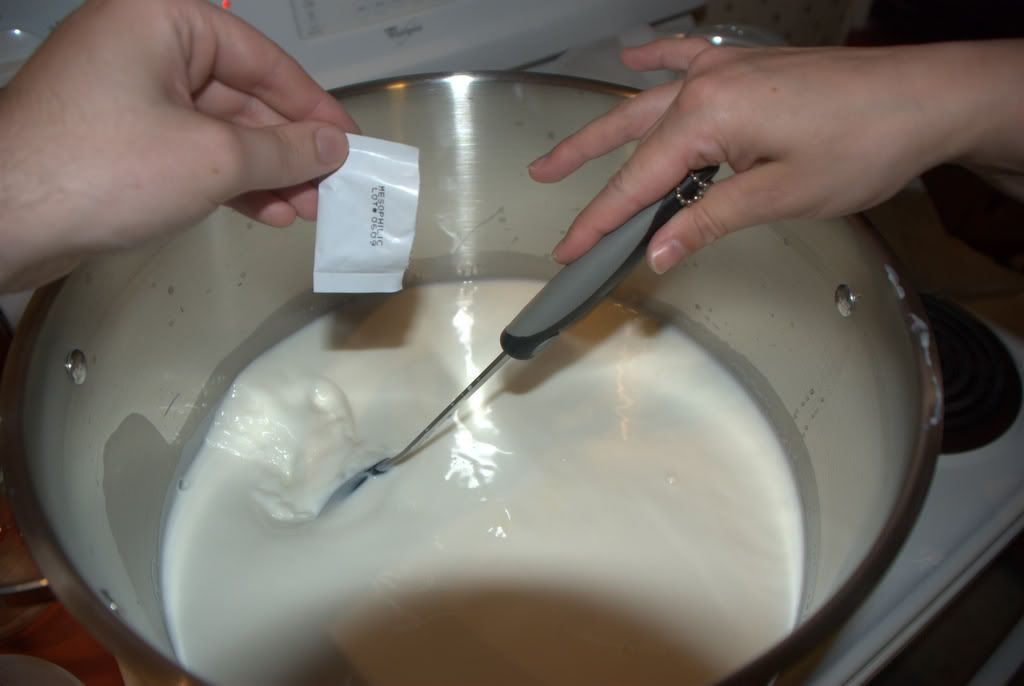 Allow this all to set up until it forms into curds. Once the milk has congealed some begin to cut into squares. At this point my entire house smelled like warm cottage cheese. You may or may not like that smell as it is also very close to spoiled milk.
Continue heating the curds until they begin to seperate from the whey.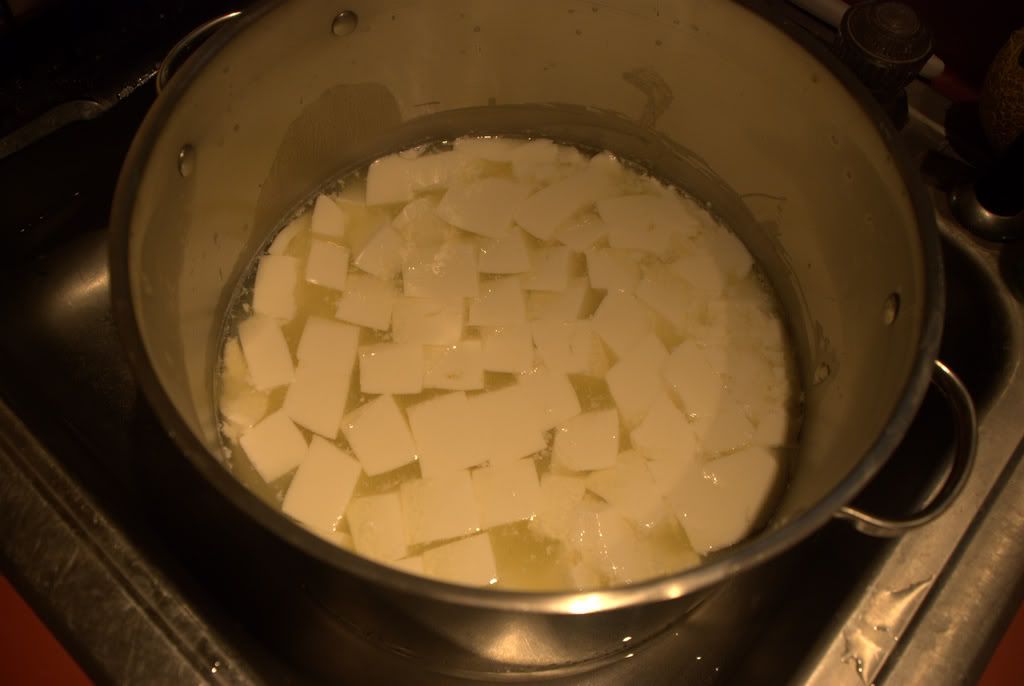 Now we pour it all into a colander lined with a cheese cloth.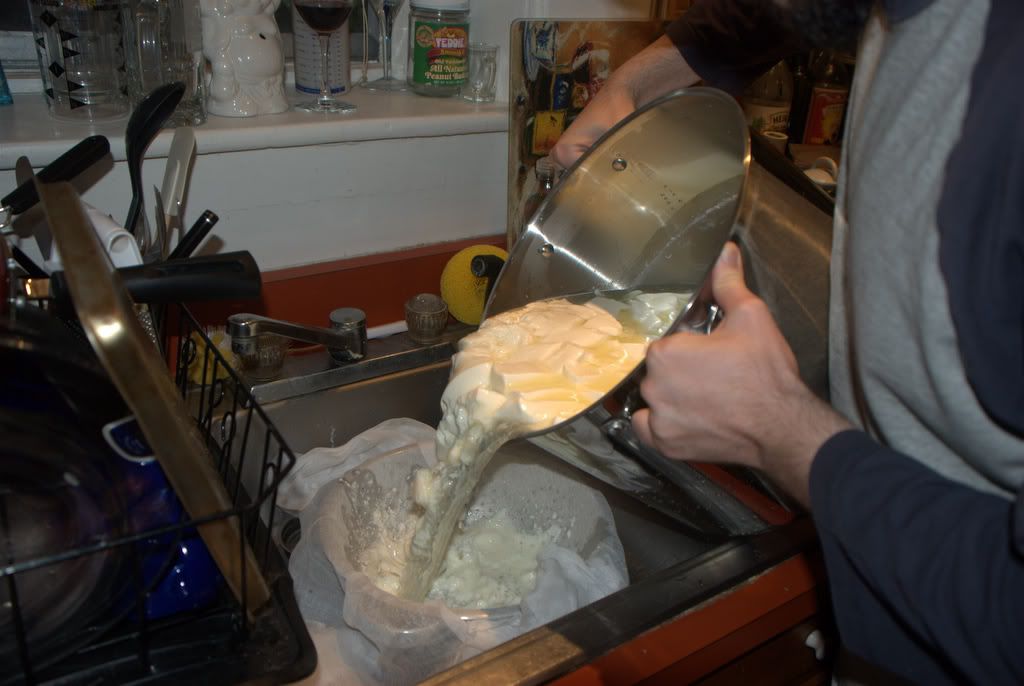 At this point it looks fairly disgusting.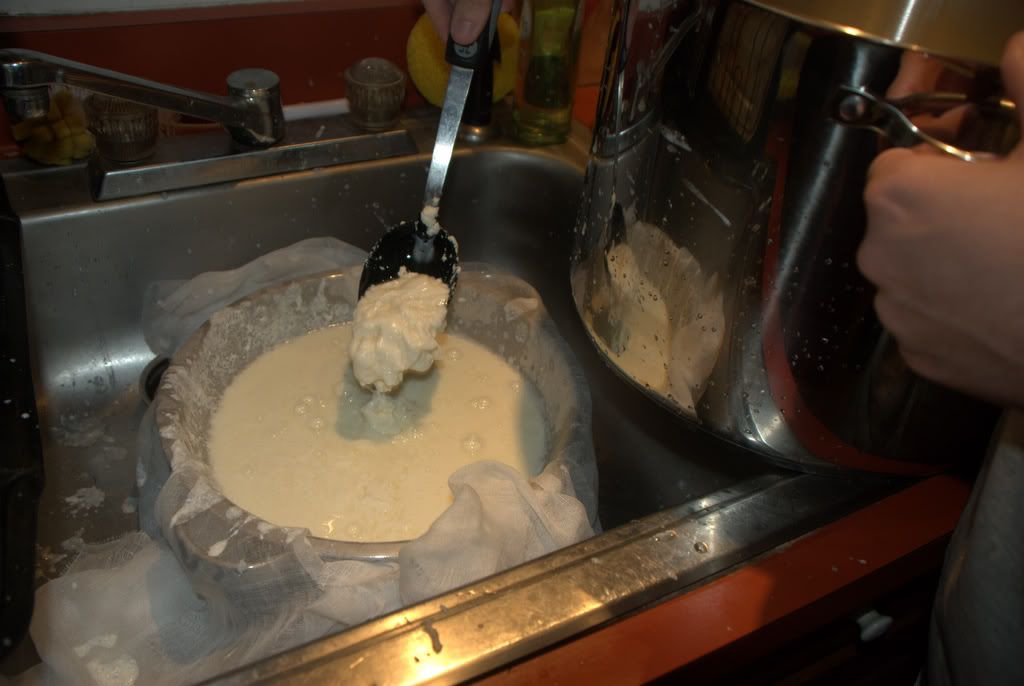 Now the cheese cloth is pulled around it and the whey is allowed to drain out for about an hour.
The cheese ball is then pulled apart in a ball and a little salt added for flavor and to help stop any bad stuff from growing.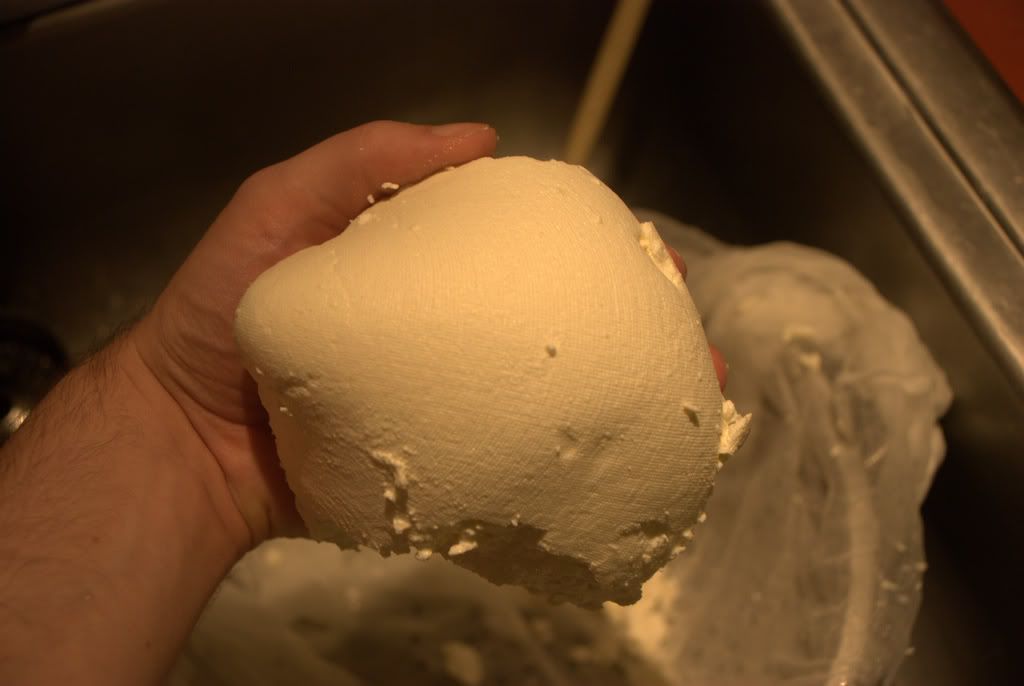 Then into a cheese mold lined with more cheese cloth and weights put on it to help form it into a block and press out more whey.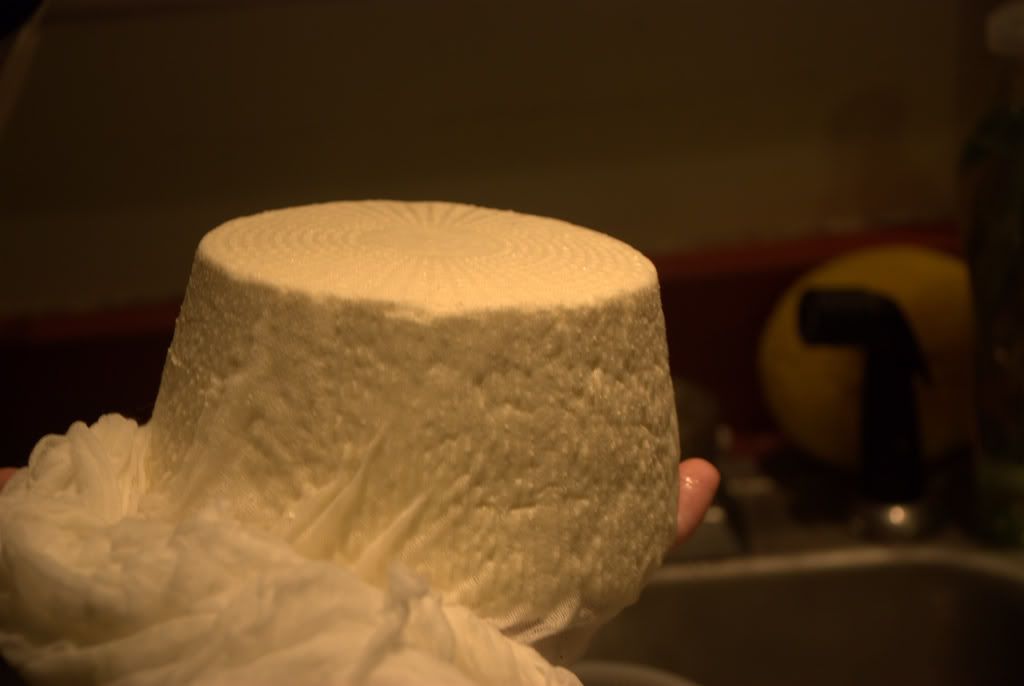 Over the next couple of days the block is flipped several times and the weight increased until finally a nice solid dy block of cheese is formed.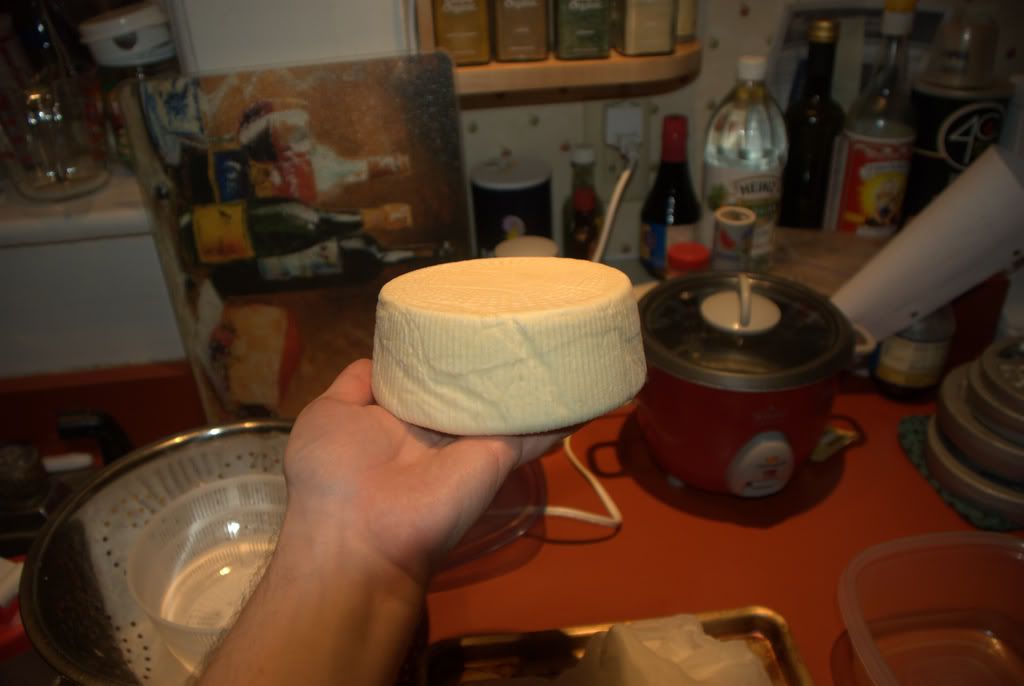 After several days of aging and sitting on a shelf the cheese is ready to be waxed. Safety note, always melt any kind of wax in a double boiler. Wax fumes can ignite and it probably isn't fun.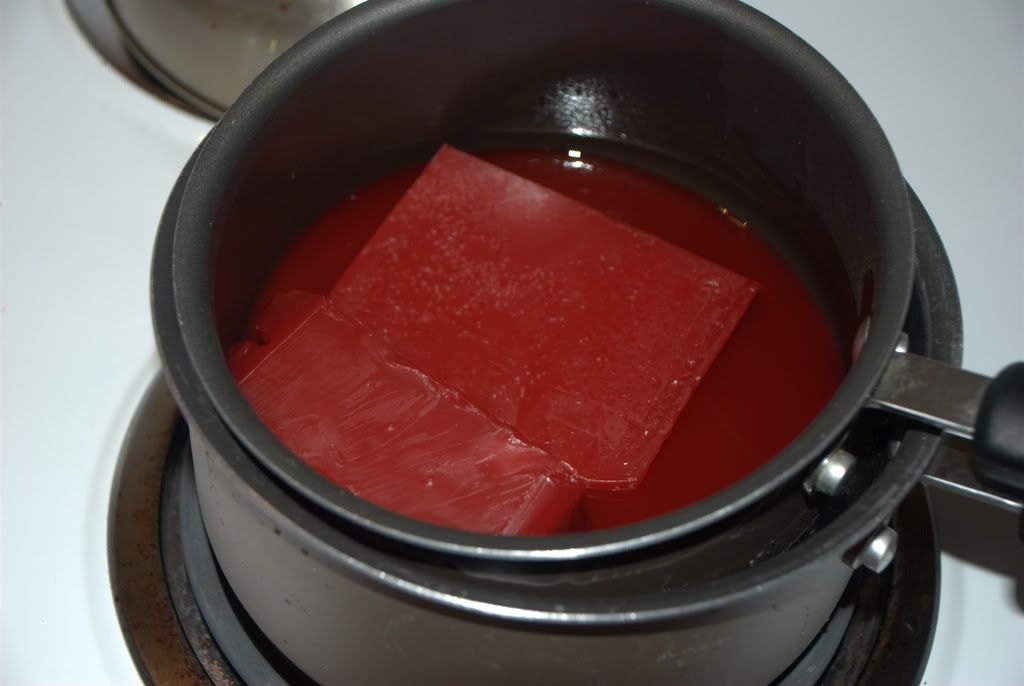 Here you can see the first coat of wax and my homemade cheese dipping tool.
Here is the final coat of wax and a label. I poured the leftover wax into an old PB jar to use later.
Fast forward a month of aging, flipping and kitchen renovations add one sharp knife and this is what you get.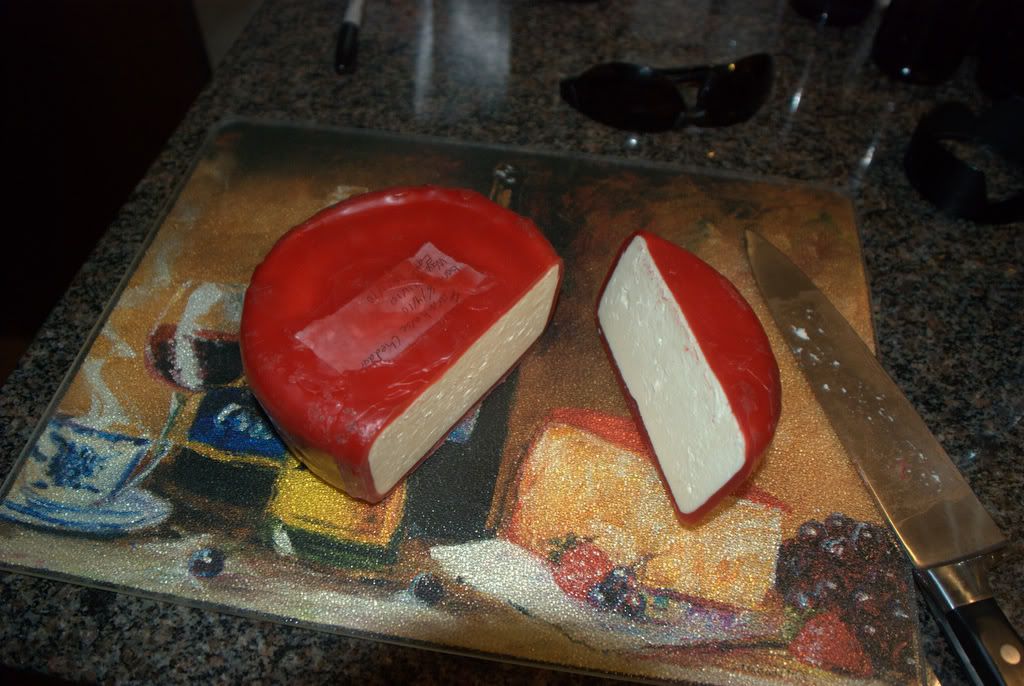 Add to that a homegrown pepper, some homebrewed beer and locally made pastrami and its a pretty good night in (I bought the wheat thins).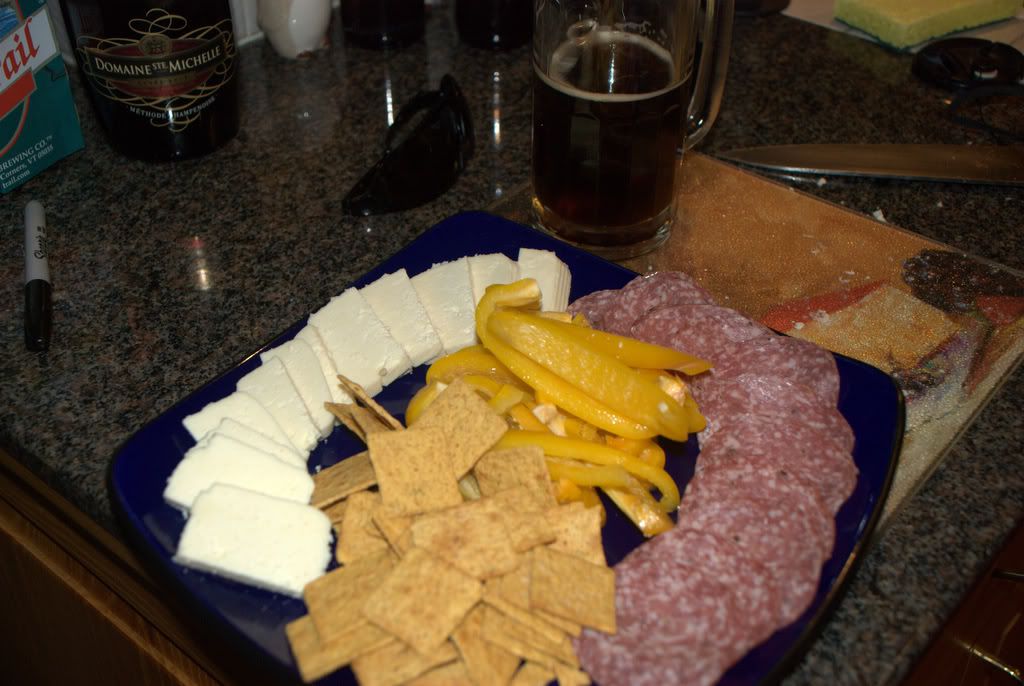 Closing thoughts. The kit contains enough ingredients to make something like 20 batches of cheese. This block of cheese weighs over 2 lbs. Depending what milk costs that means you can make your own cheese for about $3 per lb. Economics aside what you save in money you more than pay for in time. Just the initial process of making curds takes literally hours. Not to mention the constant rotating, pressing and aging times. That said it is a really neat process and you can make a lot of different kinds of cheese, some take only a few hours to prepare and eat, others can take years of aging. In the end how did it taste... I felt that it was pretty good, could maybe use another month of aging as it tasted a bit young. But overall a good first time of what I am sure will be many more.