Cast Iron Skillets for Everyday Use and Beyond.
By: Merovingian
Introduction:
There are two segments of the population when dealing with Cast Iron, those that grew up on Cast Iron Cookware and those that didn't. Being one of those that did, and since have eaten off an Iron Skillet roughly half of every meal I have ever put in my mouth I find myself in a bit of a position to help that other segment of the population that never touched the stuff but may want to for whatever reason.
Disclaimer:
I am NOT an expert, some of the things I state here my be thought of as 'wrong' by the experts in the field. However this is what works for me, has worked for my family and the way I was taught... by both family and by a bit of research and experience.
Why Cast Iron?
Those that have not grown up on Cast Iron see the stuff as heavy, cumbersome, dirty, and hard to clean and take care of. While each of these points is debatable, the most contentious point is cleaning and taking care of the stuff. Taking care of Cast Iron properly is one of those 'arts' that 50 years ago everyone knew how to do it but has been lost among the fads of stainless steel, copper, and teflon.
Cast Iron, quite simply is one of those things that if purchased correctly and taken care of will last y our great grandchildren til they have grandchildren. There are MANY families all over the world that have cast iron skillets from 50 to 150 years old as family heirlooms and that still use their skillet weekly or even daily.
Purchasing Cast Iron:
Purchasing cast iron as a 'user' rather than a collector is a fairly simple concept. I DO NOT suggest buying a 'new' and 'pre-seasoned' skillet from ChinaMart such as "Lodge", In my opinion the best Iron Skillets for your uses were made from 1890 to 1960. They can be found almost anywhere, back of your grandmothers pantry, under her sink, in an antique store, piled up at a flea market, on ebay, at a pawn shop, or on the floor or hung on a nail of an abandoned barn. These things are quite literally EVERYWHERE.
Why not Lodge?
Lodge skillets are 'rumored' to be made of sub-standard Iron with weak handles that can 'snap off' if not used correctly. I have nothing to back that up, and it is just internet rumors... so take it as that. HOWEVER, my main complaint with ALL new Iron Skillet cookware is the cooking surface... this is the same from Le Creuset (Higher End) to Lodge (Lower End). You will notice on 'antique' Iron skillets the interior cooking surface is totally smooth, from the center of the cooking surface, up the walls to the top, and the rest of it (the outside) is rough. Newer 'minted' designed the interior is pocked, or rough, then preseasoned on top of this substandard surface. It is for this reason that you can not EVER get the same reliability and non-stick surface off a newer Iron Skillet as you can with an old one... they simply "Don't Make them like they used to." Literally.
How do I find what I am looking for?
The two biggest brand names for the past 200 years of Iron Skillets were Griswold or Wagner. 90% of the skillets you will find will be one of these two brands, if you stick to these two you really cant go wrong as long as the condition is good.
Size:
Sizes can be labeled by either number or by letter, I find it a confusing system as it is not 'standard' But the most popular skillets are "6 Inch" "10 Inch" and "12 Inch". I find the 12 Inch skillets VERY large and heavy... I use a 10 inch for a family of four and I am very happy with it. If you can leave it on the stove forever, or you have a family bigger than 4 you might want the 12 inch version, if not I would almost certainly go for the 10 inch. The 6 inch is small, I use mine for camping... it is big enough to fry two eggs, fold them over to open up the other half and fry two strips of bacon. Its perfect
A Note on Ebay:
If you choose to go for eBay instead of another route, DO NOT buy from China, Hong Kong, Indonesia, or Russia. You are very likely to end up with a 'counterfeit' and one made of who knows what... prob lead. And yes... they DO counterfeit Iron Skillets. Buy from the USA or Australia and you should be safe.
Once you have a skillet in front of you, what are you looking at?
#1: Look for cracks, if there are cracks ANYWHERE, you do not want that skillet... it has been prob been dropped and isnt worth your time. Chips are 'ok' but it depends on where they are how big and should be taken on a case by case basis.
#2: Cooking Surface, is it smooth? If yes, you are in good shape.
#3: Is it a Wagner or Griswold pan? If Yes you are on the right track.
#4: Is it under $50 shipped? Anything more than this is a 'rare' pan or something, you really shouldnt pay more than $50 including shipping. People over at the Wagner and Griswold collector forum laugh when one of their 12 inch 'common' skillets sell for over 100$ because they took good pictures and oiled it up nice to look pretty, they went to a pawn shop, bought a nasty looking pan for $5 and seasoned it properly then resold it and made 95$ for about 30 min of work and 6 hours of time.
#5: Other than cracks the number one thing you should look for is warping. If there is ANY warping or weakening in the metal you do not want the pan. The pan should sit level on a flat surface and not wobble much if at all.
#6: Pitting, look for severe pitting on the outside of the pan and any kind of pitting on the inside. Pitting is due to long term rust and is mostly found on 'barn' skillets that people find buried or on the floor of a barn.
If you have found a Wagner or Griswold pan, in the size you want, with no cracks, no pitting, no warping and it sits flat on a flat surface. You have found the pan you want... even if it is a bit rusty, in fact, it prob will be.
I have my pan, now what?
#1: First you need to clean it. DO NOT Sandblast it or anything crazy... you will just jack up the cooking surface. To clean it wash it with water and dish soap for its initial cleaning. Use steel wool lightly on the inside to get rid of the rust and anything inside... if its not too bad of shape you should use one of those green scour pads instead of steel wool. If you used soap you need to rinse, rinse, rinse and scrub scrub scrub, you do not want any of that soap left on the metal when you are done.
#1a: If you are not comfortable with the above, or the pan is truly nasty, or has already been seasoned by someone other than a family member or someone who you trust that they know what they are doing, you can put the pan FACE DOWN in your oven and put it on its 'cleaning' cycle... usually a 2 to 3 hour process. YOU MUST LEAVE THE PAN IN THE OVER OVER NIGHT TO COOL IF YOU USE THE OVEN CLEANING METHOD. When the pan comes out it will look red and rusty, and you will think "Aww crap I jacked up my pan" but its fine. Head up to number one and clean with JUST WATER and a scrubber if you are freaked out by the rust... I wouldn't worry about it.
Once it is clean dry with a towel pretty well... At this point you have two options, you can skip right to seasoning, or you can 'darken' the pan. If you used the oven cleaning method or you dont care about darkening you can skip #2 and go to #3.
#2: Darkening, you are basically heating th emetal up a bit to darken the iron, stick the pan upside down in the oven on the center rack for one hour at 350, at the end of that hour turn it up to 450 for 30 min. Then Allow to cool enough to handle it.
#3: If you darkened the pan you are good to go with seasoning, if not you need to heat the pan enough to get rid of any moisture left in/on the metal, so turn your burner on and heat it up on medium for 10 min or so so that the pan is totally dry.
#4: You need oil, there are 30 different people all over the internet using all different types of oil with different temps. I use EITHER bacon grease or Olive Oil. Bacon Grease is what your grandmother used to season hers, Olive Oil is what I use most of the time though, its easier. What you are basically doing is heating the oil on the pan beyond its smoke point so that it carbonizes. YOU DO NOT WANT ANY KIND OF STICKY OIL, such as vegetable oil.
Here is a chart for 'advanced' users on the smoke point of various oils.
http://whatscookingamerica.net/Informat ... lTypes.htm
" onclick="window.open(this.href);return false;
Some people are able to 'taste' the oil they used to season the pan, I can't but if you are a judge on Iron Chef America or something, choose an oil you like the taste of.
#5: Once you have chosen an oil, say olive oil for example you need to take a 'lintless' rag of some sort and apply the oil all over the pan, do not over do it. You are not going for a 'wet' look. In fact you need to rub and rub till the pan looks dry, but is still 'dark' from the oil... once the pan is dark with oil, but no longer looks wet you can move on to step #6.
#6: Heat the oven to 350 and put the pan in FACE DOWN for 30 min, after 30 min turn oven up to 400, after that go to 450 for an hour. Open a window, if it smokes too bad you added too much oil... but it will smoke a little bit either way, your smoke detector may go off. Let the pan cool in the oven.
#7: Repeat steps 5 and 6 several times if you want to do it right, I usually do it 3 times, to get a good start... on one you are going to use for camping I would do it more.
You now have a 'seasoned' iron skillet, coat the pan one more time with the oil of your choice and let it sit on your stove to look pretty till you are ready to use it.
First Use:
I ALWAYS cook bacon in my pan as its first use... it does help.
Cooking with Iron:
Just like normal cookware you want to cook with the lowest temp you need to cook with, you can easily burn stuff into the bottom of the pan by cooking too hot, just like with stainless steel or anything else. As you cook small microscopic bits of iron WILL leach into your food and increase your iron count, this is a health benefit for women who very commonly have a low iron count.
Cleaning:
After cooking there is always the clean up, this is where people freak out and argue and say their method is better. Most experts will say to not use soap, at all, ever. I disagree, but I don't use much. Most foods can be wiped out of the bottom of the pan and then cleaned with just very hot water. However, as an added health measure after I do the normal cleaning, I add a *single* drop of dishsoap and wash the cleaning surface with a brush then rinse really well with hot water. Soap really is optional, and it is NOT recommended by most 'experts' but I use it anyway and have never had any problems... just dont use too much.
After Cleaning:
After the pan is clean re-oil it lightly all over, stick it on low heat for like 5 min and wipe it down.
If you jack up seasoning it, cooking in it, or cleaning it, just reseason it. Cast Iron is one of those things that will last forever, unlike nonstick teflon which is ruined if you over heat it.
A Note on camping: Nothing ruins cast iron like cooking on a camp fire, campfire cooking is the #1 cause of 'warping' in cast iron... that doesnt mean you can do it, and it doesnt work well. But a campfire pan will not last as long, and dont use grandmas heirloom cast iron skillet on your campfire... buy one for that purpose exclusively... that's what I did: here are pictures.
-----------------------
Here is the 6 inch 'camping' pan I purchased off Ebay, I paid under $20 including shipping from a seller in the USA. You prob wont find one that is slate grey like this, it is grey because it had NEVER been seasoned or used. I prob paid a bit more because of that, it was a bit rusty though. Notice, it sits flat, no pitting, no warping, no cracks...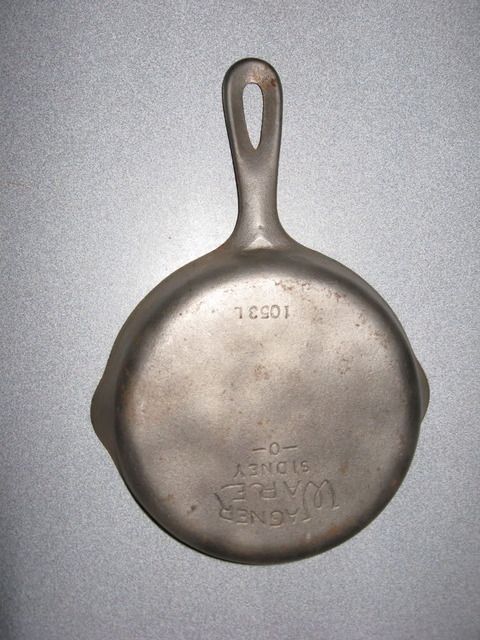 This is the pan after *1* step of darkening and seasoning, I did not need to put this pan through the cleaning cycle of the oven.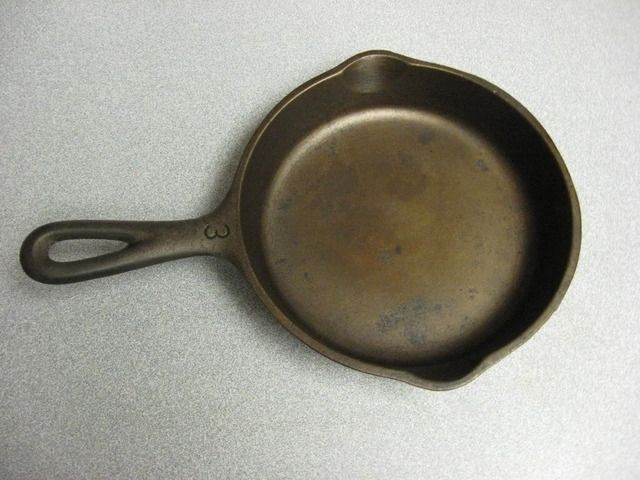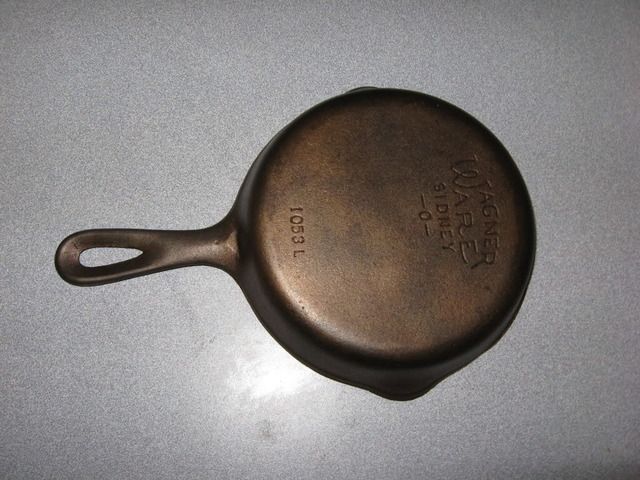 This is the pan after 2 more and finished: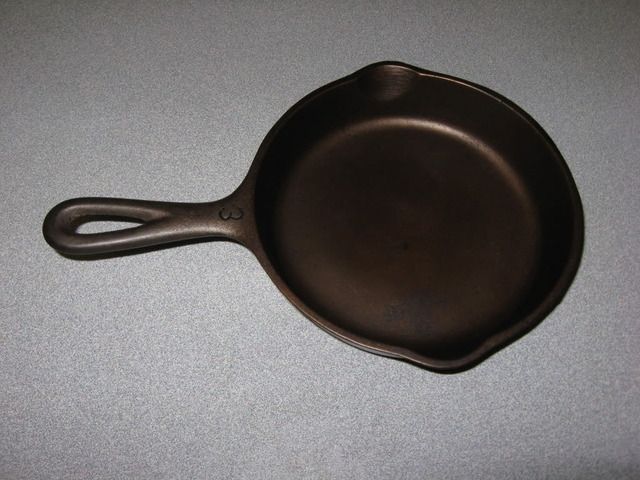 ----------------
Disclaimer #2: You are dealing with smoke, heavy objects and you are heating them up VERY VERY HOT. Use common sense, if you burn yourself, die of smoke inhalation, drop the skillet and break your foot... its not my fault, be careful!
Other than that enjoy your well seasoned, well cared for iron skillet... your grandkids will be using it and enjoying it too.
a Note on the Wagner and Griswold Collector Society: I cant really say much nice about these guys, they REQUIRE you to use your REAL FULL first and last name on their forums, if you make up a name, they will ban you, forever. They are unforgiving and impolite. I explained to their mods that I had a unique first and last name and that I did not want their forum popping up every time someone at work or a job interview googled my name... their response was to ban me from their forum. If your name is John Smith I reccomend them to learn a bit more, if it isn't the privacy concerns are a bit too much to contend with.