I sold my 99 Durango that was my BOV. So now this will be my BOV. Got this bad boy running and street legal. It's a project me and my dad are working on...
Went from this...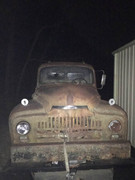 to this so far...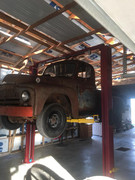 It's a 1953 International L130. It was my grandfather. He died in 1972 and my dad's older brother parked it in a tree line until last year when some tweaker jackwads vandalized it, cut all of the wiring out of it, and stole the radiator out of it. He was going to scrap it so we took it instead. It fired up right there in the tree line (once we cleaned out the mud dabber nest), the tires were able to hold air, and the rest is history. It's all original, we even put the old school split rims back on it. It's as old school as it gets, still has points etc, and is a double clutching SoB, and won't go over 60 without sounding like it is shaking apart, but it's as solid as the day it was made. It's got a date with the paint booth once we figure out what color it needs to be...
In the process of acquiring parts we now have 5 more complete 53 Internationals, 2 more part trucks, a 1954 R150 International Dump-truck, and a 1954 International R150 School Bus. We might have went overboard

. I'm trying to convince my dad to make 1 a 4x4, we'll see how that goes...