So in July of '16 I saw a 2013 Toyota Tacoma double cab Limited with long bed at the local dealership's tent sale. I checked it out and fell in love with the price. I wanted a short bed off road, but this came fully loaded and $6k under value. So, I pulled the trigger on it and have since been working my ass off to build it for Overlanding, which perfectly translates into a BOV. So here is my progress so far.
Here's how she looked from the start.
Installed OME 2" HD lift in order to support the planned armor upgrades. I paired that lift with Spidertrax 1.25" spacers and the Toyota TRD Pro SEMA wheels on 275 70R17 BFG TA KO2's. Oh, forgot to mention I added a sway bar relocation bracket and also a carrier bearing spacer as well.
Next, I ordered some aluminum skid plates from Pelfreybilt and used Rustoleum bed liner on them (stuff works great when prepped right).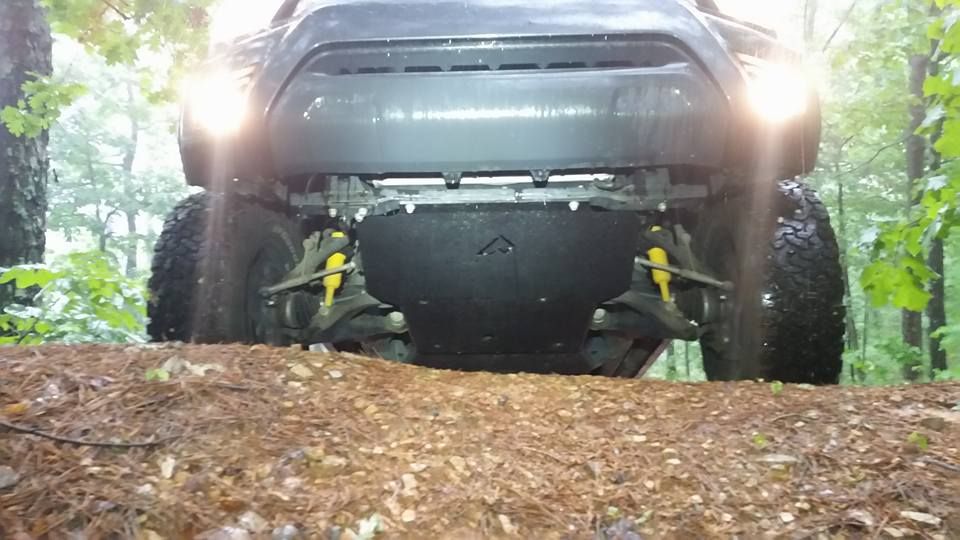 Next was to add some auxiliary fuel storage, I couldn't settle on a complete system yet as I don't have my bed design fully planned yet, so I went with Rotopax's Fuelpax 3.5 gallon and their Tacoma bed rail mount. So far it is great and I want another one to add to it! Super clean mount, very solid, and the can itself is great.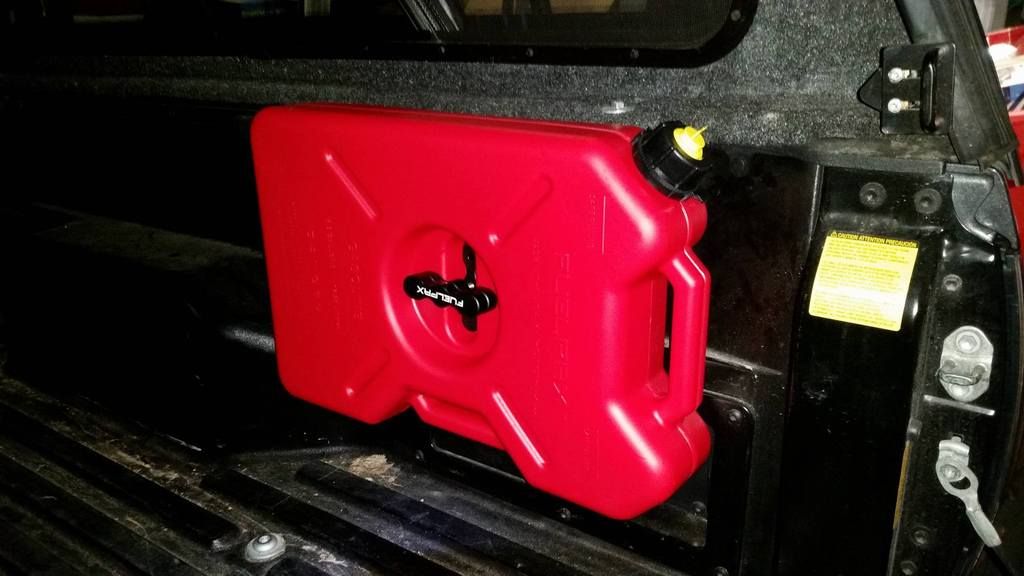 So next I took it to Arkansas in mid-April after some insane amounts of rainfall and took it through anything we could find for about 230 miles in the Lake Ouachita area.
I finally got in my Pelfreybilt order consisting of full hoop steel front bumper, steel rear bumper, and steel rock sliders. I've prepped and bed lined all of it but am currently waiting on an adapter for my Baja Designs Squadron R Sport fogs to go in the bumper. I'm pairing them in a wide cornering beam with a Rough Country 20" black series LED bar in my bumper for trail lighting. I don't have the bumper installed yet, so here's a pic of the sliders and rear bumper.
For additional lighting, I may add either ditch lights to my hood area or an LED bar on a Prinsu Roof Rack in the future. I will also be adding additional lighting to the rear bumper and two ditch lights to angle off of the side of the bed as well.
Recovery gear - So far I have a Smittybilt 9.5k XRC Winch to install with the front bumper, two static tow straps at 20k and 30k lbs, a 20ft Bubba Rope @ 28.6k, 40k tree strap, snatch block, recovery damper, some D rings/bow shackles, and some other smalls. I will be adding more D rings, snatch block, and a few more misc. straps as time goes. Both of my bumpers have recovery points! I will also be adding a hi-lift jack now that I have the sliders on.
Tools - I have a pretty good metric based Dewalt tool set in the truck along with a breaker bar, torque wrench, and tire repair kit. I also have an ARB air compressor in the tool box, but will be mounting it under the hood when I figure out my battery system and some other electrical stuff for eventual solar power, dual battery, and switches (sPOD) in the cab.
Misc. Mods - I also installed a rear diff breather and ran it into the bed's left storage box, planning to do the front/tranny as well in the future. Next planned mods when the bumper is finished will be bed bars and a roof top tent, considering the Smittybilt since it's the cheapest and I actually like the material/weight savings over the Tepui I have experience with. My first choice is actually the Geo Adventure Gear GT165 which comes with an awning and is a better overall design.
Now for some more specific goals. This is my daily driver so it needs to be reliable. In the not so distant future when it isn't, I want to go long travel suspension, 35" tires, and get a bit crazier with where I take it. As of right now, I want this to be able to drive me to Wyoming for a class, Utah for fun, and through the Ozarks without issue, all while commuting my 26 miles each way to work. I will be having a rear locker installed as well, but I'm still researching which one I actually want before I pull the trigger, then recovery will be much easier no matter where I am. Robust, reliable, and fun, all which maintaining a practical platform I can live my day to day life.
Hoping to get out and take some more comprehensive pictures soon so I can better tie this all together rather than piece it together with months worth of random pics. Thanks for reading!