Ratz's HFAK System (Introduction)
It's amazing after 17 years living in the same house all the different places where a family can squirrel things away. That was certainly the case with first aid supplies. Items were in multiple plastic shoe boxes on the same shelf, linen closets, bathroom cabinets, car trunks, workshop, medicine cabinets, our old 72 hour box and even kitchen cupboards.
The first step was to consolidate every first aid item, sort, then weed out any expired or questionable item. From those items, we distributed what we could to fulfill requirements of our other FAKs. What we had left was still a very robust, family first aid kit.
HFAK PHILOSOPHY OF USE
Our home base first aid kit (HFAK) was designed to provide a family of three with a centrally located system that provides basic to intermediate first aid for injuries resulting from non-life threatening, minor incidents that takes place in our home in a non-disaster scenario. Simply an "Ouch Box".
Any traumatic injury requiring more advanced attention will be met with our Alpha First Aid Kit (AFAK) to stabilize the injury until emergency services can arrive.
All of our OTC needs are met with a separate module system kept in the same place as the HFAK and is organized by ailments:
· pain/fever
· allergy
· stomach/gastrointestinal
· cold/flu
· cough
SOURCING THE MATERIALS
This system was founded on a basic first aid kit, built by necessity and finally bolstered from leftovers from our other four FAK builds.
We designed each of our first aid/trauma kits to work stand alone specific to that particular need or together as an integrated system with built-in overlap and backups while being mindful of controlling redundancy and waste.
THE CONTAINER
Because our HFAK was to be a single point setup, the container had to be big enough to hold everything yet had to be organized in such a way where we could see everything at once and allow us get to what we needed quickly and without having to dig through layers of items.
The only thing we could think of was an EMT case with a cantilevered tray system like those offered by Pelican, Plano and Flambeau.
But at prices ranging from $60 to $320? Eh not so much. So I started investigating tackle boxes and found the
Plano #8616 Hip Roof with 6 trays for $17 with Super Saver Free Shipping from Amazon
. My father was so impressed with the deal, he asked me to order one for him two weeks ago at the same price. Unfortunately at the time of this writing, the price had jumped back up to $31.
It may not be orange like and EMT/EMS case but my Plano 8616 cost only $17 and has two cup holders built into the top!
THE CONTENTS
Since this is a basic first aid kit with leftovers from my AFAK build, I'm going spare everyone and not list every component. Plus it's fun trying to identify everything from the pics. I must be honest, there a several Chinese herbal items in there that have gotten our family out of some pretty scary situations. One of them being golden seal powder which helps stop bleeding.

Well anyway, here it is! I hope it inspires others to organize their home FAK's and save money at the same time! Cheers!
The "Behemoth" measuring 18.5 x 10.7 x 10.5 inches and weighing in at 5lbs... empty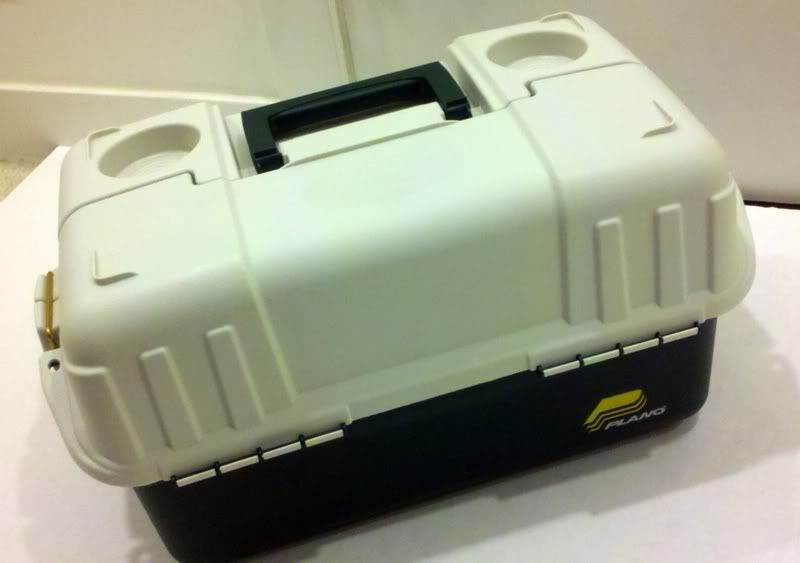 Adjustable dividers allow you to create 38-46 compartments.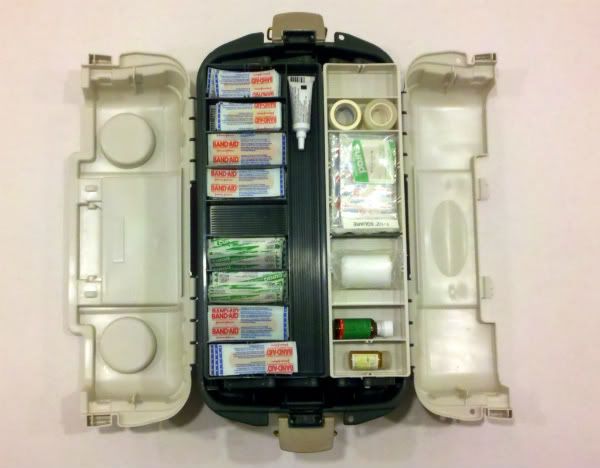 Holds a lot of stuff with room to spare!