As relatively comprehensive as my
STOMP II
is, the absence of medical oxygen had been one of the primary areas that I wanted to address. Although the
Blackhawk 60KY01 3-piece accessory kit
that I added for additional storage capacity would easily allow a D size (425L) oxygen cylinder to be carried horizontally across the bottom of the STOMP II, this option restricted the pack's ability to open fully without first removing the O2 cylinder. While a smaller O2 cylinder could obviously be placed inside one of the two side pouches, I didn't really like the idea of giving up the storage space that was currently used for other gear, let alone the limitations associated with a smaller capacity O2 tank.
To resolve these issues I decided to assemble a supplemental module that would not only addresses my desire to have medical oxygen readily available, but also an AED, as well as most of the more common ACLS items in one central location.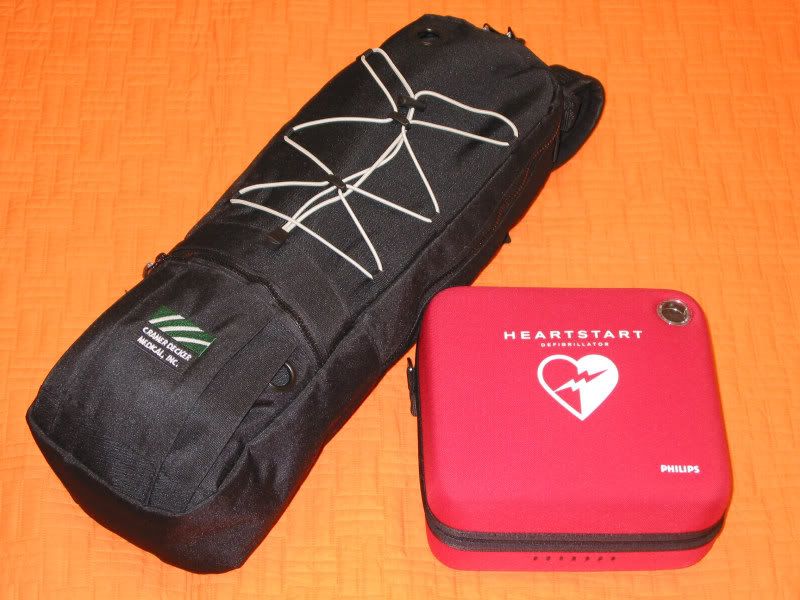 The foundation for my ACLS module is a Luxfer M9 carbon composite oxygen cylinder. Although it is physically smaller and lighter than an aluminum D cylinder, it actually has the same capacity (425L) since composite cylinders are designed for a 50% higher working pressure (3,000psi versus 2,000psi).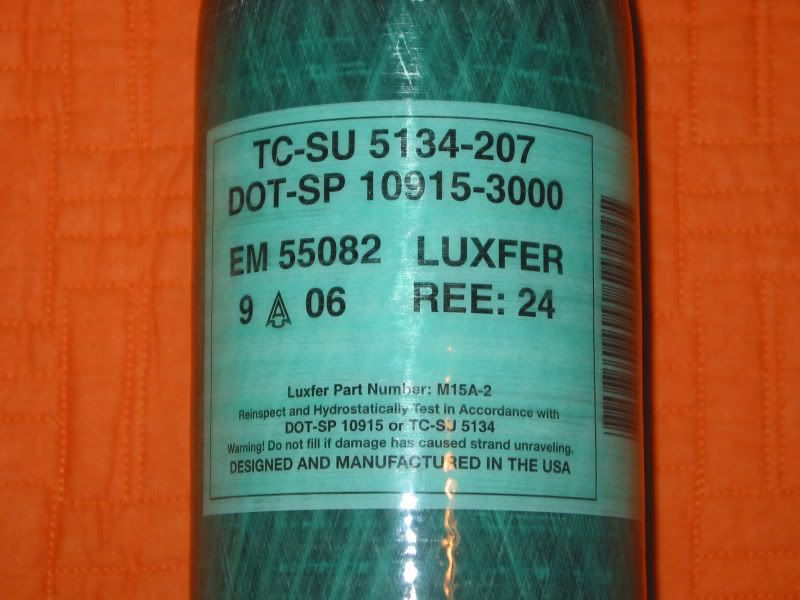 The Craemer Decker backpack that I picked up is actually sized for a traditional (aluminum) D cylinder, so there is plenty of extra room for a collapsible BVM, Oximizer, nasal cannulas, non-rebreather masks, various airway adjuncts, and associated gear and supplies. With the exception of ACLS drugs (epi, atropine, amiodarone, bretylium, bicarb, etc.) I feel that I probably have most of the items that would be needed to care for allergic reactions, thoracic trauma, or respiratory/cardiac arrest in the post-apocalyptic world:
My laryngoscope, Miller/Macintosh blades, ET tubes/stylets, Positube, and other airway-related gear continue to be carried in the airway accessory pouch of my STOMP II: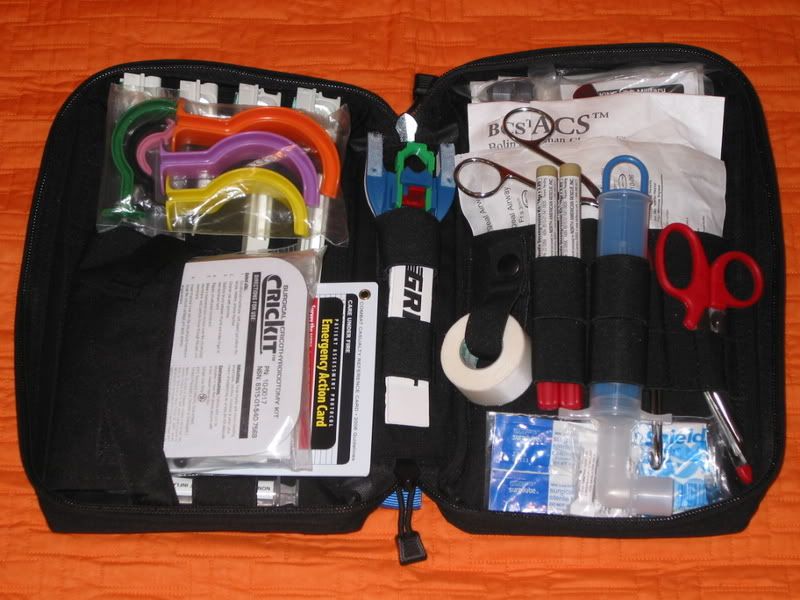 In addition to the oxygen cylinder and regulator, the contents of my ACLS module are as follows:
2 x Non-rebreather masks, adult, w/ reservoir for high concentration delivery
2 x Non-flared adult nasal oxygen cannulas, latex free, 7'
Oxymizer (oxygen conserving device for on-demand, low concentration delivery)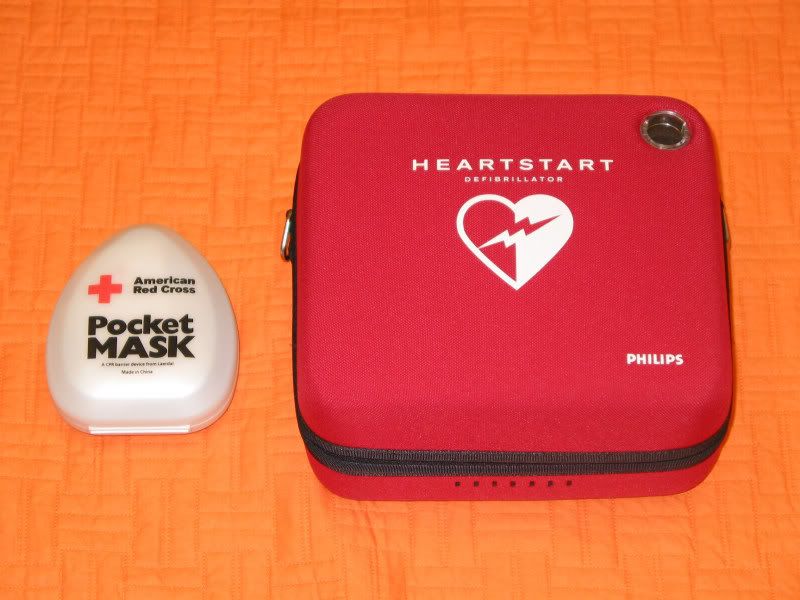 Laerdal pocket CPR mask
Philips HeartStart AED defibrillator, spare SMART pads, 4 Year lithium battery, PLP-M5068A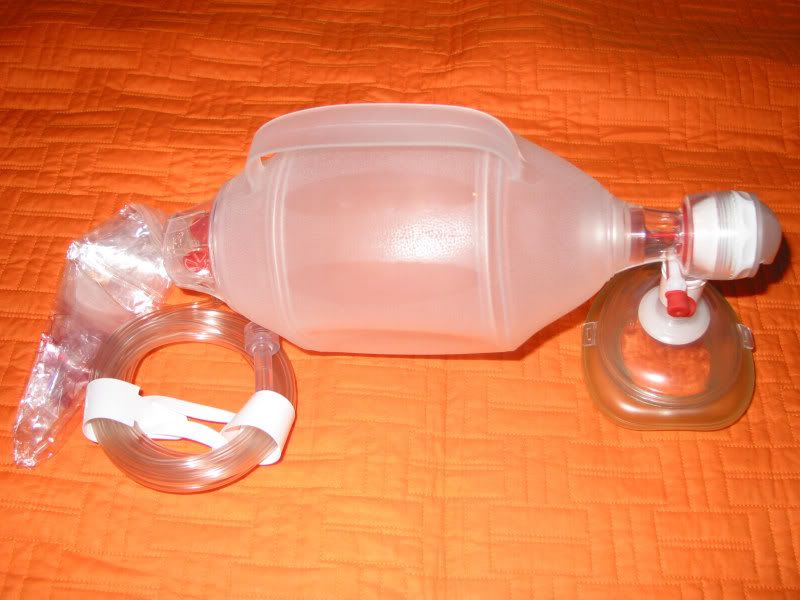 Ambu SPUR II disposable resuscitator, adult
Nonin Onyx digital finger pulse oximeter, #9500
2 x Panasonic industrial batteries, alkaline, AAA (Spare) #AM4PIXC
Pelican Justice Mark II storage case, 5" x 4" x 2"
3M Littmann Master Classic II stethoscope, 27", #2141, black edition
Welch Allyn sphygmomanometer, adult & child cuffs, case, #5098-30, Black
Repro-Med RES-Q-VAC hand vacuum pump w/ .22 micron FSP filter
Repro-Med RES-Q-VAC canister assembly, non sterile, 300 mL
Repro-Med RES-Q-VAC soft yankauer w/ push connector, non sterile, 40fr
Nylon storage sack, white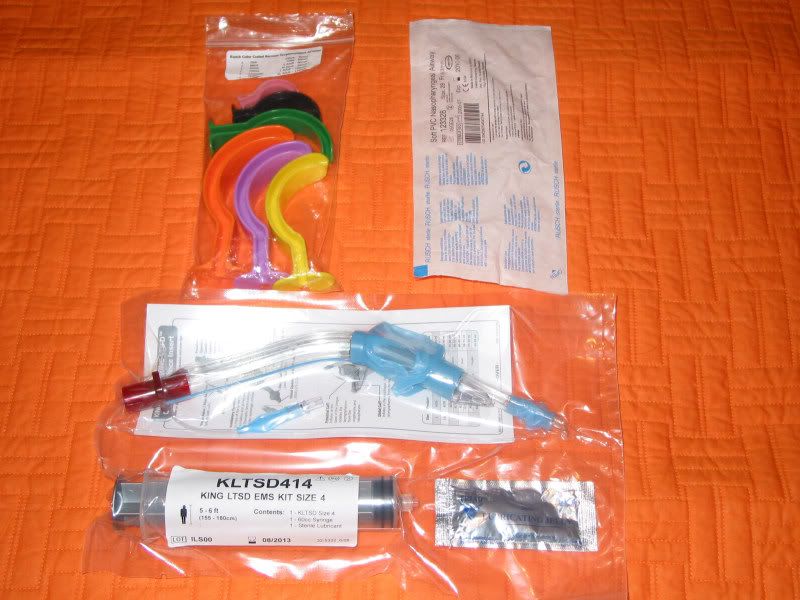 Rusch dual channel color-coded Berman oropharyngeal airway kit, assorted sizes
Rusch nasopharyngeal airway, sterile, 155mm x 28 Fr (9.3mm) x 7.0mm
KING LT-D supralaryngeal airway, Size 4 (Red Connector)
Monoject® syringe, Luer-Lok tip, 60cc, sterile, autoclavable (for cuff inflation)
Triad lubricating jelly, sterile, water soluble, non-staining, 5g
NARP™ ARS needle decompression Kit, 14ga x 3.25" needle catheter (shown above)
3 x Benadryl Allergy, Diphenhydramide HCl, caplets, 25 mg, 2/Pkg
Primatene® Mist, epinephrine bronchodilator, 10 mg/mL - Epinephrine 0.22 mg/dose, 1/2 oz (15mL)
2 x EpiPen® (Epinephrine) auto injector, 0.3 mg
Additional items that appear in the main photo above include:
Magill forceps, stainless steel, 10"
3 x PR NARP™ Black Talon nitrile gloves, L
2 x Hibistat® antimicrobial skin wipe towelettes
Sklar® EMT shears, 7 1/2", Blue
3M Durapore™ surgical tape, 1" x 10 yds
MEDShield optically clear eye shields
3M 9210 NIOSH respirator mask, N95 particulate, flat packaging
NARP™ CricKit® surgical cricothyroidotomy kit
Rusch Asherman chest seal (ACS™), sterile, 4" Dia
H & H Bolin chest seal (BCS™), sterile, 6" Dia.
Cramer Decker® oxygen system backpack, medium
Obviously the absence of ACL drugs somewhat limits the scope of medical emergencies that can be effectively treated with this module, although without the availability of long-term professional medical attention, the odds don't really favor someone that codes anyway.
As always your comments, questions, or suggestions are welcome.
Jim