This post will be continuosly updated with more info. All updates will be accompanied by a bump containing the new info that I add to the original post.
Please feel free to post criticism and suggestions in this thread. I will check any new info and then edit it into the OP.
Of course, any discussion related to cold weather is welcome. I'll do my best to answer any questions.
First of all, Frostbite.
Frostbite is when a small area of your skin turns white and cold to the touch. What's happened is that all the blood has left the skin causing it to become white. At early stages this is not dangerous in its own. It will however turn dangerous VERY fast if left untreated. The skin can freeze wich will damage the cells and it will get damaged very easily.
The treatment consists of warming the skin very gently. Use your naked hand and place it over the damaged area. Absolutely no rubbing! Be very gentle. If an entire hand/foot is affected it can be warmed by submerging it in bodytempered water, no warmer than 37C. The skin will be numb and could get burned very easily as it has no way to defend against the heat. The best place to warm a foot or hand is someone elses armpit or groin, this is how you find out how your true friends are
. Keep warming until it no longer feels cold to the touch and all feeling has returned to the skin.
DO NOT RUB WITH SNOW!!!
If the skin has turned black the condition is VERY serious and you'll need qualified medical attention to save the limb. Don't let it go that far.
Be aware that an area that has suffered frostbite in the past will often have permanently reduced circulation and will therefore get frostbite again more easily.
Usual places to suffer frostbite includes the ears, nose and cheekbone. Something to look out for is that some models of rifles (AK5 for instance) will place the shooters nose and cheek against or very close to metal parts of the gun, especially when the shooter is lying down. These areas are very prone to getting frostbite during cold weather. I've seen it several times in the Swedish army. Putting insulating tape on the gun can help to prevent this. If you must wear eyeglasses outside during cold weather, be aware that a metal frame will transport heat from (thus cooling) your skin. If you see well enough, take your glasses off while outside.
Hypothermia.
Hypothermia is when the bodytemp has dropped below normal level (normal is 36-37.5C, <35C and you're by definition hypothermic), causing the body to limit bloodflow to the limbs. It may be caused by illness, poisoning or exposure. Often a combination of these will worsen the symptoms very quickly. It's possible to develop hypothermia even in relatively mild weather. Especially if you are exposed to wind in combination with wet clothing.
The patient will often be unable to help himself. Apathy and sleepiness are very common symptoms and you may have to force the patient to cooperate. The patient should be kept conscious if at all possible.
RULE OF THUMB: If a person is trembling, it is not very serious. Force him/her to move around and drink something warm. If the person is no longer trembling he/she can longer help himself and will need help if he/she is to have any chance to make it.
Treatment consists of gently raising the patients temperature, VERY SLOWLY. If the patient is awake and conscious give him something warm, NOT hot, to drink. Remove any wet clothing from the patient and let a healthy person warm him/her with their own body. Ideal is to squeeze together in a warm sleeping bag but wrapping in some blankets will work as well. KEEP THE PATIENT AWAKE.
Be very careful when bringing the patient Directly into a heated room or tent. The bodys defense agianst hypothermia is to limit the amount of blood circulating in and out from the core of the body. The warm blood will be kept around the organs to keep the core-temperature stable. Raising the temp around the body to quickly can fool the system and allow cold blood into the bodys core. This can cause a type of shock wich may kill the victim. Keep close watch and be prepared to start CPR as in the worst case scenario the victims heart could stop.
For the same reason, it is very dangerous to elevate the limbs of the patient. Try to move the patient as little as possible.
Body temperature and you:
36-37.5C Normal bodytemp. This is what you want to have.
MODERATE HYPOTHERMIA
35C Severe shivering, reduced motorcontrol, reduced judgement and decision making ability, apathy.
33C Reduced or no shivering, unability to use hands, confusion.
SEVERE HYPOTHERMIA
30C No shivering, unable to walk, severly confused.
28-30C Weak pulse and breathing, risk of heart arrythmia (spelling?) or fibrillation.
25-27C Unconsciousness, victim may appear dead.
Source: Swedish Army winter warfare manual, "Vintersoldat" M7742-112112 page 25.
WINDCHILL
As most aleady know, moving air cools you, this phenomenon is called Windchill. Below is a chart showing how much colder it gets for every mph. of wind. Credit for this chart goes to US Search and Rescue Task Force.
http://www.ussartf.com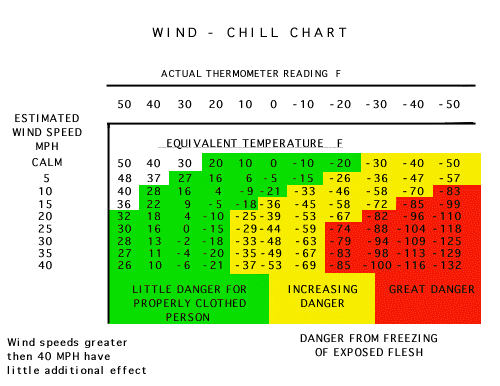 As you can see, even relatively mild wind greatly decrease the felt temperature.
This is why it is so important to have good shelter from the elements during winter. As long as there is no wind, a person wearing suitable clothes can endure quite cold weather. Around -30C (-20F) is cold but still bearable. The chart shows this temperature as just bordering on "increased danger".
Now, if the wind goes up to just 10mph. (not very much) the experienced temp drops to a whopping -43C (-46F). If you work up a sweat in this temperature and are unable to dry your clothes, this may very well kill you. I cannot stress enough how important it is to keep dry if at all possible. If you know that you will be working hard outside, try to keep a dry change of clothes ready for when you are done. Make sure you adjust your clothing to the weather.
Don't overdress, beeing a little cold before you start working is annoying, but working in to much clothes and getting sweaty is really dangerous. Adjust your clothing as you work up a temperature. Ventilation is key, open your jacket and unzip your fly to vent excess heat. As soon as you take a break, remember to put on a warm hat and jacket to conserve your bodyheat and prevent your sweaty clothes from freezing.
If you know that you will be going in and out of warm buildings a lot make sure to remove all snow from your clothes and shoes before going inside. If you don't the snow will melt and you'll get wet.
TRENCHFOOT
Trenchfoot (aka. jungle foot, jungle rot, fat foot) is a very serious condition caused by damp, cold and unsanitary conditions. Unlike frostbite, the temperature does not need to be below freezing, it is still a risk in as high as 16C (60F). Early symptoms include numbness, itching or tingling sensations and your feet turning red or blue. Later symptoms include decaying odor, skin turning white and waxy, blistering, necrosis and gangreene.
Treatment in the field is almost impossible, hospitalization with long convalescence is very common. It is also quite painful. Luckily, prevention is fairly uncomplicated.
Preventing trenchfoot: Keep your feet dry, the best way is to change socks regularly. Move around to keep circulation up, avoid wearing tight shoes that may restrict bloodflow. Do not sleep with your shoes on if it can be avoided. Do not rub any salve on the feet.
Treatment: Keep the victims feet dry and warm at all costs. Any sores or blisters should be kept clean to minimize risk of infection. Do not stand or attempt to walk. The tissues on the foot will be very sensitive and walking around can cause severe damage. Do not underestimate the seriousness of this condition, get medical help. Chances of recovery are good IF the victim gets to a hospital.
PREVENTING INJURIES RELATED TO COLD
The on thing all cold related problems have in common, is that prevention is far easier than treatment. Below you will find a list of things you should always keep in mind when working in a cold environment:
1. Check each other. Look at your buddy, does he have white spots in his face? Talk to him, is he responsive and alert? Take off your gloves and inspect your hands.
2. Keep dry. Change your socks as often as you can. If you are hiking or skiing once every hour is a good interval. The "Short Break" and "Long Break" will be described below.
3. Hydrate. Drink much more than you think you need. You'll need as much (or more) water during a really cold day as during a really hot. Bring a thermos bottle with boiling hot water, refill it whenever possible. See "Long Break" below.
4. Eat. Your body needs fuel to keep warm. See "Long Break" below.
5. Keep active. True warmth comes from within. Staying still will only cool you further.
TAKING A BREAK
There are two types of breaks, the long and the short. The main purpose of the short break is to hydrate and adjust equipment. Not rest. The main purpose of the long break is to refuel and refill. Again, NOT REST.
The Short Break
This break takes 5 min. You should take a short break every hour while on the move. If needed the short break can be as much as 15min. to allow for adjusting or repairing equipment. NO LONGER!
What you do:
1. Stop! Take of your backpack.
2. Put on your warm jacket or coat. It should be packed in such a way that you can get it in <10sec. It should be big enough to fit over any LBE or "tactical" stuff your wearing.
3. Sit down! Sit on a pad or on your pack, never on the ground/rock/log/whatever. Isolate and insulate yourself from the ground.
4. Drink warm liquid. Water or tea is best. You should keep boiling hot water in a thermos bottle, take some hot water in a cup and then dilute it with snow or cold water until it is pleasant to drink. Never keep anything but water in your thermos, you might not be able to wash it.
5. Change socks. Putting on dry socks when your feet are cold and tired is as close as you'll get to heaven in this life.
You could also change the insoles of your boots at this time. In fact, I warmly recommend doing so. REMEMBER TO CHECK YOUR FEET FOR FROSTBITE.
6. Check your gear. Then check your buddy's gear. Then see if anyone needs any help. This is a good time to check your buddy for signs of frostbite. Remember to check your hands and feet as well. COLD FEET AND HANDS ARE PINK, THIS IS NATURAL. FROSTBITE IS A WHITE SPOT, LOOKS ALMOST LIKE WHITE PAINT ON THE SKIN.
7. Stand up. Make sure you haven't lost anything in the snow.
8. After 4min. 30sec. it's time to take off your jacket and put it in your pack.
9. At 4min. 45sec. Put your backpack on. MAKE SURE YOU DIDN'T DROP ANYTHING IN THE SNOW.
10. At 5min. leave.
Keep track of the time. You should start changing socks within 90sec. If you are in a group, have the group leader notify the group every 1min.
If someone has a problem that takes more than 5min. to fix, everyone not helping should get up and start moving around after 5min. This is very important, it's to preserve your bodyheat.
The Long Break
This break takes longer, up to one hour.
What you do:
1. Stop! Take of your backpack.
2. Put on your warm jacket or coat.
3. Immediately start melting snow and boil water. Work in pairs with a buddy. Buddy 1: Melt snow-> boil the water-> refill your thermos. Buddy 2: Make food.
4. While water is boiling, change socks, check gear, check buddy, check rest of group.
5. When you have eaten and filled your thermos with boiling water. Report to the group leader that you and your buddy are done.
6. When everone is done, depart immediately. If you have to wait for someone, move around to keep warm. Do not take of your warm jacket until 30sec. before leaving. Conserve your bodyheat.
OTHER RISKS
Any wound or injury will heighten the chance of developing frostbite/hypothermia. Especially if there is bloodloss involved. Keep wounds and injuries as warm as possible to prevent this.
Desinfectants that contain alcohol will not freeze at the same temperature as water. Do not use cold alcohol to clean wounds as it could be well below zero and still liquid. This can cause frostbite by itself. The same goes for alcogel and similar skin desinfectants. As they evaporate they cool the skin even further. Of course, the same thing goes for diesel, petrol and other fuels as well. any liquid that doesn't freeze is a major hazard.
Great care must be taken when refueling during extreme cold, supercool liquids can freeze your skin in seconds. A pair of rubber gloves, either insulated or pulled over another pair of gloves is a good way to avoid skin contact, simply wearing thin rubber gloves will not help much as they have almost no insulation at all.
While on the subject of petrol, remember also that it is much more prone to exploding in cold weather than in warm.
THE BEST WAY TO PREVENT FROSTBITE IS TO CHECK EACH OTHER REGULARLY.
If you are skiing or hiking with a comrade, look at each others faces every few minutes. Any white spots indicate frostbite and should be treated immedietly. Be extra careful if wearing glasses as the frame will transport heat away from the skin.
This post will be updated, criticism is very welcome, either by answering the post or sending a PM.