So, as a precursor to my kit winning the Throwdown thread
I thought I would create this thread to put together the winning Throwdown entry
and also give it's own thread the same as all the other FAK's, etc.
Let's start by saying I'm not a combat medic,
nor a proffessional medic,
nor do I have extensive first aid training.
I am however a single father of a four year old who spends a good chunk of his time
travelling the back roads of Western Australia for work
and occassionally camping, shooting and hunting in the rural parts of WA,
sometimes solo, sometimes in small numbers
- so my first aid gear is designed around all that.
It is a modular setup designed to be able to be mounted onto a backpack
via molle or alice attachments
as well as function individually such as a stand alone home/backyard/outing go-to arrangement
out to being detached from the backpack out in the bush and taken as a seperate unit to a trauma situation
(hunting accident, etc).
So without any further longwinded bs here she is (sorry about the phone photos)...
Are you ready?
Here we go...
o0O0oh Tacticool.

Let's unzip and open up the first pouch shall we?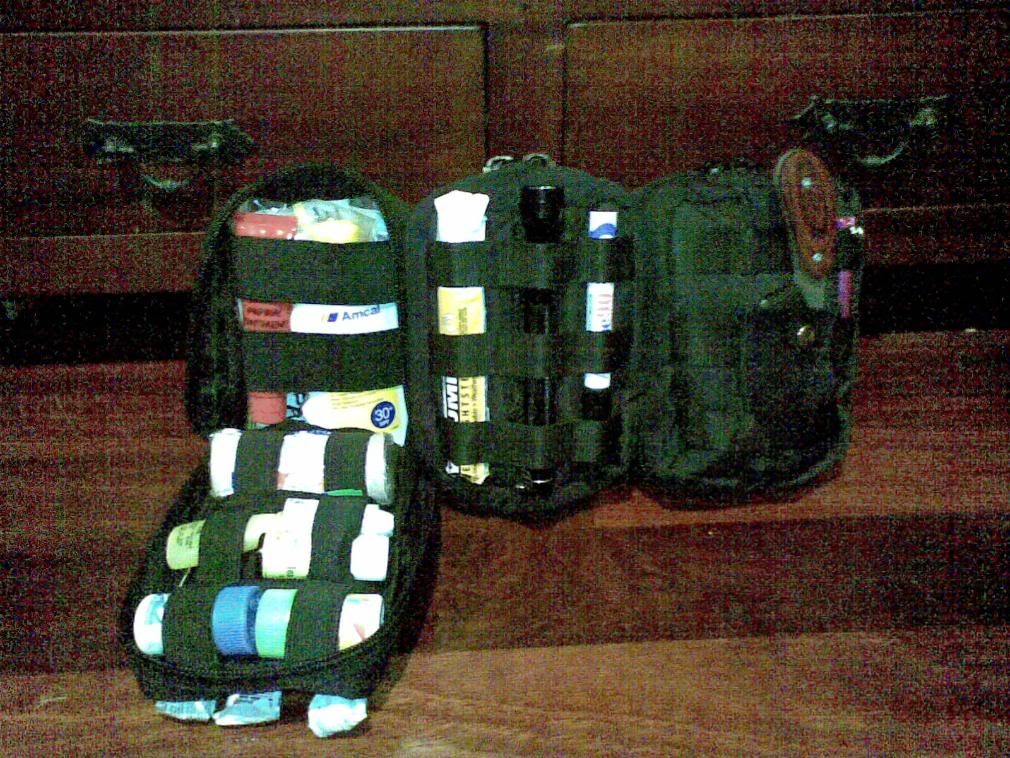 What's in the top half of the clamshell?
(a Blow Out Medic Pouch daisy chained by malice clips to the other two Blow Out Pouches).
Let's have a looksee.
This is the BooBoo part of the FAK components.
SPF30+ Sunburn Cream and Lucas' Papaw Ointment.
The Sunburn stuff speaks for itself but Lucas' Ointment lays claim to relieve, cleanse, protect and facilitate healing
of minor burns, chafing, minor cuts and abrasions, cracked skin,
chapped or windburnt lips (prevention and cure),
gravel rash, splinters, minor open wounds, minor insect bites and nappy rash. (In other words it's BooBoo cream - works good too)
Here's whats in the Elmo baggie which is appropriately marked
Kids Bandaids
.
Wiggles bandaids
.
Eighties Flouro coloured waterproof
"Sports" bandaids
.
And of course different sized
Shrek bandaids
(a couple of them are a really good larger size) that I don't have a decent close up of.
Bandaids/Eye Kit
Next we have some serious
Flexible Bandage Strips
,
Knuckle Dressings and Fingertip Dressings
that accompany some seperately bagged
Eyepads
.
Let's move down to the lower half of the Clamshell
and check out what we have on hand to deal with slightly more serious BooBoos.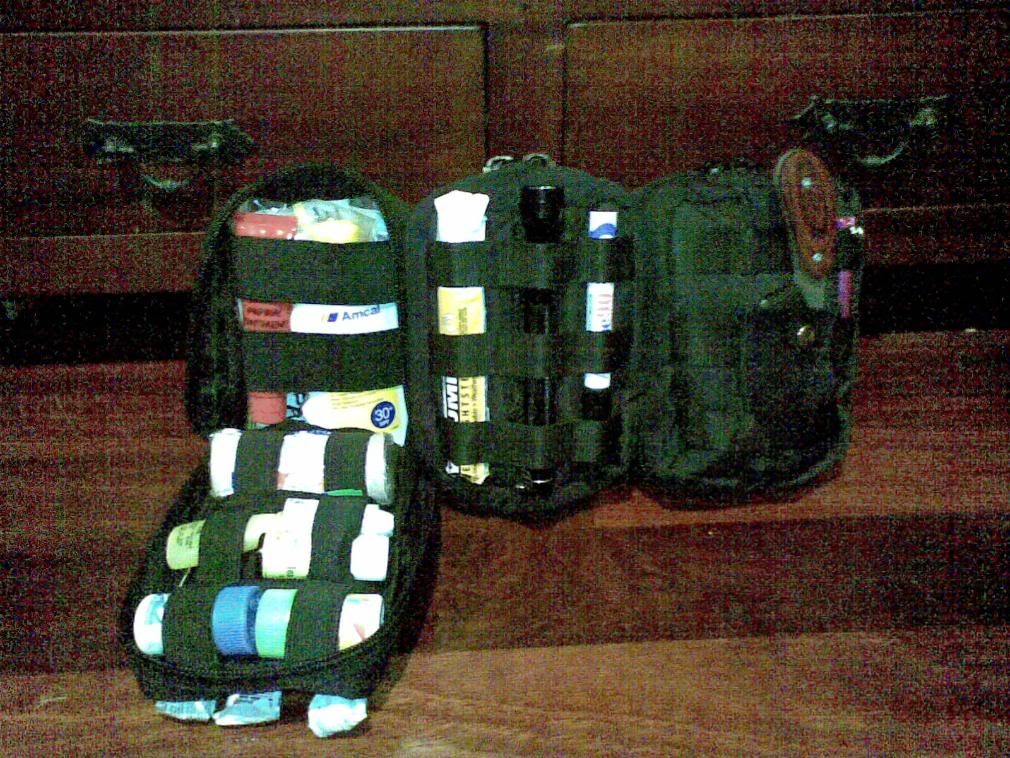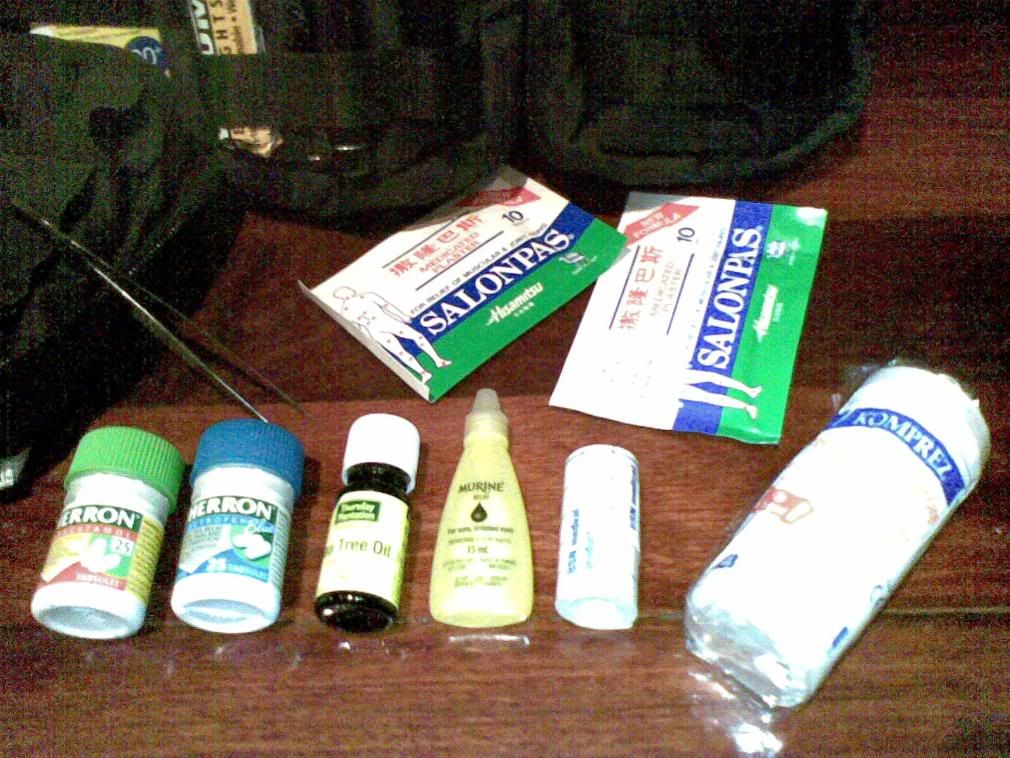 A Neato
Pair of Tweezers
.
Paracetemol
,
Ibuprofen
,
Tea Tree Oil Antiseptic
,
Murine
Eye treatment/relief, and some
Fixomull
.
Secondary to that lot is the OMFG I rolled an ankle, hurt a muscle/joint/etc gear with the
Sport's Bandage
and
Salonpas
relief appliques (that a Vietnamese chick put me onto).
Not seen is some
Immodium
in a sheet of tablets,
a small eyedropper vial of
Treatment for Conjunctivitus
of the eyes (which the flies carry out in the deep wheatbelt)
and a small pair of
Folding Scissors
.
All of which are still in the same pocket the Salonpas came out of
(behind where the medicines is mounted).
I moved after the fact one of the packets of
Cotton Applicator Buds
from the second pouch to sit alongside the
Tea Tree Oil
.
I'll get some Cotton Wool Balls as well and stuff them behind the Sunburn Cream.
Let's move on to the next Blow Out Pouch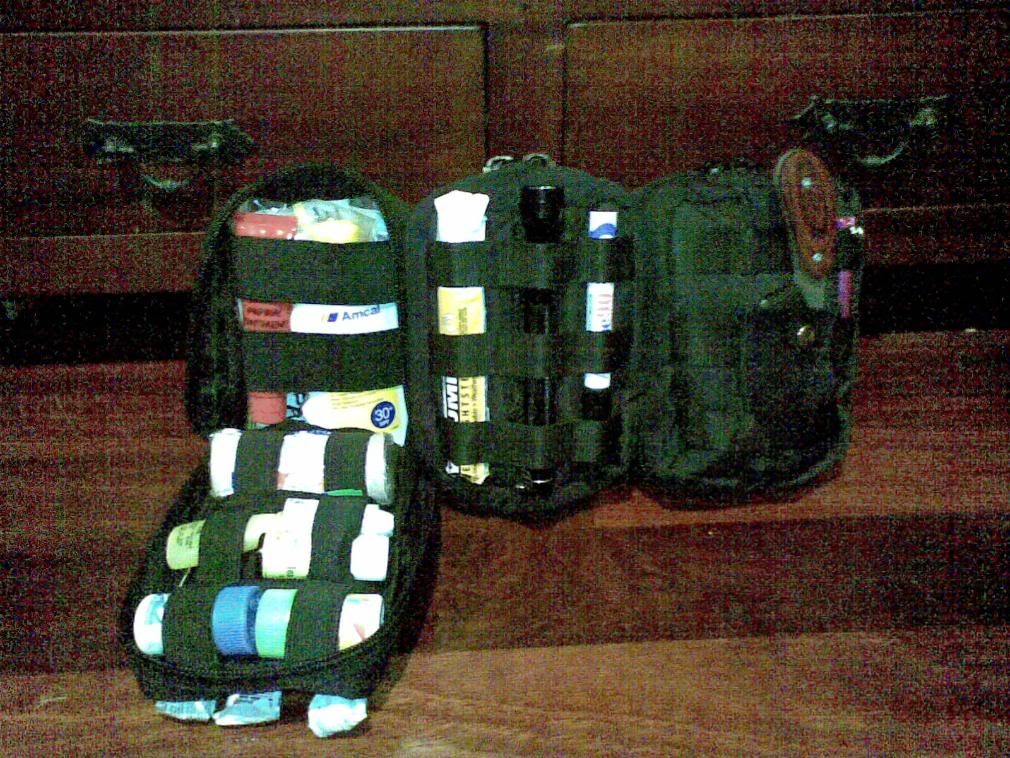 wooah!
What's in here?
Let's check out the top half of the second clamshell
. We're heading into Serious BooBoo/Borderline IFAK country now.
PPE
(includes
Admin
) and
Trauma Shears
.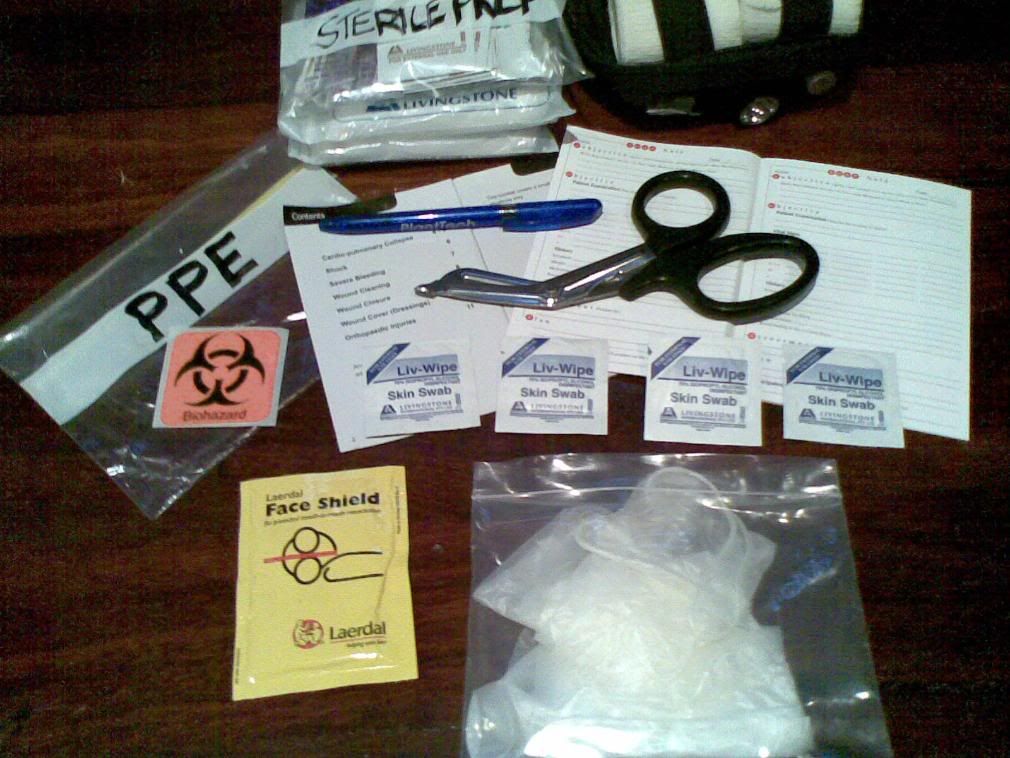 Trauma Shears
,
Nitrile Gloves
,
Hazardous Waste Disposal Bags
,
Biohazard Sticker
,
Face Shield
,
Steri-Swabs
,
Biro/Pen
,
Patient Notebook
,
First Aid Thumbnail Guide
and
FAK/IFAK Inventory
.
Sterile Prep
.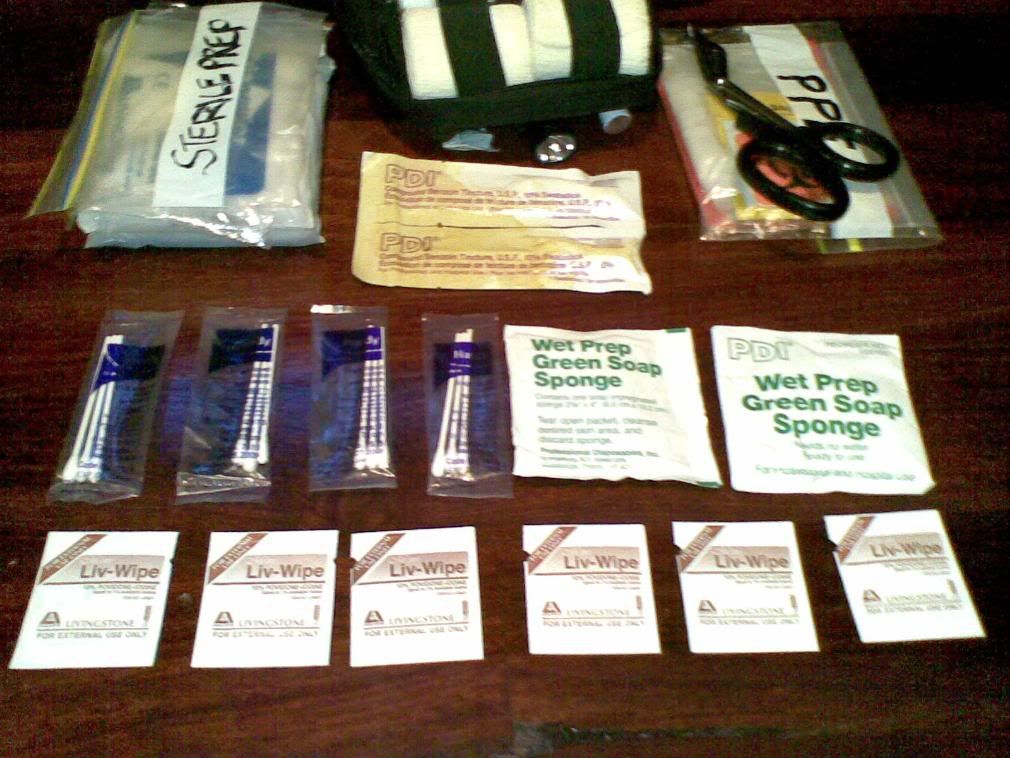 Larger Steri-Swabs
,
Cotton Applicator Buds
,
Wet Prep Green Soap Sponges
and
Steri-Sticks
.
(There was 3 Tincture of Benzoin Steri-Sticks but as you can see one of them scored a leak due to a clumsy repack. D'oh!)
Next we have...
Two
Triangular Bandages
.
So moving down to the bottom half of the second clamshell
...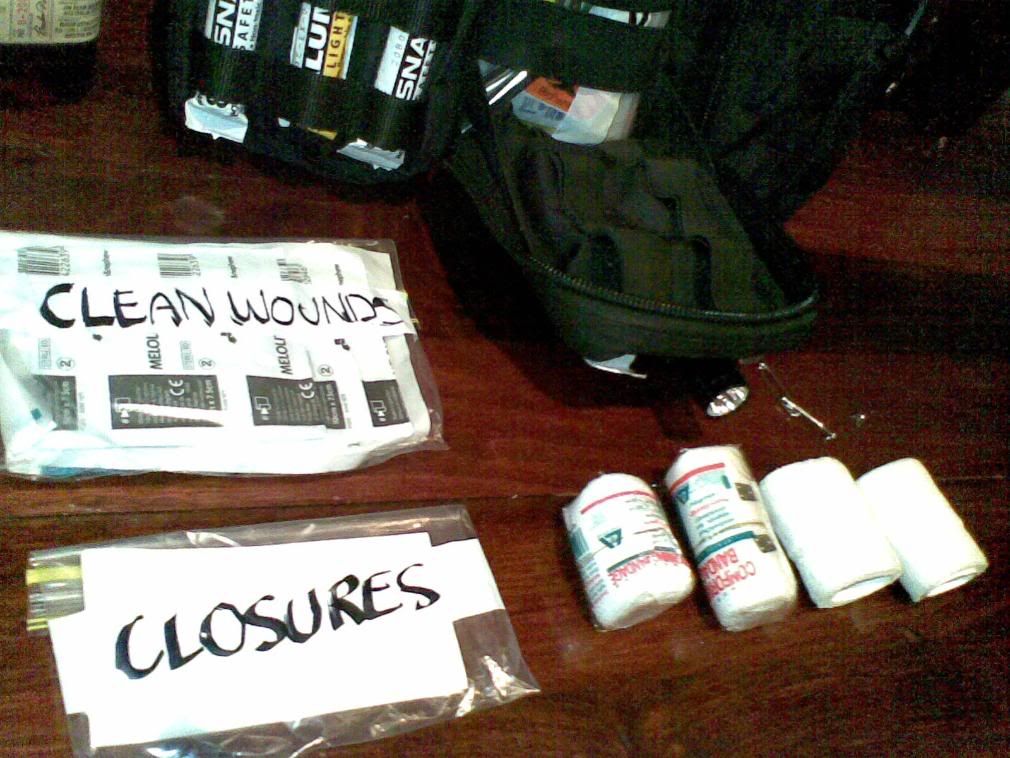 We have...
The Closures Kit
.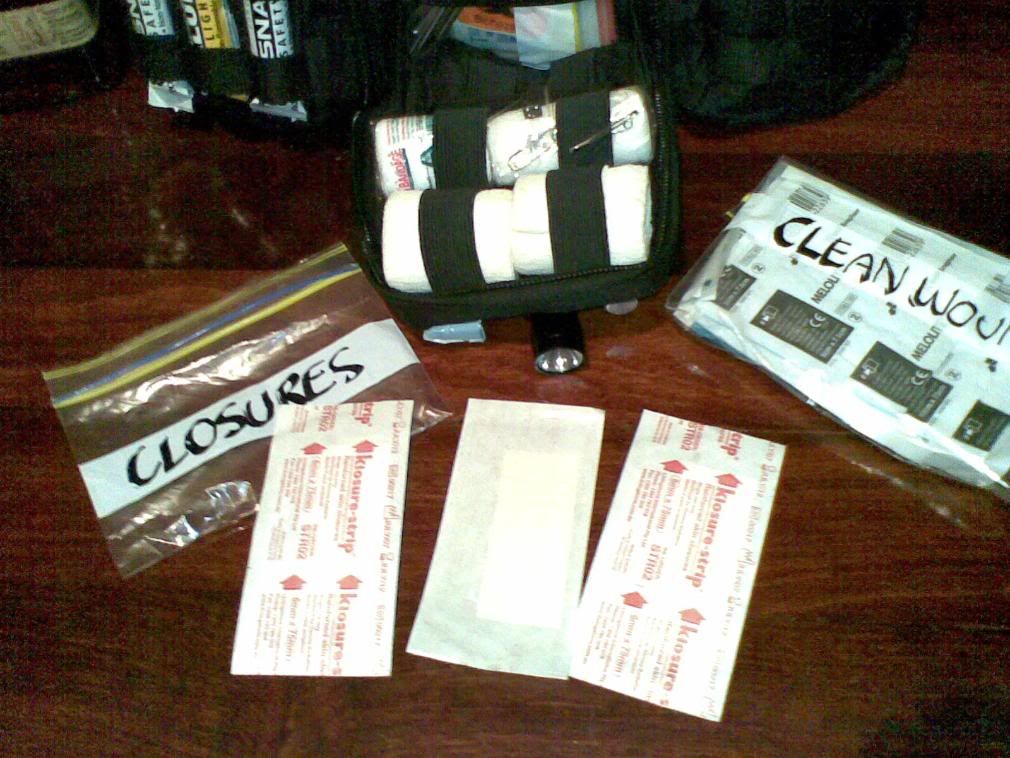 Sterile Wound Closure Strips
.
Clean Wounds Kit
.
Melior Combine Trauma Dressing
(9cm x 20cm), Multiple sizes of
Melolite
and
Tagaderm
.
And of course...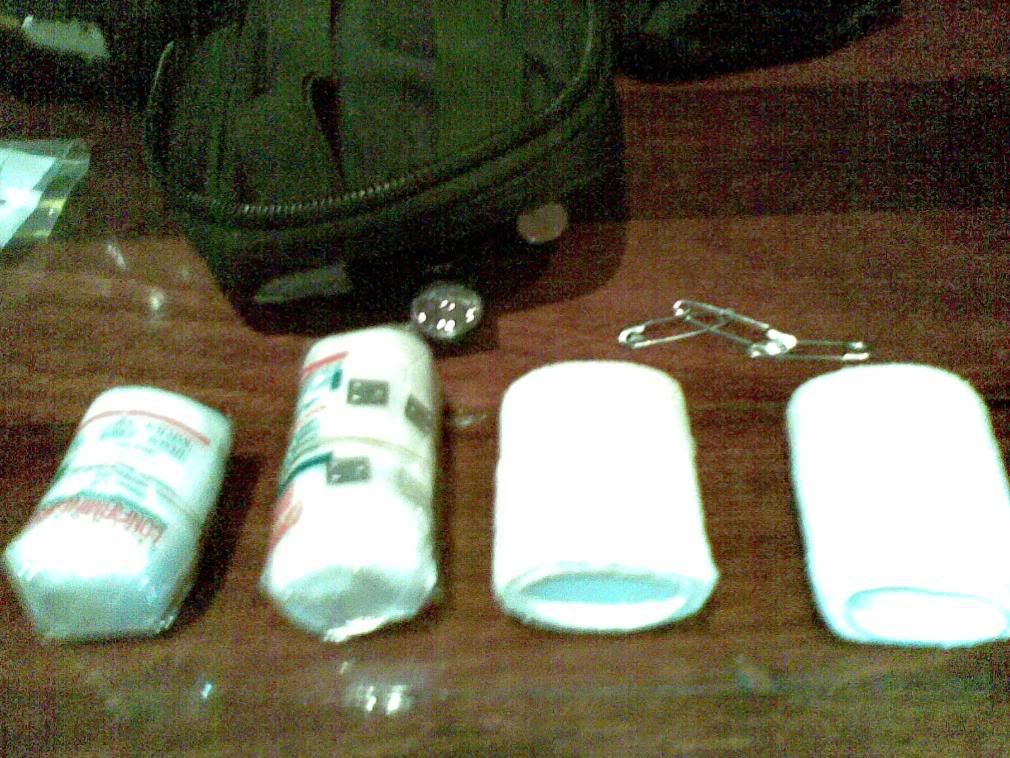 Two different sizes of
Gauze/Crepe bandages
, Some
Safety Pins
and two rolls of
Adhesive Bandages
.
So let's move on. The final Pouch, the rest of the IFAK zone, awaits...
Let's unzip that baby...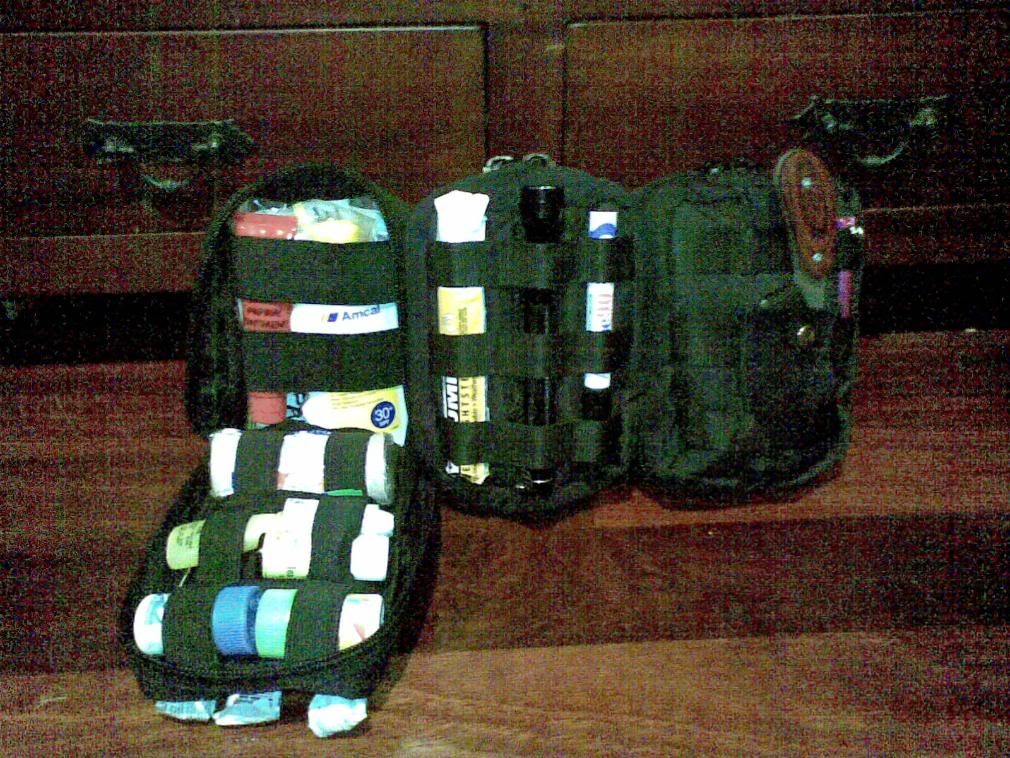 o0OOO

000

OOO0oh Motherfuckin' gauze and tape. Be still my zombie huntin' heart.
The top half of the third clamshell first...
Let's break this puppy down.
Saline Kit.
Saline Irrigation
and
Sterile Wound Irrigation Syringe
.
Gauze Swabs
.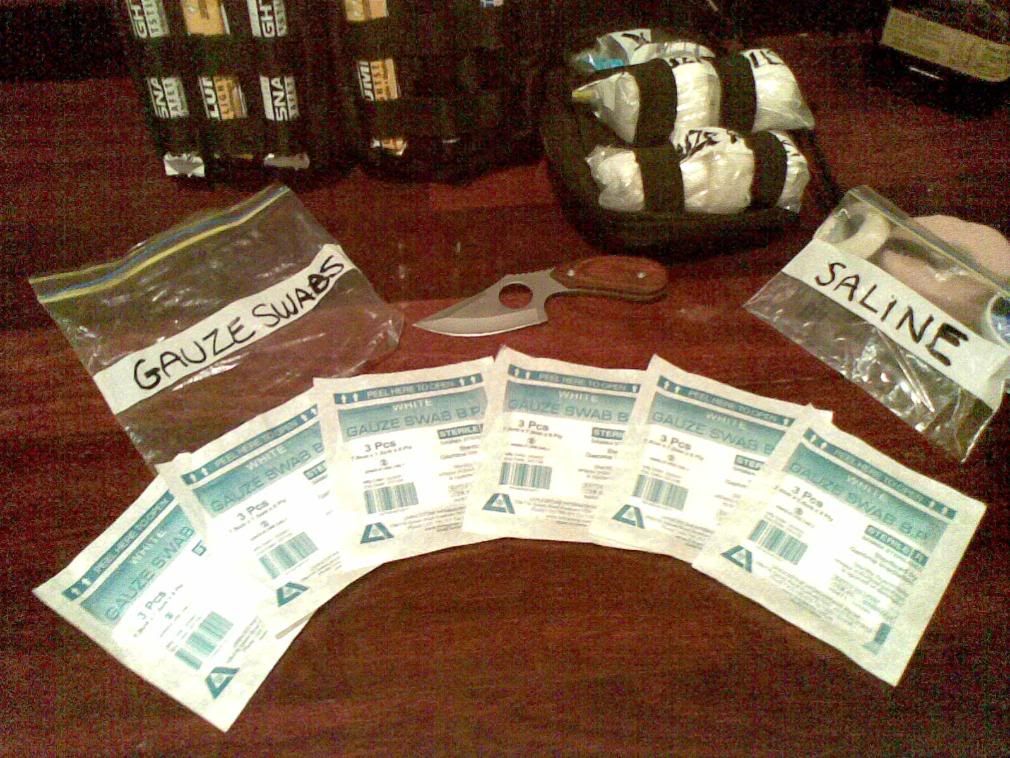 And of course
Tape
. On a handydandy lanyard no less.
Going downstairs for the last time now...
Burn Kit
.
And The compulsory lotsa Rolls of Gauze.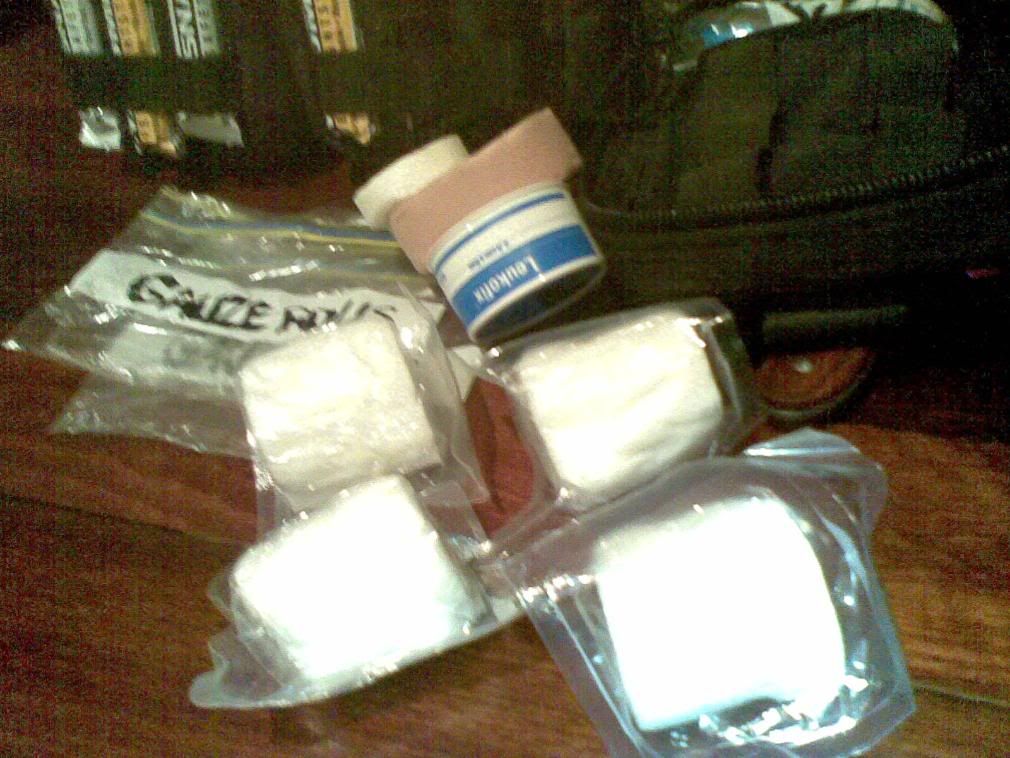 So, that's it. Let's zip her back up.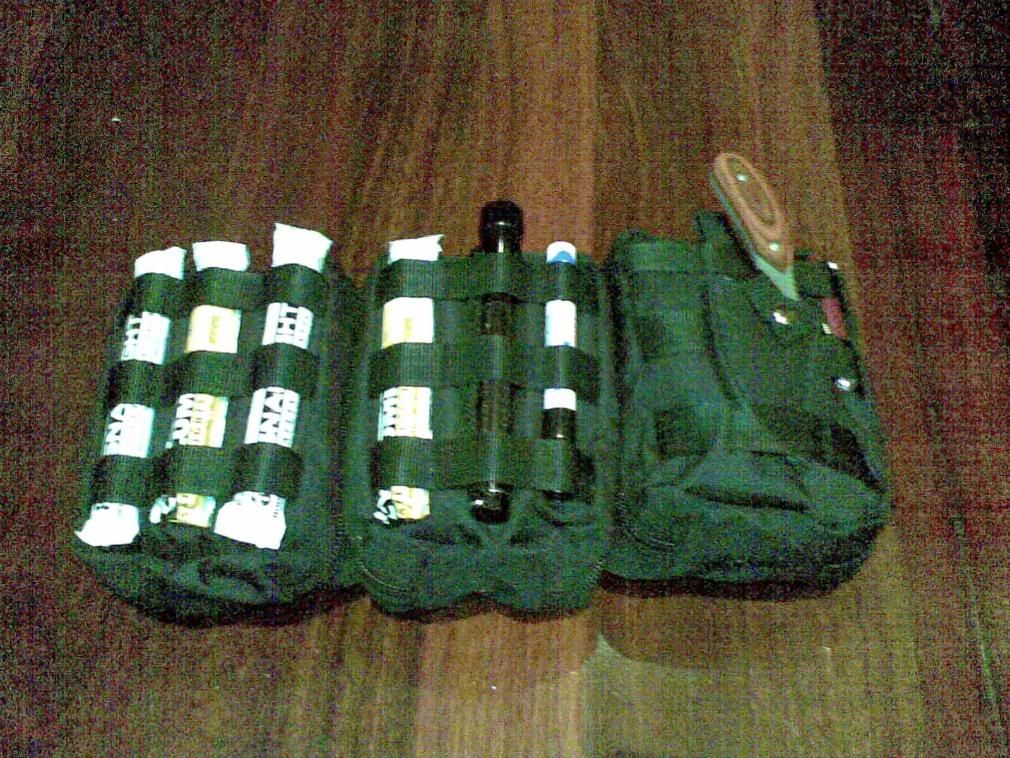 That's all folks! Thanks for looking. I'll also polish this post up as the day goes on as best I can.
8)
Comments welcome.
-