I made this with the idea that I would be able to treat one to three people for just about anything that could happen on our camping trips. Of course it will work great in the PAW, but I still need to add some stuff.
PLEASE READ: I know I don't have those Israeli bandages, Quikclot or SAM splints. I am working on it. I do need advice on a new bag to hold all this because I quickly out-grew my Czech bag.
2 rolls 3" Kerlix, 2 rolls 4.5" Kerlix, 2 rolls 4" Coban, 50 4x4 Gauze Sponges, 4 Drain Sponges, 2 Czech Mystery Gauze Bandage Rolls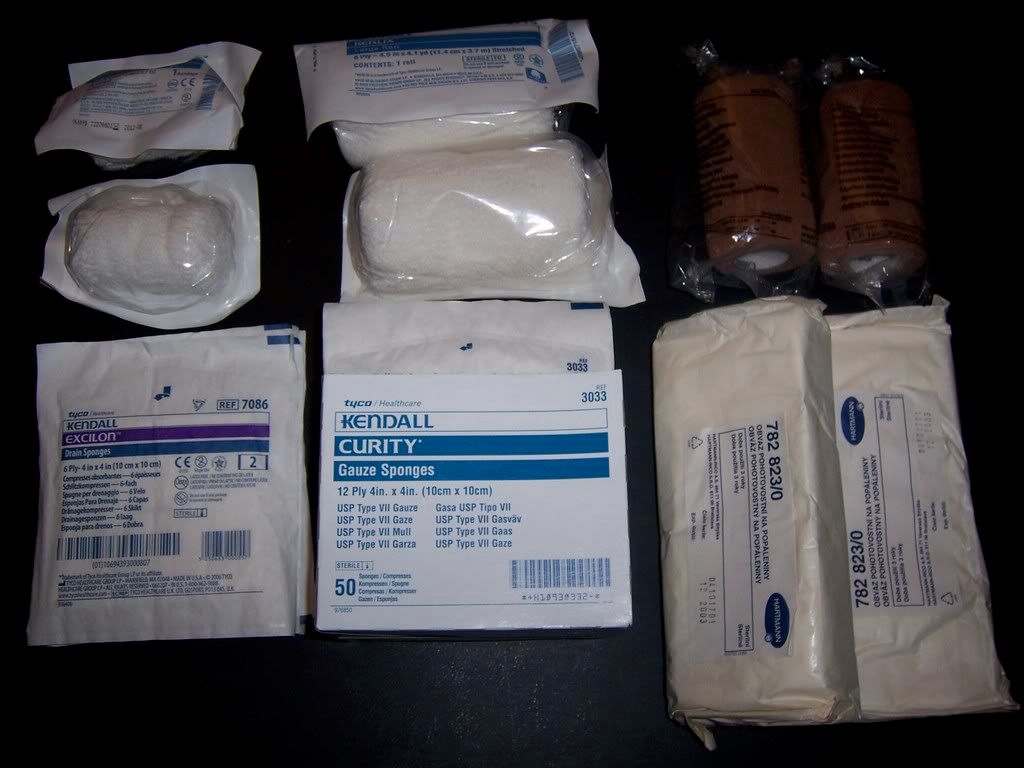 4 Czech Mystery Cotton/Gauze Rolls, 2 Eye Pads, 6 Gauze Rolls (opened one of these, thin gauze in a long roll), More czech Mystery Stuff in OD Package, A Lot More 4x4s, Cotton Balls/Wadding, Small Thick Gauze Sponges
Suture Removal Tray, 3 Saline Tubes, 1 25ml Saline Bottle, 2 N95 Particulate Respirators, 1 Sling, 1 Tourniquet, 1 CPR mask, Army Surgical Kit, 1 Airway, 4 Hypodermic Needles, 4 Syringes (needles and syringes in two sizes)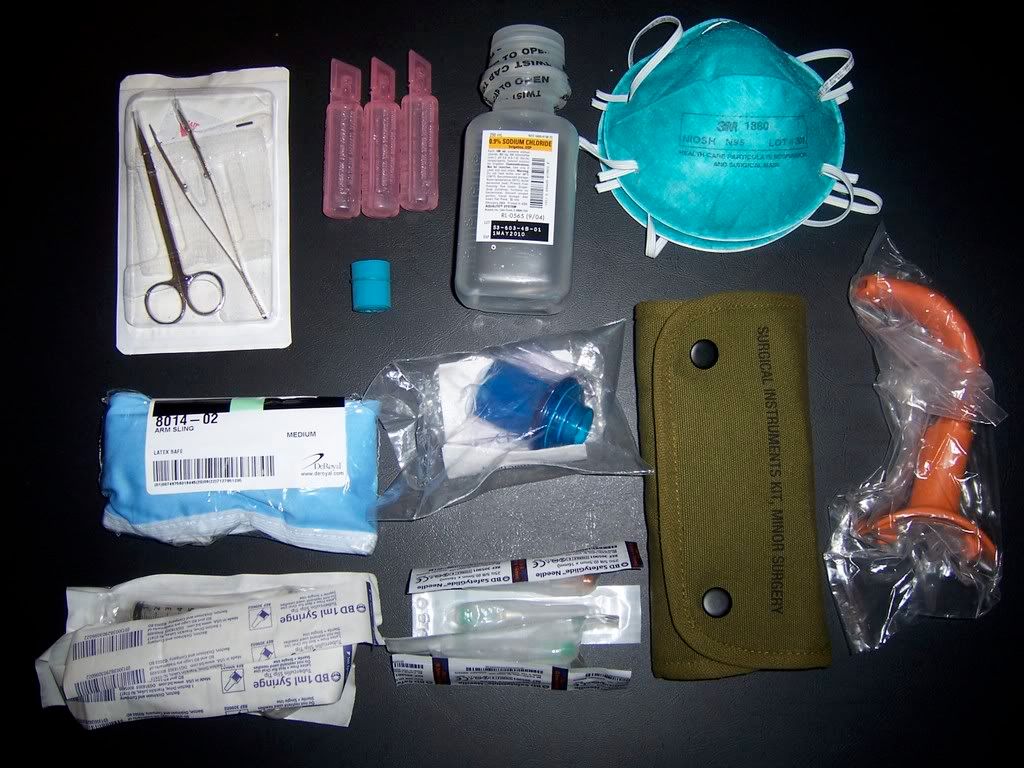 Foot Cream, Antibiotic Cream, Alcohol Wipes, Povidone Wipes in Microscope Slide Boxes (I have them, I wanted to use them), More Antibiotic, Latex Gloves, Alcohol Hand Sanitizer Foam, Weird Compression Wrap (Czech), Safety Pins, Burn Cream, Steri Strips, Lots of Medical Tape, stupid respirators again, box of big bandaids and blister bandaids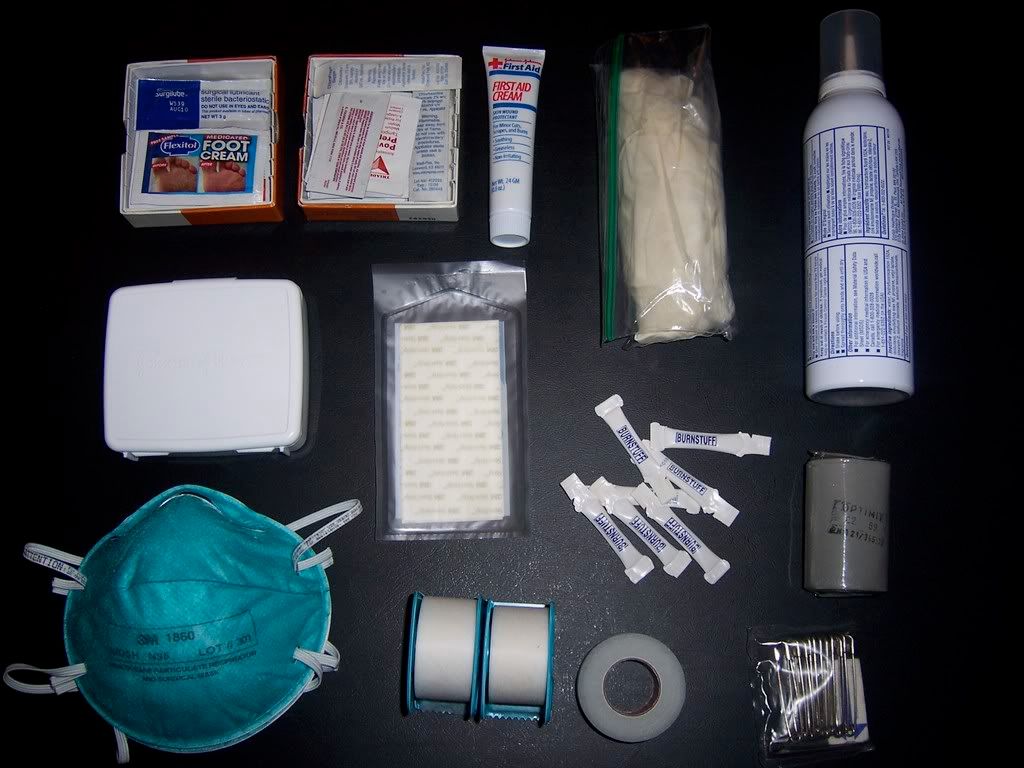 2 6" ACE-type Bandages, 1 ACE-like bandage, Moleskin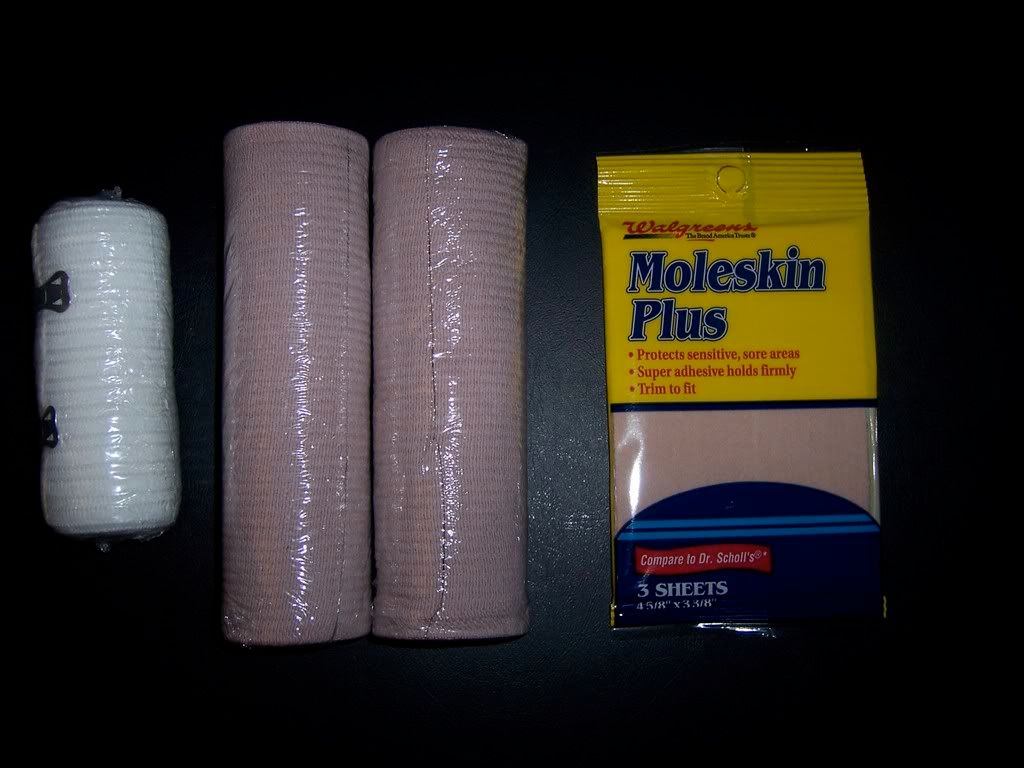 Close-up of Army Surgical Kit (it's gimmicky, so sue me. I'm a sucker for this stuff):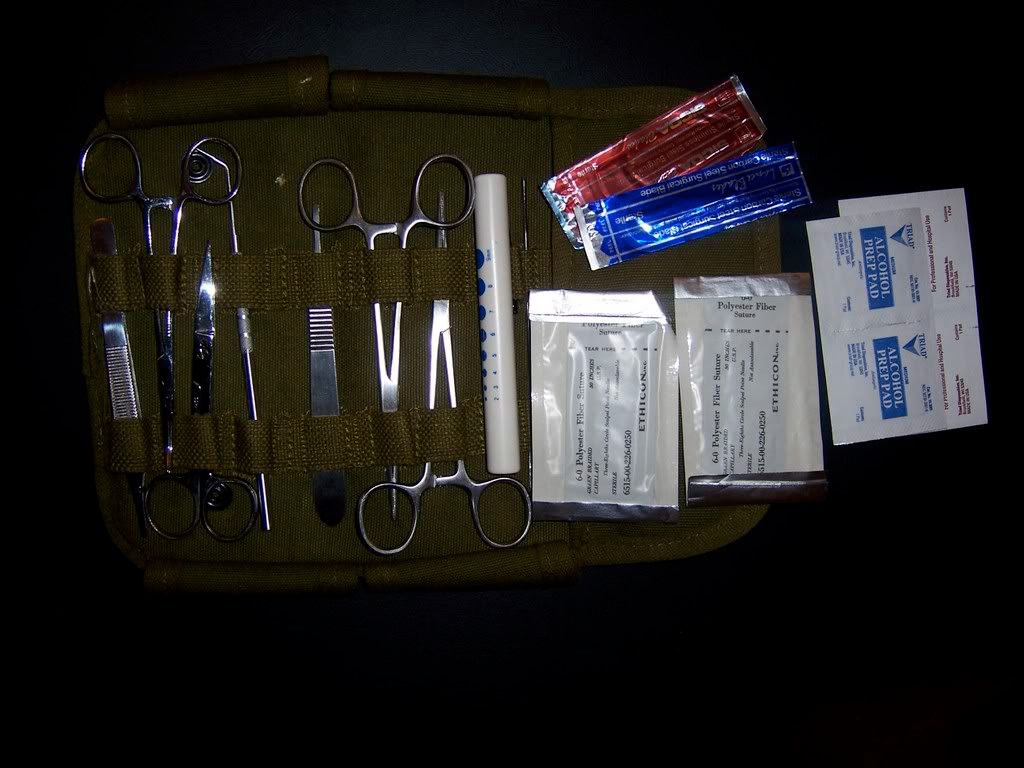 This all used to fit in here: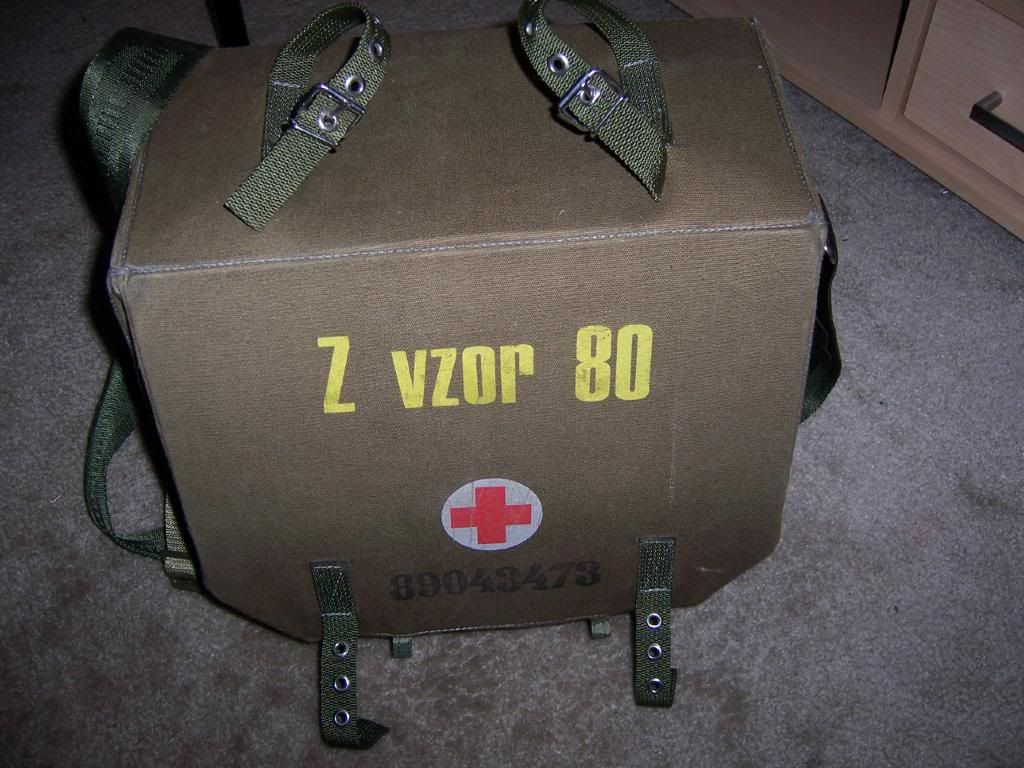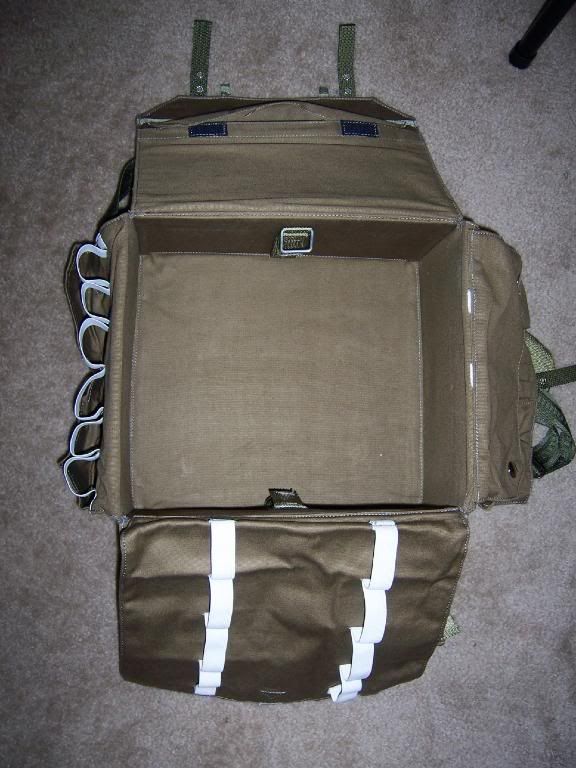 But not anymore.
Not pictured: Another set of Kelly forceps, bandage scissors, thermometer, pencil and notepad, some isolation gowns and masks, ambu bag (more over-kill) and the meds.
Med List: anti-nausea and anti-diarrhea (prescription and OTC), painkillers/fever-reducers (prescription and OTC)
What I plan to add: SAM splints, Israeli bandages, and some instant cold packs. I don't think I will add Quikclot unless I suddenly get a raise 'cause my job sucks and I don't want to work three hours for one ACS sponge. For the love of God, don't tell me to add Quikclot.
What I need advice on: A bag to hold all this stuff. Also, maybe someone like Doc Simon (even though he is a stinkin' cowpoke) can tell me what I should do for the overly mentioned "sucking chest wound." While doing that, maybe you guys would know what some of these are used for, I see these in the hospital but I don't know what they are used for and I might just buy some from CS if they are worth having: "alginate hydrocolloid dressing" "adaptic dressing" "oil emulsion dressing" and "vaseline dressing". I googled all these already but that doesn't tell me what they are really used for because I get the same response for nearly all of them.